Our deck project kind of got back-burnered amidst all of the party/dollhouse/bedroom stuff, but we have made one decision in that time: much like both of our parents chose for our houses growing up, we're going the pressure-treated wood route.
But making that call was no easy decision. We actually weighed a bunch of options, got a few quotes from a few different sources, and endured the all important "sleep on it" step. Then we second-guessed ourselves a few times because the right choice isn't very obvious. Haha. There are so many ways to go, so it really is one of those it's-different-for-everyone things. In the end it just came down to personal factors about look, price, effort, keeping in line with our neighborhood, etc – so we can definitely see why people come to different conclusions (and also develop some pretty strong opinions, if the message boards I've been reading are any indication).
So we thought we'd run through our thought process for anyone else facing a similar decision. For us it quickly came down to two materials: pressure-treated wood vs. composite. We eliminated cedar (wasn't our favorite color/look), exotic woods (for their cost) and vinyl (looked too unnatural) early on, so I think that helped us focus. But we went back and forth between PT wood and composite options more than a few times.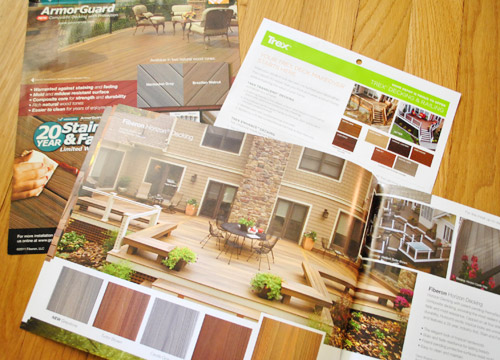 Composite seemed like the obvious choice at first. Lots of friends had "heard it was really nice" and several of you even commented about liking it. We actually even put an offer on a house partially because of its awesome composite deck back when we were house hunting. The pros we kept hearing about were: low-maintenance (it doesn't need to be resealed or stained) and that it looks good (some might say "upscale"). We personally have mixed feelings about the look and feel of it – sometimes it looks really great to us, but sometimes it also looks really plastic-y to us. It can also fade in the sun, which we hear can be frustrating. But the thing that put the specialty decking screw in the composite coffin was the cost. Various estimates that we got put it between $2,000 and $3,000 more than wood for the same sized deck built exactly the same way! Yup, it more than doubled the total cost of pressure-treated wood – and that was the lower-end composite stuff vs. premium pressure treated wood.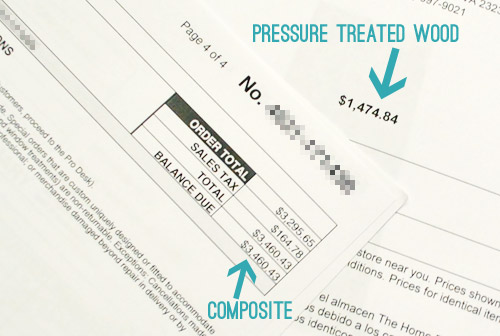 So it goes without saying that cost was a big factor in picking pressure-treated wood. We're still working out final estimates, but using premium pressure treated wood (which is less prone to warping than the basic stuff) is likely to cost us around $1,000. We got estimates from Home Depot and a smaller specialty lumber place about a half-hour away called 84 Lumber, and 84 Lumber came in around $400 cheaper for the same amount of pressure treated wood so we're happily going with them (like HD, they also came in 3K more for composite). It's pine wood harvested down south, and is all treated to be safe for human contact, so we're not worried about scary things like arsenic which used to be used in pressure treated wood years ago.
So 1K seems like a much more digestible figure for our "little deck project" over 3-4K. We realize that some of what we save now will be spent on future maintenance (it's recommended that wood be sealed every 1 to 2 years) but that was a trade we were willing to make since we're DIYers through and through – so we're no strangers to sealing something. Plus, wood is a material that we're comfortable with – both building and maintaining, so in some way it felt easier to have some staining or sealing projects in our future than the unknown of composite (what if we picked a color that looks "in" now but looks dated down the road? what if we eventually convert a window in our bedroom into a door out to the deck and damage a few boards of the composite stuff which might be harder to repair/replace/match than regular old wood? what if we over-improve our house for the area?).
The thing that ultimately secured the victory for wood was it's look. Not only do we like the more natural appearance of it, but we also think it's better suited for the character of our house and our neighborhood. Somehow sticking a swanky composite deck on our little brick ranch felt like wearing Prada loafers with my Sprite t-shirt. If we were in a newer construction home or a neighborhood where people were making these types of upgrades all around us, we definitely would rethink our choice, but we're surrounding by homes with wood fences, decks, and porches – there's nary a composite deck to be seen.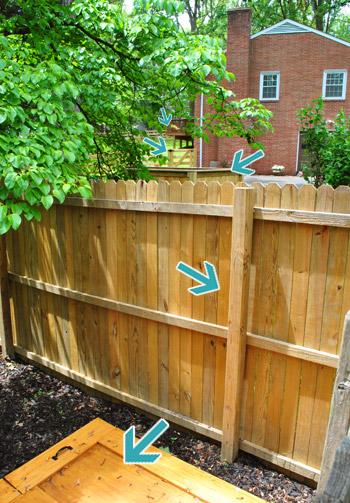 We both grew up with wood decks and remember our parents sealing them every few years (sometimes with our help) and also talked to close friends of ours (who bought a home with a giant wood deck a few years back) and they've said they really love it. Even right after spending a weekend resealing it they said they were really happy with it (it was at least 15 years old and hadn't been sealed or maintained in years before they moved in, but afterwards it looked like new).
Once we get our plans finalized and our permit secured (next week if all goes well!) we'll be good to place an order for all that lumber and finally get this ball rolling. Of course we'll share all of the delivery/building details as we go. Oh and when it comes to the actual wood slat pattern, we're debating something cool like mitering the corners of all the border pieces so it looks like it's framed out (sort of like how the right edge of this deck looks). We're also thinking about placing the boards in a modern way, like this shot that we took at the Virginia Museum Of Fine Art: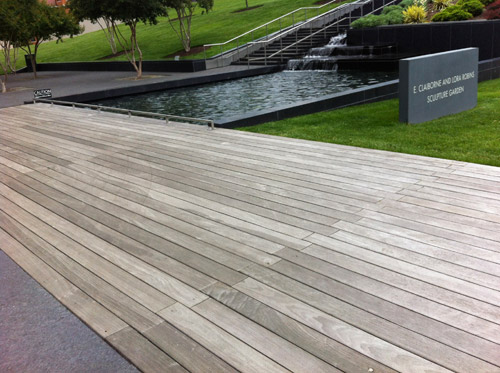 See how there are these really cool zipper-looking seams?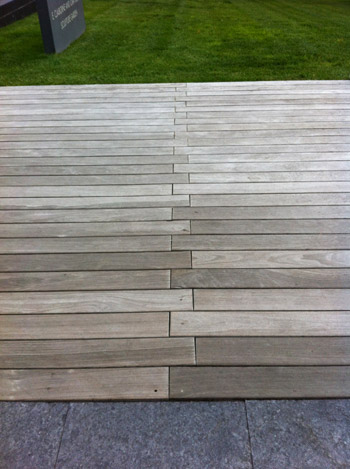 We'll share more on the actual design plans as we go (permit permitting, haha). Oh, and if you're looking for more details about decking materials – here are some of the resources I relied on (in addition to talking to my local Home Depot and lumber yard): The Family Handyman, This Old House, TreeHugger and Better Homes & Garden (<— warning: the lady in this video is very chipper). Anyone else building a wood deck, fence, or porch these days? Or sealing something they've had for a while?