We moved into this house on the Florida panhandle in May of 2020 after a fast, furious, and long-distance three month renovation (during a pandemic no less!). So here's a look at the progress that we've made on it so far.
NOTE: We created this Shop Our House page to help you hunt down any furniture/accessories that you see in our house, along with our paint colors.
The Exterior
We kept all of the same cedar siding, black metal windows, exterior doors, and metal roofing…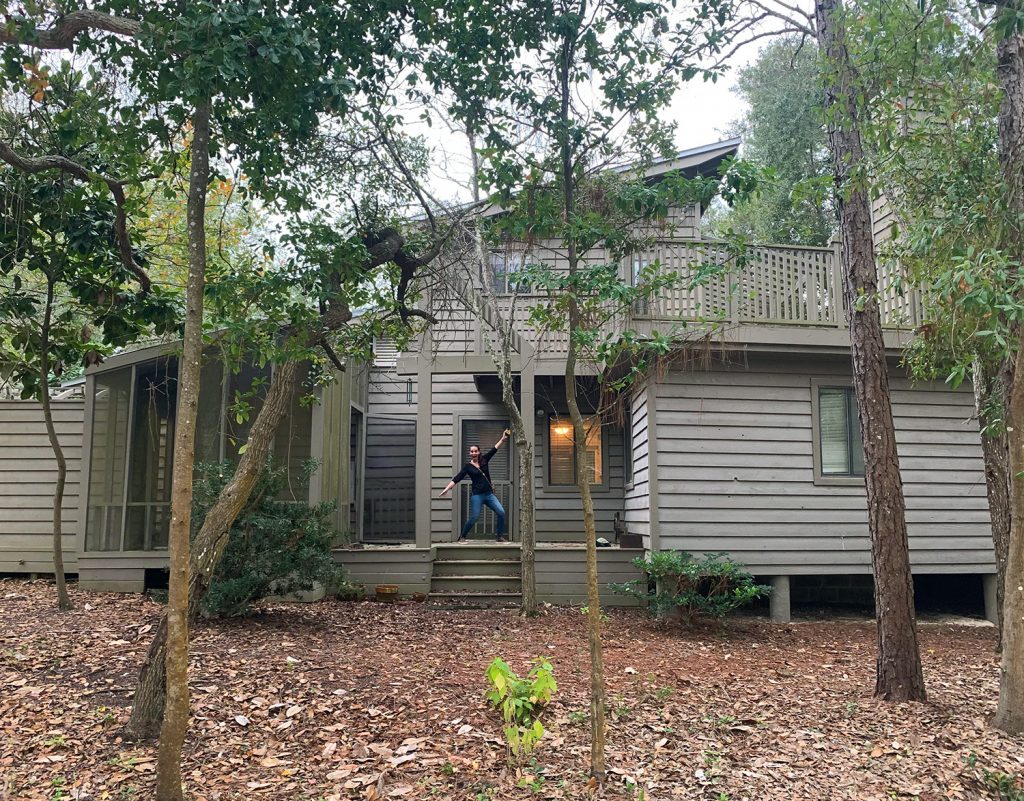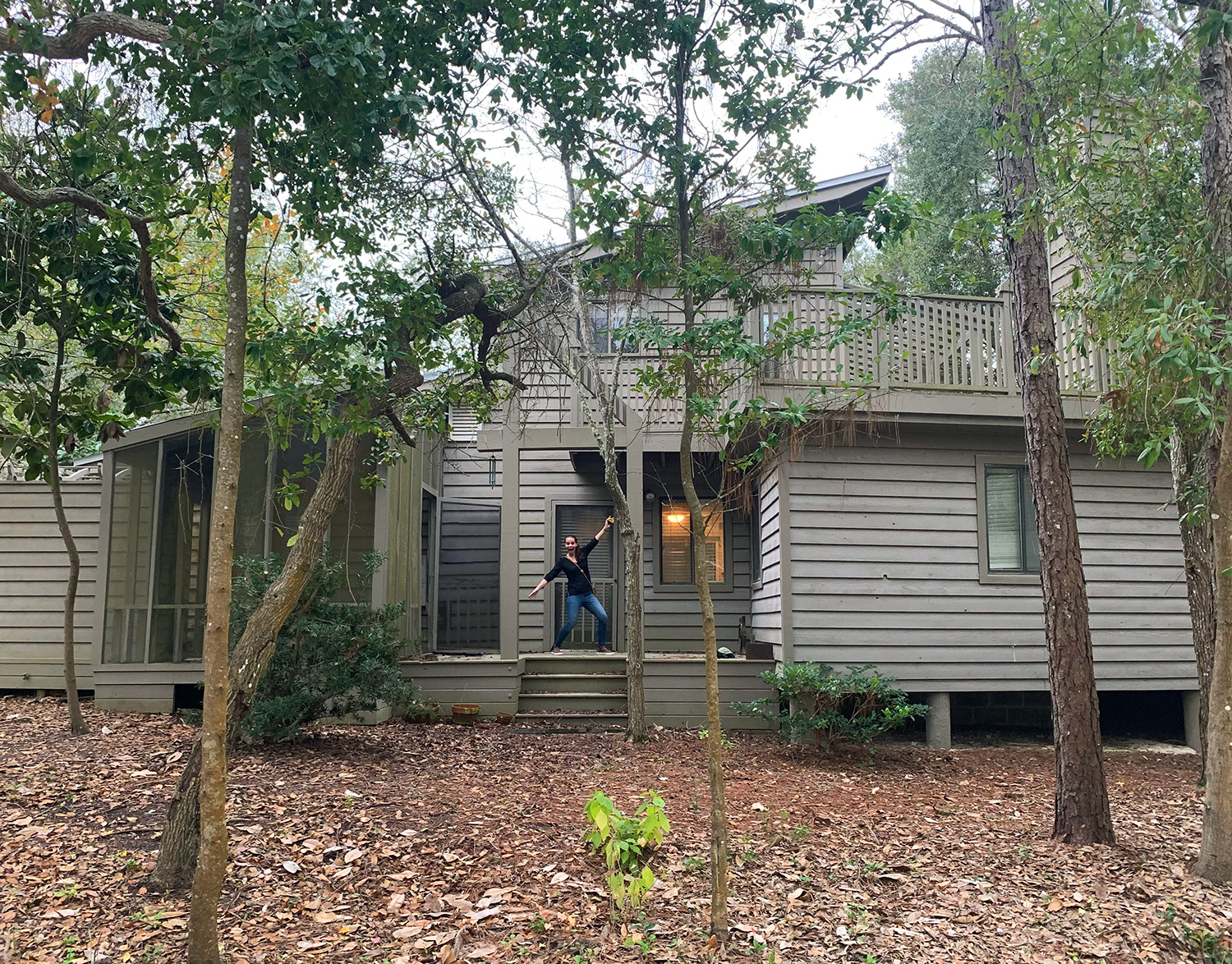 … but updated the decking, railings, front steps, and gave everything a fresh coat of white paint! You can see this post for more photos & details on the exterior renovation.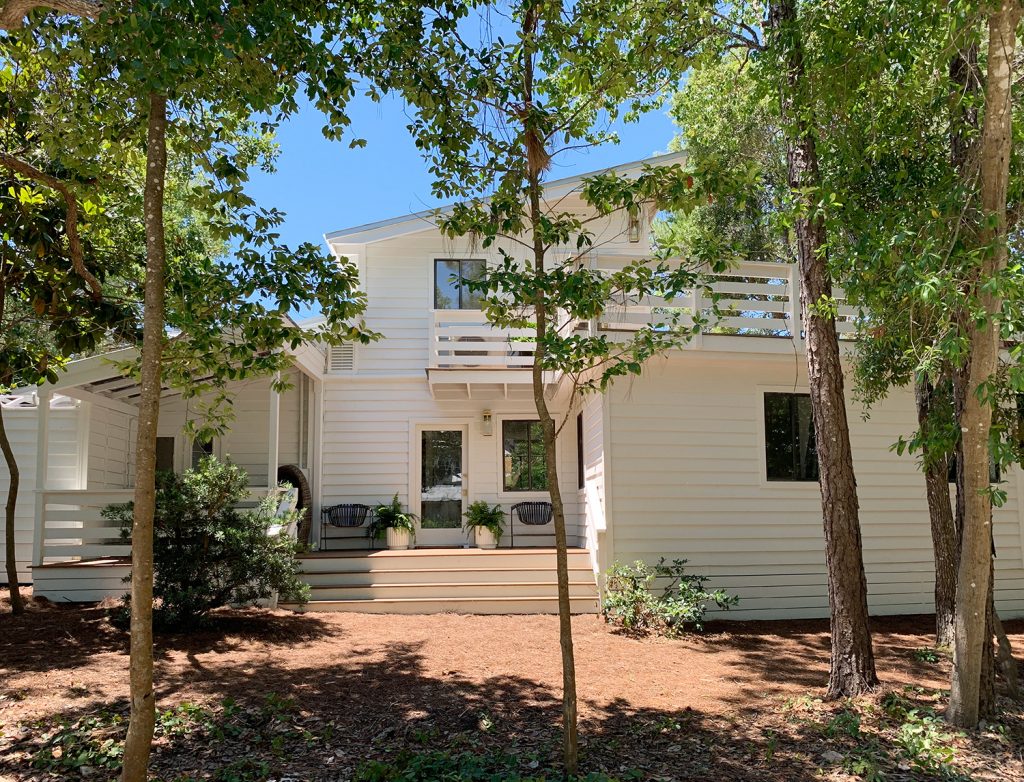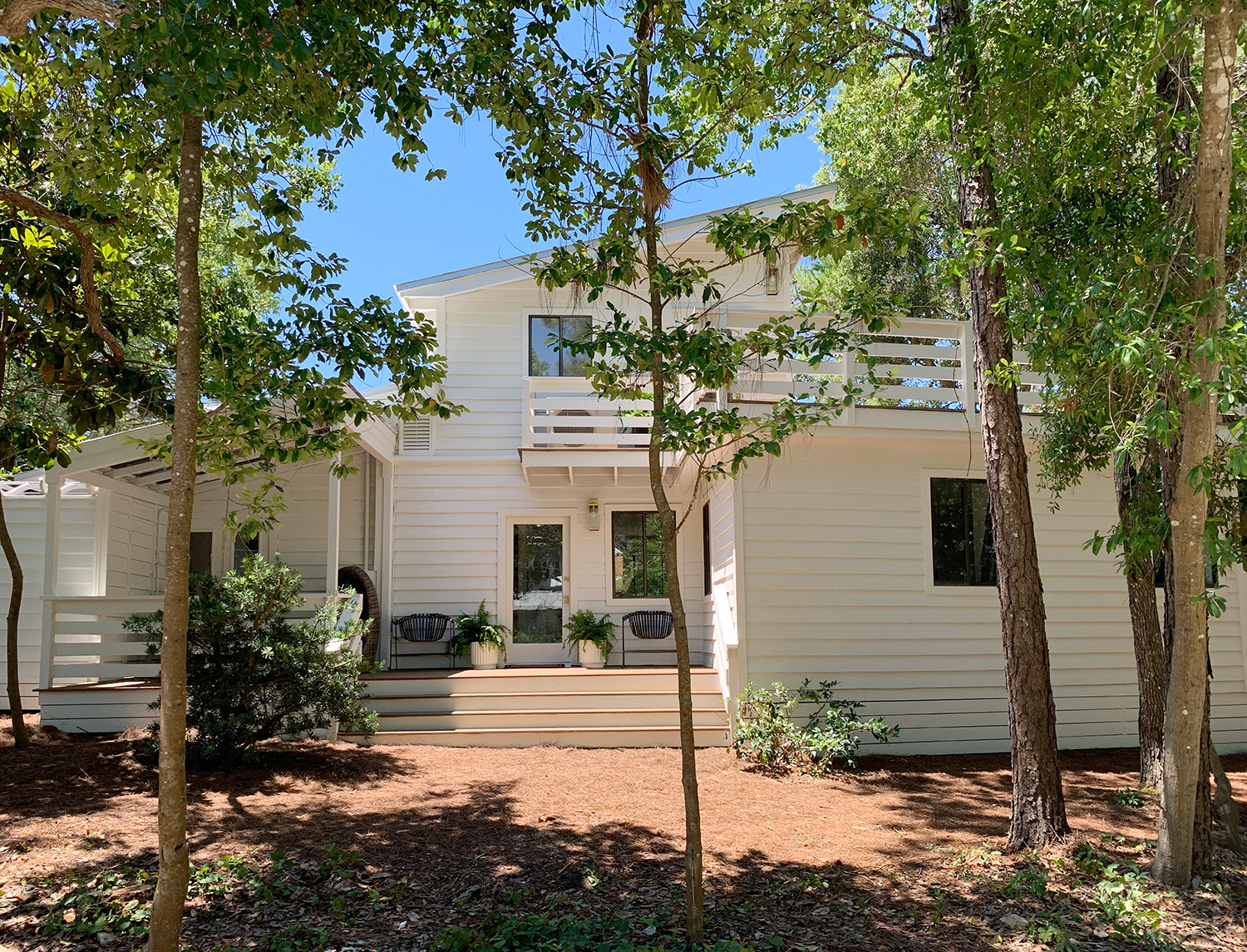 Here's the side of the house as it looked when we bought the house: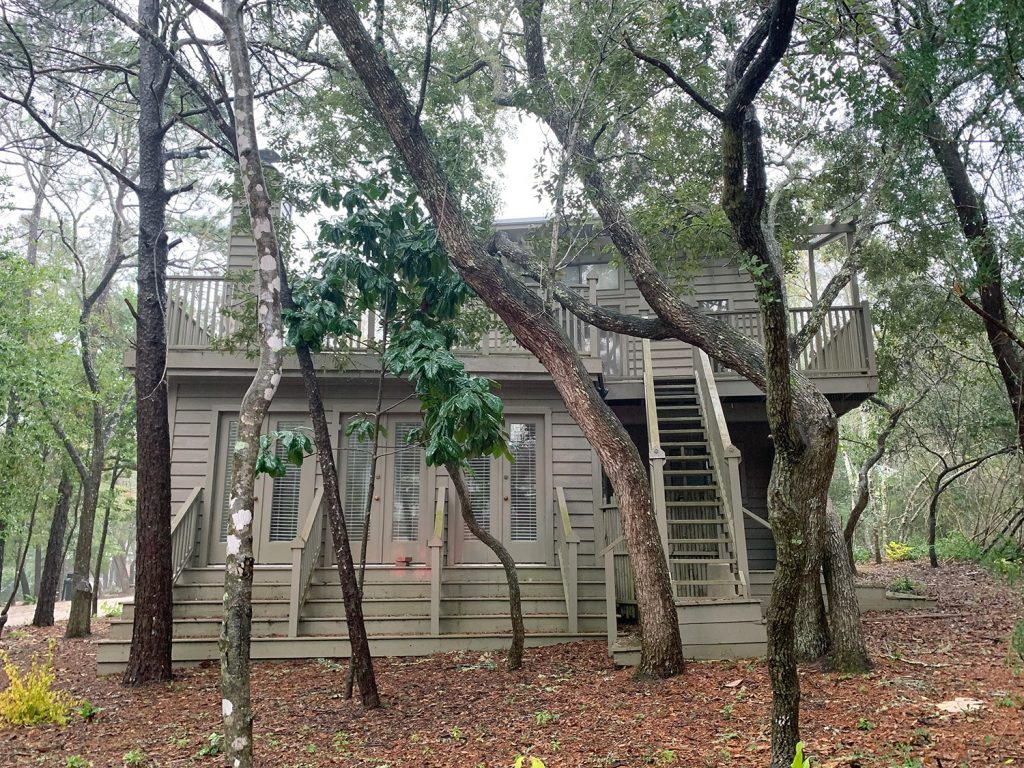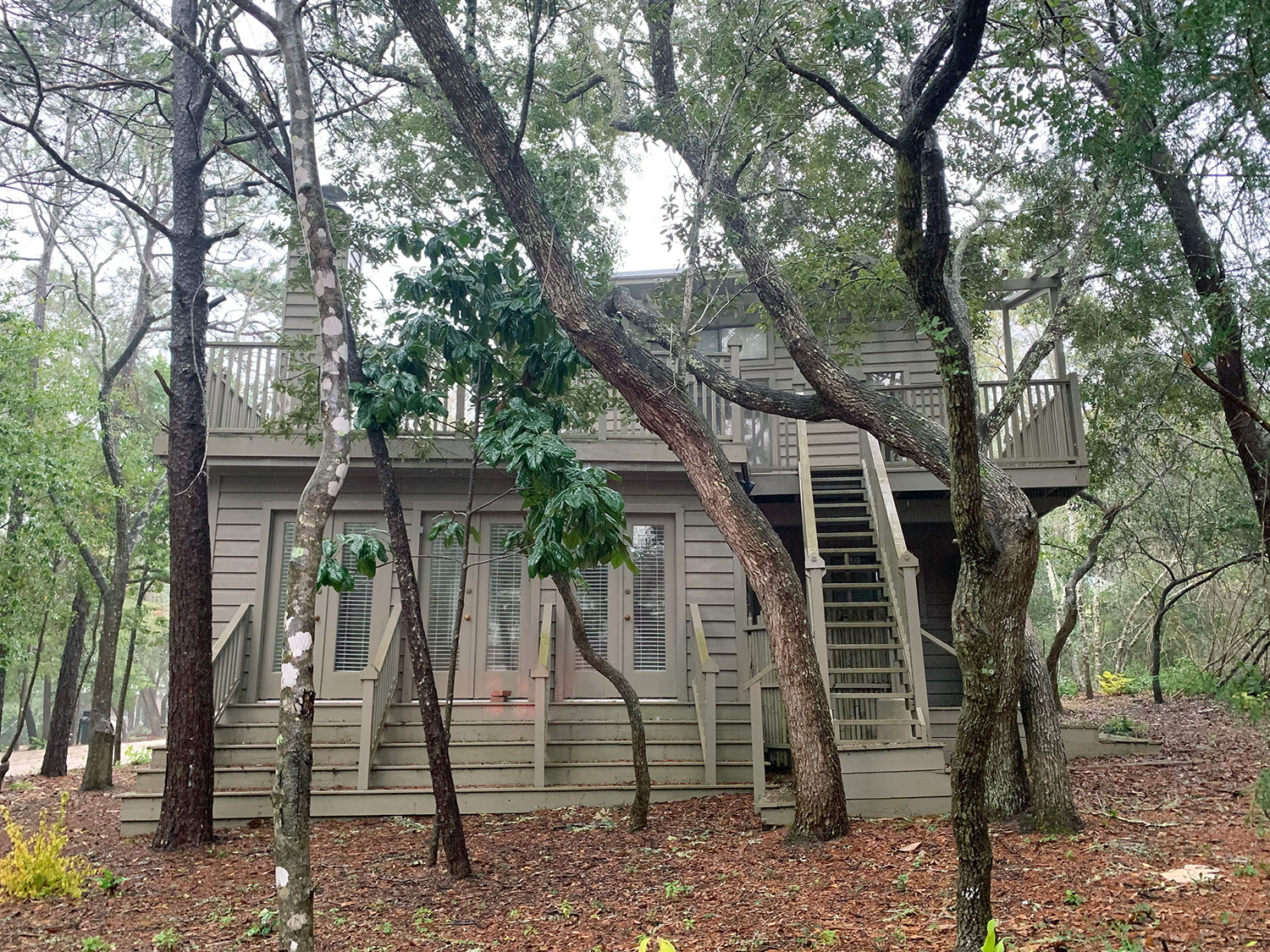 And here it is all painted, with new railings on that second-floor deck. We have more plans to landscape and hardscape around the exterior, as well as to create a private courtyard outside this bank of french doors.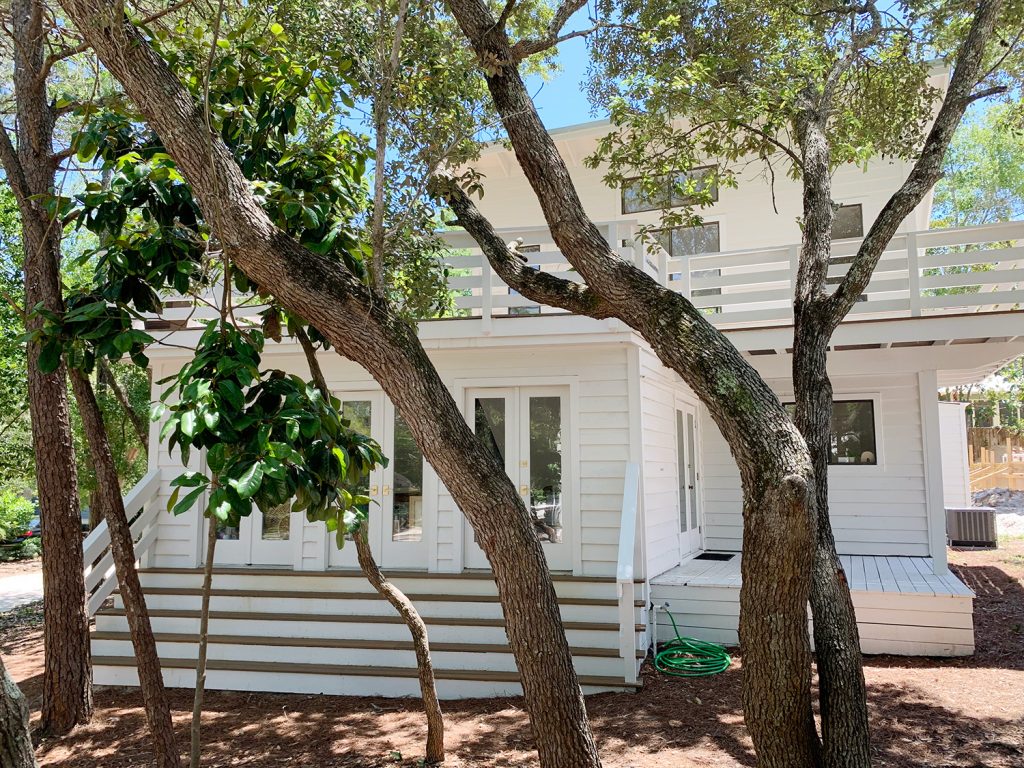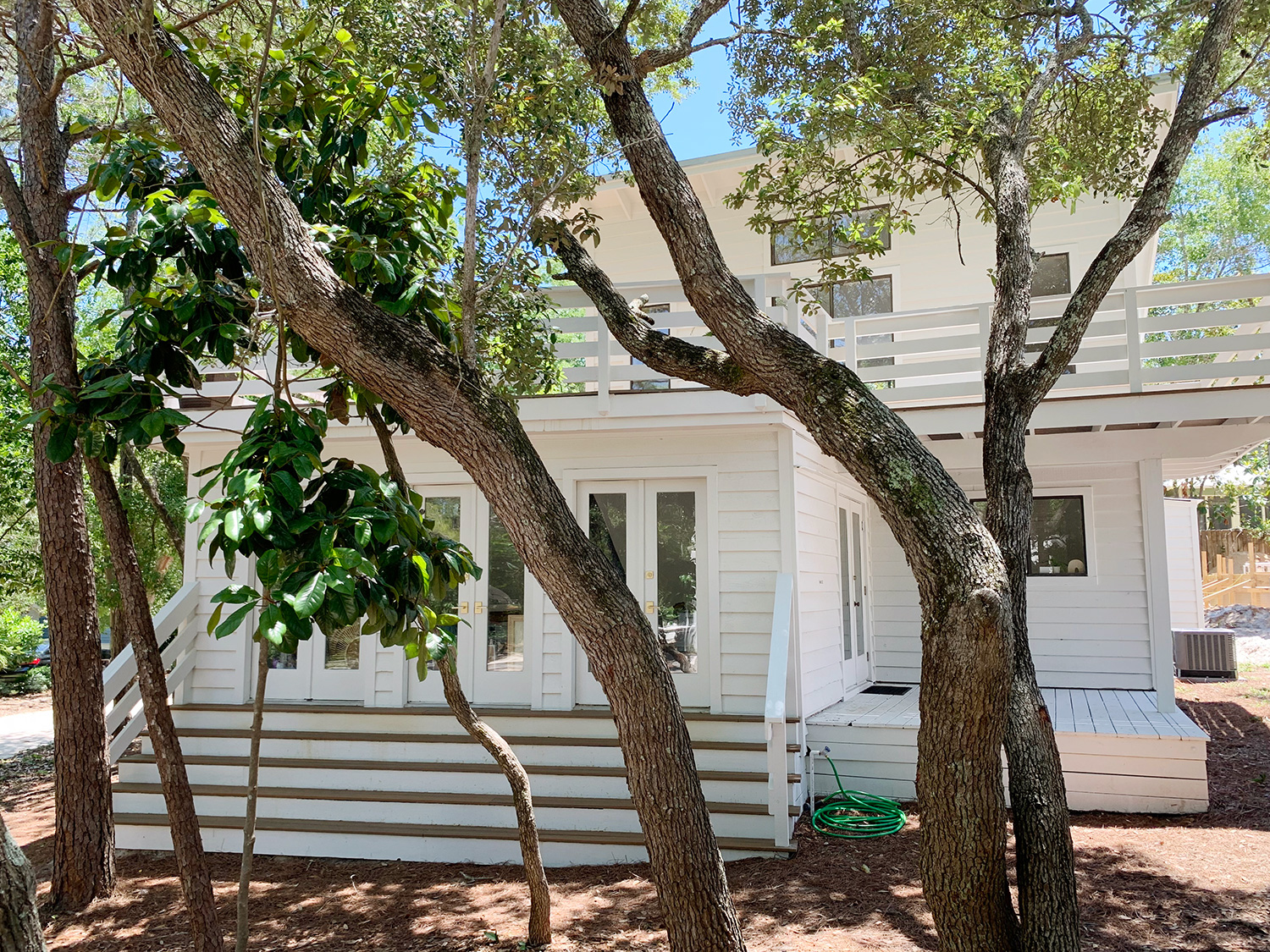 The Kitchen
The kitchen involved some large renovations and some small projects to get it to its current state. This is what we were starting with: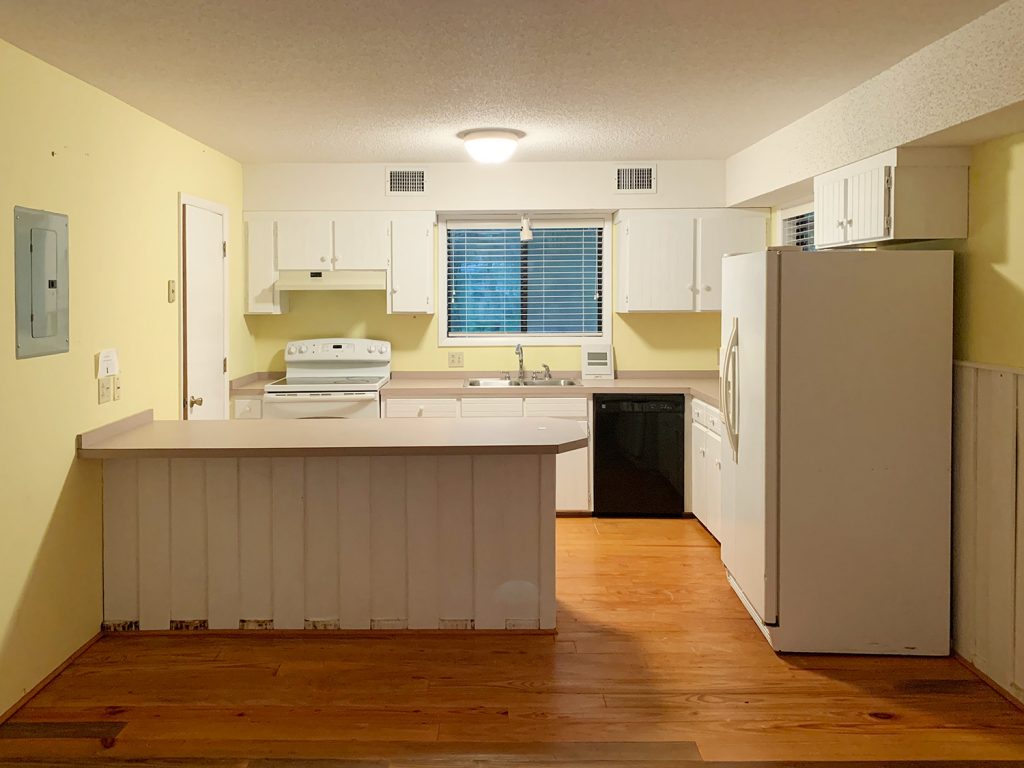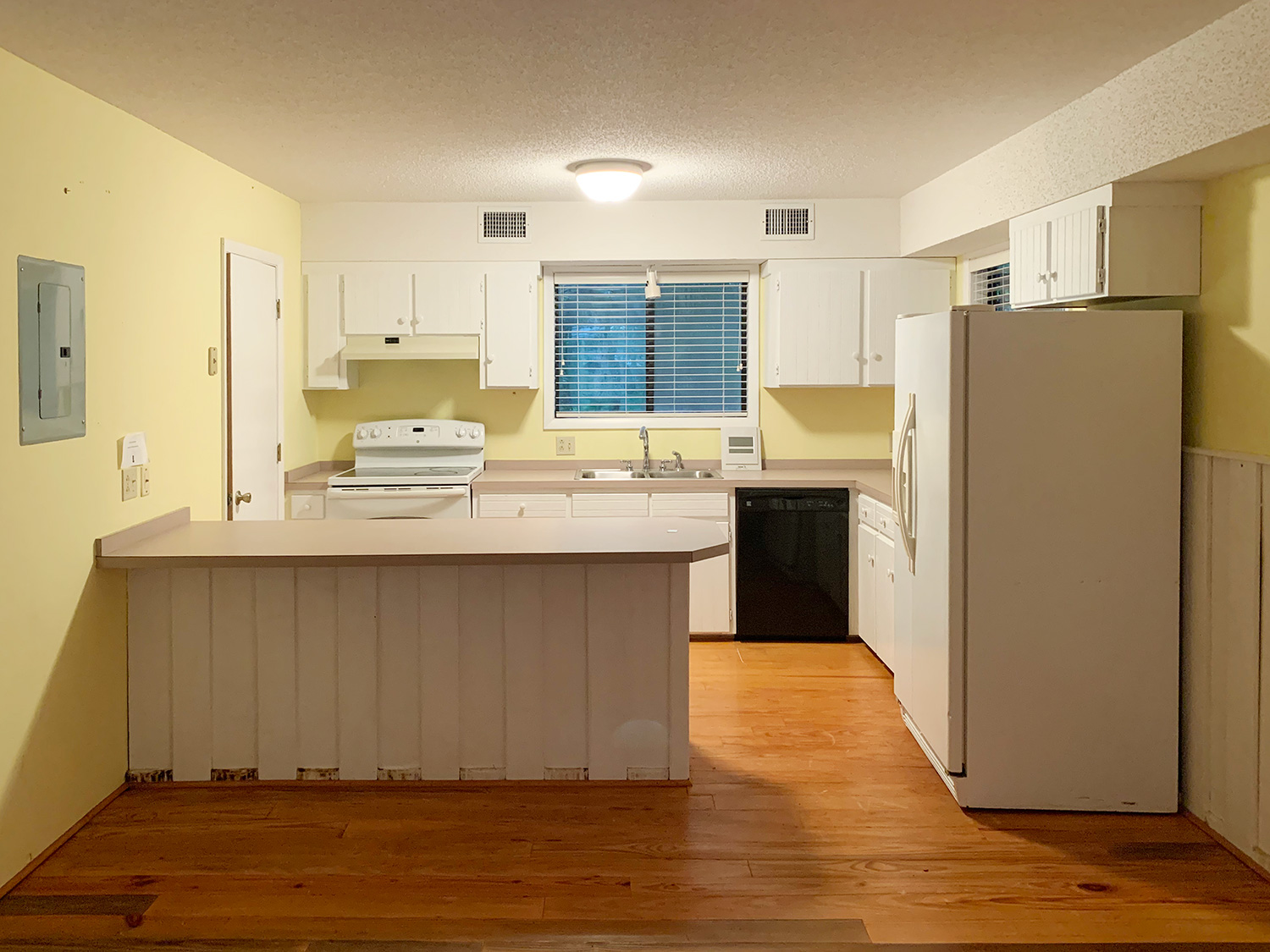 We repaired the floors, removed the soffit, added additional lighting, and replaced the drywall (goodbye popcorn ceiling!). You can read more about those projects in this post and this post.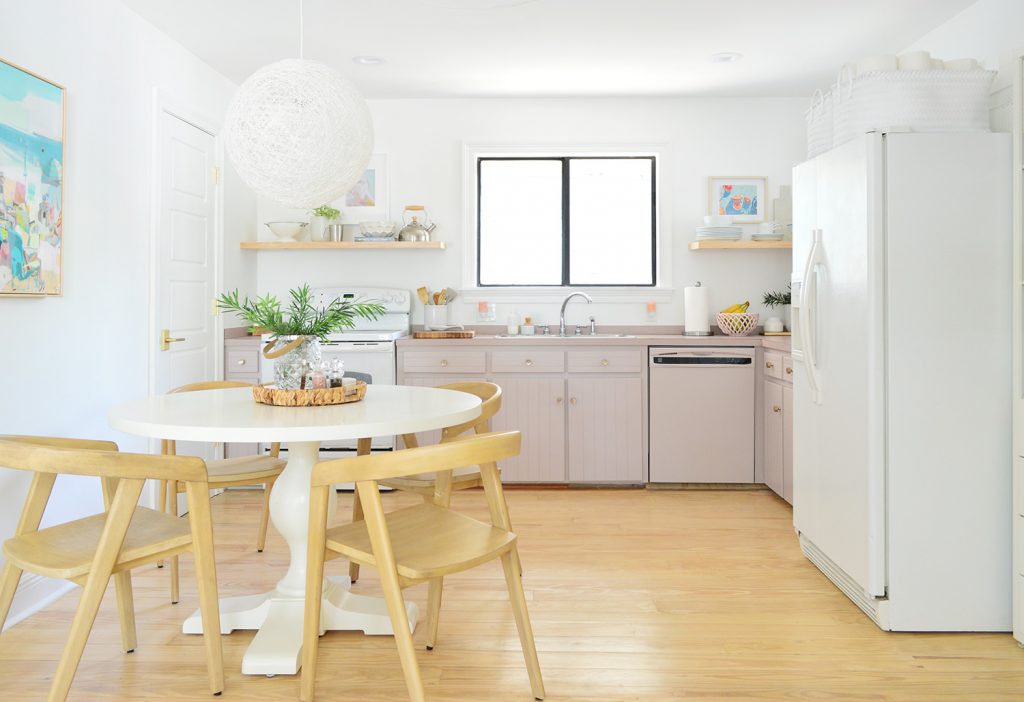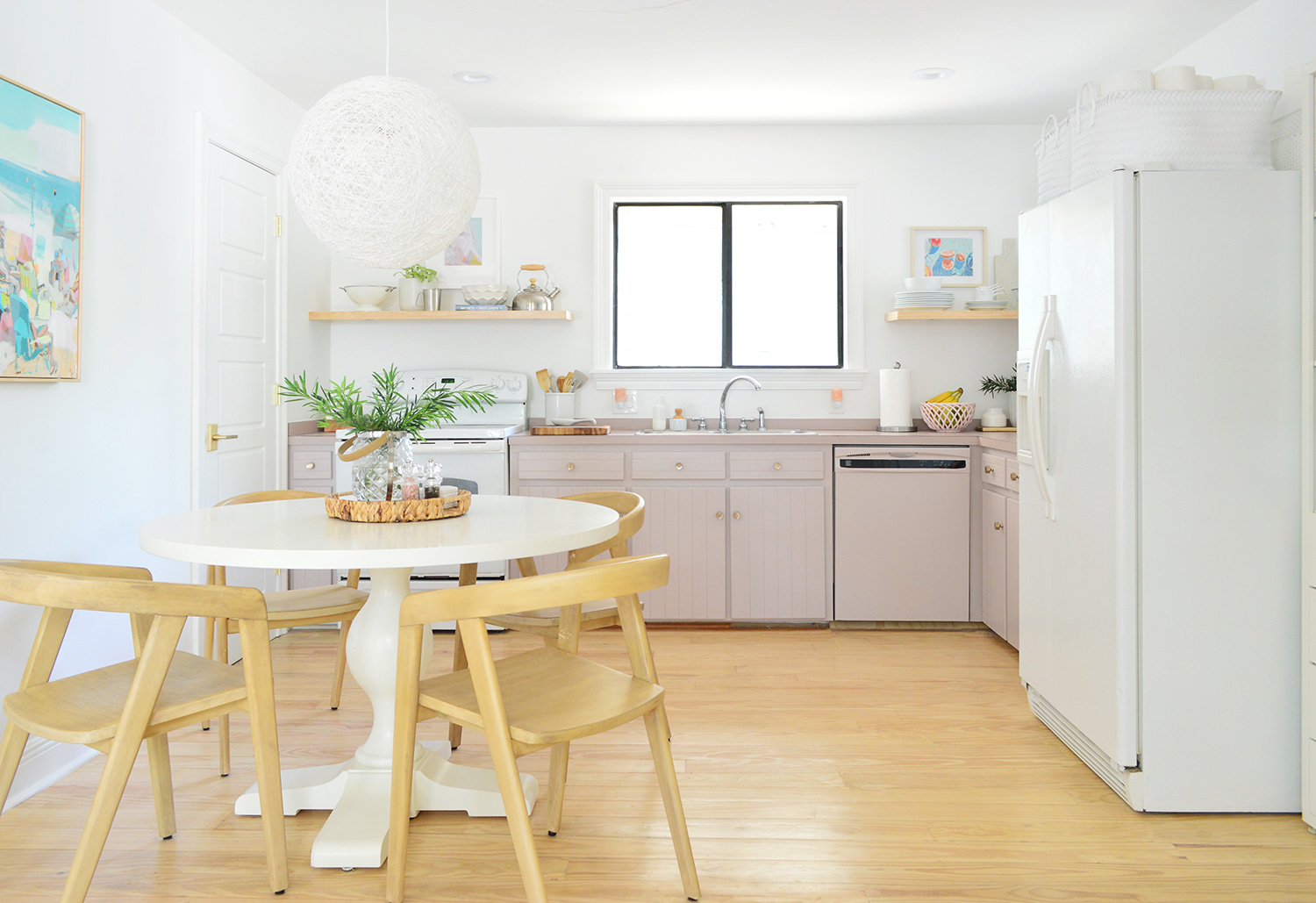 We worked with the original appliances and cabinets (minus the uppers and the peninsula) and gradually updated the room in a few affordable ways, like painting the dishwasher, hanging new lighting & shelves, and painting the cabinets.
This room is deceptively large, so along with having room for an eat-in kitchen table, we opted to use the extra space on this side of the room to create a casual hangout spot.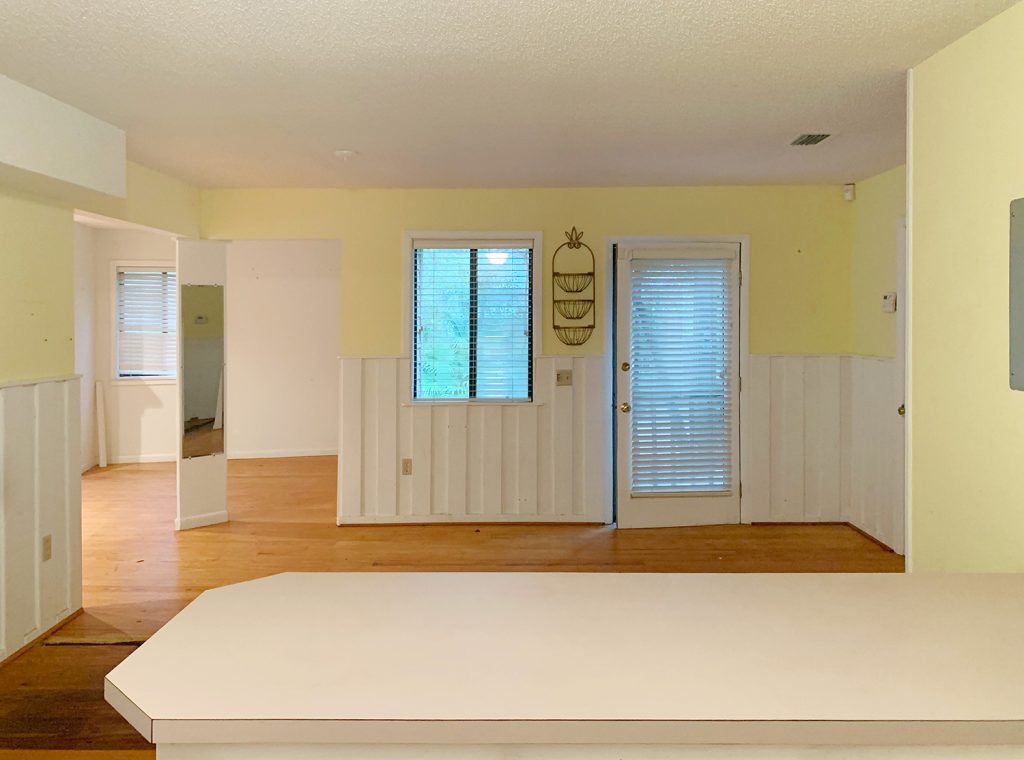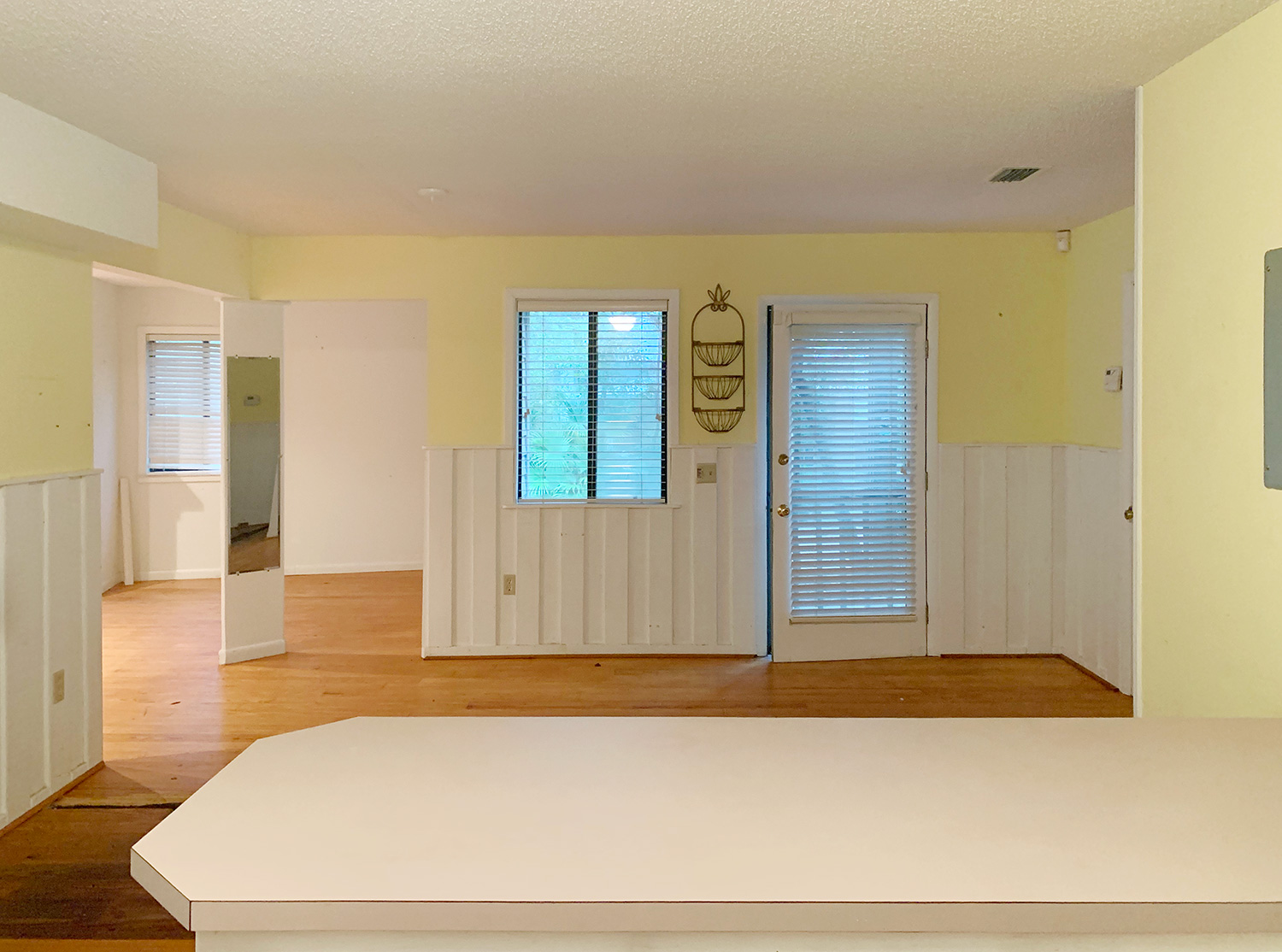 It's essentially a bonus sitting area with lots of storage, thanks to two big shelving systems (which act as our pantry & store our tools of all things) and that six-drawer dresser by the front door with entryway essentials. You can see a full tour of how our kitchen is organized here.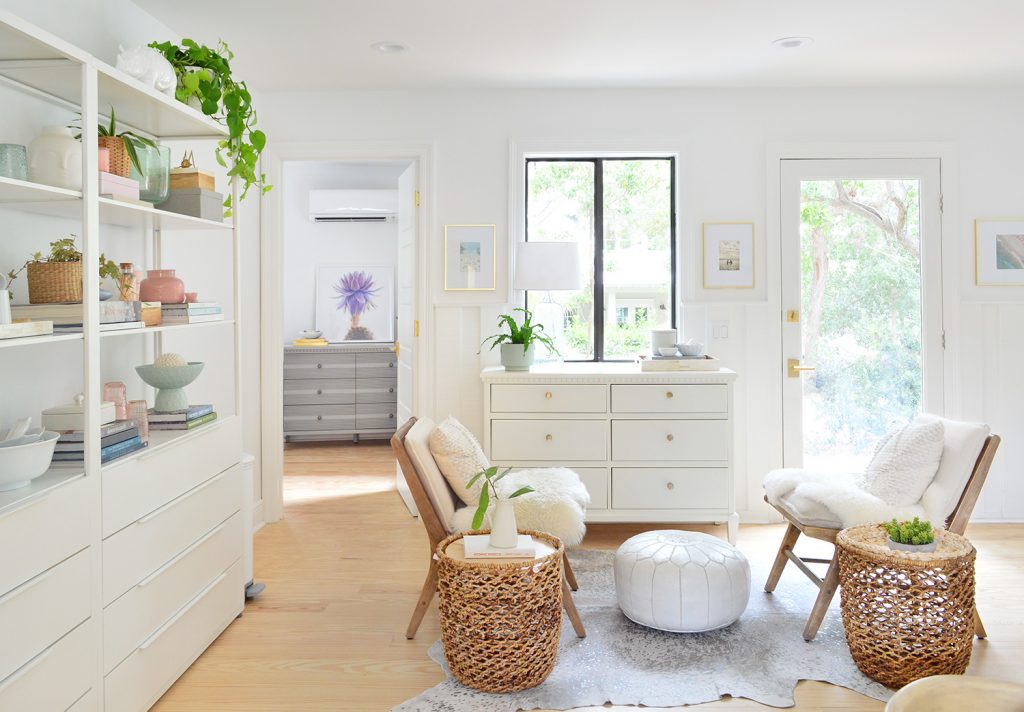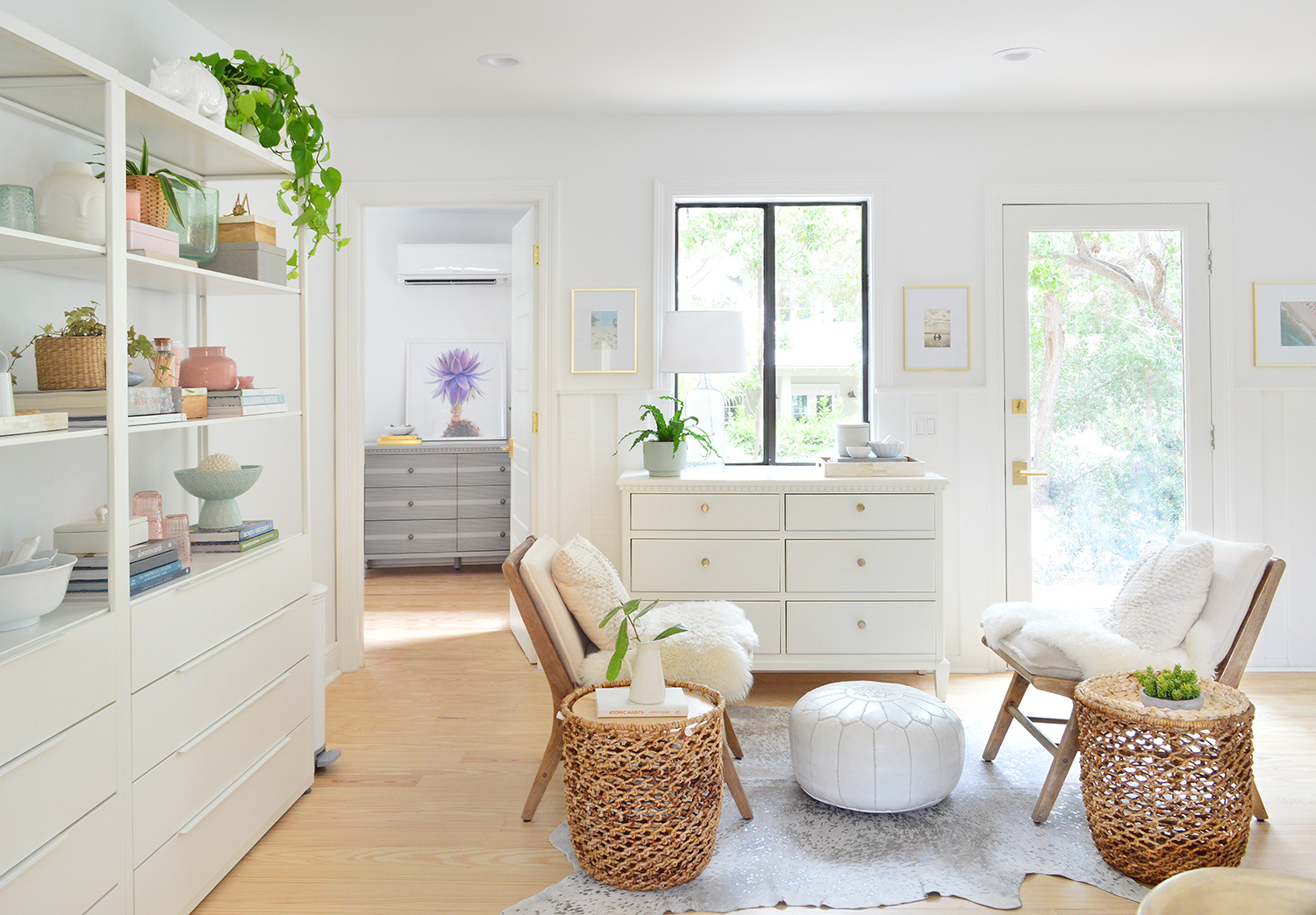 The Family Room
The only room upstairs is this large living area that we use as a family room, home office, and kids' crafting area (now thanks to the pandemic it's a virtual-learning spot too!). It's by far the largest room in our house (two 8 x 10 rugs can fit in here without touching!) so it's awesome to all get to enjoy it – and for it to perform so many functions for our family. Here's how it looked when we bought the house: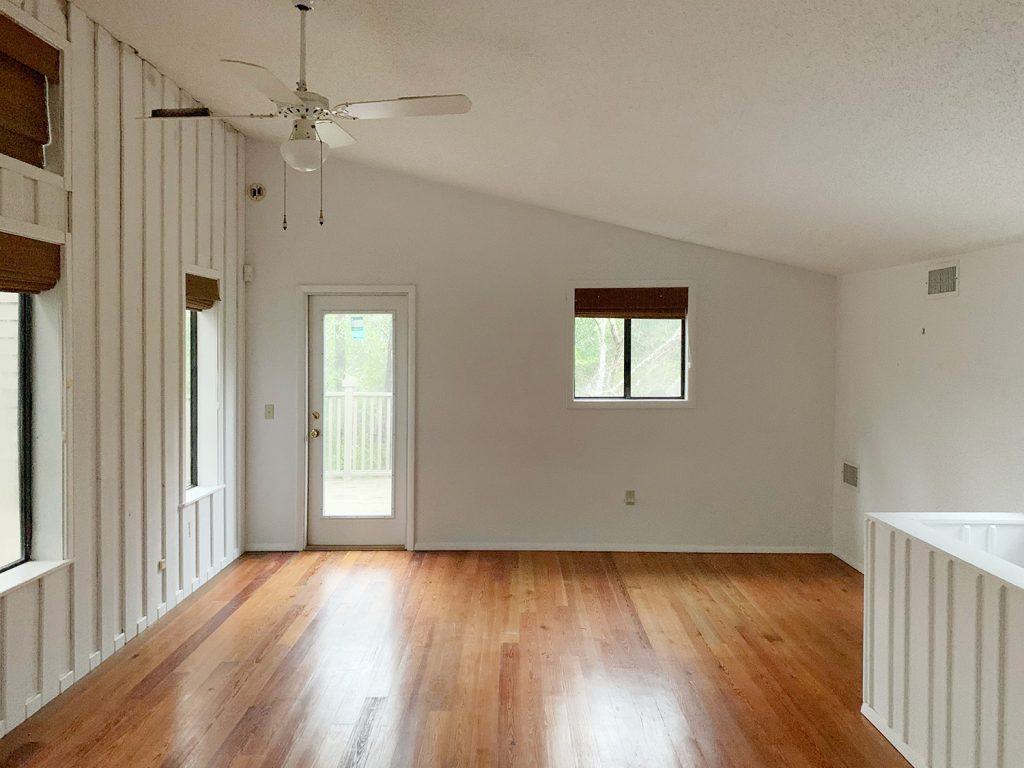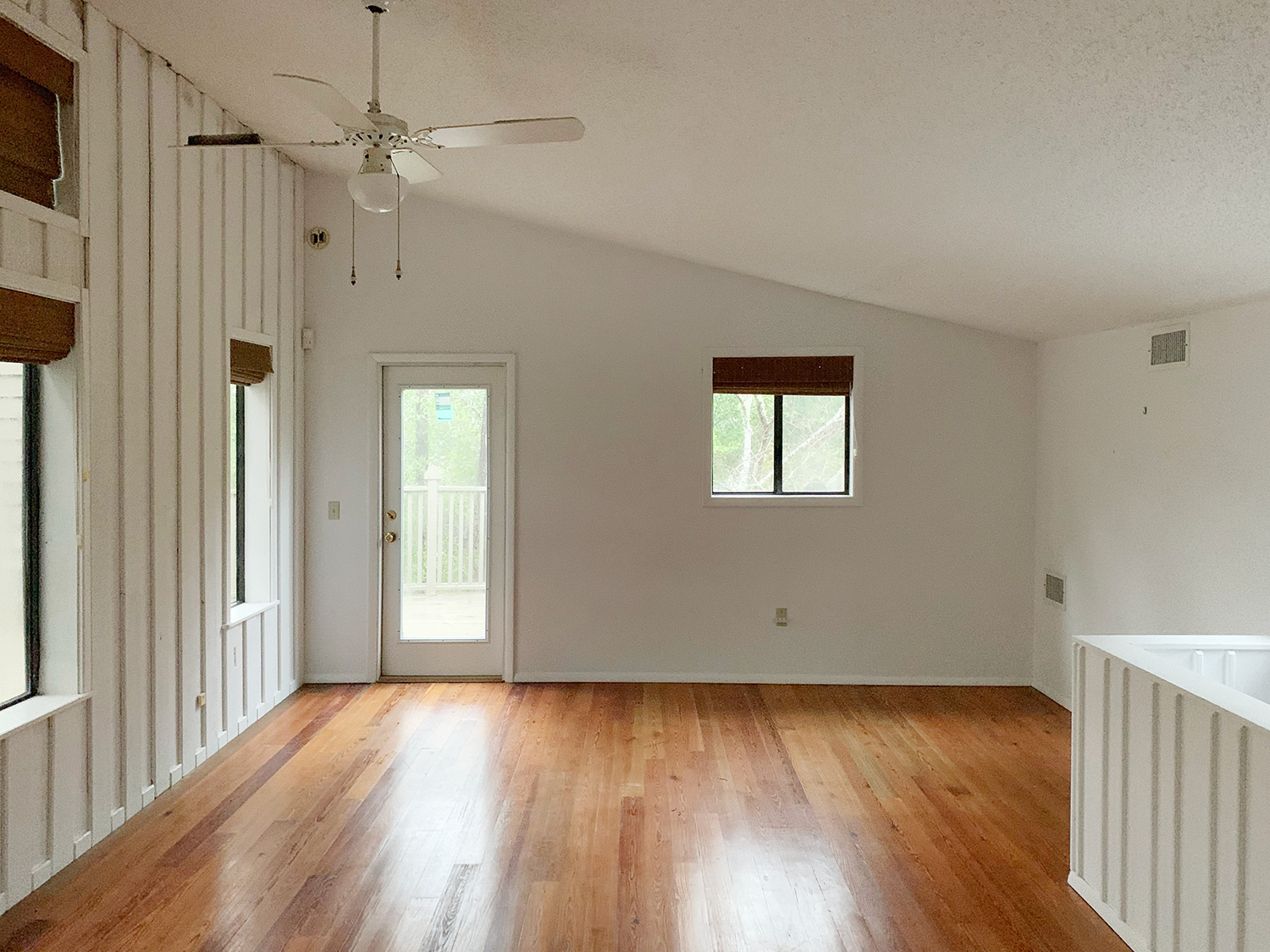 And here it is more recently, after some simple floor refinishing and a fresh coat of paint (those big windows and cool paneling were already there!). You can see more of this room in this post.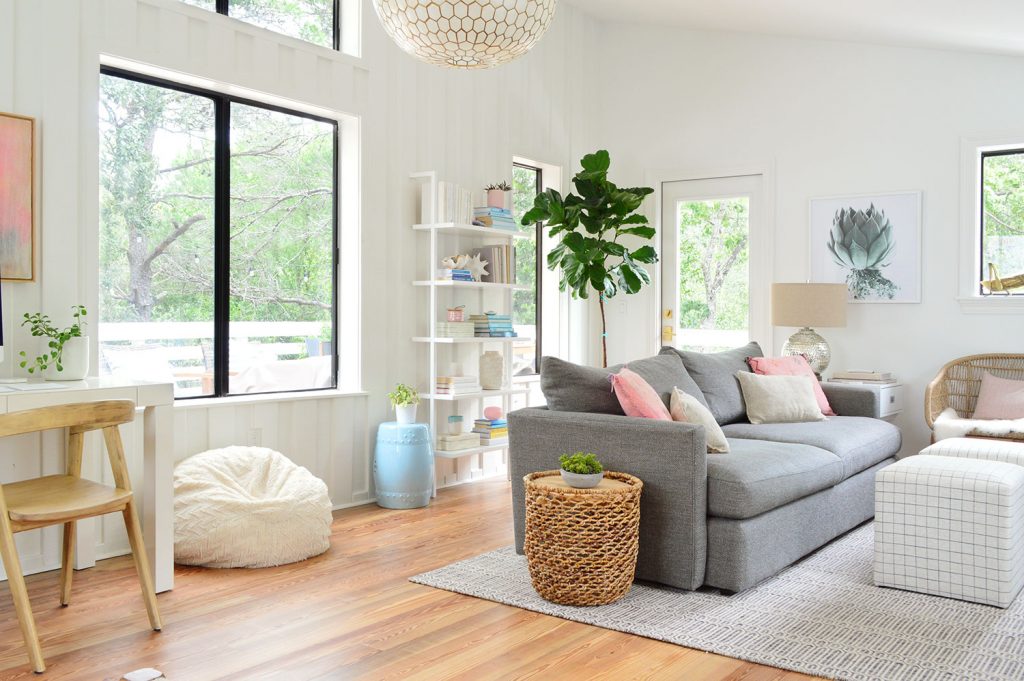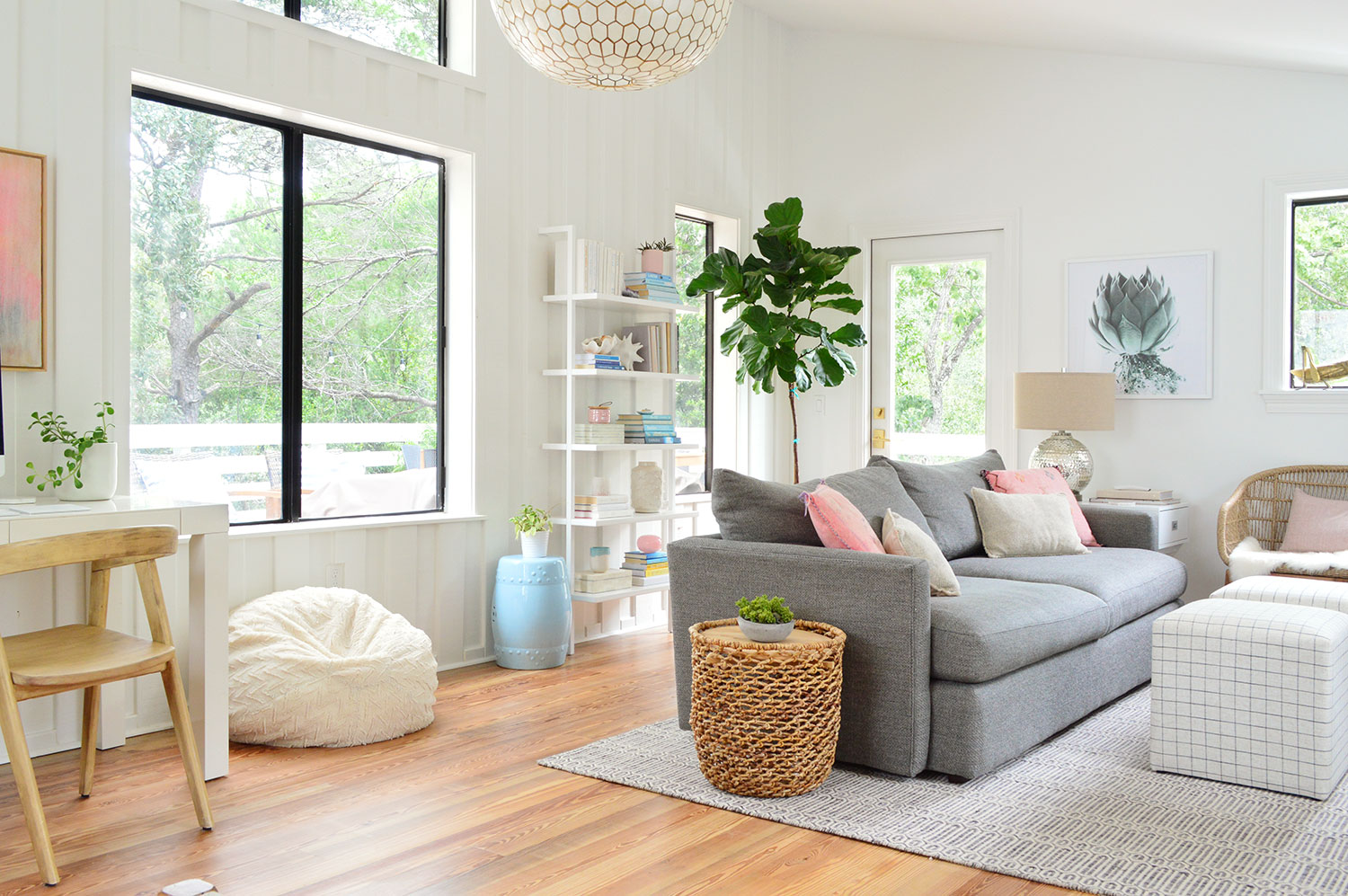 Here's the other half of the room as it looked when we bought the house: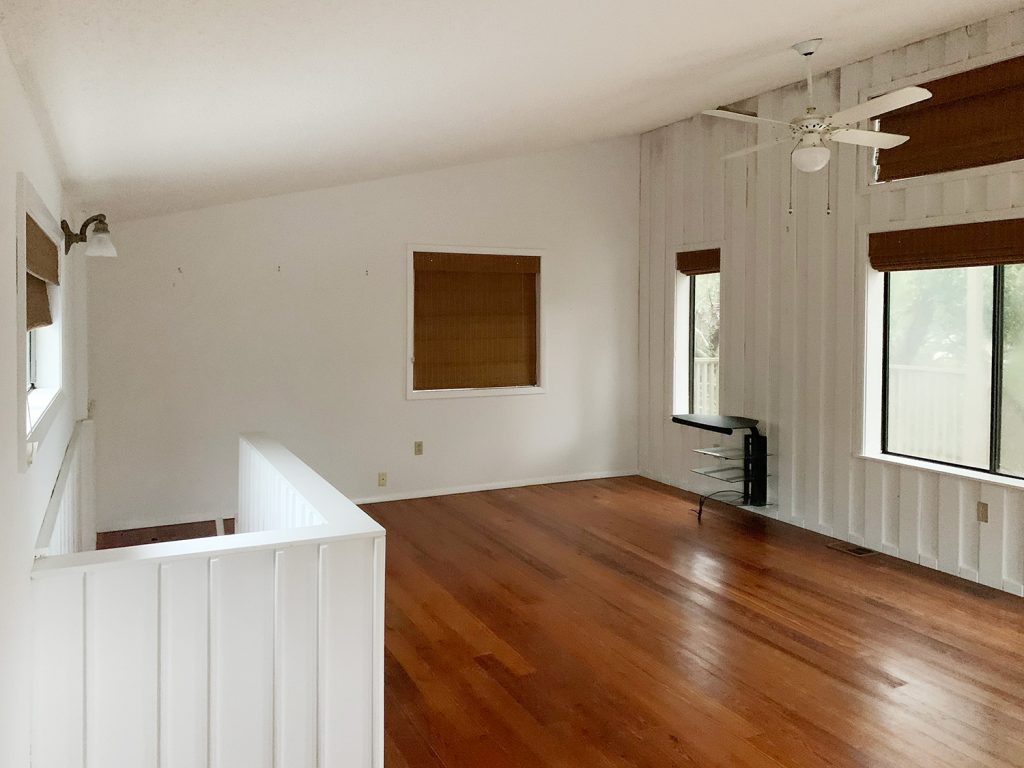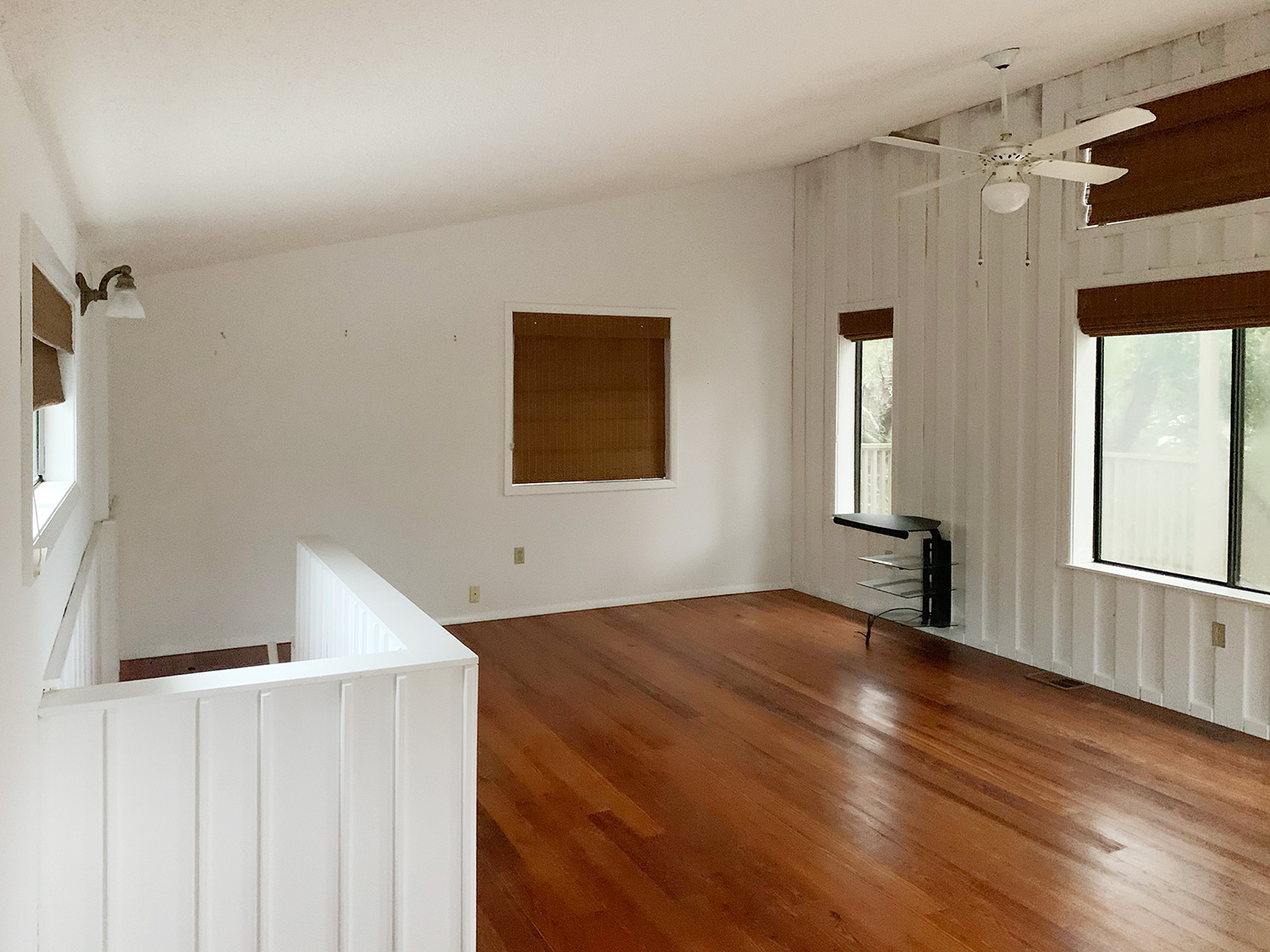 And here it is more recently, although we've hung more art and even some hanging wall planters since these photos were taken – so we'll have to take an update photo soon.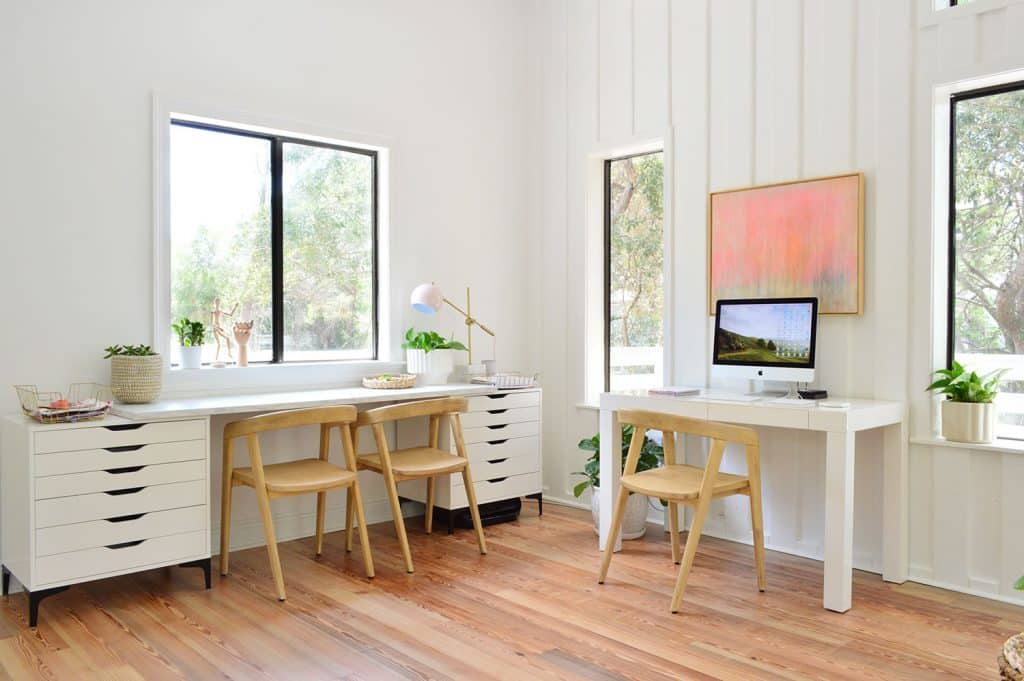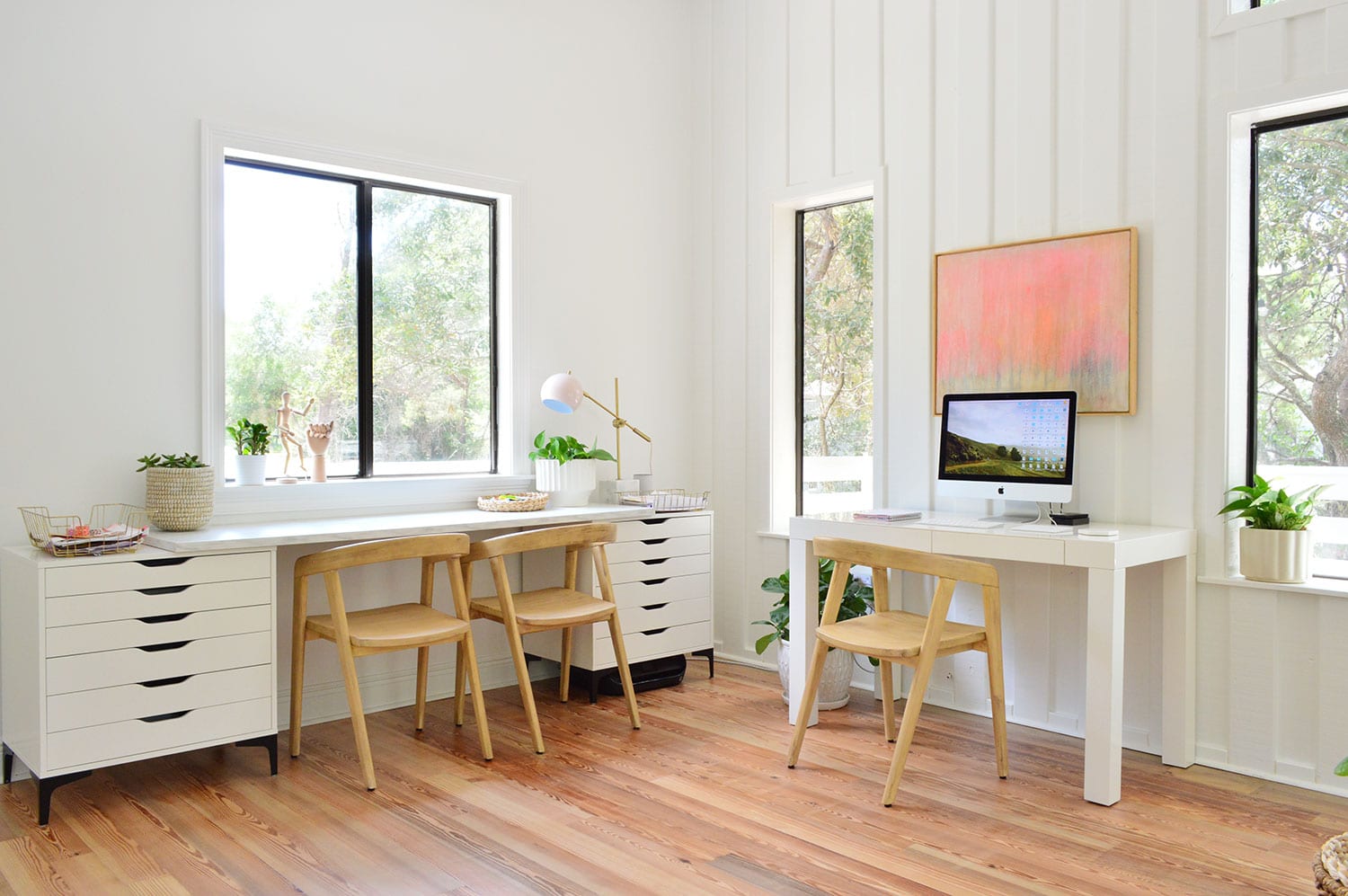 The Upper Deck
Right outside the living room is a large upstairs deck that we all use as an extension of our living area. It was hugely improved by replacing the rotting deck, railings, and rickety pergola.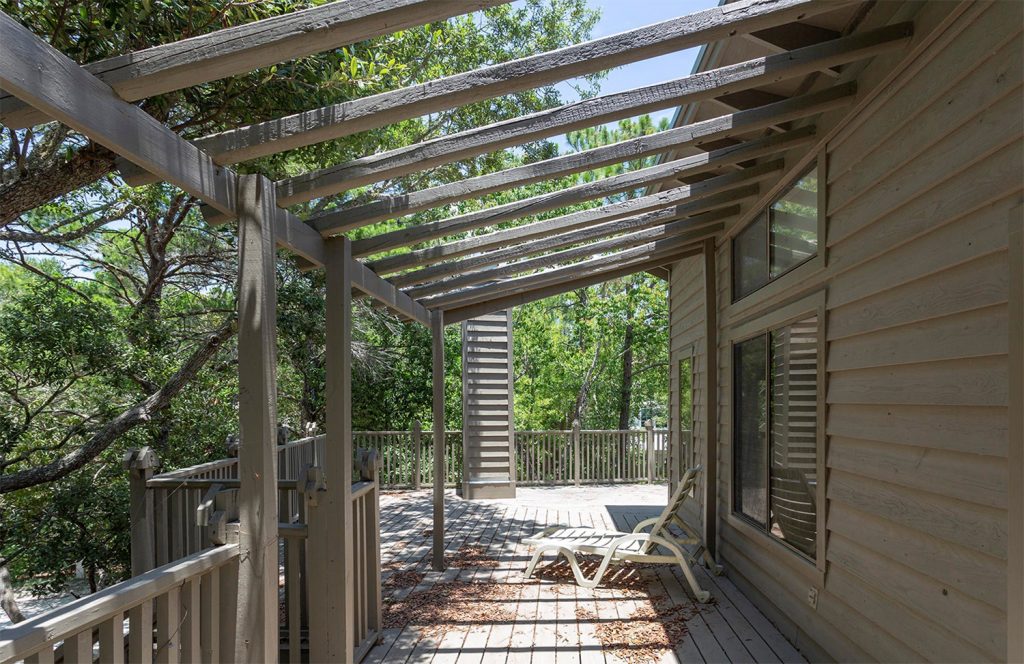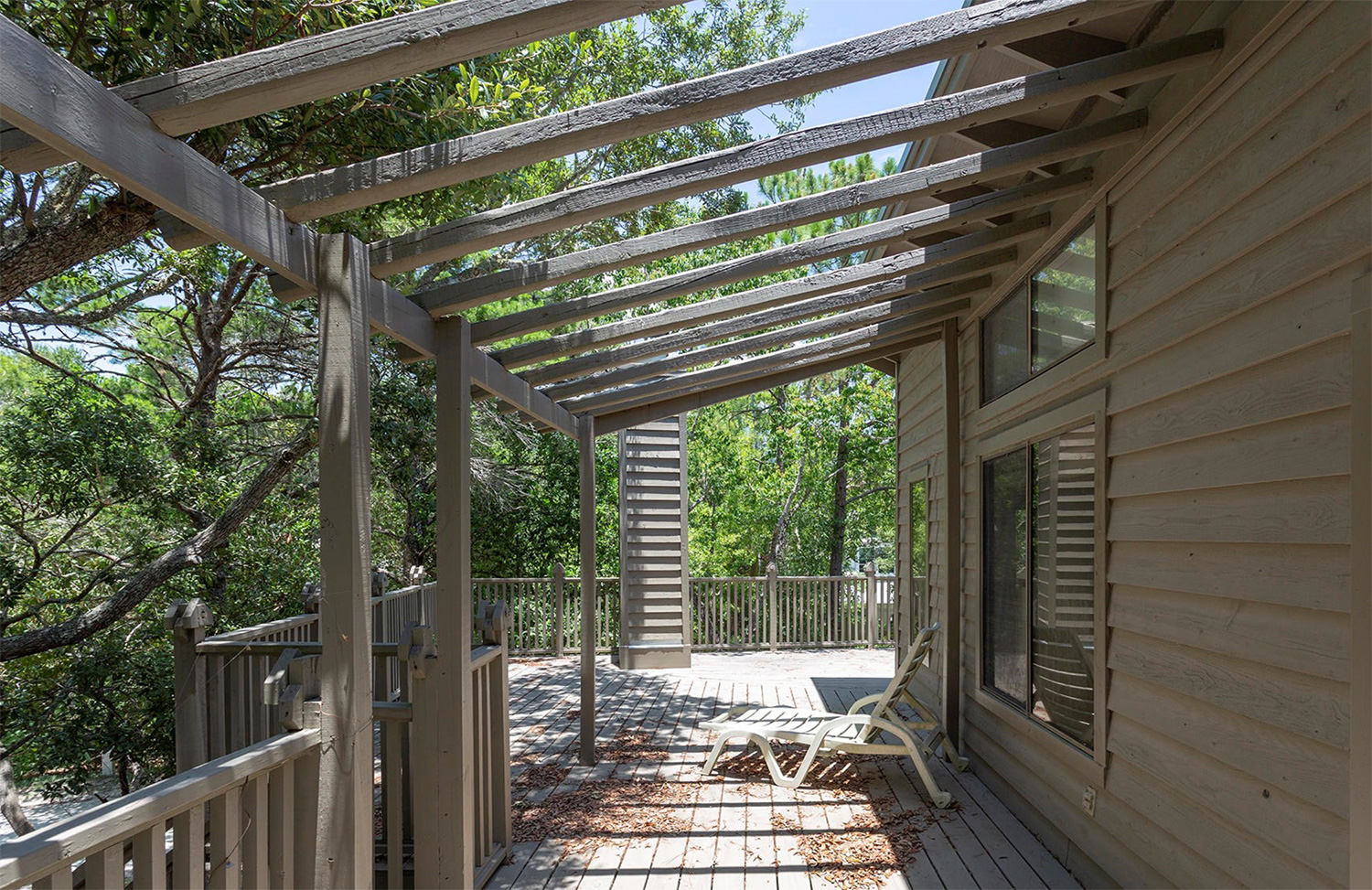 This is what the deck looked like right after we moved in, thanks to the magic of new decking, railings, and a whole lot of white paint. We've also added some more seating, a dining area, and some string lights to make this one of our favorite hangout spots!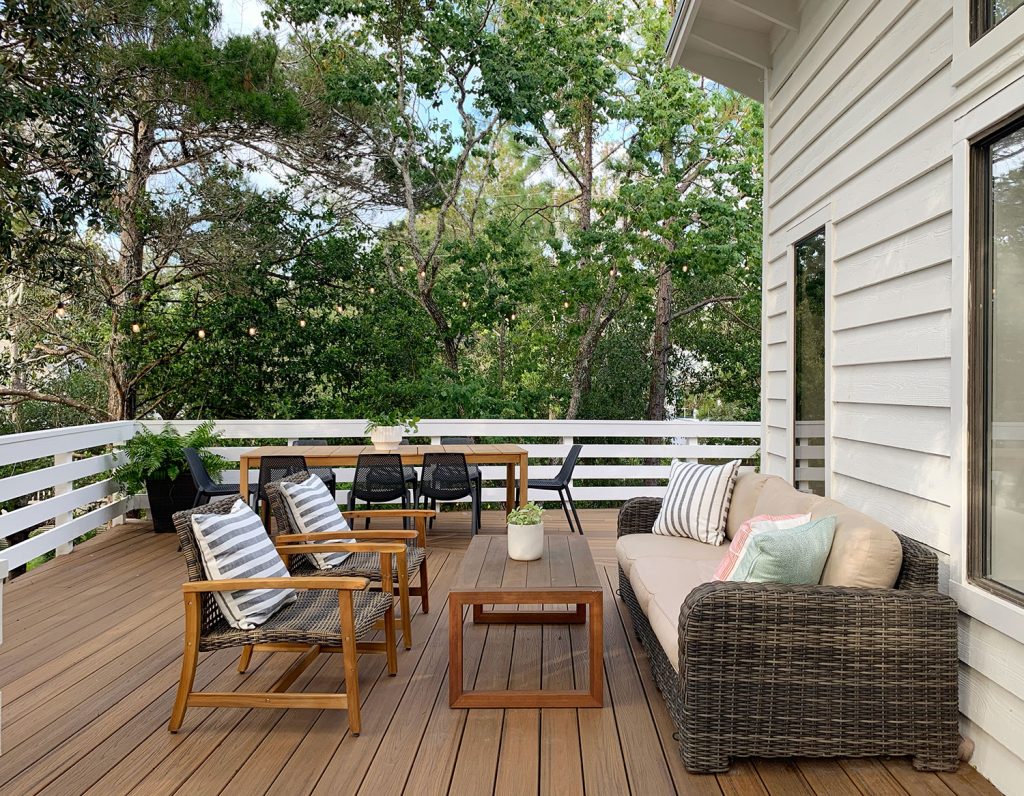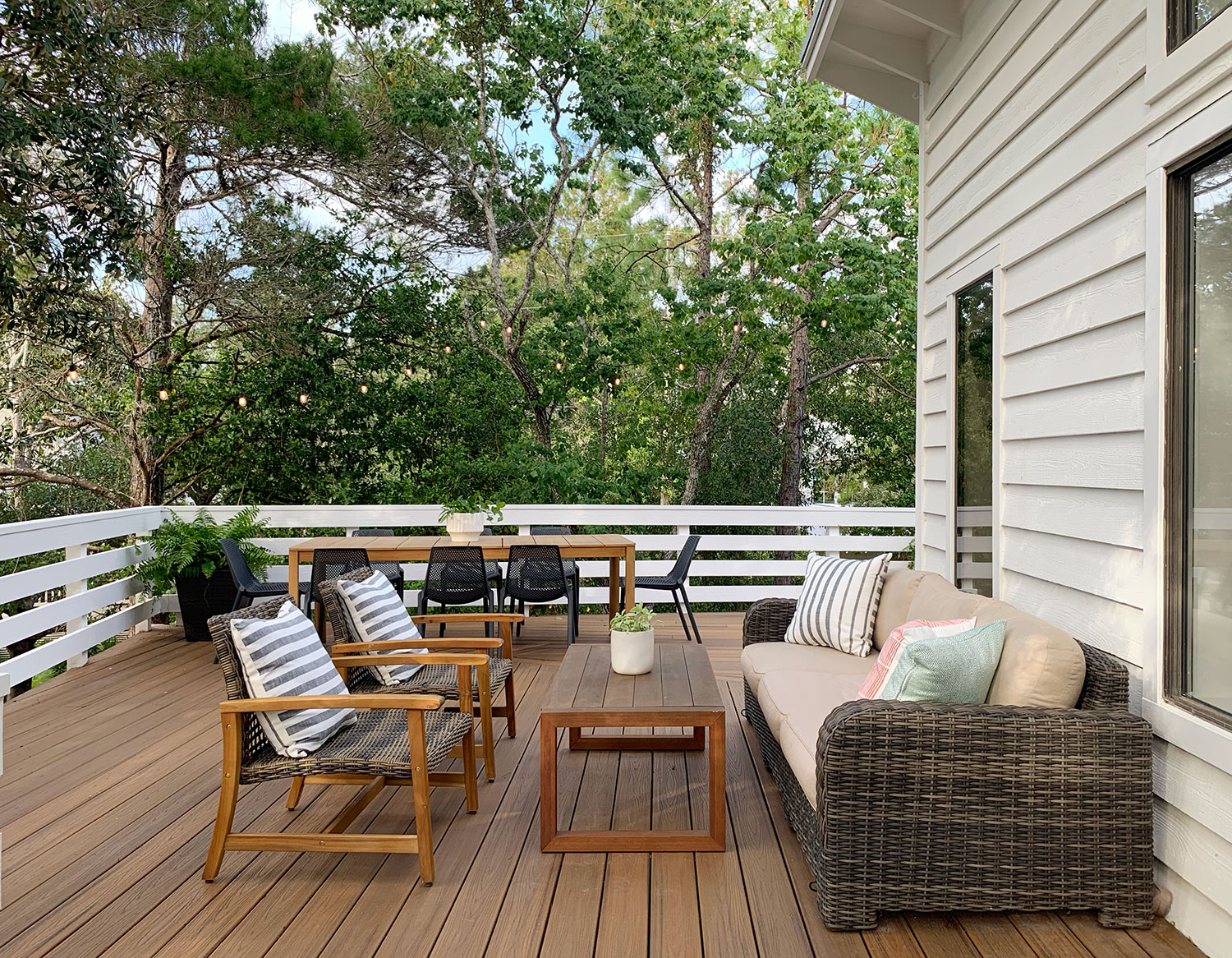 Our Bedroom
Here is our bedroom as it looked when we bought the house. This house only had one bedroom with an actual door that you could close when we bought it, so we converted this into our bedroom by closing the large opening to the kitchen and adding a door to the smaller opening.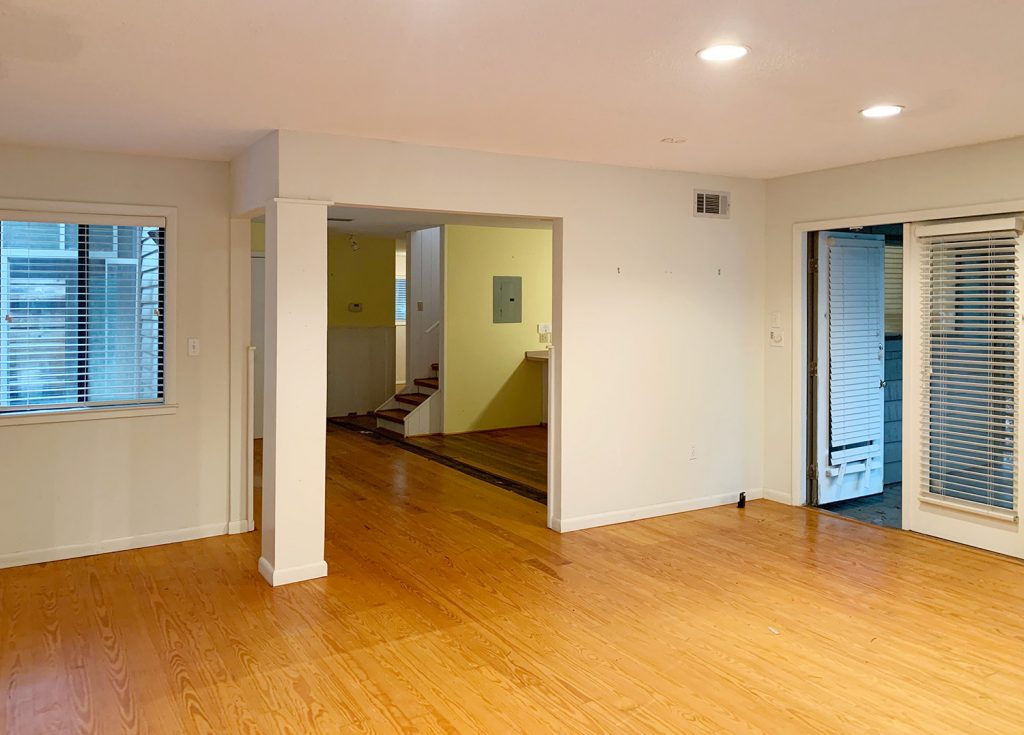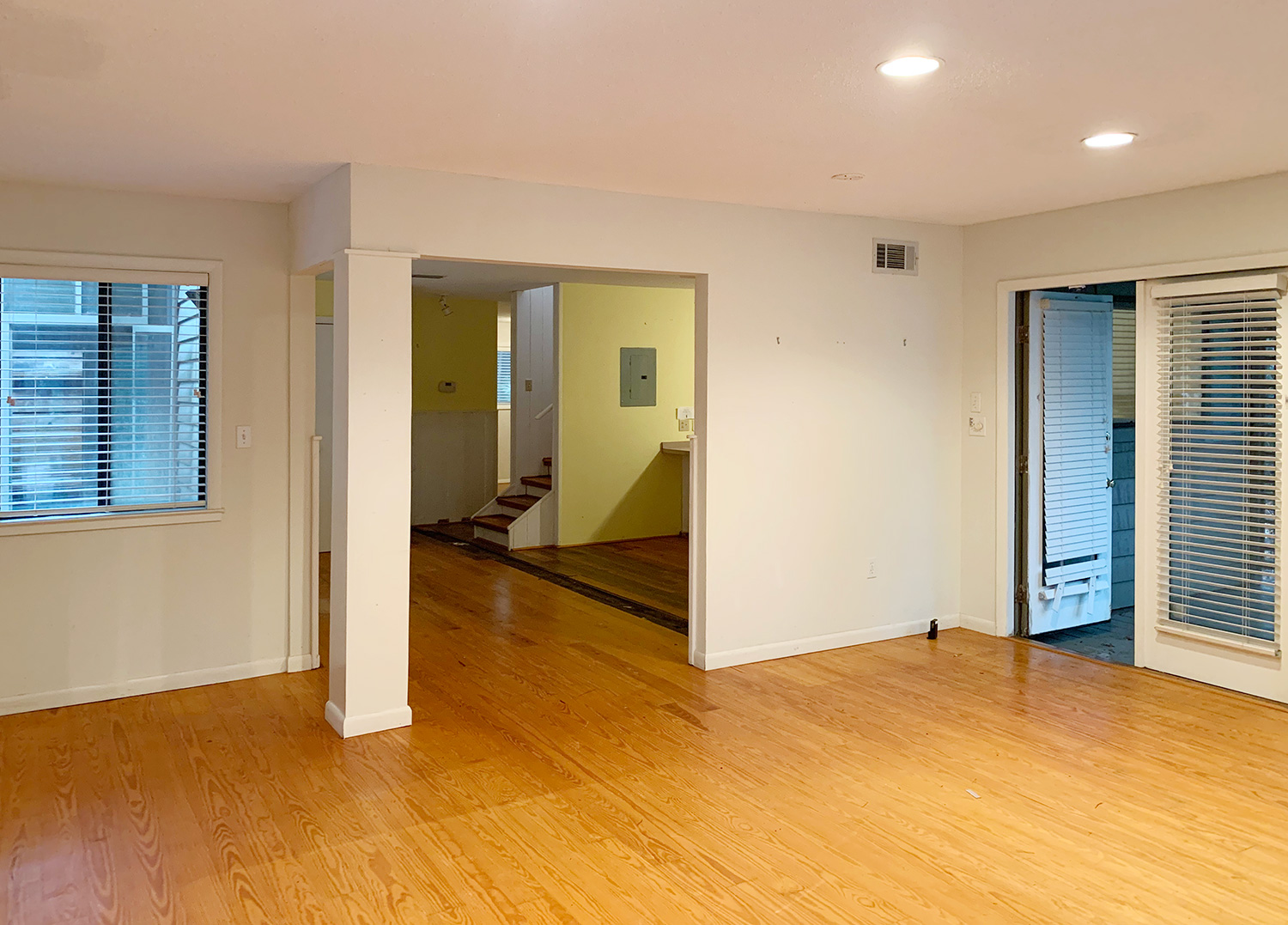 We also refinished the floors, gave it some fresh paint, and then it just took some comfortable things like curtains, furniture, and a cozy rug to make this feel like a welcoming retreat. You can see more photos of our bedroom in this post.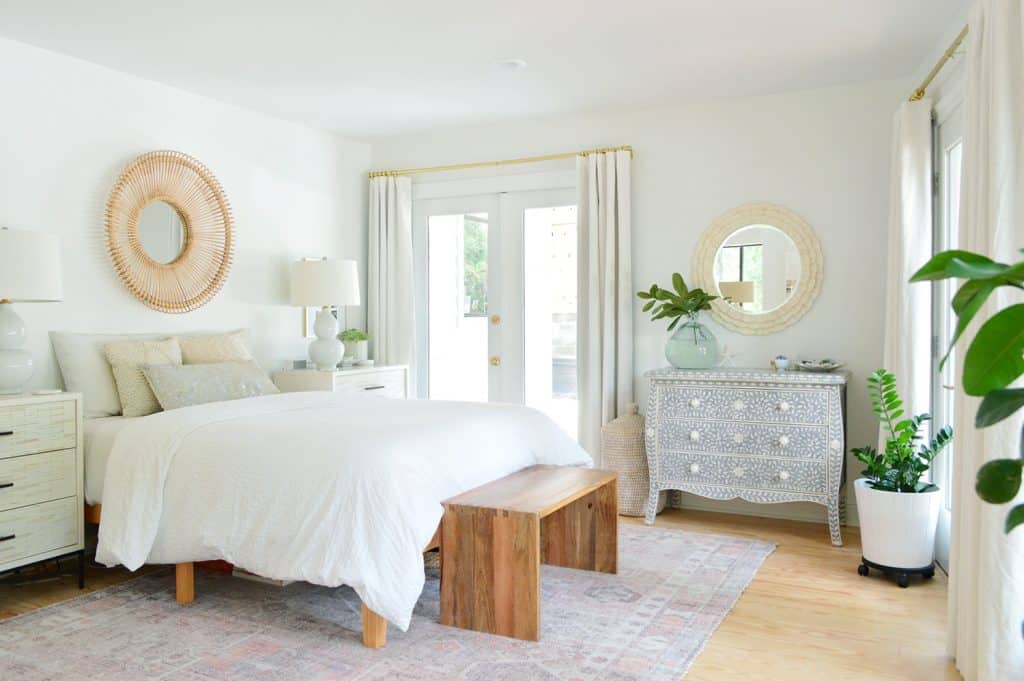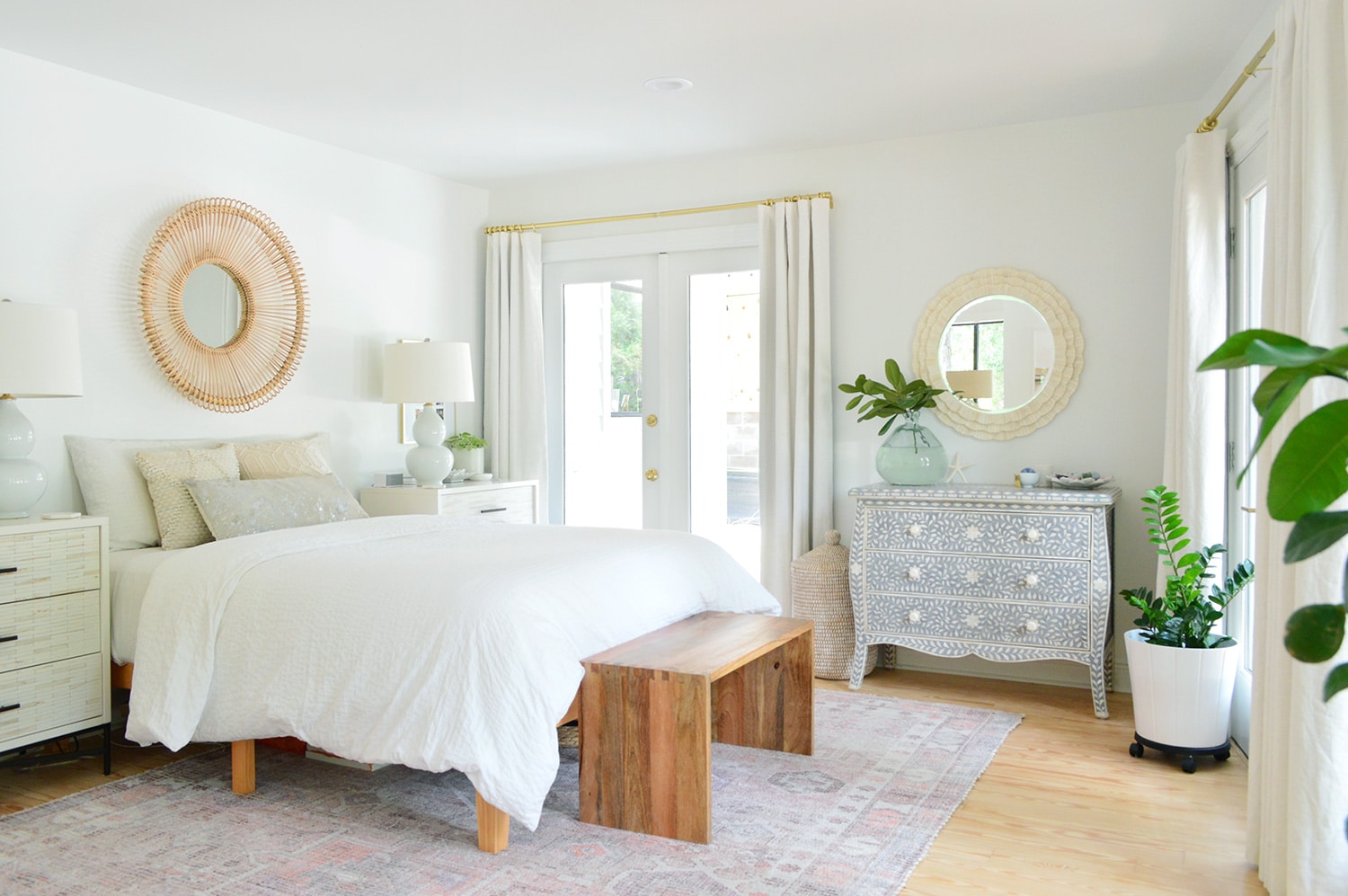 We have eventual plans to convert the covered porch outside the double-doors next to our bed into an ensuite bathroom. Sharing a bathroom hasn't been as bad as we thought – so we're not in any rush.
Note: the most common question we get about our house is why we didn't make that large upstairs family room into our bedroom. The short answer is 1) we all prefer to sleep on the same floor 2) that room upstairs is nearly twice as big as this bedroom so we'd much rather share the biggest room in the house than take it for ourselves, and 3) we've learned it's helpful in a smaller house if the two common areas aren't right next to each other (someone can watch a movie upstairs or do a zoom call for virtual school while someone else is downstairs at the kitchen table working undisturbed or reading in the sitting area).
Here's another before shot from back when we bought the house: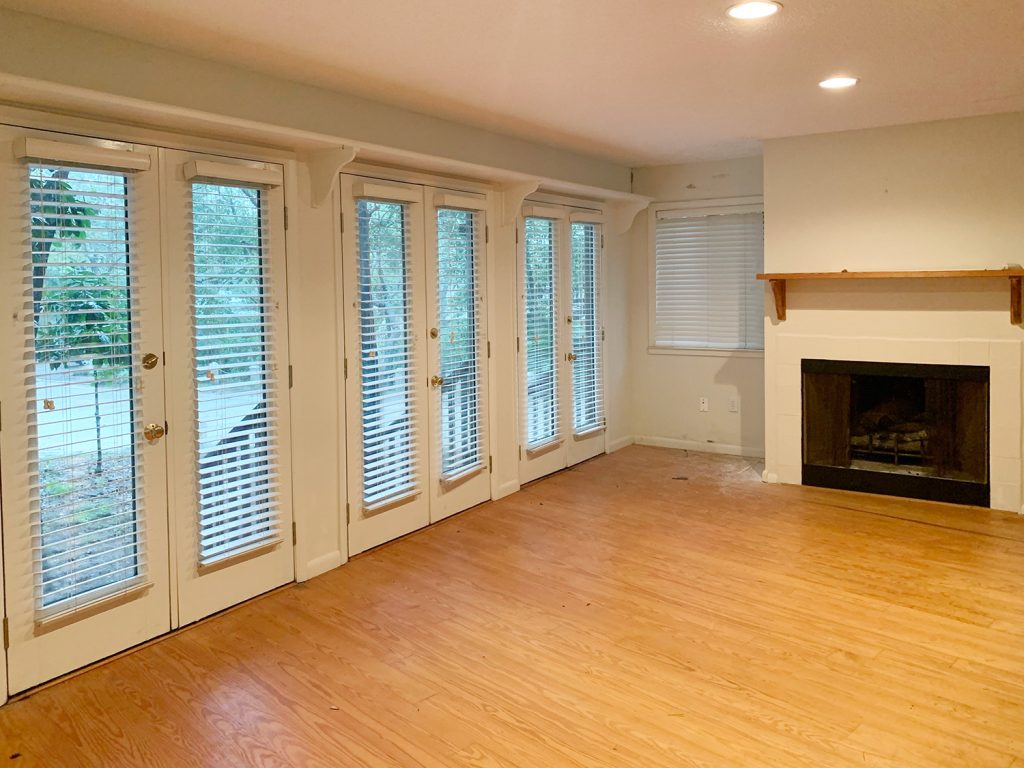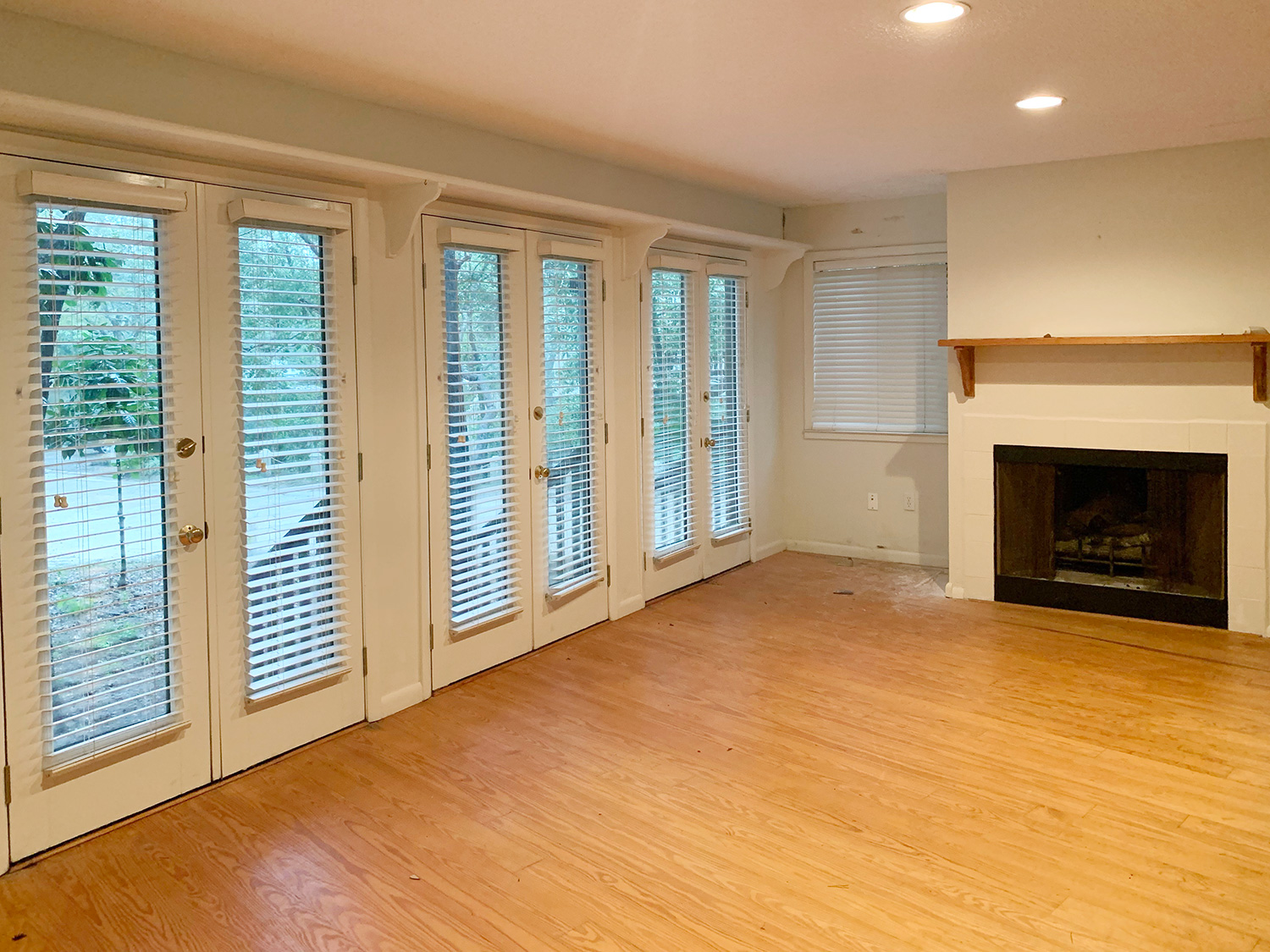 And here's that wall now from a different angle, but you can see how much of a difference some curtains and furniture can make. You can see more photos of our bedroom in this post.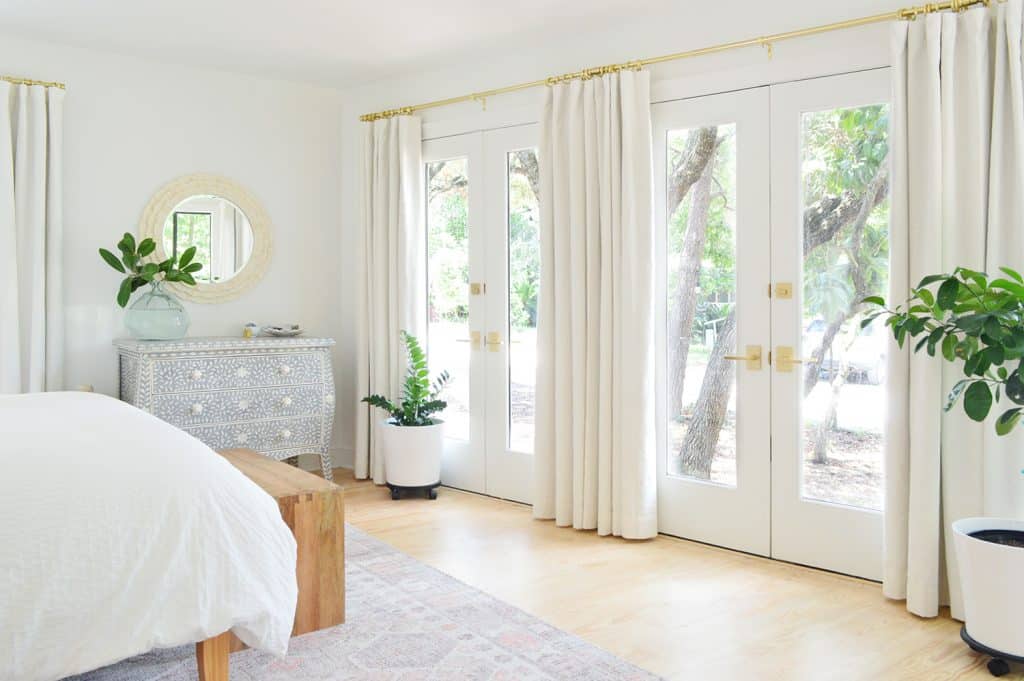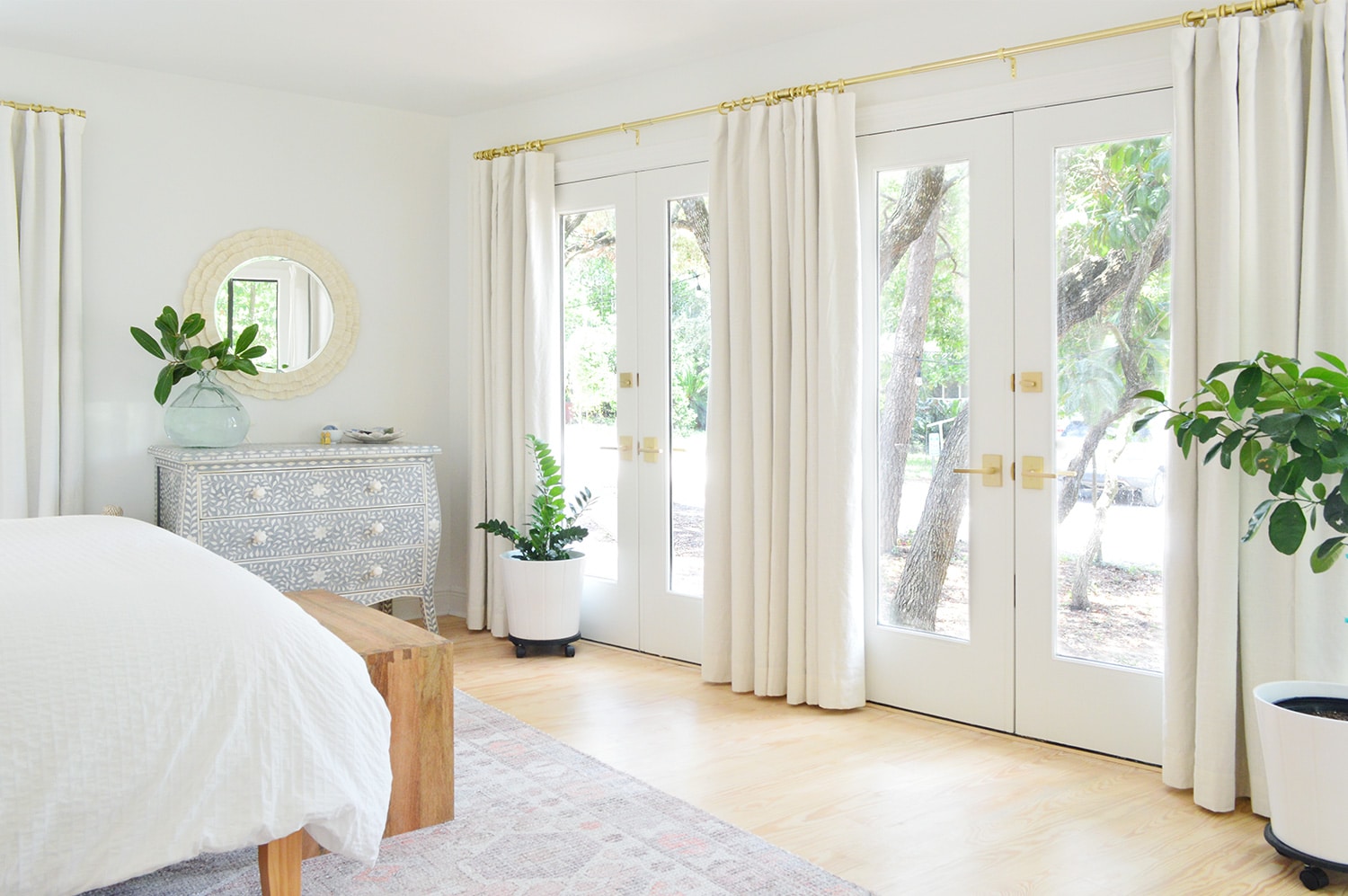 We've also made progress in updating the non-functioning fireplace, and shared those details in this post. It's such a cozy addition to the bedroom.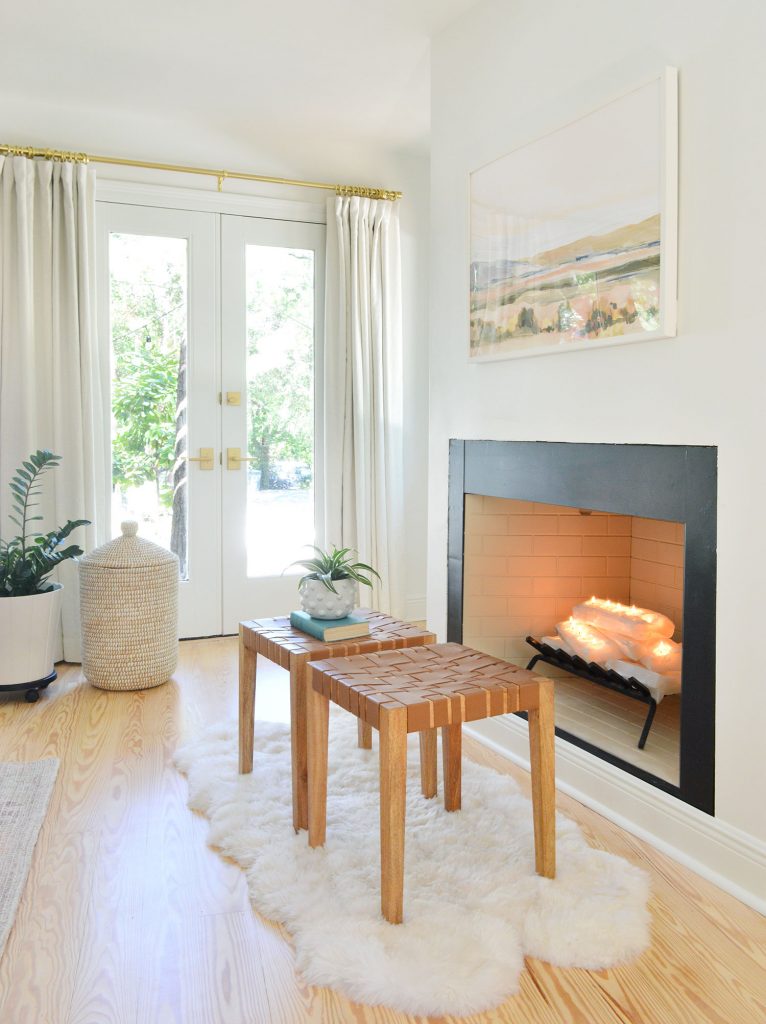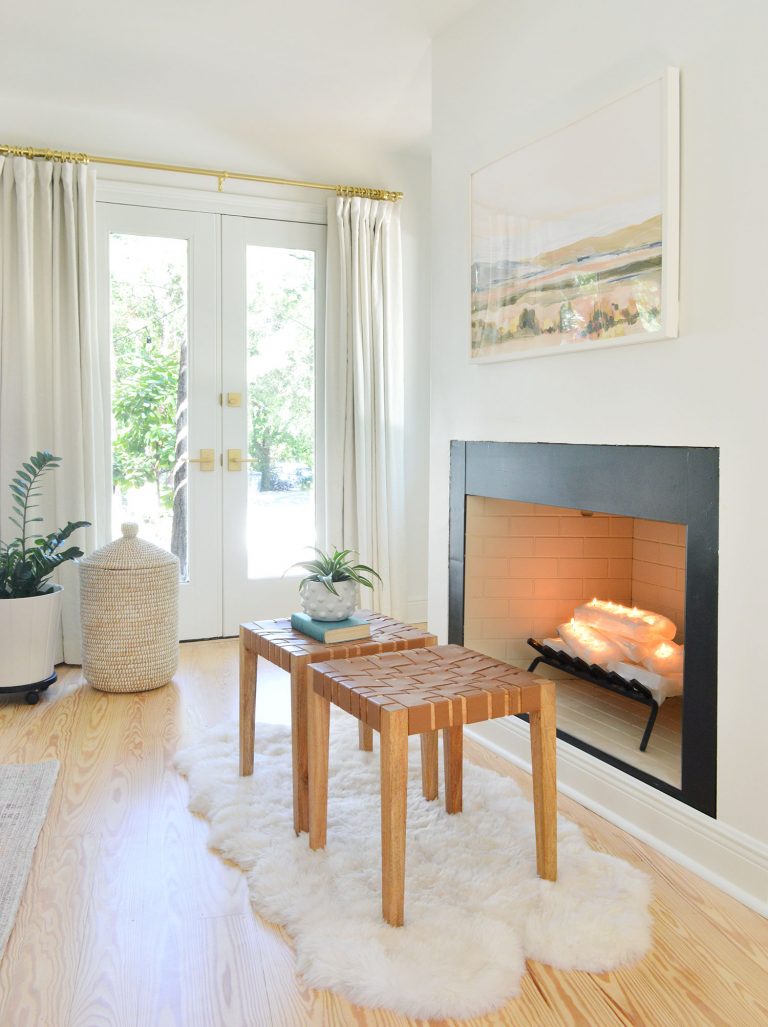 The Bathroom
Our house only has one bathroom – and it didn't even function when we bought it! The vanity had been torn out, there were leaks festering in the walls behind the drywall and the tile, and the toilet couldn't even be flushed due to the absence of a sewer line. Here's what it looked like when we bought the house: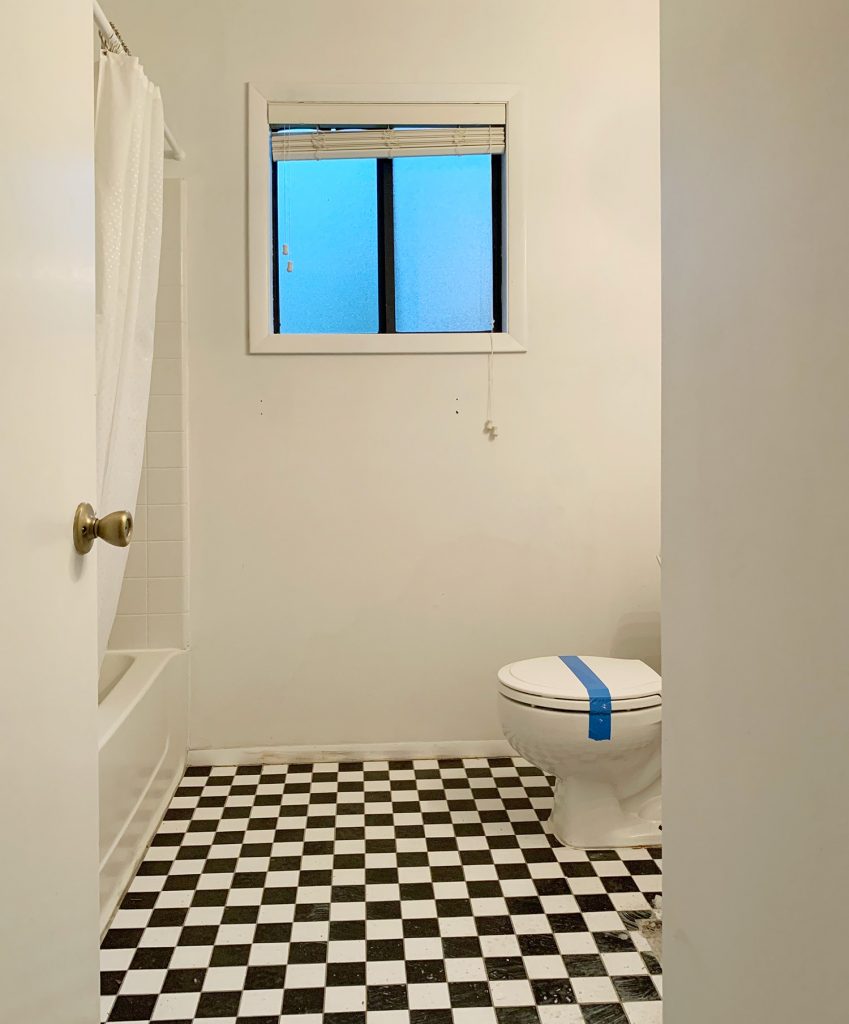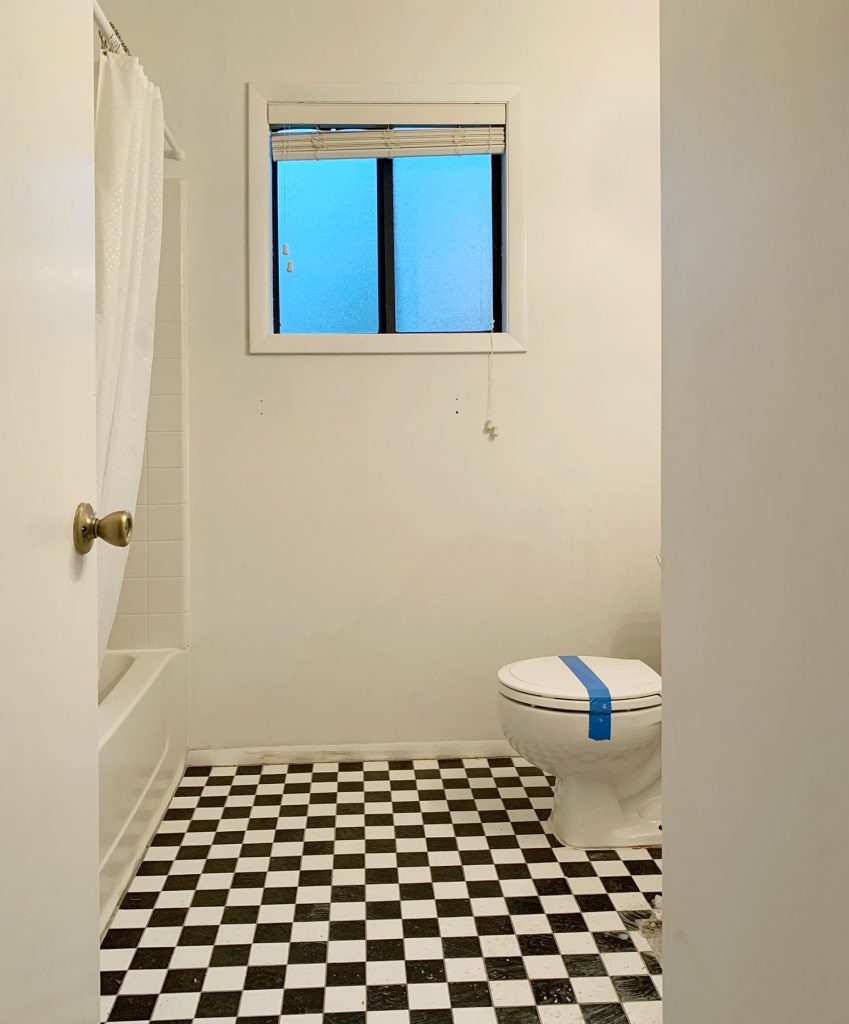 Before we moved in, we had basically everything replaced (except for the window!) to make this space functional. I gotta say, as much as we like the fun floor tile, and the cheerful accessories, a toilet that flushes really is the best part of any bathroom. You can see more of the room in this post.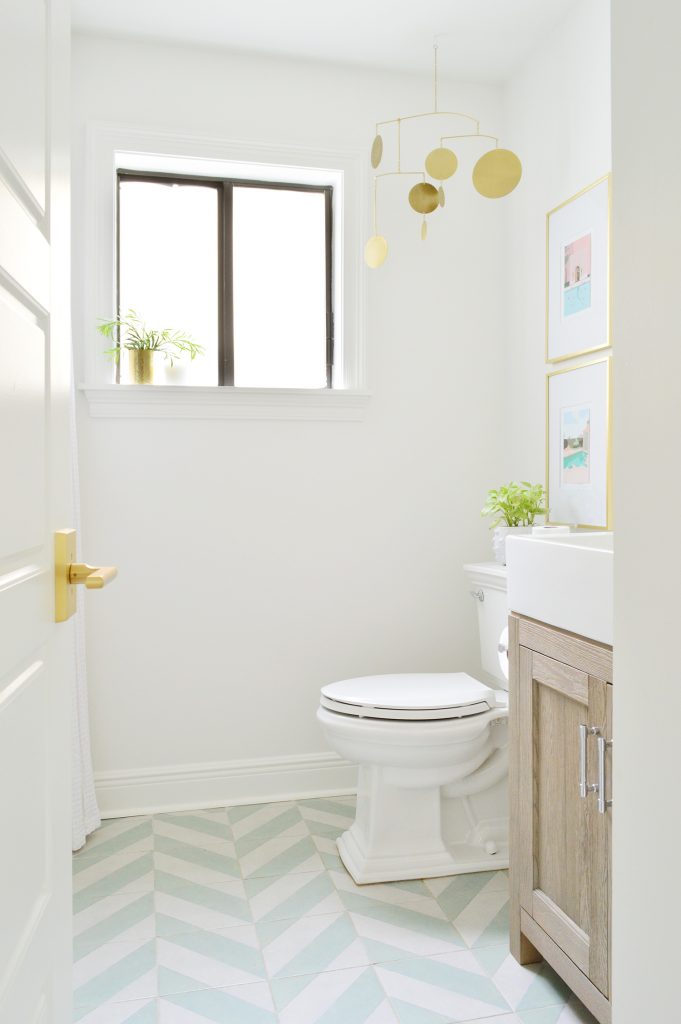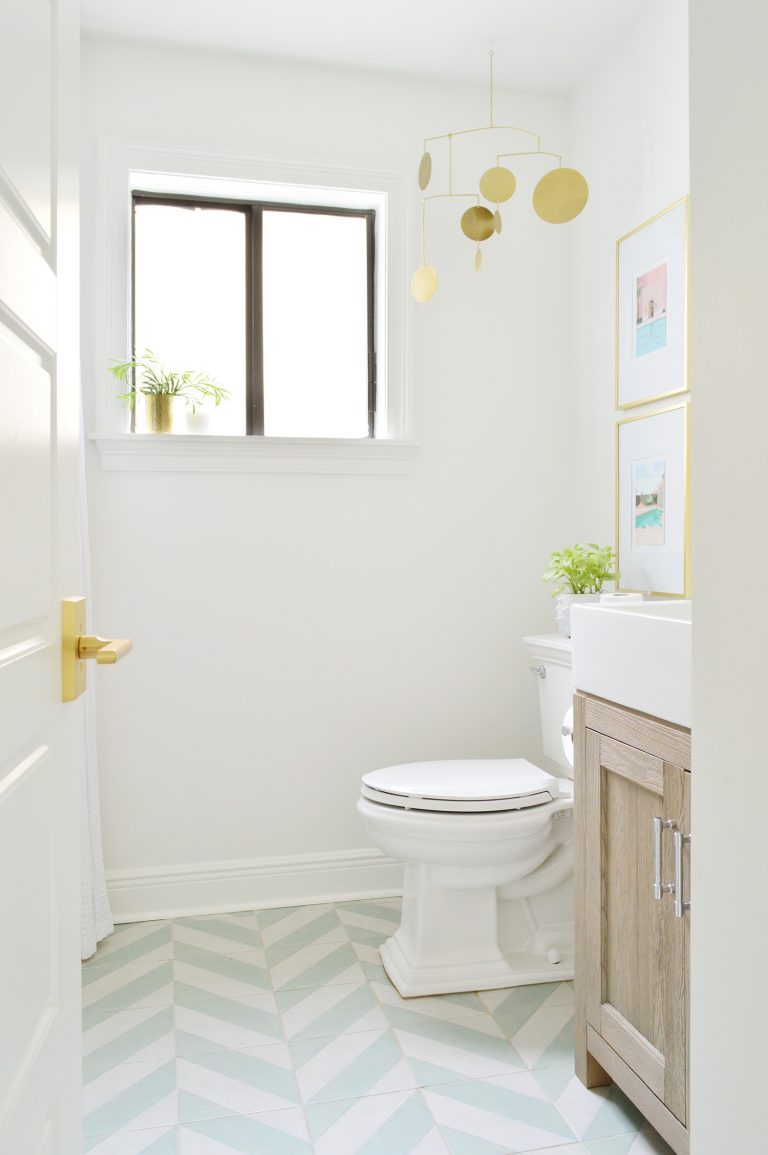 The Laundry Closet
We converted a (weirdly double-sided) closet right off the front door into a laundry closet, which actually reminds us a lot of the laundry nook that we had in our very first house.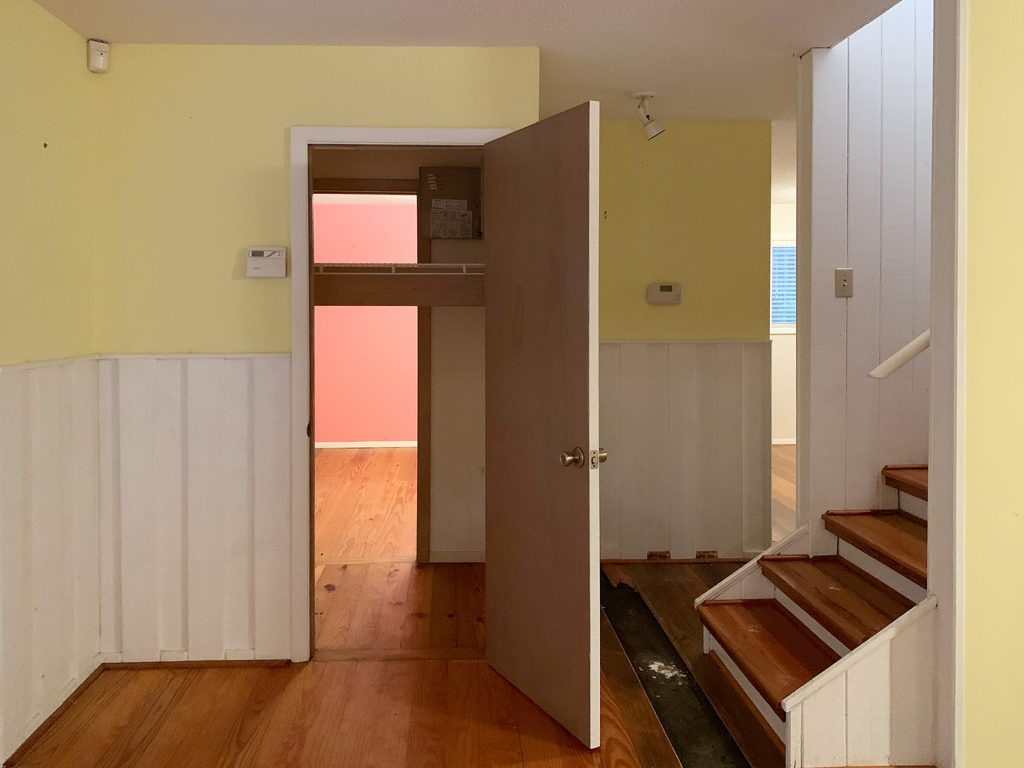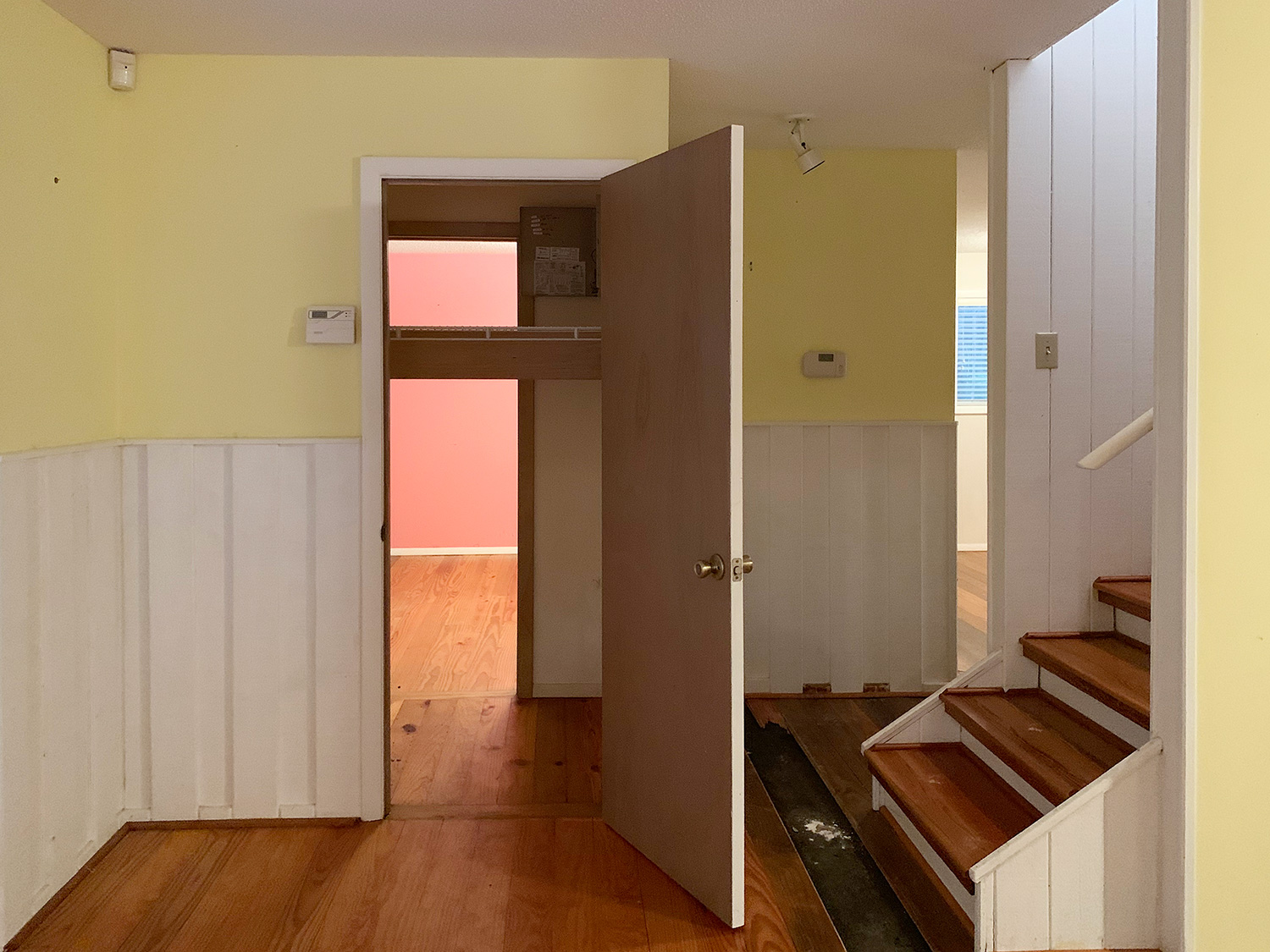 In addition to the new appliances, we built some nice deep shelves and added lots of hooks to make it extra hardworking.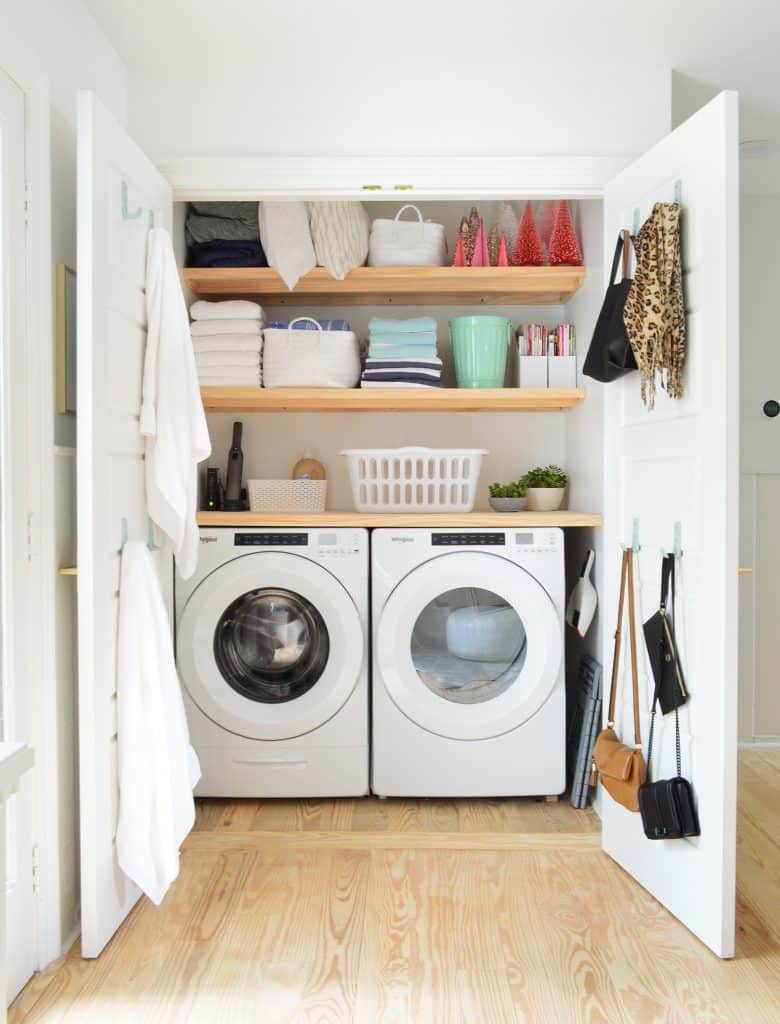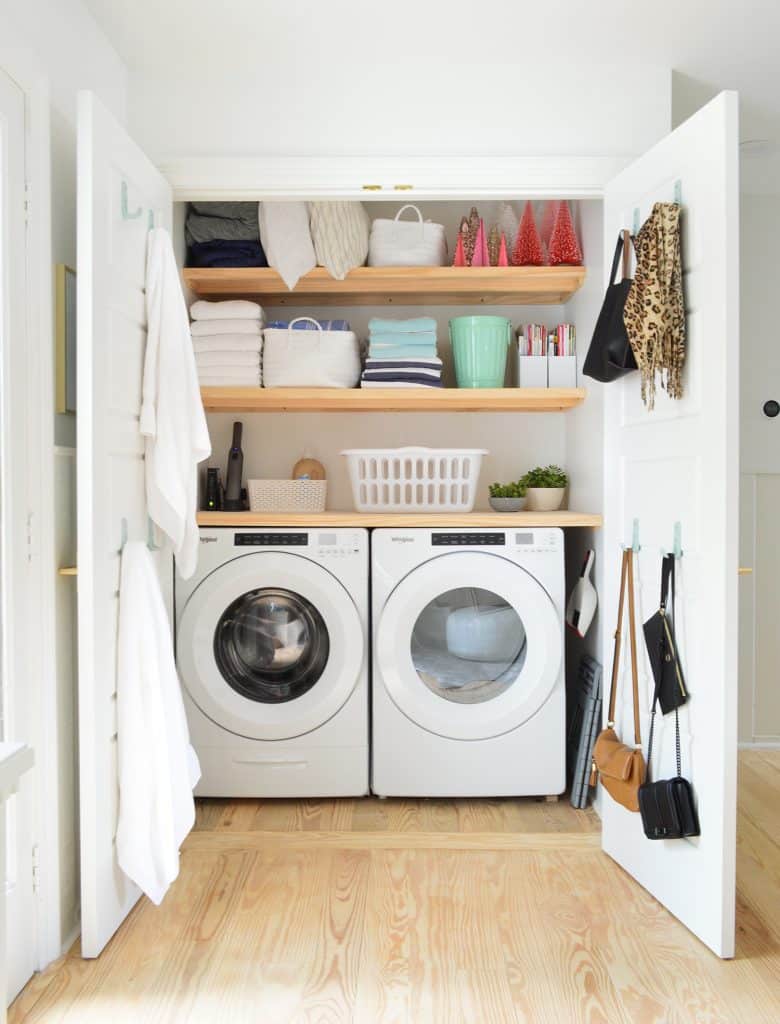 Our Daughter's Bedroom
Some of our favorite transformations in this house are our kids' bedrooms, since we were able to vault the ceilings in both rooms – making these spaces feel so much bigger and brighter than they used to feel.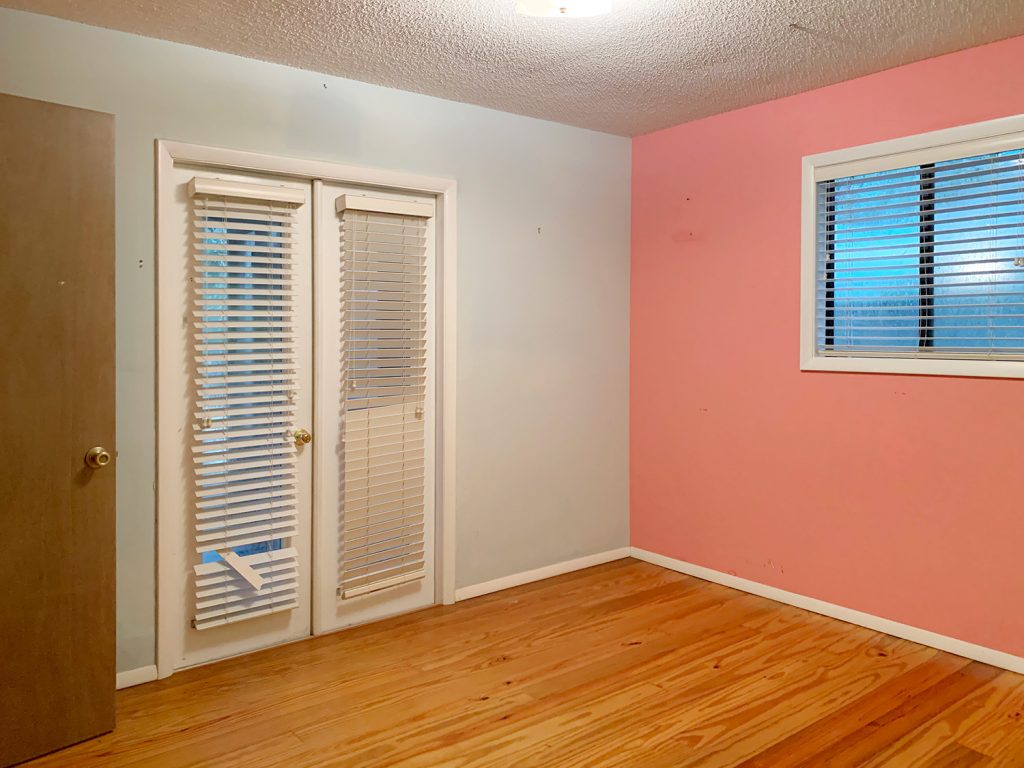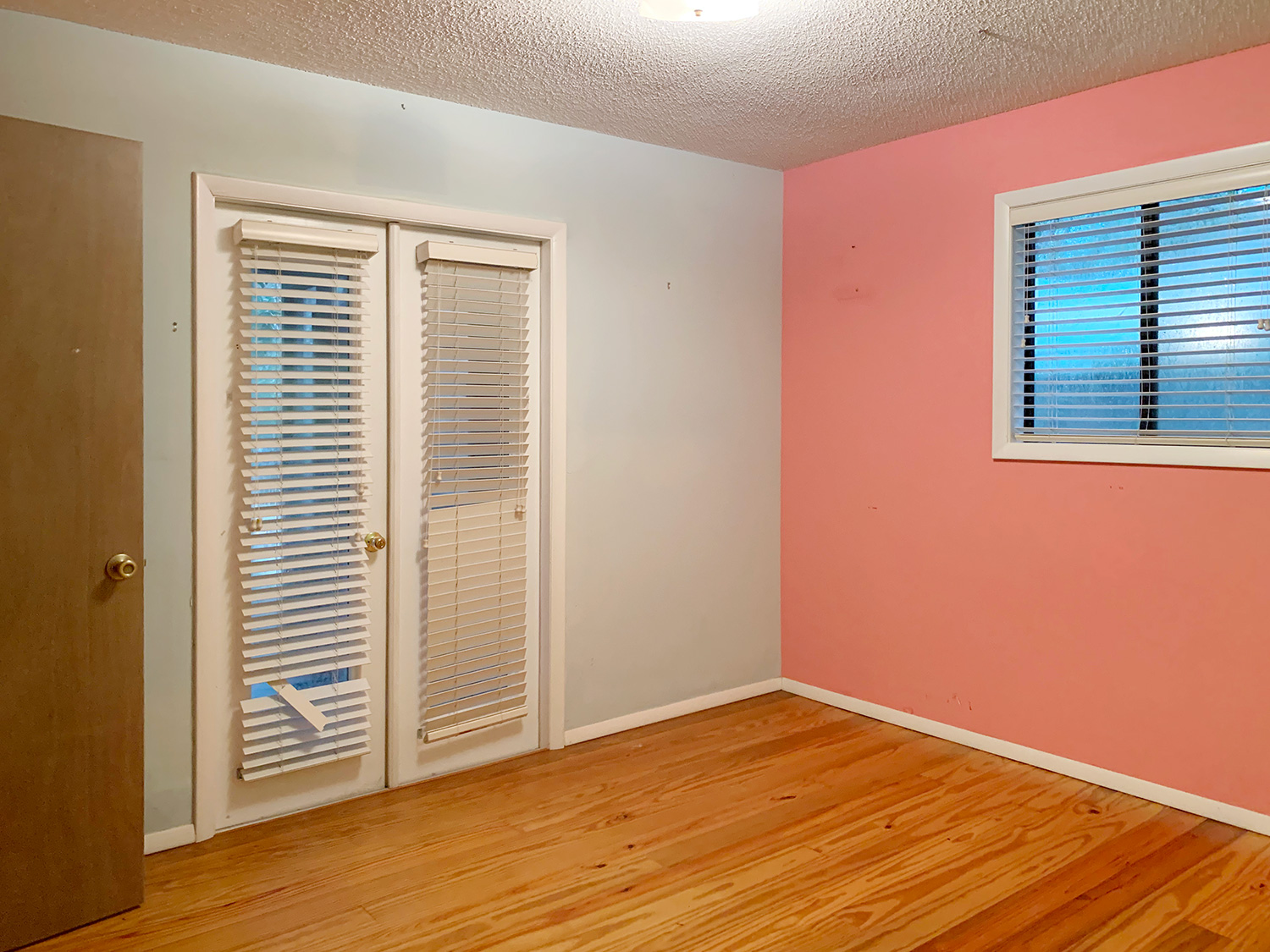 Yup, this is the same room, from the same angle. Crazy the difference that ceiling change made, right? It wasn't structural (the roof already had that slope, so we essentially removed a drop drywall ceiling, added insulation, and just followed the slope of the roof with the planked ceiling). You can click here to see more photos (and get a DIY channel headboard tutorial).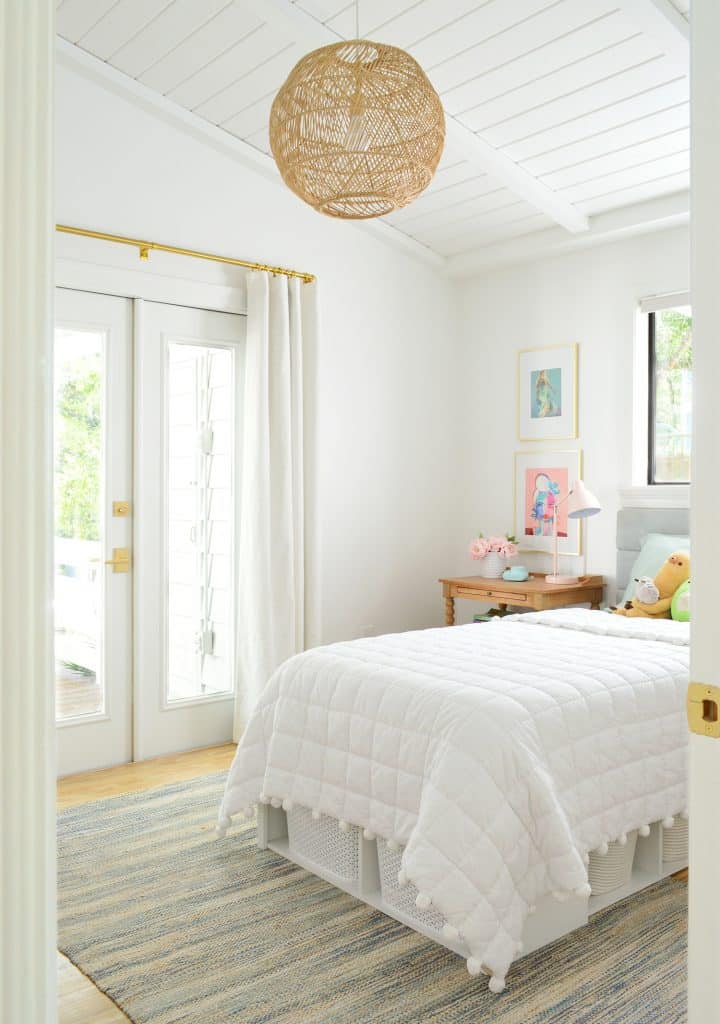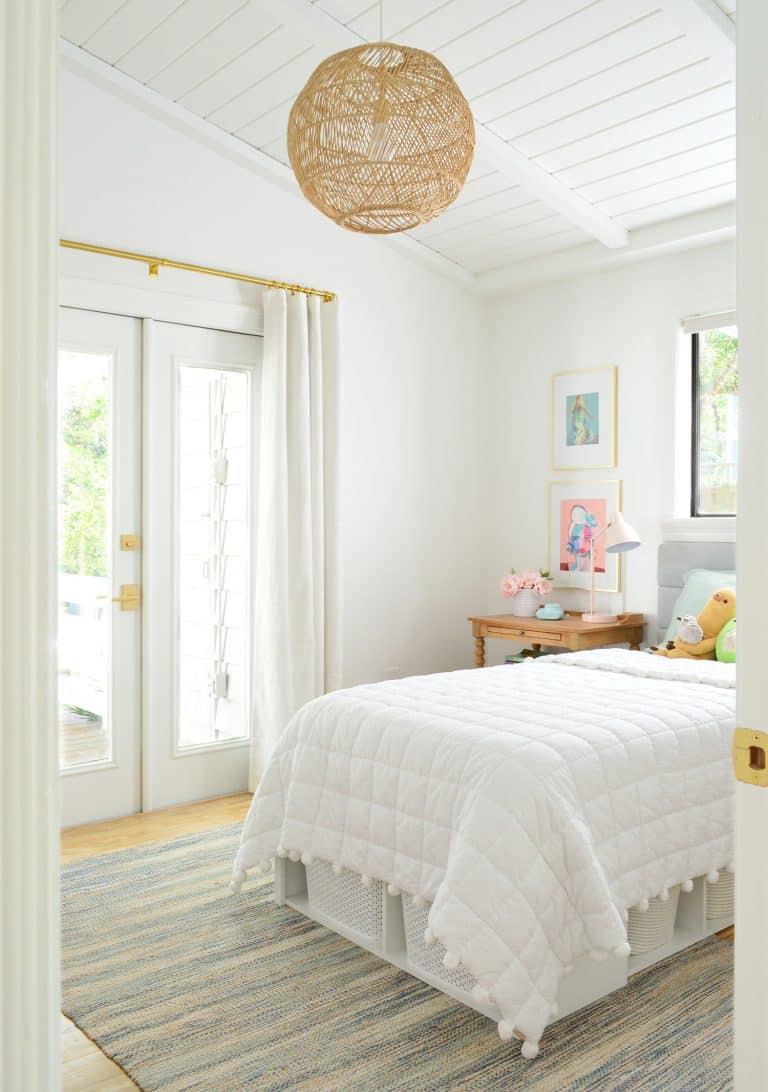 You can also see this room in particular had a very colorful past…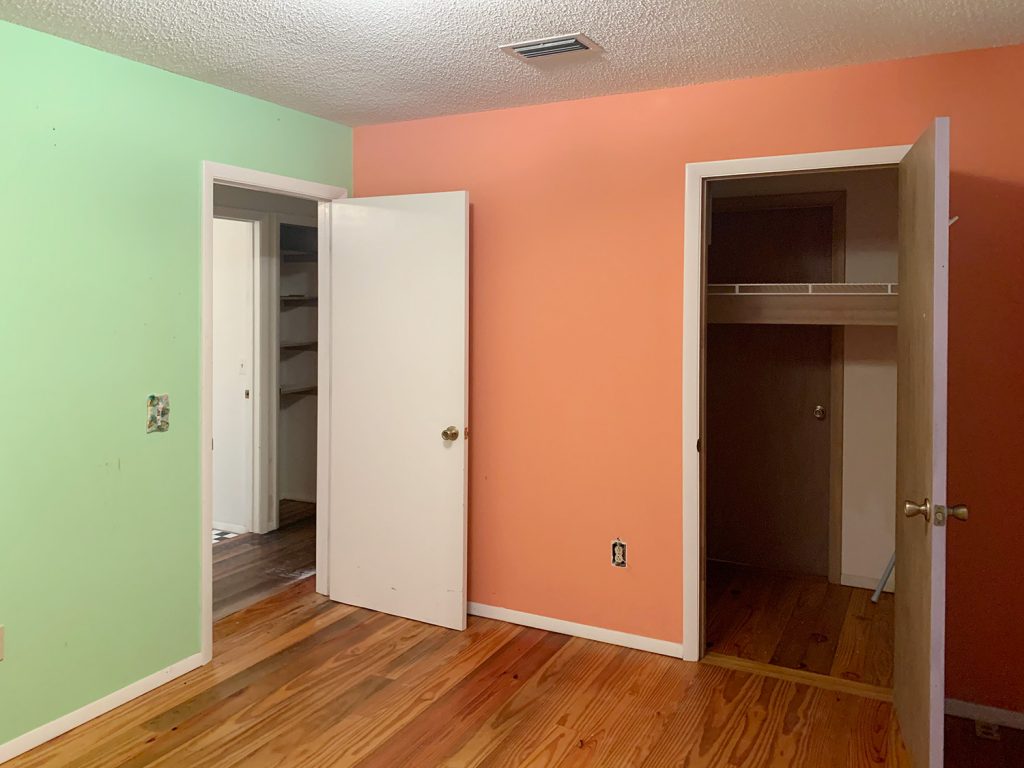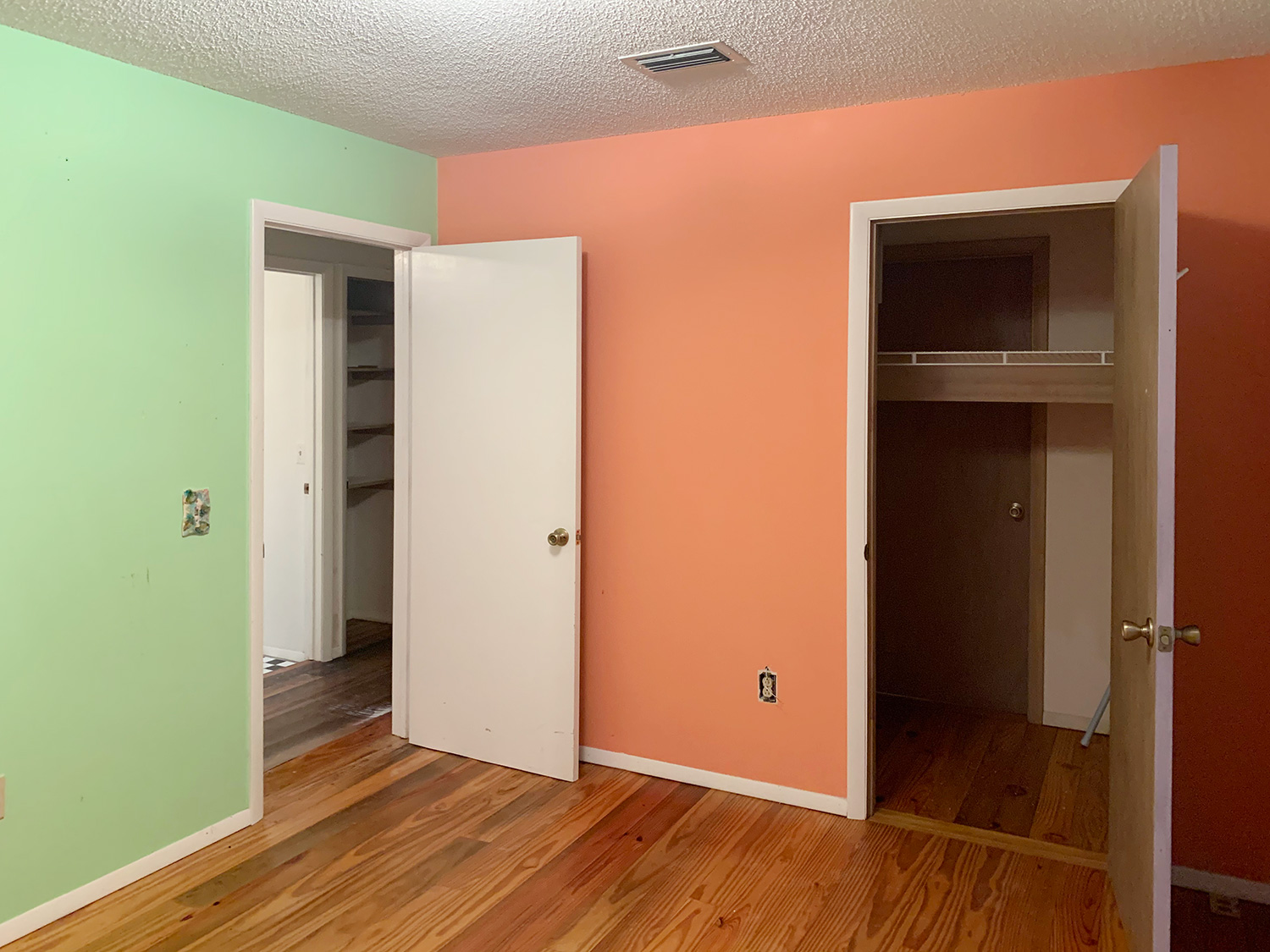 … which we embraced by hand-painting a large mural on the newly vaulted wall across from our daughter's bed.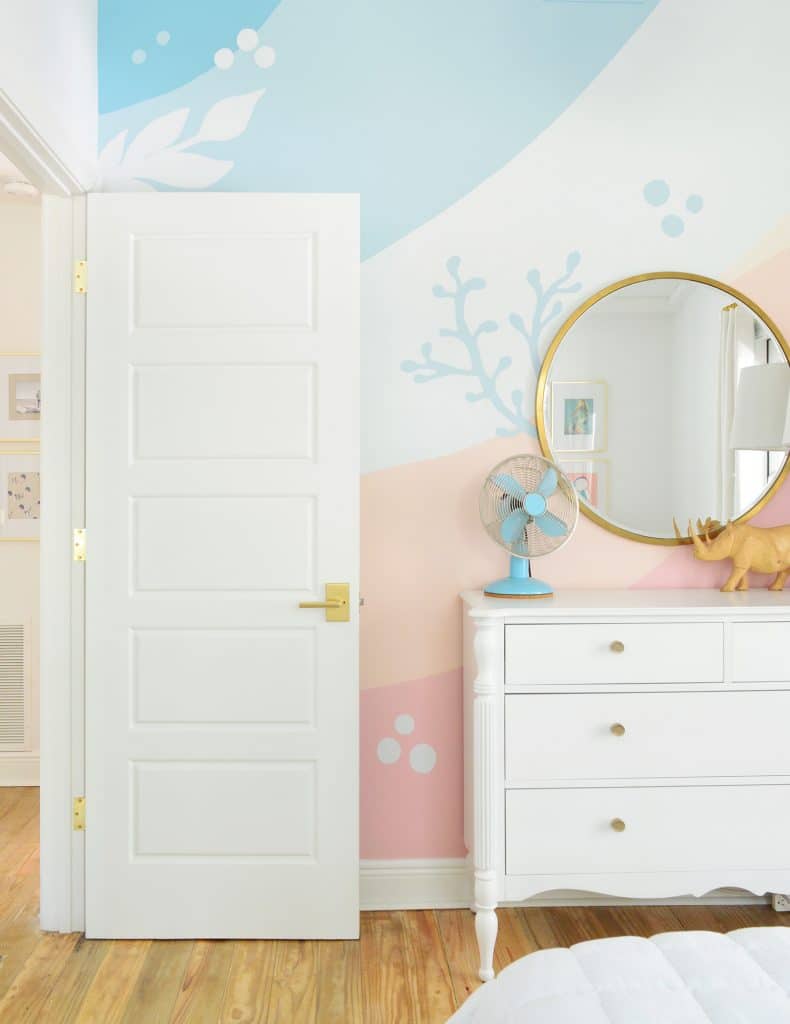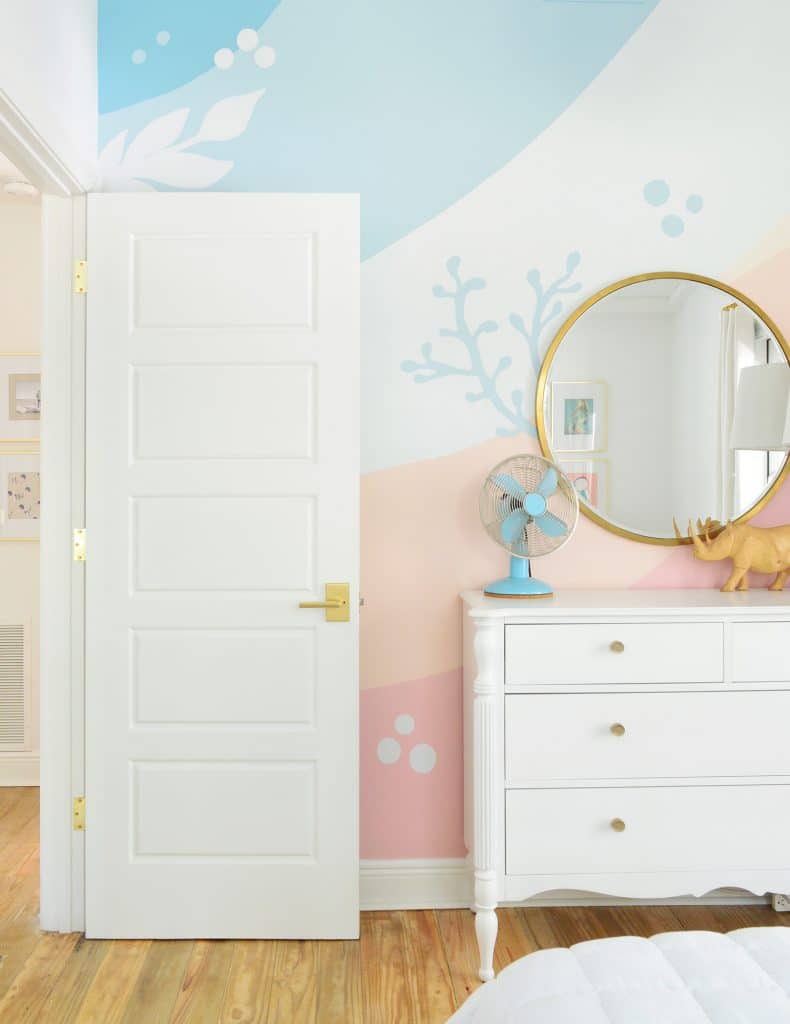 Our Son's Room
We were also able to vault the ceilings in our son's room to follow the slope of the roof, as well as adding more planking and beams. Here's the before: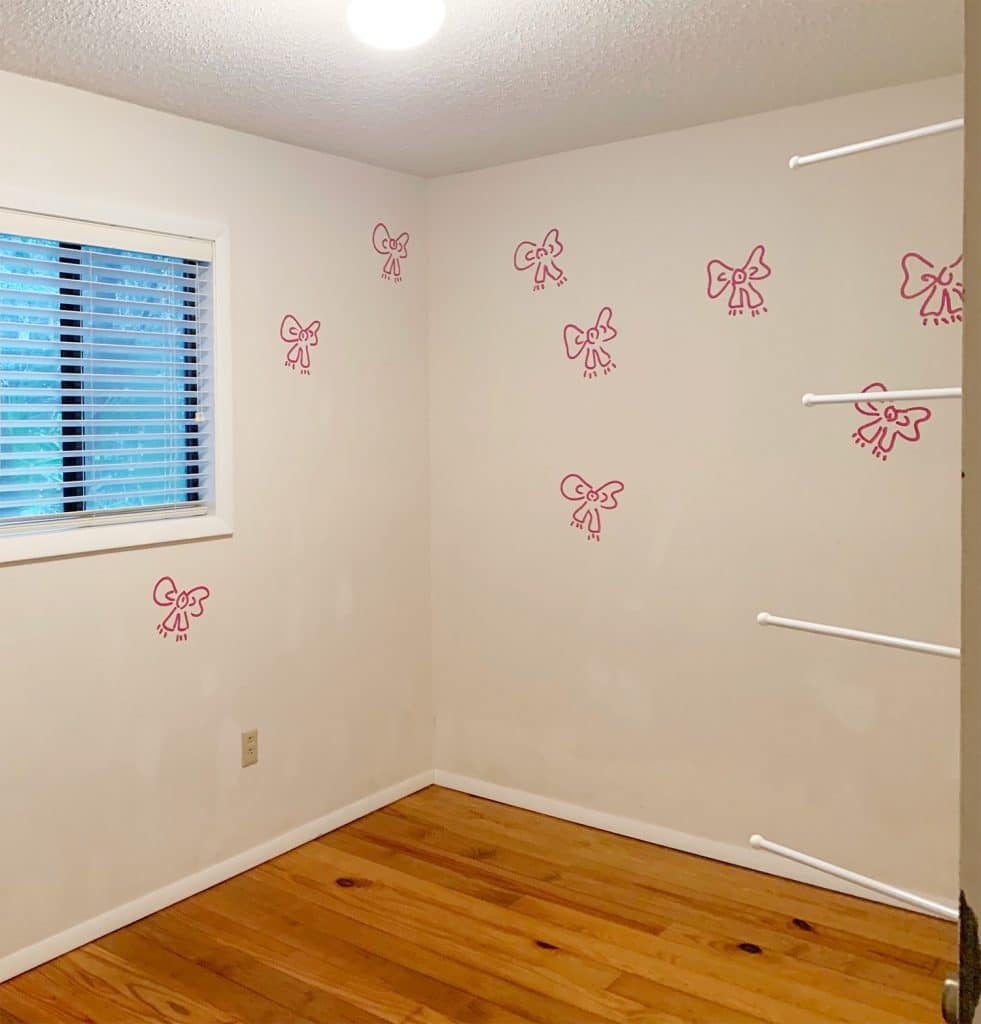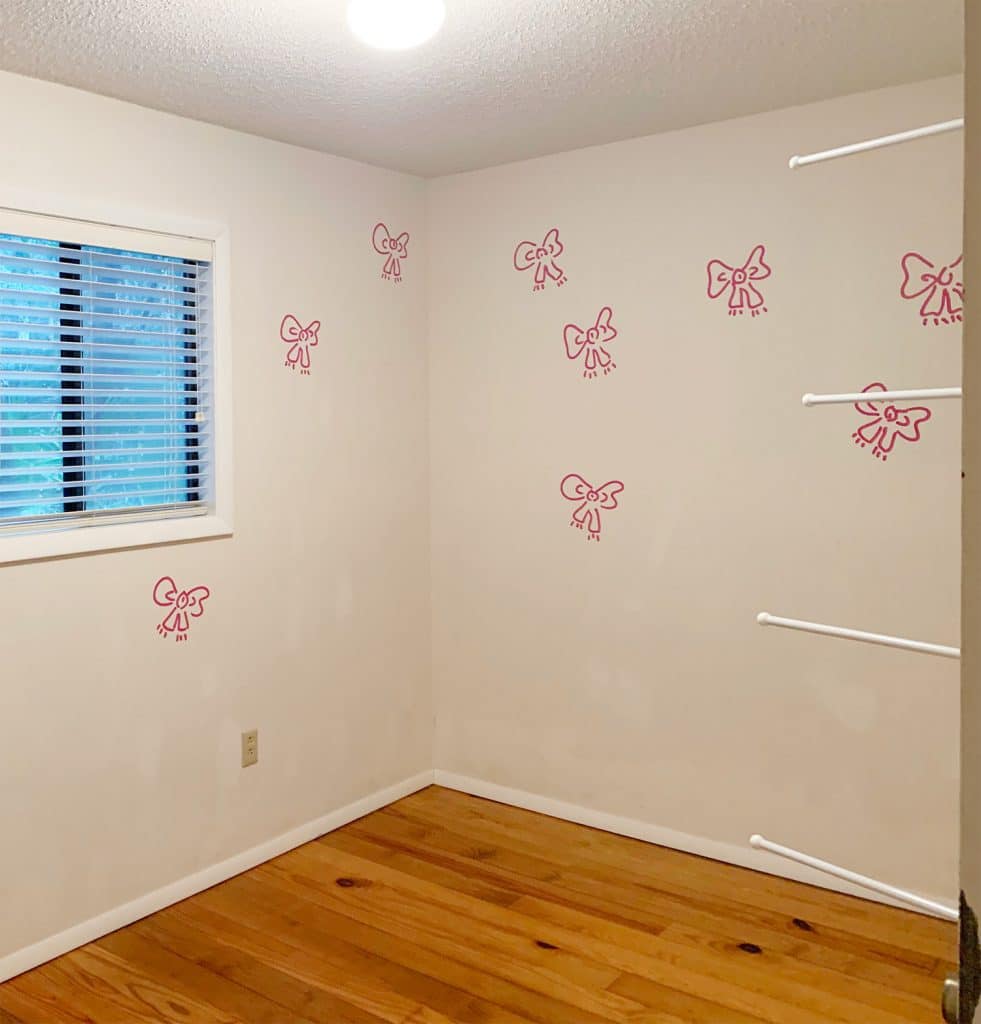 And here's what it looks like these days: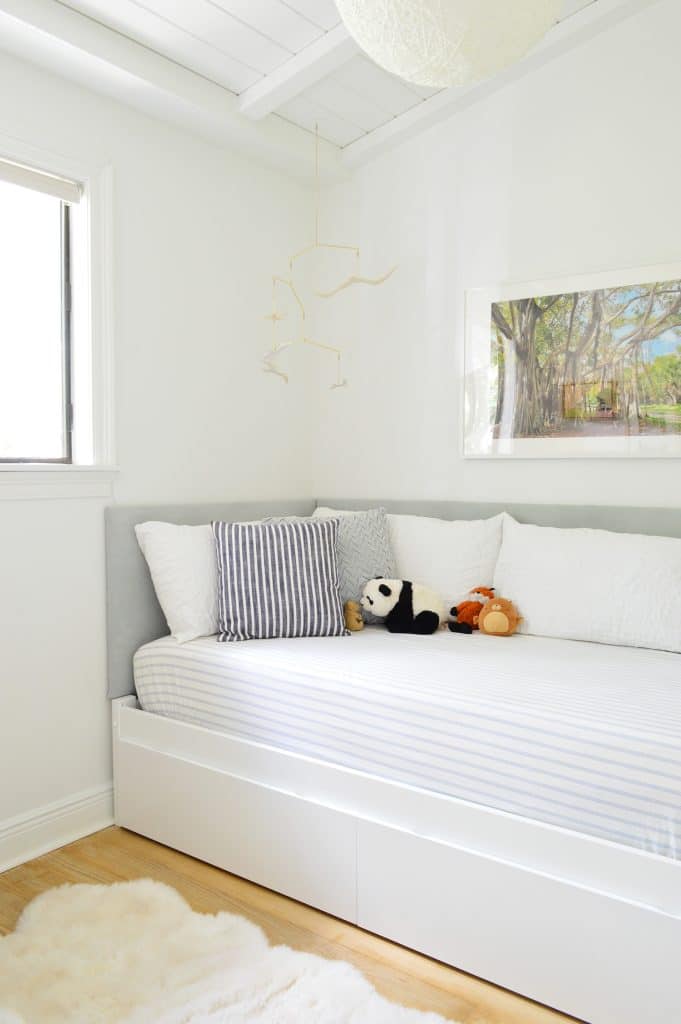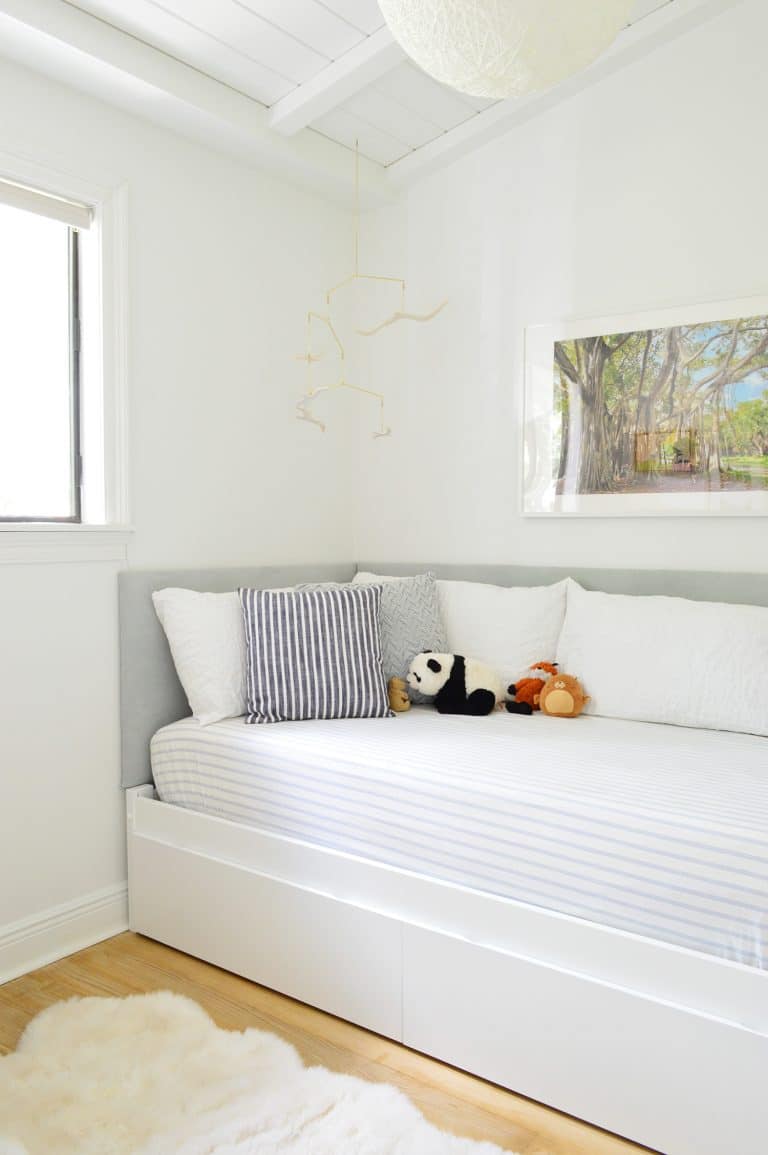 This super cozy room is one of our kids' favorite spots to hang out together (ever since the beach house bunk room they've loved quiet time together in a small space). We built in the bed by creating a simple DIY wraparound headboard, which they hang out on kind of like a daybed.
Every inch matters in smaller spaces like this, so the built-in bookshelf is really functional too. So glad that foot or so of floor space along that wall now works so much harder for us (more on how we built it here).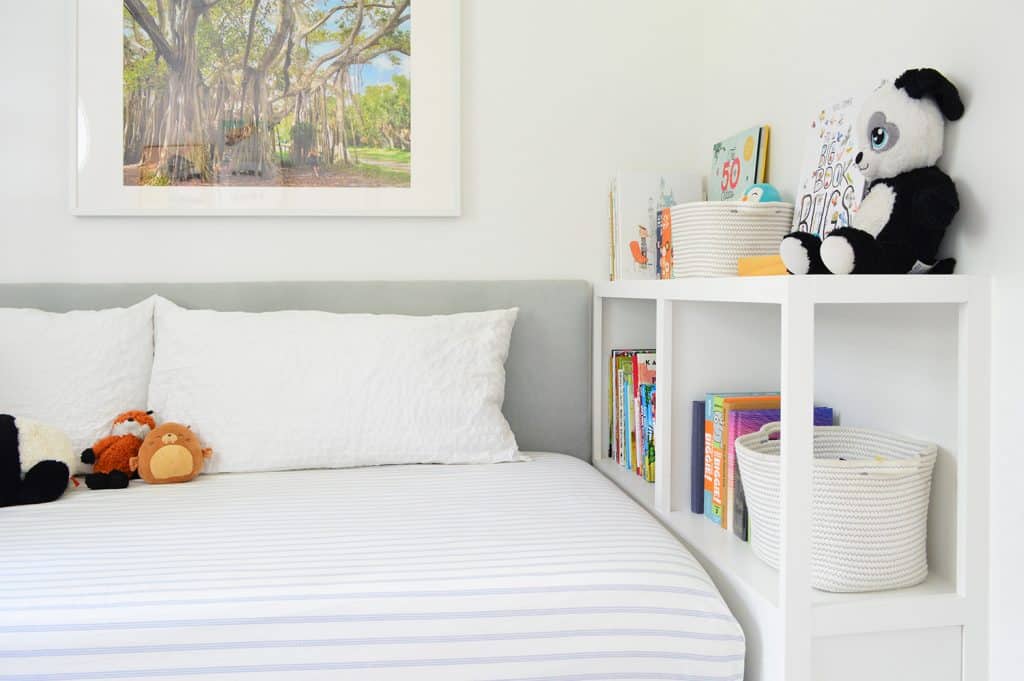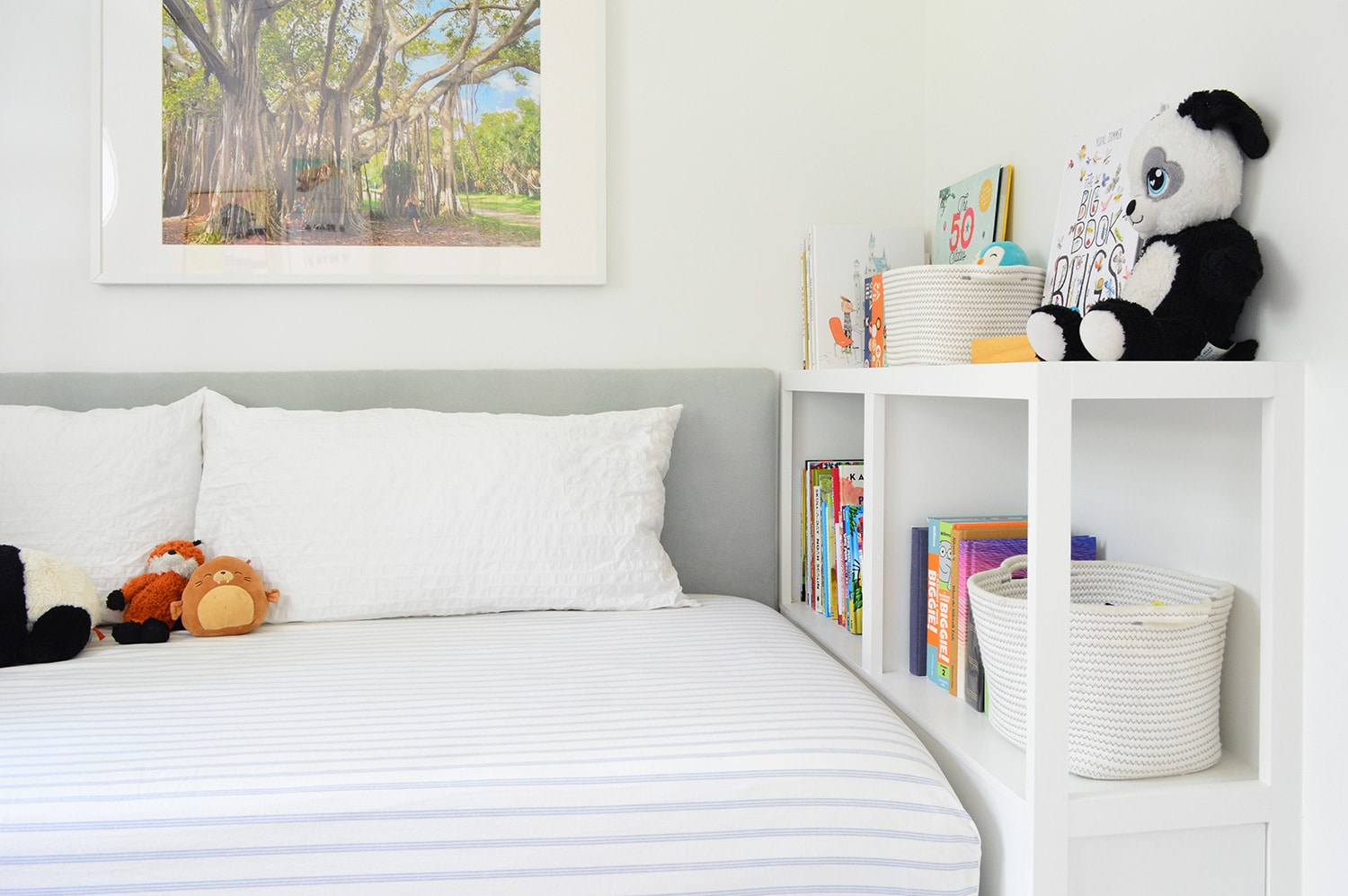 The Outdoor Shower
We weren't quite sure what to make of this space when we bought the house because it felt pretty grody with so much grime going on…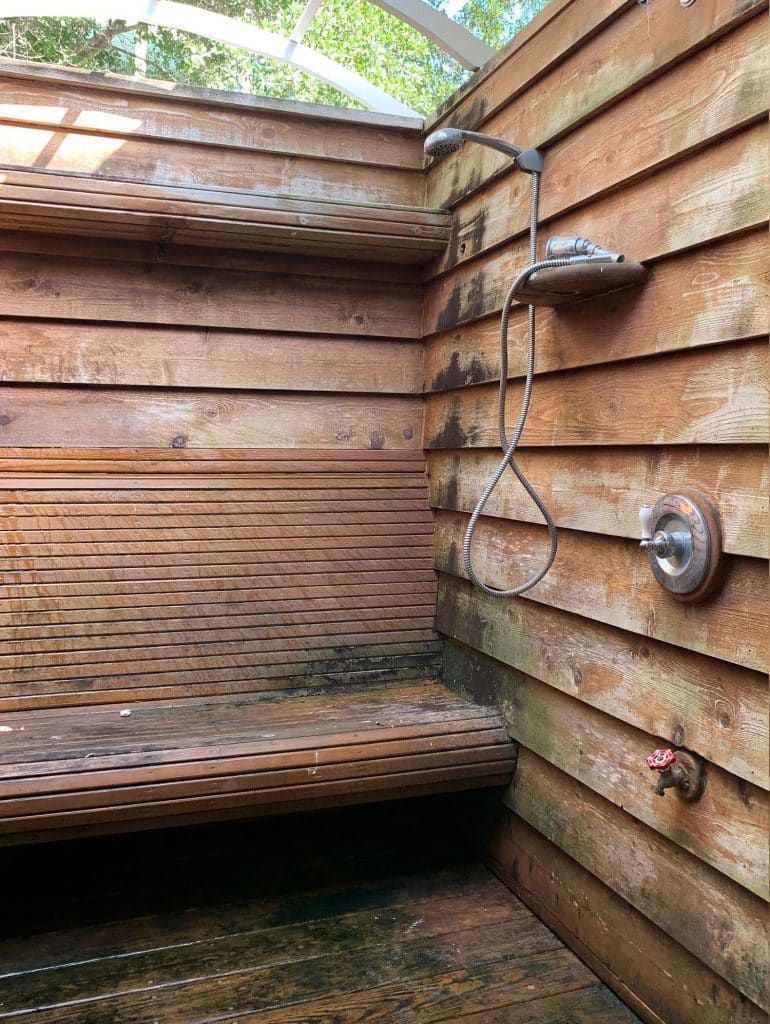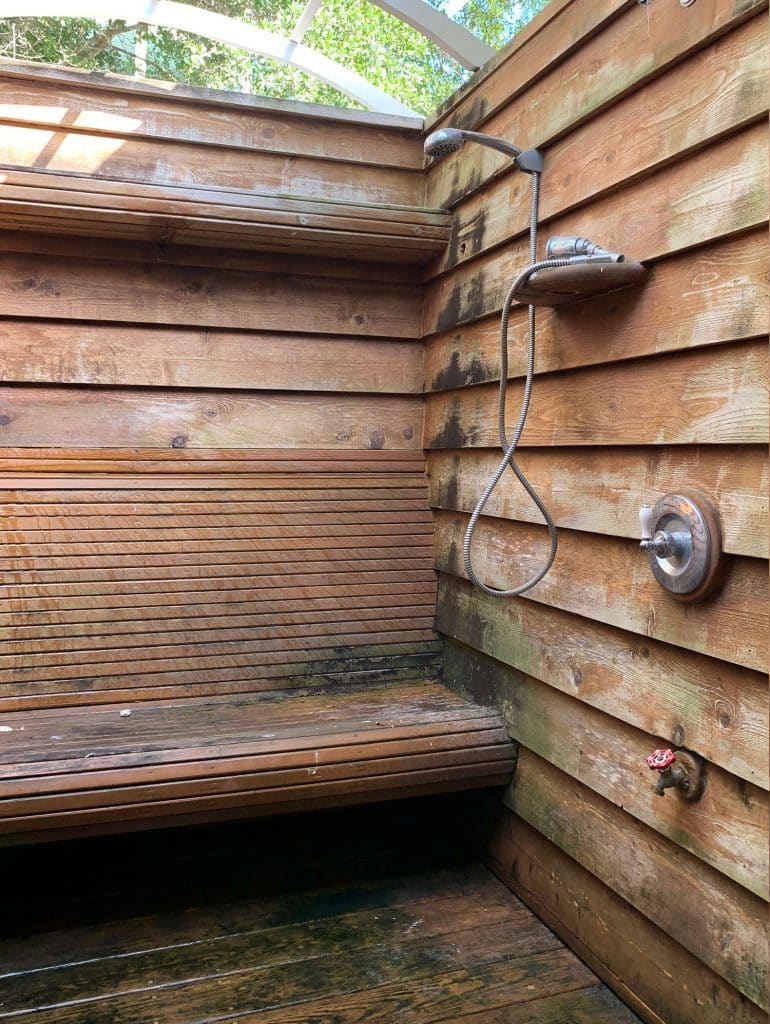 … but after some pressure washing, resealing the cedar with teak oil, and adding lights, plants, and new shower fixtures, it has actually turned into one of our favorite spaces. The whole family prefers this shower to our indoor one! You can see more of it in this post.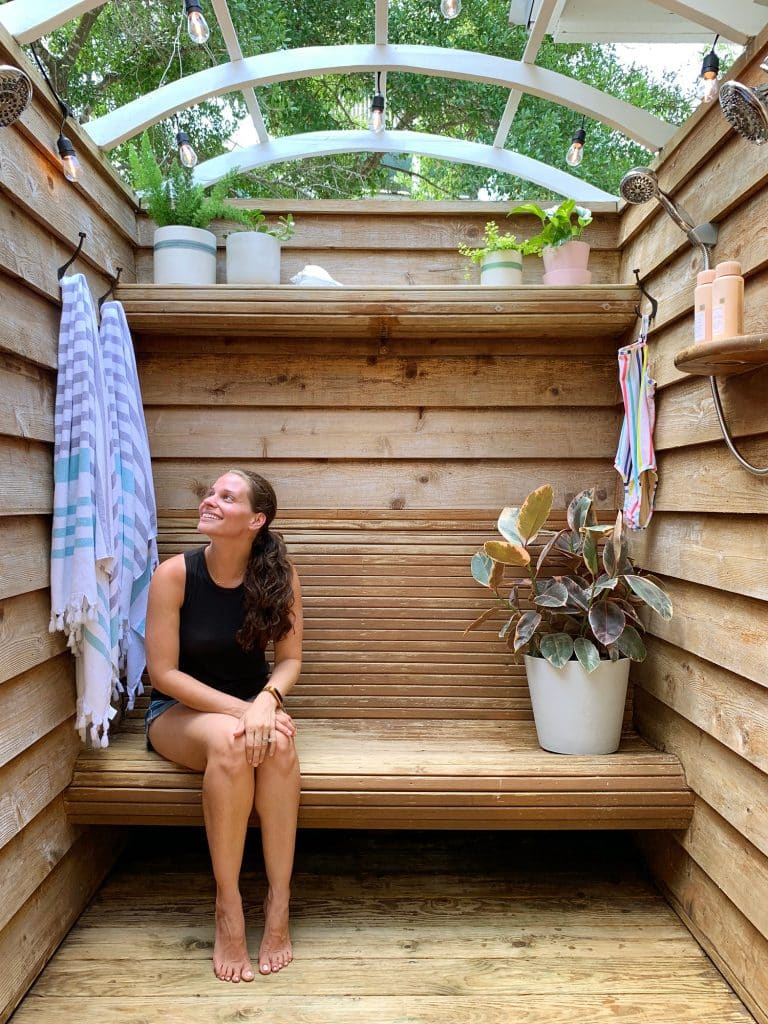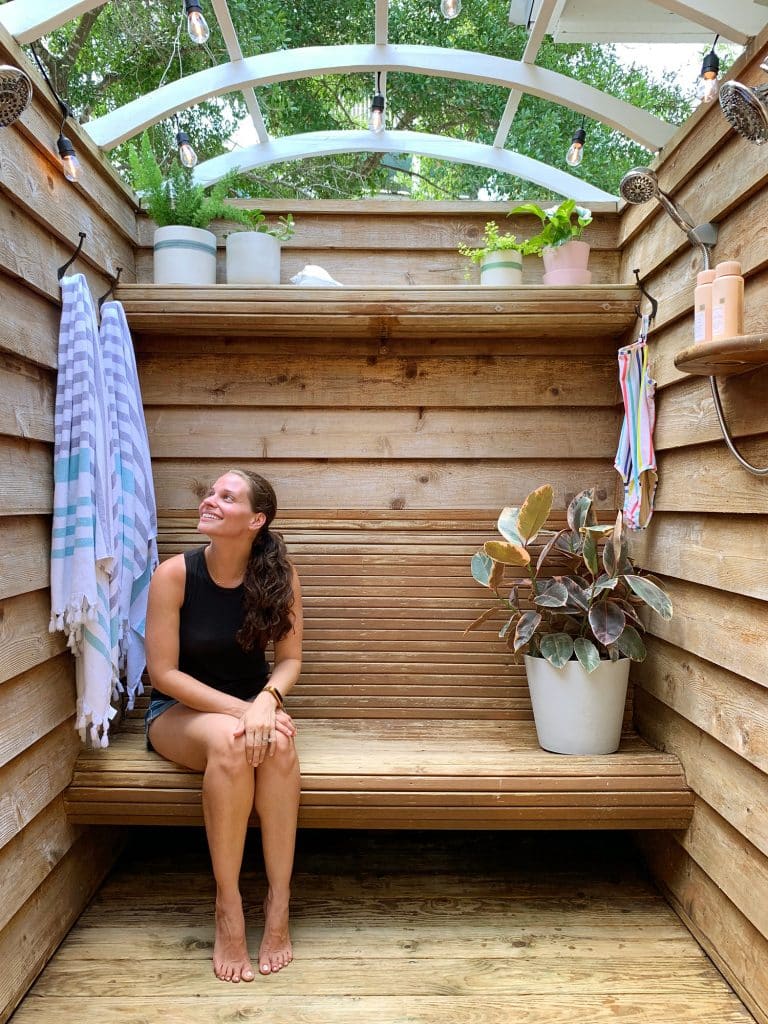 So that's our progress so far, four months in. We can't wait to take some updated photos and share the other ways that this house evolves for our family over time. And if you're wondering what paint color we've used or where we got a certain item of furniture (or a specific curtain or planter pot, etc), please check out the Shop Our House page for all of that info.
P.S. And to see the entire makeover of our house in about 16 posts so far – this category has you covered!
*This page contains affiliate links