Nothing makes a house (especially one that we've lived in for 6 months) feel like a home like a little holiday coziness. So along with decorating the front of the house, and setting up our tree, each year we love to document how we festive-ify the rest of the house (here's that post from last year, two of them from 2011, one from 2010, one from 2009, and one from 2008). This year was an especially exciting year because it's our first Christmas of living in this house… which means I have new spaces to play with – like a different fireplace mantel, and stairs for the first time in seven years of home-ownership!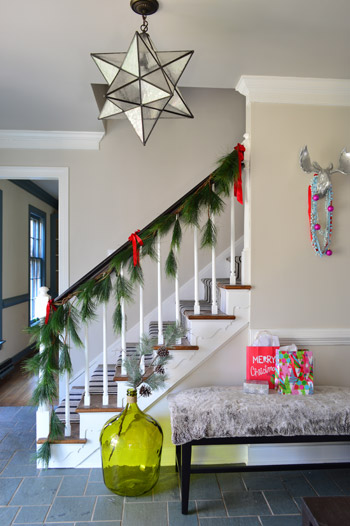 For almost every other space I just used what we already had, but for the stairs I ran to JoAnn and bought some faux garland (and an evergreen sprig for my green HomeGoods jug). It was $14 for both of them thanks to 50% sales on the Christmas stuff. To hang the garland on the railing, I just used red ribbon from last year (I'm the girl who saves every ribbon when I open presents to reuse it) – one at the top, one at the bottom, and one in the middle. I also added a clear zip tie at the top (under that ribbon) to be sure things stay put.
The bench is a HomeGoods find that we're planning to eventually use at the foot of our bed (once I recover it) so I tossed a furry blanket on it and plopped it in the foyer for now. I got the idea for the whole garland/bench thing when a few people showed me this photo from Country Living and said "I can't believe that's not your house – there's even blue trim in the room next to the stairs!" – how funny is that? So it was definitely the inspiration for this little holiday moment. Although the first thing we did in the foyer has already turned into a new holiday favorite: The Christmas Moose!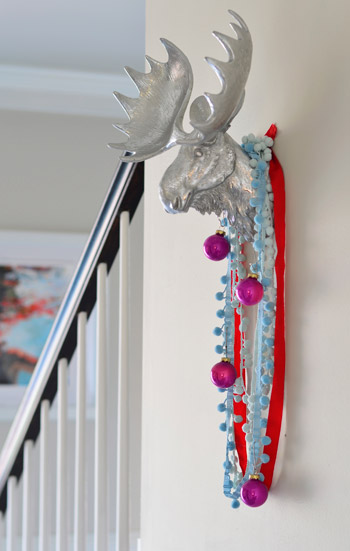 We grabbed him at HomeGoods back in September for $9 (weirdly enough, it was John's idea – I think I'm rubbing off on him) for the express purpose of hanging him up for the holidays. Basically John picked him up, declared that his name was Morris The Moose, and said "we should bring Morris home and hang him every Christmas, so he can live out his destiny as The Christmas Moose."
Sold.
He's pretty much Clara's favorite holiday decor item ever (if live seals can't be brought in for the roof, at least there's a silver moose in the foyer). The best part is that I didn't have to make any holes in the wall to hang him. I just used the screw that was holding up the Ikea frame that usually lives on that wall, so it should be easy to swap out that picture for a moose every December. And then I just stuck some remnants of ribbon and pom-pom fringe around his neck along with a few pink ornaments and called it a day.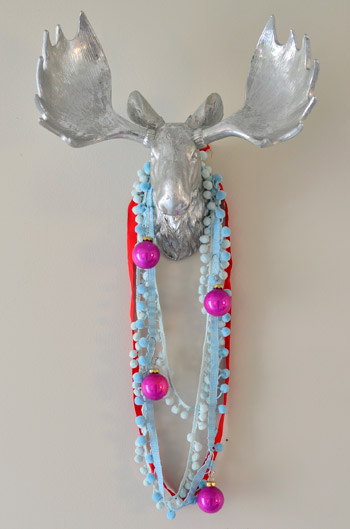 Next we have the living room mantel, which has a bunch of stuff that we've enjoyed for a few years in a row. The green feather trees (they're hand-me-downs from John's sister, but she originally got them from Target) are nice up on the ledge, along with some wrapped presents. Those are my favorite no-fuss accessories to break out every year because they're fake and I wrapped them back in 2010 but they're such an easy way to look like I'm this master gift wrapper (meanwhile I've shopped for about 6% of this year's gifts and wrapped 3% of them). Oh and our stockings are currently labeled as "Mommy & Daddy", "Clara", and "Burger" but we're thinking when the bun comes along next year we'll get five of them (one for each person) so there's no more random stocking sharing going on.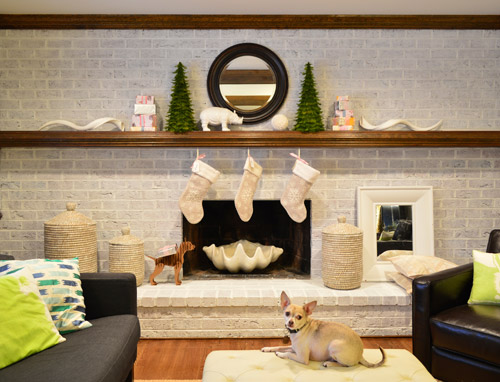 My favorite detail of all in here is the cardboard Burger (a reader hand-made him at a book tour signing last year) who's sherpa-ing a present. Cracks me up every time.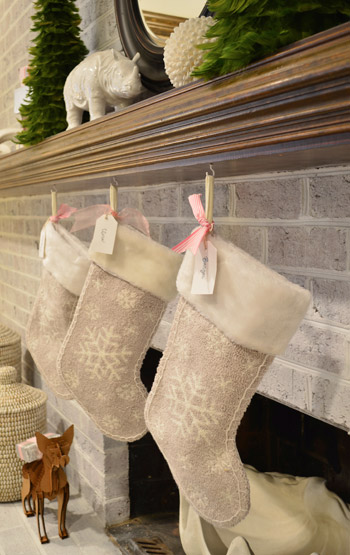 A few folks asked where our outdoor star pendants ended up in this house (you can see where we got those here), and the answer is that we finally got around to hanging them in the corner of the sunroom-turned-veranda, so we can gaze at them from the sofa in the living room every night.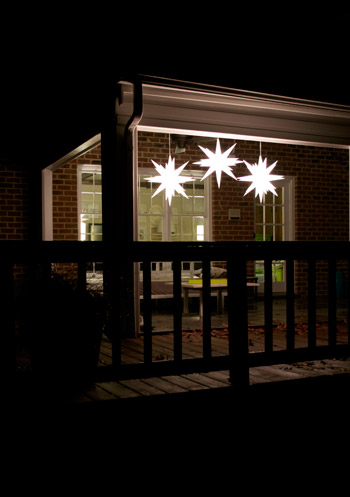 The console in the foyer also got some casual cuteness, mostly in the form of leftover ribbons, and a homemade reindeer.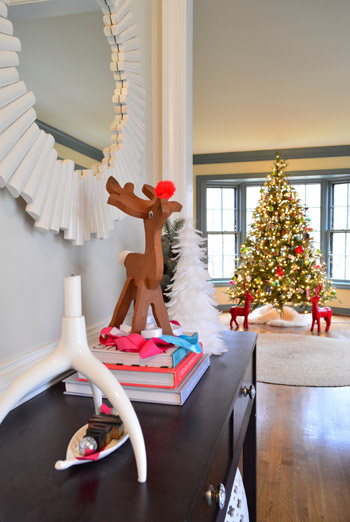 I have these little letterpress "love" blocks out year-round, but a pink ribbon and two tiny ornaments make it a little more cheerful…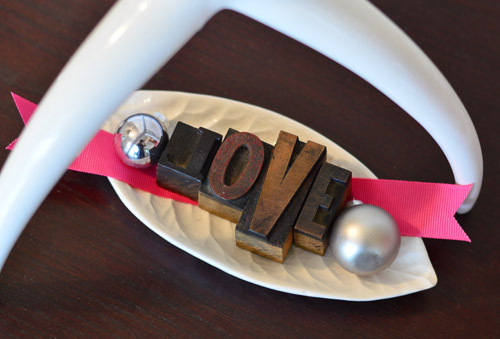 … and this reindeer was handmade by John's grandpa, so he's hugely sentimental and we love seeing him standing on his ribbon pile when we come down the stairs.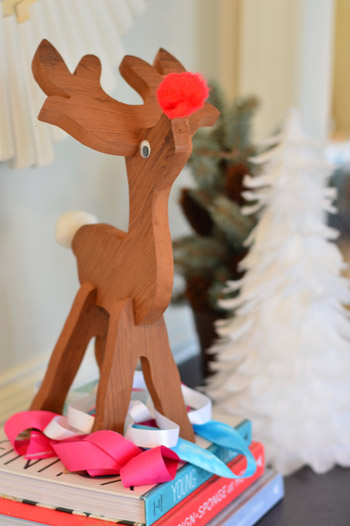 Our leaning chalkboard in the office got a little holiday message on it as well. Clara asked me to add the birds and snow. Now I just need her help decorating a snowman down at the bottom (she loves to chalk things up down there). She's also a fan of drawing bunnies these days, so we might get some of those in the mix…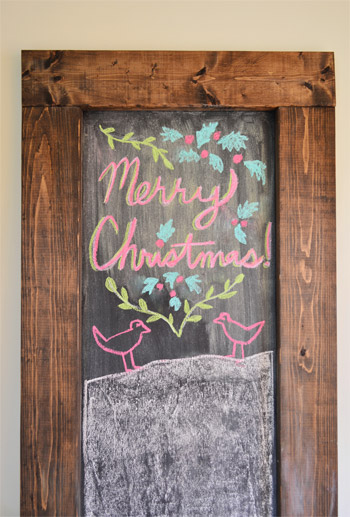 Clara and I also got to do a fun little Christmas craft together, which was basically making a giant mess with fake snow (it was THE BEST and SO HILARIOUSLY MESSY). Otherwise known as making these two snow-filled boxes, complete with tiny trees and mini dogs.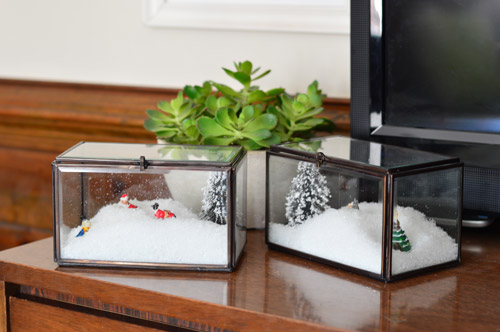 Don't mind Captain Barnacle's legs in this shot (he still goes everywhere with Clara). This is what we used for the project: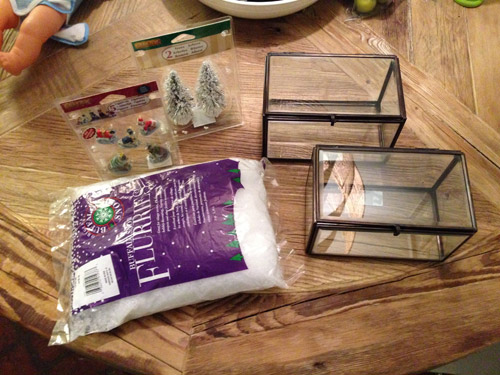 I grabbed two of these glass boxes from TJ Maxx (I think they were $7.99 each) along with a bag of fake snow, a two-pack of little trees, and one package of tiny ceramic dogs from Michaels (they're meant for those little holiday villages that people make under the tree with various buildings and skating rinks, etc).
Then Clara just had fun covering the kitchen with fake snow filling each of the two boxes with a mound of snow, and adding a few dogs and a tree. Now they sit on the media cabinet in the living room and Clara can usually be found standing about 2″ away just gazing at them. She even named a few of the dogs (Elmo is the one on the right, and the one in the top hat is Gru). The good news is that the hand-vac was able to suck up all the little glittering snow particles that exploded all over the table and floor during our little crafting session.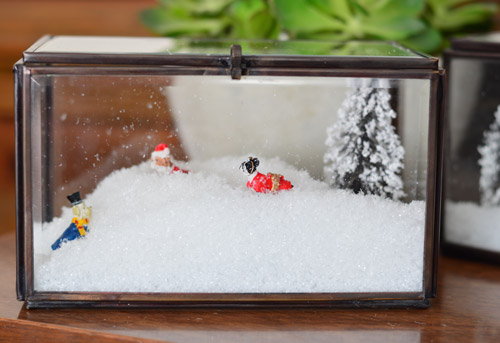 So that's how we added a little more holiday fun to the house. It definitely feels homier with stockings and ribbons and a big ol' silver moose. What have you guys done inside? Is anyone else having the best time ever decorating their stairs? I can't be the only one walking in there every ten minutes just to smile at the railing.
Psst – Still in the holiday spirit? Here are nearly 40 other holiday posts from the past:
Update: You can check out all of our favorite holiday decor finds here – many of which are under $15!