Let's talk about the festive-ification of various surfaces. Booyah. $herdog had some fun with the mantel… as she is apt to do. And since $herdog is also apt to share the play by play of her various surface-switcharoos with you guys, especially around the holidays, you better ho-ho-hold onto your hats. Because it's about to get festive up in here. Spoiler alert: the console table and the built-ins weren't safe either…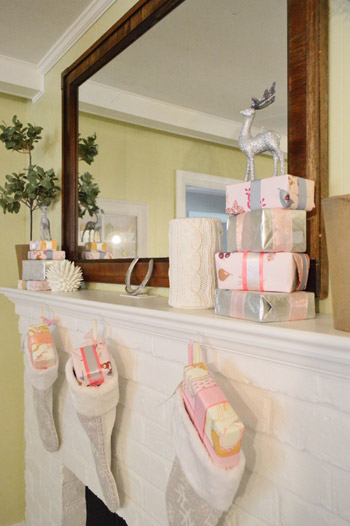 The mantel makeover was pretty simple, I hung our stockings by the chimney with care, and stacked some faux presents that I made a while back on the mantel (more on how I made those here). Oh and see that glittered stag at the top of Gift Mountain? That's just a cheap-o Target ornament that we grabbed the last time we were there.
I got two so they wouldn't be lonely.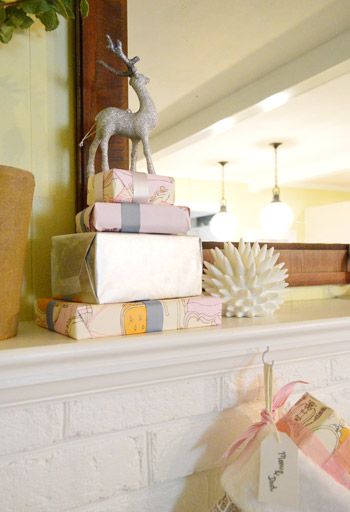 And since I know someone out there thinks Burger got the short end of the stick since there are only three stockings… not true! Mommy and daddy did (because we share). Each of our precious kiddos get their own proprietary stocking.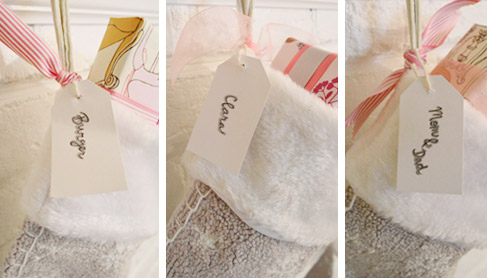 Then I shifted my focus to the console table by the door. This was another pretty fast and fun switch-out. First I brought out a few feather trees from our big tupperware container in the attic along with a little faux evergreen that I've had for half a decade…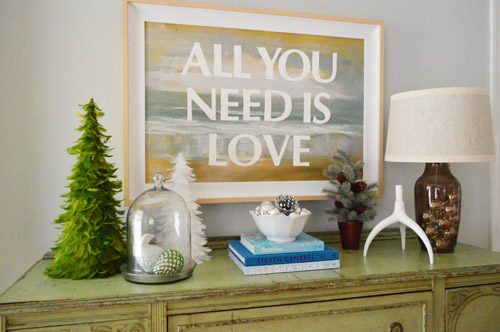 … and then I shoved some silver ornaments into the glass-based lamp.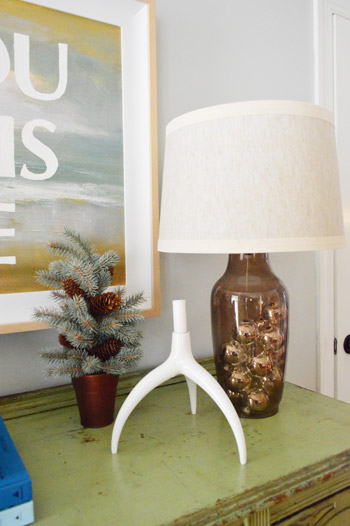 Then I dropped more ornaments into a bowl on top of some silvery-blue books…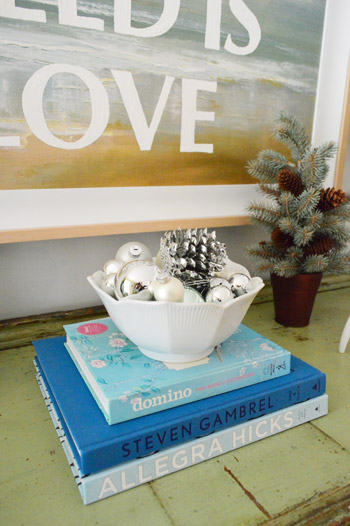 … and stuck a ceramic partridge-ish bird into my glass dome along with a big green ornament to pick up the color in the trees, the art, and the console table itself.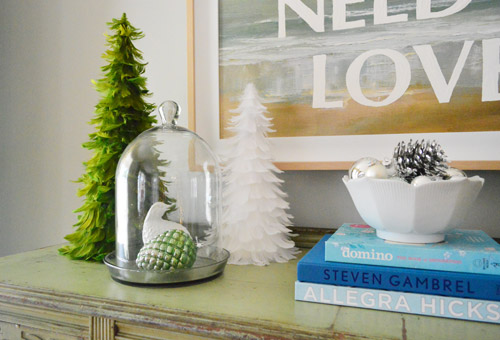 Then I was feeling downright jolly, so off to the kitchen I went with my bag o' toys holiday accessories to make a few Christmas-y kitchen tweaks. First I tossed up some hot pink ornaments that I had glued magnets to a few years back (more on that here) for holding holiday cards up on the fridge.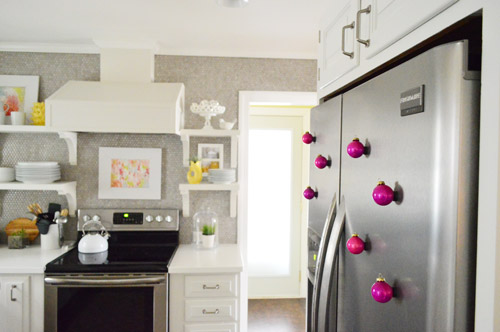 And then I ho-ho-hoed my way over to the open shelves (wait, did that come out wrong?) and tossed a bunch of silver ornaments into the formerly empty cake plate that sits on the top shelf next to another somewhat partridge-ish bird.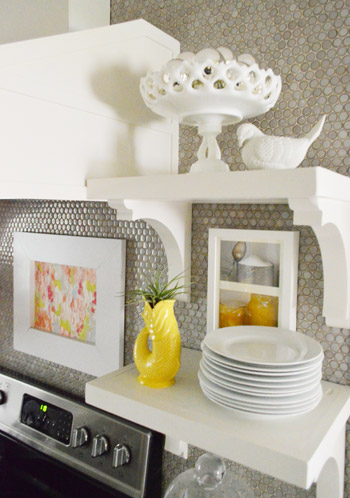 Then it was built-in time, baby. I just wanted to add a few little holiday-ish nods without redoing everything completely, so up went a few pops of red (which actually looks awesome with the deep teal color on the back wall of the built-ins) thanks to a few faux poppies, a red book, and a big round ornament. Tossing up an even bigger green ornament along with some silver balls in a hurricane at the bottom seemed to round things out nicely.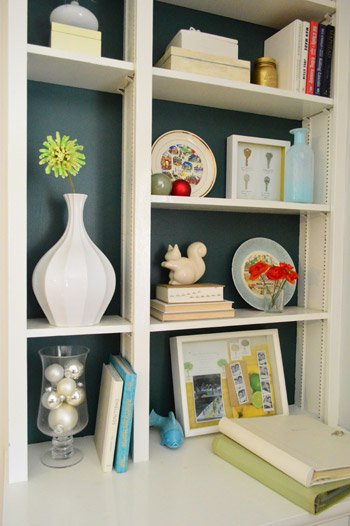 Then it was time for the other side, which got some red coral, a small knitted red cactus, more silver balls in another hurricane on the bottom shelf as well as a faux clam shell full of smaller ornaments up top, and a tiny little ornament in honor of Burger.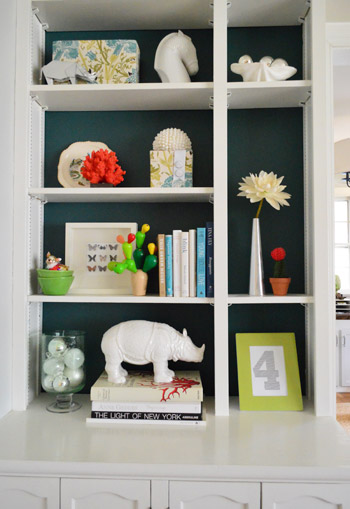 Let's get a little closer, shall we? See that little crazy chihuahua ornament in the green bowl? Is he amazingly hilarious, or what? Cracks us up every time.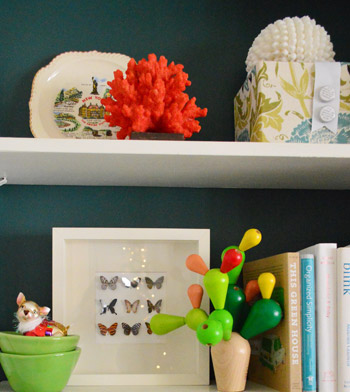 We actually similarly styled this side of the built-ins for a shoot back in October for R Home magazine. Since it was their holiday issue, they asked us to toss some festive holiday stuff in the background of the shot (which turned out looking like this, which is close but not identical to what we have going on now):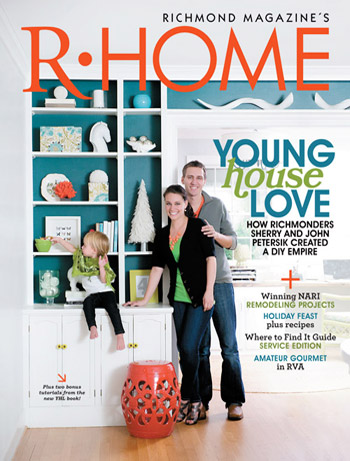 And as you can see from that photo, the little Burger ornament isn't only entertaining to us. He actually helped us keep Clara's attention just long enough to get this shot.
So now that I moved around the house decorating various surfaces, my list is looking a little shorter. Woop woop!
set up the big tree (gradient, baby!)
get a live tabletop tree again (like we did last year, but with a new ornament idea this year)
decorate the mantel, the built-ins, and the entryway console
hang our outside lights & decorate the front porch
shoot a Christmas picture of Clara & Burger for our annual holiday card
make an advent calendar for Clara? Ahh I'm behind already!
shop for slash make all the gifts on our Christmas list (about 80% done already, can't wait to cross this sucker off!)
Oh yeah you might notice that we also crossed off our annual Clara & Burger pic, which we officially have in the can. Can't wait to share that with you guys after we mail it out and are sure our friends/relatives get it (don't want to spoil the surprise, haha). And no, it's not a pregnancy announcement Mom!
Who else is decking the halls? Any boughs of holly going on? Spill it.
Psst- You can check out a ton o' holiday crafts/decorating ideas from the last five years here.
Update: You can check out all of our favorite holiday decor finds here – many of which are under $15!