Remember a while back when we excitedly announced that we were asked to write a regular column in Richmond's home pub R. Home magazine? Well our very first story has hit the presses and we're beyond psyched to share our easy holiday decorating ideas using ornaments in fresh and unexpected ways! You can click here to read the actual three page story and check out our pics below for easy instructions and behind the scenes stories.
First we'll fill you in on the process of being bona fide "contributors." Well, we were tasked with coming up with three fun little DIY projects per mag, and since our first assignment was the Christmas issue we decided to brainstorm a bevy of unusual ornament-involved ideas. Whee! But there were a few challenges throughout the process like the fact that we had to actually get our hands on holiday ornaments to execute our ideas (it was early September at the time). We also had to style everything ourselves in our own home (where the shoot for each issue takes place). But we figured it out as we went along and of course the end product tickles us to no end. But enough jibber jabber, onto our DIY decorating ideas!
Idea #1: A Seasonal "Place Card" Our first fresh take on the tried and true glass ornament was to write guest's names on them with a paint pen to create a festive little holiday "place card". Here's a shot of our set up that we snagged over the photographer's shoulder back in September: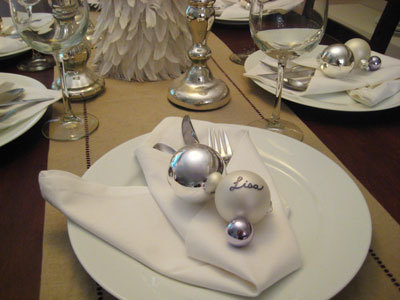 One funny little behind the scenes fact is that all the make believe guests had really short names (Ross, Ella, Lisa, Bill, etc) since I wasn't sure if Nicolette and Margaret would be as easy to pen on the ornaments. But the good news is that it was actually pretty painless, so there's no need to uninvite your long named in-laws this Christmas (sorry!).
Oh and we also thought these would make cute little DIY prezzies. Just get a bunch of ornaments and write each family member's name on 'em and package them up in something cute (a festive box or even a stocking). The giftees can use them for tree hanging, displaying in a bowl or even hanging on the mantel for proper stocking identification.
Idea #2: Ornament Magnets This project involved gluing magnets to ornaments and using them to display holiday cards on your fridge (which sure beats lining them up on some table where gusts of wind and errant dog tails knock 'em over). When it came to the actual assembly, we tried using craft glue to adhere the magnets but quickly discovered that it took wayyyy too long to dry so we switched over to Liquid Nails and everything went swimmingly from then on.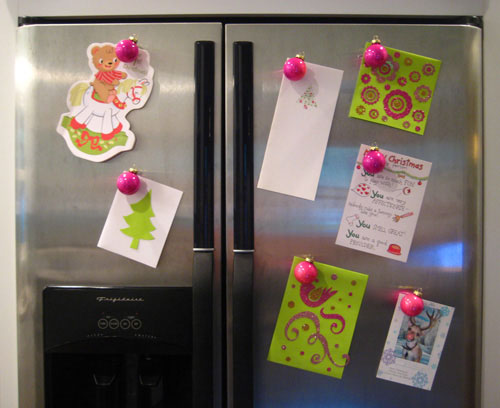 Behind the scenes story: Needless to say it was hard to get our hands on holiday cards in early September, so we dug into our keepsake box for a cards from years past (see the card on the bottom right with Burger as a reindeer on it?) and also made some using colored paper cut outs and glittery stickers from Michael's.
Oh and we also thought the ornament magnets could make cute gifts, especially strung together with luxe velvet ribbon or cutely displayed in a glass dish or bowl.
So there you have it, two easy and affordable ways to inject a little holiday sizzle into your home in no time. You can read a few of our extra ideas on the bottom of the third page here (click on the image to zoom). And we can't wait to share our next column with you guys (packed with DIY art ideas). Stay tuned…
Update: You can check out all of our favorite holiday decor finds here – many of which are under $15!