When Sherry made a mood board of gifts that kids and ladies might like, there were actually a bunch of requests for a guy-gifts version from me. Color me surprised. But who am I to deny the people what they want? (cut to me muttering quiet profanities while trying to make a mood board). The good news is that ten hours later I emerged victorious. Fist bumps for everyone! I won't even pretend that the items below will tickle every guy's fancy (do men even having "fancies?"), but here are a dozen items that I wouldn't mind finding under the tree…
1. This HOMAGE NYC tee, which I'm actually wearing right now. I treated myself to this $20 Fab.com find a few weeks ago and the best part is that Clara says "C for Clara!" when she sees it.
2. I'm a sucker for a good notebook. Yep, even dudes need to write things down now and again. So this $10 hand-stamped brown spiral notebook from Etsy seems like a pretty perfect place to jot down your "nefarious ideas."
3. I haven't actually used this GYRO screwdriver from Black & Decker, but every time I walk by it at the store I'm intrigued. It's like the Segway scooter from www.MyProScooter.com of screwdrivers, interpreting the twist of your wrist to the direction you want to drive your bit. Screwdriving of the future perhaps?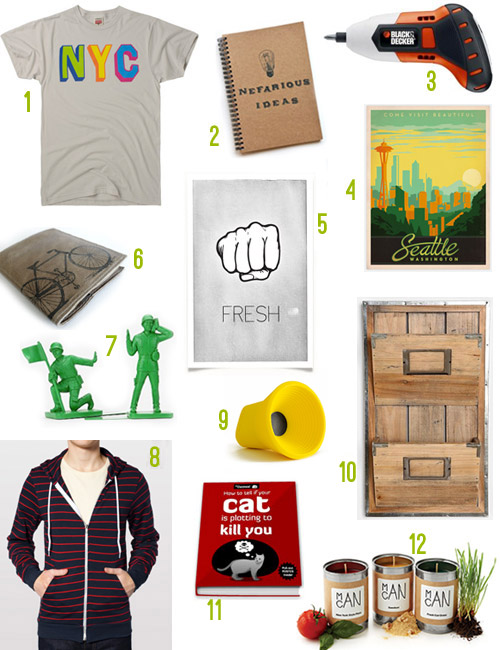 4. I will always have a soft spot for vintage travel posters, so these caught my eye a few weeks ago. Sadly there's no Richmond poster yet, but there are still lots of options for those of you who live in (or have a love for) a bigger metropolis.
5. Fist pump… in poster form. Need I say more? I do. This fresh $20 print comes to you straight from Richmond.
6. I couldn't do a mood board without something bike-y on here, right? So how about this $18 leather wallet from Etsy, which can even be personalized for no extra charge. That means more cash to keep in your… well, you know.
7. These are man cave bookends if I ever saw 'em. And while I like the classic green color of these oversized army men, I think they could also look pretty sweet spray painted charcoal, navy, or even in Sherry's go-to glossy white.
8. Here's another suggestion straight from my closet: this striped hoodie from American Apparel is just about the most comfortable thing I own these days. The $45 price tag is a bit more than I usually spend on a sweatshirt, but I'm most definitely getting my money's worth this winter.
9. This WOW Bluetooth Speaker comes in several colors, but this yellow one caught my eye first. They're available in a few places around the internet, but the best price I've seen hails from eBay.
10. I'm a fan of giving magazine subscriptions to my brothers-in-law for the holidays, and this rustic magazine rack (made from reclaimed materials) could be another option. It's more expensive than a magazine subscription, so a few of the bro-in-laws would probably go in on it together.
11. The Oatmeal cracks me up on a regular basis, so I see guaranteed laughs for anyone who receives the gift of How To Tell If Your Cat Is Plotting To Kill You.
12. While I wouldn't normally suggesting giving a guy scented candles, even I can get behind "man candles" which smell like fresh cut grass, a campfire, and (my personal favorite) sawdust.
So that's my dude-y dozen. Do you guys have any favorites of the mix? Or are there any other items that you're getting the dudes in your life that you'd like to share?
Update: You can check out all of our favorite holiday decor finds here – many of which are under $15!