We've received a bunch of requests for a Christmas gift roundup for kids, so here are a few items that we're loving (most items are under $25 – some are even under $12, and nothing is over $49).
1. Clara loooves painting and definitely has an appreciation for vibrant colors, so I think she'd love something like this $25 watercolor print from Etsy. Another fun gift idea would be to get some colorful paints and a few pieces of cardstock for some good quality time spent painting together.
2. Clara's always enamored with toys like this in waiting rooms and other kid's houses, so when John's mom asked for links to things she might like, we shot a link to this $25 racer ramp to her right away.
3. Pretend play is one of Clara's favorite things (she loves making meals at her play kitchen, rearranging her dollhouse furniture, and even pretending to care for her dolls by giving them band aids), so we knew this little wooden doctor kit would be a hit. At $38 it's hardly cheap, but Nonna (my mom) couldn't wait to pick it up since she knows firsthand how "into first aid" Clara is at the moment.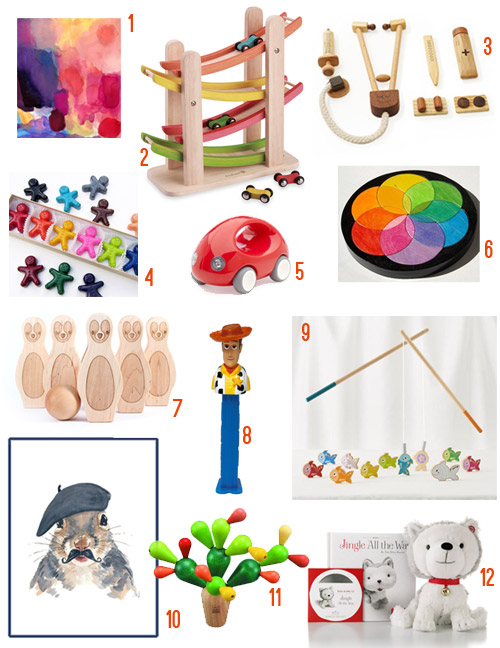 4. These people-shaped crayons from Etsy are cute, eco-friendly, and budget-friendly (they're under $9).
5. Clara has one of these cars in pink and she loves it. It's one of those simple and inexpensive toys that she plays with far more than most of the other more expensive and elaborate toys that she has been given.
6. I was totally drawn to the pretty colors and shapes in this handmade puzzle, although it's probably above Clara's current skill level. Maybe next year…
7. This fun $29 bowling set is handmade, eco-frienly, and adorable. I mean let's be real – who doesn't love penguins? I like getting "new experiences" for Clara (like learning how to bowl, or how to fish like gift #9) so although we haven't pulled the trigger and ordered this yet (we're building her something special, like last year's play kitchen) I'm definitely tempted…
8. To Clara, Woody = a hero among men. So I bet she'd love to find this Pez dispenser in her stocking (I saw it in Target near the checkout for about $3 a few nights ago).
9. This is the second item that John's mom is getting Clara. It's a $29 set of fish with magnets that can be picked up with a fishing pole (we played with something similar at a friend's house and she couldn't get enough of it).
10. Does this even need an explanation? I think any kid would crack up over it just as much as grown ups would.
11. We already own this awesome balancing wooden cactus from Plan Toys and Clara loves it. We've squeezed at least a year's worth of play out of it and it's still in heavy rotation, so it's well worth the $25 we paid for it back in 2010.
12. This is the second item that Nonna's getting Clara since she loves books and she loves dogs (so what's better than a dog who barks along to key words in a story?).
So that's what we dug up. Do you have any favorites of the group? What are your kiddos/nieces/nephews going to find under the tree this year? John and I can't wait to start working on our little homemade gift for Clara (from Santa of course). More details – and probably a million pics – soon!
Update: You can check out all of our favorite holiday decor finds here – many of which are under $15!
*This post contains affiliate links*