We're back to share the second half of our tree-decorating adventure (sped up with a bit of festive music to get you into the spirit). We last left off with this video of us setting up our pre-lit artificial (faux? reusble?) tree only to discover that a strand of lights in the middle of the tree was out. But fixing it was as easy as listening for the buzzing bulb and replacing it with one of the extras they included along with our tree. Then it was time for the ornaments, and this year we decided to deviate from our usual white/glass/silver scheme (seen here). Maybe it was a weird citrus-pregnancy-craving-inspired decision, but out of nowhere I was jonesing for bright oranges, lime greens and lemon yellows… and a new color scheme was born. So here we are hanging some store bought ornaments mixed in with a bunch of DIY ones that we whipped up on the cheap. Oh yeah, and there's a quick shot of baby belly at the end for everyone on bump watch:
And because we like to include a little video rundown for those at work who can't just push play, here's a shot of our tree all citrus-ified thanks to a ton of orange and lime green ornaments we picked up (on clearance at Michael's) along with a bunch of DIY ornaments that we made to really hammer home our love of all things lemon and lime (after all, it was the theme for our backyard wedding). And adding pops of orange really complemented the green tree for a super festive and fun finished product.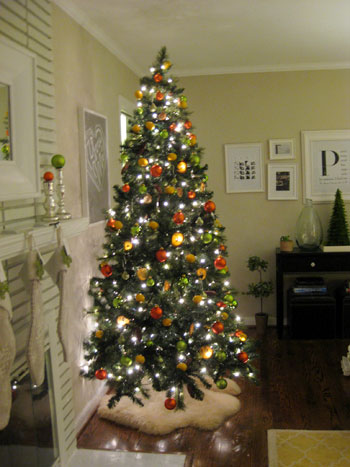 We mentioned that beyond the glittering store-bought ornaments we jumped at the chance to hand make a few "natural" accents, so John came up with the idea of drying slices of oranges and lemons and turning them into ornaments. Love it. He's really the brains of this operation in case you guys haven't noticed.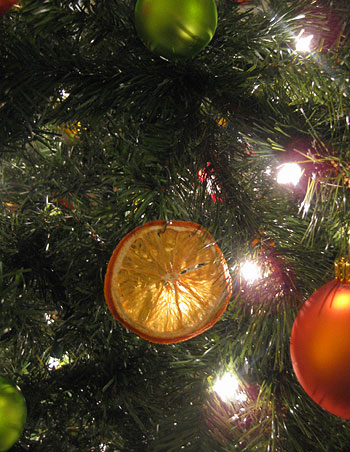 Not only was it a fun and unexpected way to bring more of that festive citrus color to our tree, but it merely set us back a few bucks for two oranges and three lemons at the grocery store.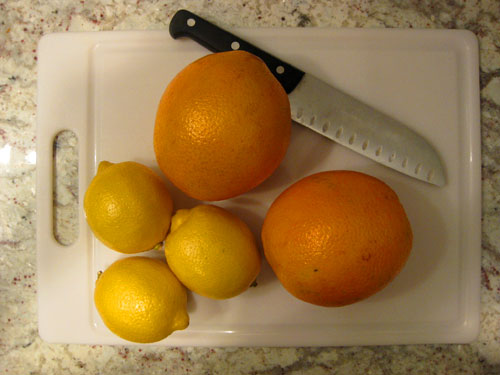 And luckily when we googled "dried citrus" we actually found a few tutorials (woo hoo!) and were thrilled when we pulled one up that was beyond simple. Step 1: cut citrus into quarter-inch slices.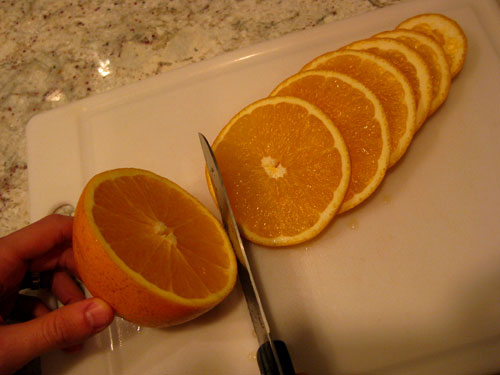 Step 2: bake in oven on cookie sheet (actually a cookie rack if you have one, but we didn't so we made do) for 2-3 hours at 225 to 250 degrees, checking often to be sure nothing's burning. It helps to crack the oven door from time to time to release a bit of the built-up heat to encourage drying as opposed to singeing.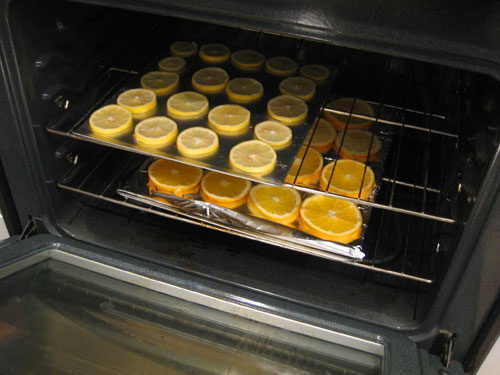 After a few hours (and a bunch of checking) we ended up with gorgeously dried orange slices that we couldn't wait to add to our tree…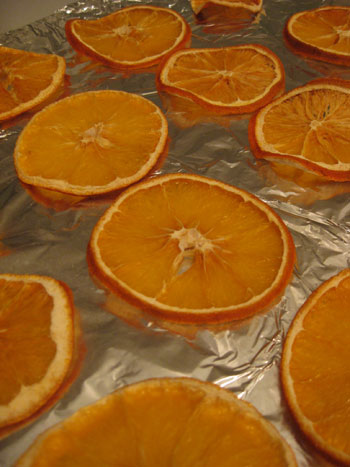 … and marginally less gorgeous lemon slices (they cooked less evenly and the seeds were a lot less attractive, so we'd recommend oranges over lemons for those of you looking to do something simple and stress free). Of course there were still some pretty lemon slices that we used as well (the good ones actually looked like stained glass when they dried) so they weren't a total loss.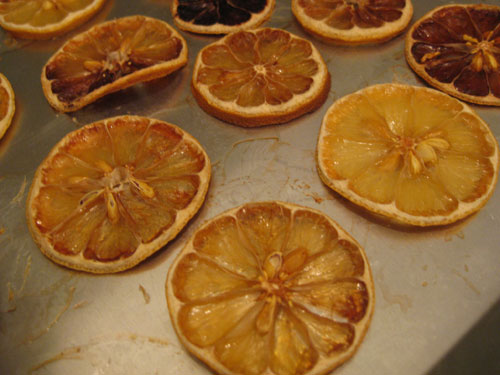 Then we just popped them onto pretty silver ornament hooks snagged for a few bucks at Pottery Barn (they're a smidge cuter than those green wire ones from Target or CVS) for a delicious looking end product that's especially eye-catching when it's illuminated by the lights on our tree (so we learned to hang them a few inches in front of a white bulb for that sweet "glowing" effect). Favorite project ever. And we ended up with dozens of ornaments for just a few bucks.
*Bonus: we've heard that citrus can be used to discourage curious cats from climbing your tree, so if you have a faux or natural tree at home that you'd like to protect from a cat attack, these dried citrus slices might be just the thing.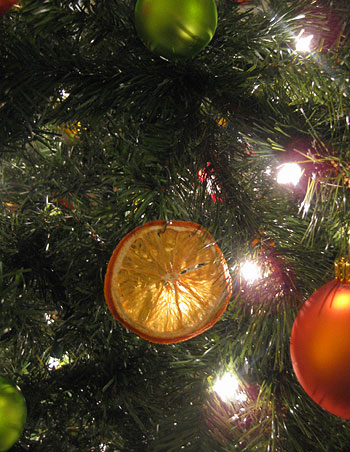 We also turned three dozen faux lemons (we grabbed two large plastic tubs of them for $8 each at Ben Franklin) into "ornaments" by wiring them onto the end of a bunch of branches on our tree- just to inject more hits of yellow and add to our quirky citrus theme.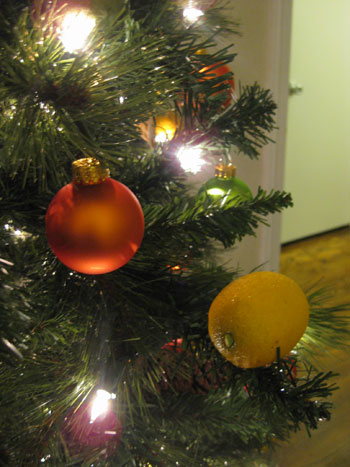 It was as simple as sticking "v-shaped" green wire (we purchased a spool of it for 99 cents at the craft store) into each of the foamy faux lemons so we could wind it around each branch to secure it. It was also a nice complement to all the hanging ornaments since we now had a bunch that appeared to be "sitting" on the ends of the branches. Easy and almost mouthwatering, no? Again, maybe it's a pregnancy thing, but I could eat an entire lemon every day of the week.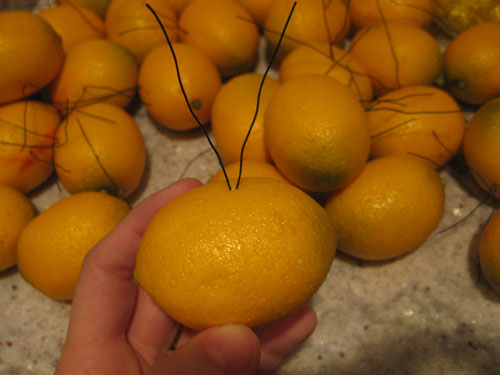 We also picked up some pretty green pears from Target last year (during an after-Christmas sale) that were meant to be used as vase filler (see the little pear in the bottom right corner of the photo below?) so we just tied a loop of glittering silver ribbon to each of the stems to create a way to hang them up on the tree. Sure they're technically not citrus but they work with the whole edible theme- and they're perfect for our playful green, orange and yellow color scheme.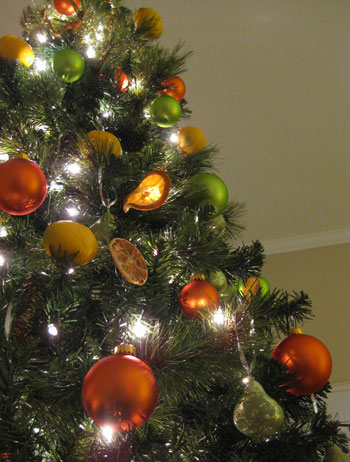 So that's the tree-decorating rundown for ya complete with all of the homemade "ornaments" that we fashioned from things like vase filler, faux fruit and real fruit alike.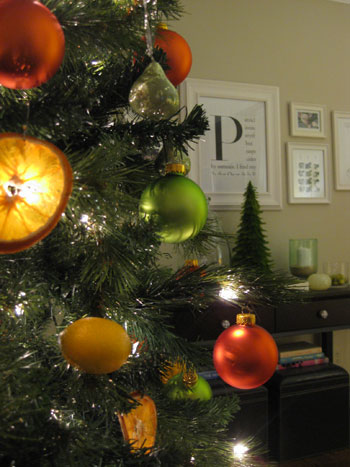 We love the punchy colors (which actually fit right into our living room thanks to the lemon-yellow rug) and the happy vibe that it brings into our entire home for the ho-ho-holidays. Oh and stay tuned for more seasonal decorating posts along with our favorite roundup of cheap-o holiday gifts coming soon.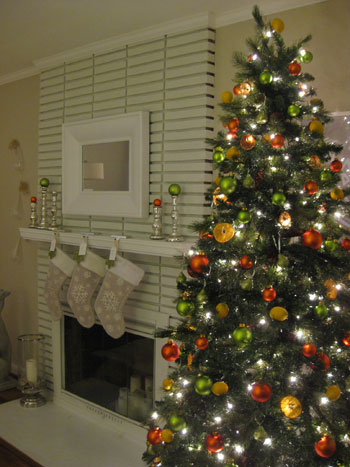 But enough about us- we wanna hear all about your holiday decor. Do you have a new color scheme that you're dying to break out this year? Or a tried and true "theme" on your tree that makes you smile every year? How about those whose theme is to have no theme at all? Anyone with a penchant for popcorn garland or edible candy cane ornaments? Do tell.
Psst- Looking for more holiday decorating and entertaining ideas? Check out this post, this post, this post, this post, this post, this post, this post, this post and this post to tide you over until we share even more in the coming weeks.
Update: You can check out all of our favorite holiday decor finds here – many of which are under $15!