This holiday season is full of firsts for us. It's the first time Clara can shout things like "I love you Santa!" to the inflatables at Home Depot (this actually happens quite often). It's also the first time we got a real tree (even if it's of the tabletop variety). And it's our first real Christmas in this house (we moved last December but were still living out of boxes then). But perhaps our biggest first is actually decorating the outside of our house. We've never done that. Isn't that crazy? What the heck were we waiting for? There's definitely some magic to waiting until it gets dark, plugging everything in, and stepping back to see things glow. We should have done this years ago!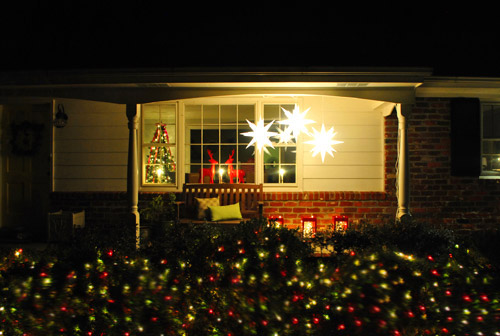 Since it's our first outdoor decorating foray, it's hardly one of those amazing every-inch-of-the-house-is-lit-up things. But we had some fun dipping our feet into the outdoor decorating pond by:
adding white candle lights in every window (from Ben Franklin)
hanging three glowing stars from the porch at varied heights (from amazon.com)
turning an outdoor evergreen next to our driveway into an outdoor Christmas tree with red and white lights (from Target last year on clearance after Christmas)
tossing more of those "candy cane lights" (aka: red and white lights) over the bushes that lead to the front door
stuffing three red over-sized metal lanterns with white lights on the porch (from Ikea)
adding two glossy red reindeer to the window (from Ben Franklin and altered with spray paint)
making a square wreath with four sticks from the yard (and a faux boxwood garland from Ben Franklin)
Here's a close shot of the porch so you can see the glossy red reindeer flanking a candle in the window with the tree glowing in the background and the hanging stars on the porch reflecting in the window: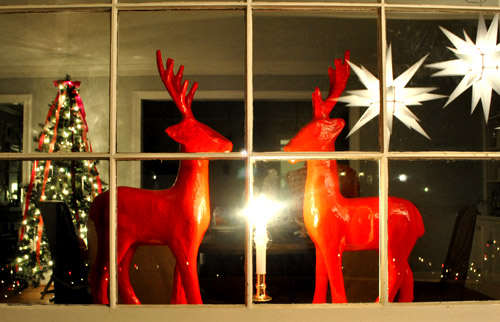 Let's step back a little so you an see a bit more of those hanging stars on the porch and some of the red & white lights in those bushes. The cool thing about hanging the stars at varied heights in front of the picture window is that their reflection doubles them- so from certain angles it looks like we have six glittering oversized stars floating over the porch instead of three.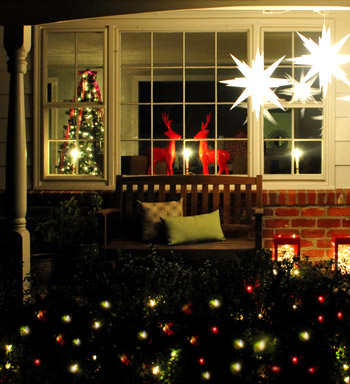 Oh and although in person the whole red & white thing is clear, for some reason the white lights all look green in these pics (probably because they're picking up the green in the bushes). So pretend everything is bright white and shiny red- it's a really fun outdoor palette since so many houses are doing the all white thing- sort of looks retro and bold with our little ranch.
Here's a super far shot from the curb where you can see our cute little evergreen-turned-Christmas-tree next to the carport. Wasn't he just dying for some lights? And adding more red and white lights to the bushes leading to the front door sort of balanced things out.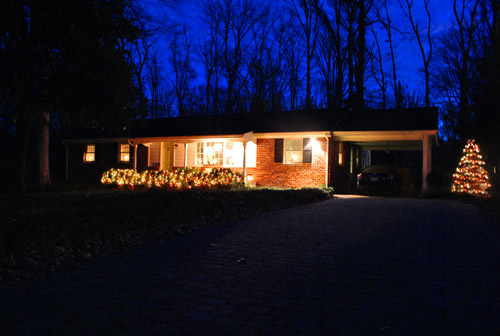 Here's a closer Christmas tree shot…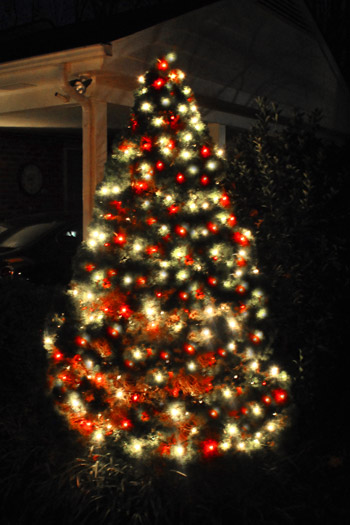 And here's our little tree from the side (man do those white lights look green- so funny):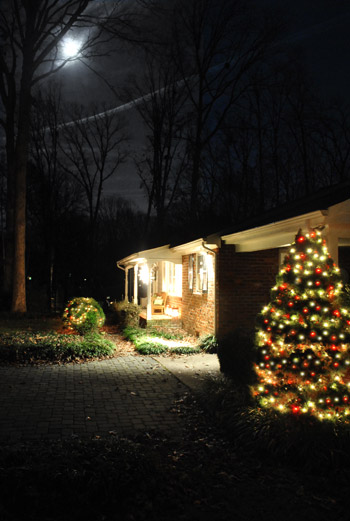 As you walk closer to the porch you can see the three red over-sized lanterns that we got from Ikea for $11 a pop.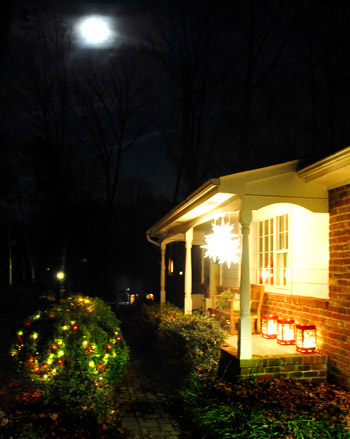 At first we chatted about using real white pillar candles (or battery operated ones) in each lantern, but then came up with the idea of shoving a ton of white lights in each one for a festive glowing effect. So glad we did.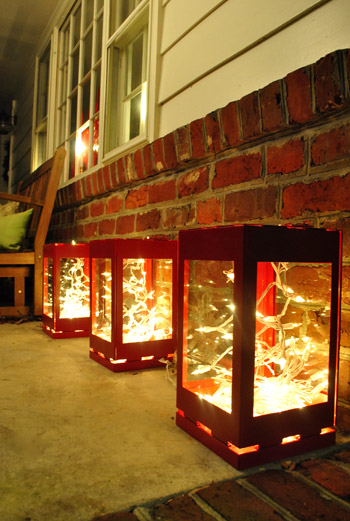 We just ran an extension cord to get power over to them, and each lantern has a string of white lights in it (so there are three total, that are joined together in a chain, and powered by the extension cord).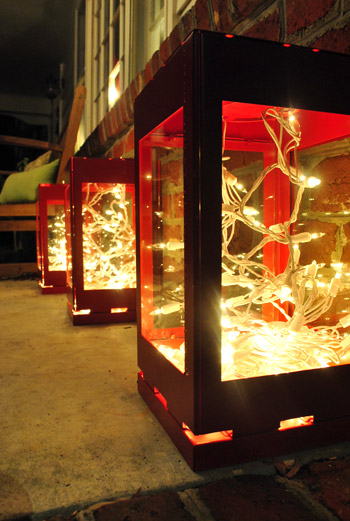 Oh and get this: apparently our neighborhood has "Secret Neighborhood Spirit Elves" who left a thank you note in our mailbox for decorating. How cute is that? Seriously, we were smitten by that unexpected little note of appreciation.
Here's a good shot of the three hanging stars (we used plant hooks to hang them from the inside of the porch's scalloped header).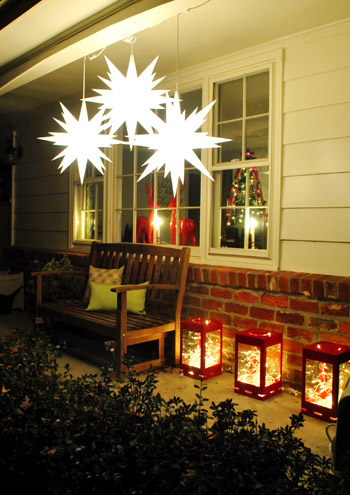 We got these guys on amazon.com a few months back on sale (I think they're called Moravian stars if that helps you hunt them down):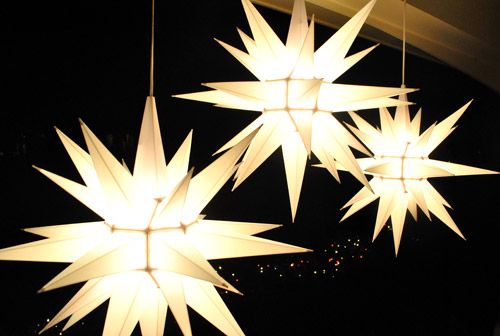 They're actually made of hard plastic and you assemble them by snapping each of the spikes into place.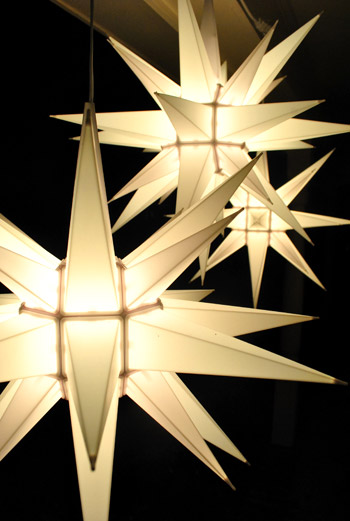 Here's a close up shot of our red and white lights… which again look red and green. Haha. We learned that these guys are called "candy-cane lights" – charming name, right? We thought that was cute.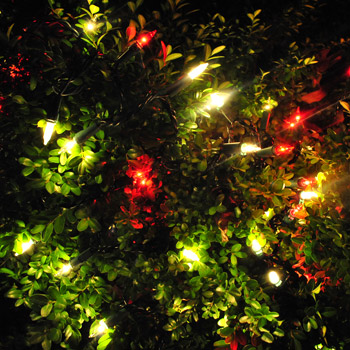 Oh and I mentioned that I made a little square wreath with sticks from the yard, so here's the scoop…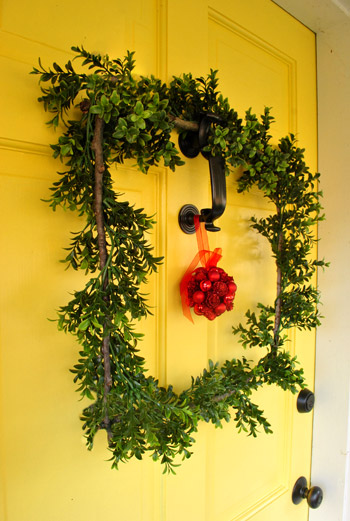 I just collected four sticks that were pretty straight and broke them over my knee so they were all the same length. Then I grabbed a faux boxwood garland at a local craft store (Ben Franklin) which was 50% off (down from twelve bucks to $6). I already had green floral wire at home, so those were all the materials that I used (pardon the bad iPhone pic, John was using the good camera to photograph kitchen stuff for yesterday's post):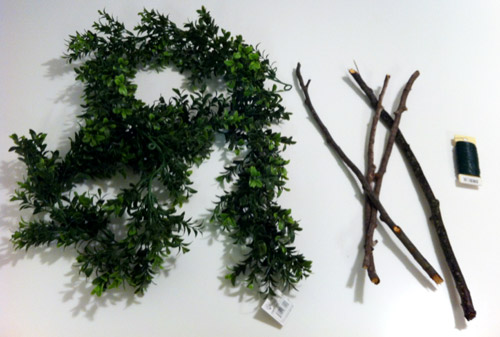 As you can probably guess, I just used the floral wire to connect the four twigs in each corner to make a rough-but-charmingly-rustic square wreath shape with the sticks. Then I just wrapped the faux boxwood garland around it. Here's a shot of the corner of the wreath that's connected with wire (this detail is covered by the garland, but I pulled it away for this shot to show you how it's all held together):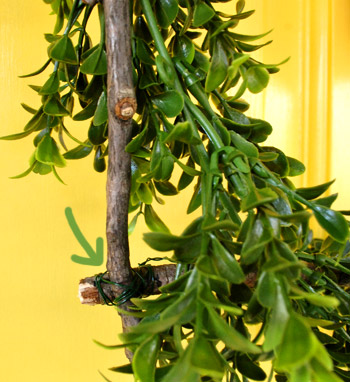 Oh and I already had that red "kissing ball" from a few years back (it was a sweet gift from John's mom) which I thought looked fun in the middle of the wreath. I didn't even have to hang a hook since it rests over the base of the door knocker. And the square wreath itself rests on the top of the door knocker, so no 3M hooks were harmed in the making of this wreath. Haha.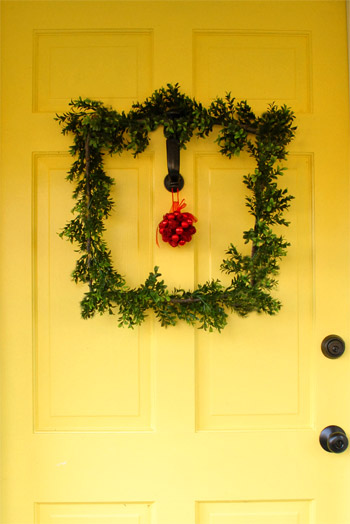 Oh and for anyone wondering how our oil-rubbed bronze door knocker and handle and deadbolt are holding up (more on that project here), as you can see from the pic above, they're all still looking mint!
So yes, we are thoroughly enjoying the festive outside stuff we hung, set out, and strung up for the first time! I even named our $6 wreath Charlie because he's kinda minimal and sparse, like a Charlie Brown Christmas tree…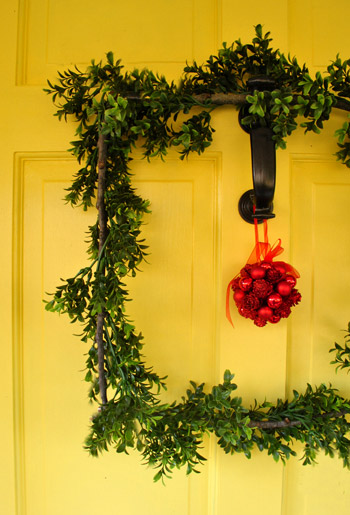 And now back to those red reindeer. I found these guys at Ben Franklin when I was buying the clearance faux boxwood garland to make Charlie. At $4 a pop I couldn't resist (they're giant – maybe two feet tall each). They were sort of a flat brown bag color when I got them and looked to be made of paper mache. So I thought making them super shiny and bright could be fun. So one $3.50 can of high-glossy "Sunrise Red" spray paint later…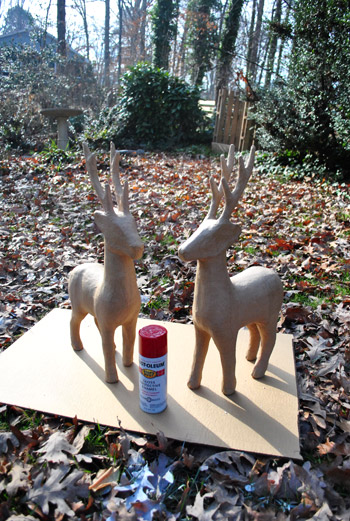 … and those babies were glossy and ceramic-animal-esque. Clara is obsessed. She can now say "red reindeer" and usually looks outside beyond them and shouts "Santa's coming!" Not kidding. This kid is excited with a capital E.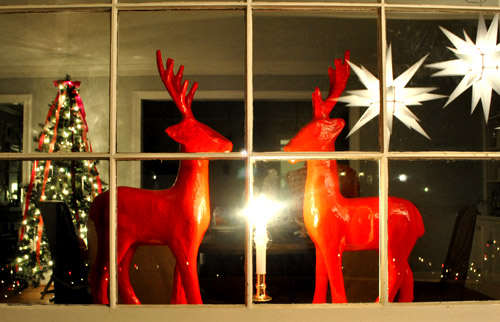 Have you guys decorated the outside of your house? Have you ever made a wreath from sticks? Are you as crazy about square wreaths as I am? Might just be me, but I love how different they feel. Sorta modern and angular. And how about them reindeer? Are you surprised I tried my hand at bright red spray paint? I must admit, I kind of surprised myself with that choice. But I love the super bright color – so festive!
Update: You can check out all of our favorite holiday decor finds here – many of which are under $15!