With family arriving tonight for our first ever Christmas in Richmond, we wanted to be sure we shared our holiday card with you guys first (you know we love ya like family). We couldn't do this little blog-thang (look at me getting all twangy) without you. And we sincerely appreciate you for dropping in on us.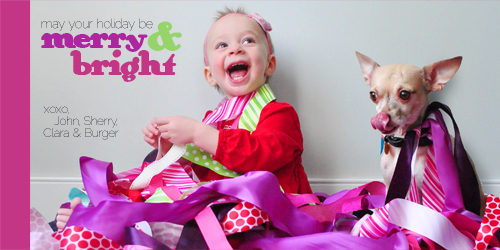 We shot this earlier in the month with the help of a bunch of ribbon snagged on clearance from Michael's last Christmas (some of which later ended up on our tree). It's actually two pictures photoshopped together, since getting Clara and Burger to sit still that close to one another without doing something weird (like synchronized diaper sniffing/tail grabbing) is beyond unrealistic. You can actually see a bunch of outtakes over on Young House Life today. Like this one we like to call "The Peeper."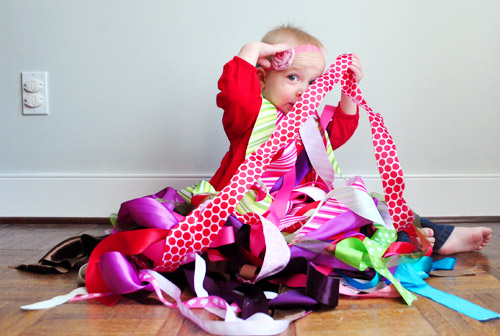 We hope everyone has a fun/joy/family/food/relaxation-filled holiday weekend! And although we figure many of you will be busy with miscellaneous chaos over the upcoming week between Christmas and New Year's, we'll still be dropping in with a quick post every day from Monday through Friday for ya (and yes – we hope to have some cabinet priming/painting peeks for you guys with a big reveal sometime around the first week of January if all goes well).
We just found out that we have a big book deadline of January 4th too (the entire final manuscript is due- yikes!!!) so at any point if you're wondering what we're up to, you can probably count on us to be holding a paint brush, a laptop, a toddler, a chihuahua, or a cookie covered in sprinkles. And maybe a few of those things at once (let's find out if I can eat a cookie while priming, shall we?). Happy holidays to every last one of ya!
Update: You can check out all of our favorite holiday decor finds here – many of which are under $15!