When Real Simple asked us to whip up a DIY holiday gift idea for their site, Sherry did her Elaine from Seinfeld dance (which is only slightly better than her ugly cry) and we excitedly put together a quick tutorial for creating a seasonal welcome mat to slide under someone's Christmas tree… which they can then slide under their front door.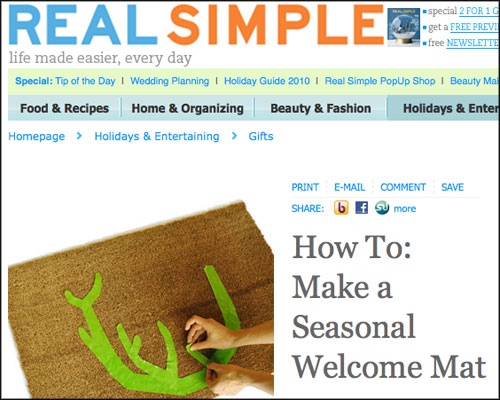 You can check out the full how-to details for making this buck-ish beauty over on RealSimple.com (here's the first page and here's the second page). It's basically an easy project involving a cheap Ikea doormat, some painters tape, some outdoor-approved (or enamel) spray paint, and about ten minutes of your time.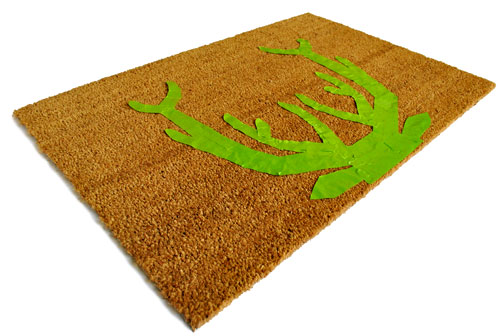 And when the dust spray paint haze clears, you're left with a little something like this: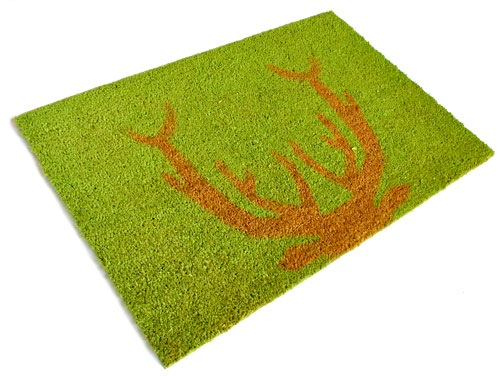 As long as you use good quality indoor/outdoor approved spray paint it should be 100% fixed in place once it's dry (since it's made to get rained and snowed on outside, there should be no worries about painted footprints in the house). A lot of "professional" welcome mats are actually spray painted, so these will wear out over time like most mats do – but it's a fairly standard treatment when it comes to buying any mats with designs on them from the store. Using something that specifically says "enamel spray paint" will give you one of the most durable and long-lasting results since that's the good stuff, but the spray paint that we used was outdoor approved (although it didn't specifically say "enamel" on the label) and it has held up really well so far (we actually made ours a few months ago because the Real Simple "due date" was November 1st).
Anyway, our big secret is that we actually made a second DIY welcome mat- you know, in case the first one was a bust. So we thought we'd share the alternate one here (which we also liked, but didn't love quite as much as our deer friend). It uses the same basic technique as the reindeer antler version, but it requires less taping time and a bit more spray painting time. Oh, and we used a big round mat for this attempt, also from Ikea.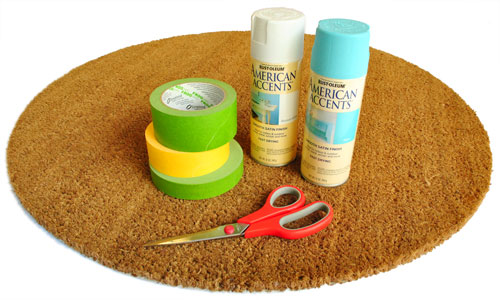 We were going for a snowglobe effect on this one, which meant creating white snowflakes on an icy blue background. So after spraying the entire mat with a couple of coats of white paint (and letting it dry, obviously) we cut our painters tape to create various-sized asterisk shapes all over the mat. They're not the most intricate snowflakes in the world, but we wanted to keep it simple (since that seems to be a key term over at Real Simple).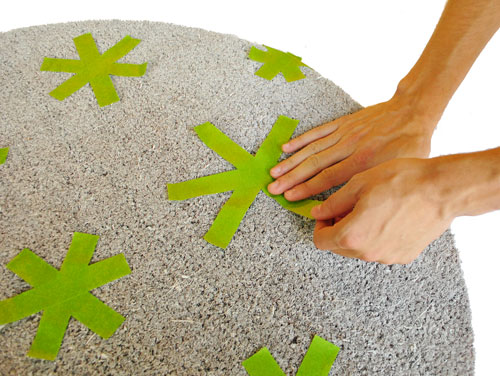 With the tape firmly pressed down, we applied another couple of coats of blue spray paint all over the entire mat, let that dry, and then peeled up our tape to reveal this little ditty: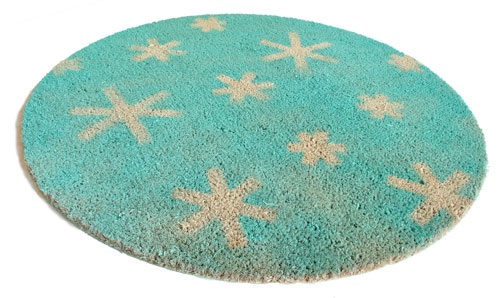 I'll admit that we didn't get the blue coat to go on as evenly as we wanted. We had to stop about a coat early because some of our painters tape was starting to peel up a little (which we feared would result in less-than-crisp snowflake edges). The good news is that the tape-lifting side effect isn't normal, it's something that we caused by unsticking and re-sticking our asterisks too many times while taking process shots and changing their configurations (we didn't have that issue with the antler one). So you can easily avoid that problem by leaving your tape asterisks right where you stick them the first time (or removing them, tossing that less-sticky tape, and starting over with fresh tape). You can also always start all over again if you don't like the initial results (just spray the whole thing with white paint again, wait for that to dry, and asterisk it again for an easy do-over).
So that was our little DIY doormat adventure. When we were brainstorming handmade gift ideas, we figured a doormat is a pretty universal present. It might sound strange at first, but most of your friends and family members have some kind of a door, right? Plus we think it would be a fun gift idea to go put it on someone's porch for them (and leave a note so they know who it's from). Has anyone else taken on a doormat project? Sherry loves this homemade house number version by that crafty countess Martha Stewart.
Update: You can check out all of our favorite holiday decor finds here – many of which are under $15!