Back when we admitted to putting up our Christmas tree before Thanksgiving (oh the shame) a bunch of you asked if Clara was getting a special "First Christmas" ornament. Well, we finally got around to DIYing one right before moving boxes took over our house (at which point we got so caught up in packing that we neglected to write this post, which is why it's getting posted about a week after our tree came down). Oops.
Anyway we decided to make something silver so it would have a good chance of matching our tree for years to come (we tend to use some element of silver since we have so many silver ornaments and you know we like to use what we've got). But of course we wanted it to be distinctly Clara circa 2010, so it would feel as special and customized as possible. So at the craft store (Ben Franklin) we grabbed this plain white ceramic ornament for just a buck and some 50 cent silver acrylic paint. Well, the real story is that we actually bought two ornaments in case the first one didn't work out. They only cost a buck, after all. And we're paranoid like that.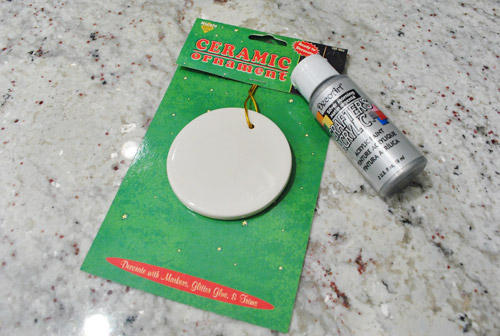 The plan was to create a silver backdrop onto which we could Mod Podge a scaled down version of Clara's baby silhouette. That way we'd get something that definitely says "baby" but also creates a silhouette theme that we can carry on year-after-year if we'd like. It'll be sweet to see how much she has grown and changed (here's hoping she decides to grow hair one of these years). And since I still had the digital file of her silhouette from this project we just resized it, printed it, and started cutting. Sidenote: those are the haircutting scissors Sherry got from CVS a million years ago that she also uses to cut my hair. But I guess they're better than a Flowbee.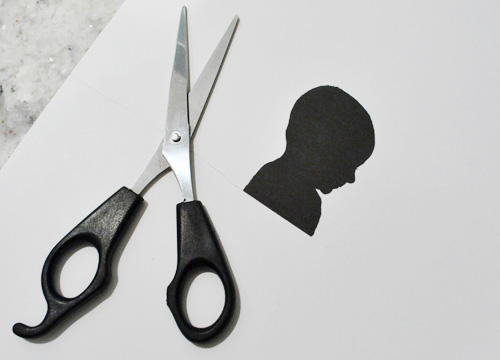 When it came to painting the silver backdrop, my hairdresser wife noticed that it was a bit streakier than she'd like. So she figured she'd give the metallic Sharpie that we had in our junk drawer (which has since been packed up- yessssss) a try on the back-up ornament. Good call lady wife. It wasn't much less streaky, but we later learned that the dried acrylic paint just peeled right off the ornament in one puffy-paint-esque blob. Duh. The lesson? Metallic sharpie grabs glossy ceramic far better than peelable acrylic paint. And a second "coat" of Sharpie about three hours later leaves it looking pretty seamless. So use that if you're going to DIY one of these baby headed ornaments for yourself.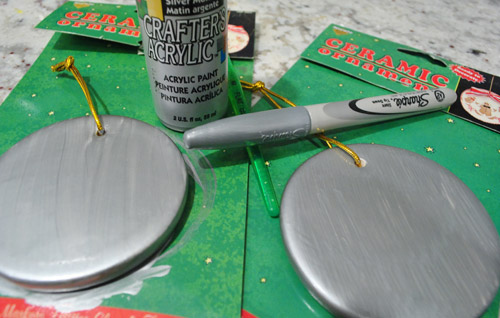 Anyway, after Sharpie-ing both sides of the ceramic ornament for a shiny silver coin-like finish, we placed Clara's cutout silhouette in the middle of one side and glued it in place using Aileen's Tacky Glue (being careful not to let too much squeeze out the sides onto the silver part – if any did we quickly wiped it). After the glue dried, Sherry got her Mod Podge on (covering the entire surface of the black paper silhouette with a few thin and even coats so it was a bit more sealed and protected for the long haul). The result was nothing short of charming. Especially for an under $2.50 project.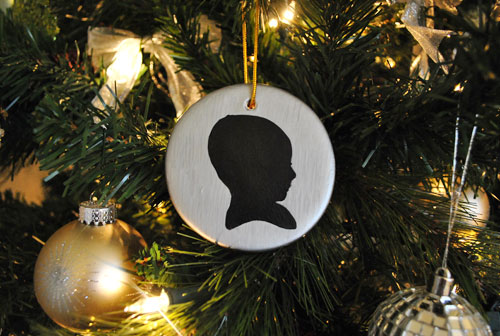 Oh, and we also wrote "Clara's 1st Christmas, 2010" in small handwriting with a black Sharpie on the back. But our marker fun didn't stop there. Since our spare ornament was now peeled of its paint (it really did cleanly peel off just like puffy paint) we were able to start from scratch and create an alternate version featuring Clara's hand-print (which we got by tracing her hand on paper, cutting it out, and using it as a stencil to trace the outline right onto the ornament with silver Sharpie). Then we filled it in. I love how her hand just fits. We probably can't do this one from year to year unless we hunt down some bigger ornaments, but she'll totally get a kick out of knowing that her hand was once that small.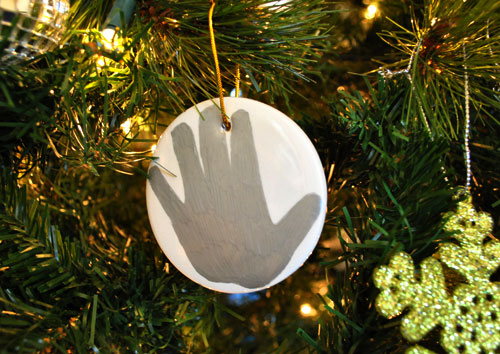 So that's how Clara's first Chirstmas was officially represented on our tree in two fun DIY ways (at least for a few days before we packed everything up). But here's hoping they make an encore appearance at the new house when we do some quick & dirty Christmas decorating over there. Have you guys DIYed any ornaments? I should mention that Sherry wanted to shove a pink baby sock into one of those round glass ornaments with removable tops to create a third Clara themed ornament but I thought that was weird. So I'd love to know if anyone else out there has tastefully created a baby sock ornament that they'd like to share. I might just change my tune.
Psst- Check out some other ornaments we DIYed a few years back here and here.
Update: You can check out all of our favorite holiday decor finds here – many of which are under $15!