Here it is, the much requested post about our favorite DIY tools for all of you folks who are asking Santa for something tool-ish this year (or trying to figure out what to buy a handy guy or gal in your life). None of the items in this list paid us or perked us for the mentions, they're just actually the tools that we use and love on the regular. So without further ado, let's chat about the things that help us get 'er done….
We previously wrote this post about a few things that we pretty much can't live without (any of which would make great gifts/stocking stuffers), so here's a quick summary since we'd be remiss to leave them out:
a hammer
a crowbar
a flat head screwdriver
a phillips head screwdriver
a tape measure
plumber's putty
a hack saw
a drywall saw
clamps
liquid nails
plumber's tape
a box cutter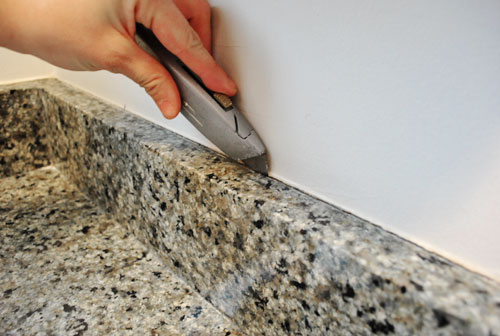 an exacto knife
straight razors
channel lock pliers (these are our DIY MVPS, they come in handy for all sorts of things, even stripped screws and rusted pipes)
wrenches of all sizes
needle nosed pliers
a level
sandpaper
caulk
a caulk gun
spackle
a putty knife
painter's tape
high quality rollers (they're labeled for smooth or textured surfaces – so pick the right one for your walls)
mini foam rollers (great for painting furniture and even cabinet doors)
paint trays and drop cloths
high quality angled brushes (here's my favorite paint brush ever)
an assortment of nails and screws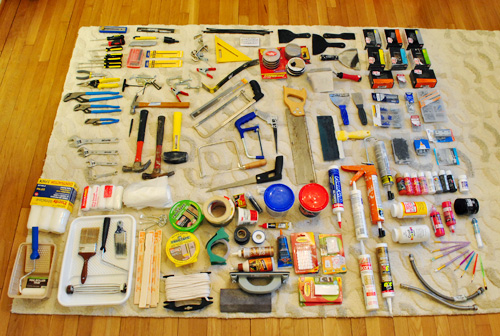 If you have any questions about the items mentioned above, you can read way more on those specific small-ish tools right here. And for a breakdown of the items in the photo above, there's this post. And I'd say if you're staring at the screen saying "I can't ask for/buy all of that stuff!" a cute gift idea might be grouping things that go together for a common project, like:
a level
a hammer
some picture nails and anchors and screws
some spackle and a putty knife (for filling in any mistakes along the way)
Or you could toss together a cute painting kit with:
rollers
brushes
painter's tape
paint trays
a drop cloth (heck you could even wrap everything up in the drop cloth and tie it sweetly with twine)
But now let's move on to the bigger guns – for anyone hoping to give (or receive) something with a little more power. Over the years we've tried some heavier artillery on for size…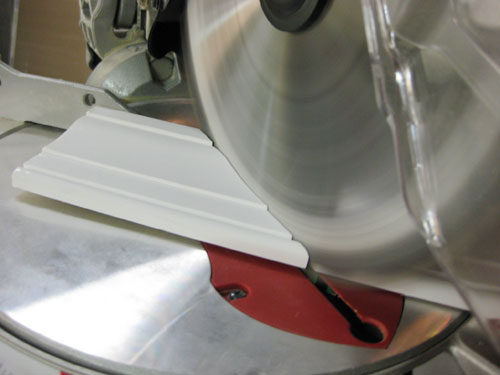 … and let's just say that power tools have a way of making us permasmile in that I-am-handy-hear-me-roar kinda way. So here are a few of our favorite staples (along with a quick bit about what we've used them for):
a miter saw (nice for cutting crown molding and baseboard – but also for cutting pretty much any board less than 8″ wide – it makes quick, clean cuts, both angled or straight)
a wet saw (awesome for doing backsplash or bathroom tile – and even cutting patio pavers)
a table saw (great for tackling large boards or planks of wood – especially when you need long straight cuts)
a reciprocating saw (nice for cutting out old dead bushes – it's sort of like a mini chainsaw)
a jigsaw (good for smaller, not perfectly straight cuts, like demo-ing out the built-in around our old fridge)
an electric sander (awesome for refinishing furniture or smoothing any wood you're using to build something from scratch)
a cordless drill and drill bit set (for drilling holes or screwing nearly anything together)
a Kreg Jig (for making pocket holes to create tight joints when doing any sort of wood working like building furniture or making shelves)
a demolition hammer (for demo-ing out nasty old tile stuck in metal mesh and mortar like we did in our first house's bathroom – we actually rented one at a home improvement store, which is a nice way to save money if you won't use something very often – plus you don't have to store it)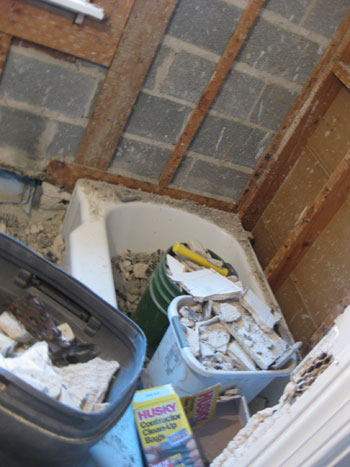 So any of those guys would make for a great gift. After all, a new bathroom/desk/wall o' frames/kitchen/anything else you can make with those tools is right up there with any other "big" gift – at least according to DIY junkies like us. As for where we store everything, we have three large drawers in our kitchen full of small tools and paint supplies (currently sitting in our sunroom because we have yet to put the kitchen back together/reorganize) and we keep most of the big things (like the miter saw) in the basement.
Speaking of specific products and brands, we're sure there's more than one way to tick things off the ol' to-do list, but here are the companies and some of the actual products that we use in our house on a regular basis:
Stanley makes great screwdrivers, tape measures, crowbars, box cutters, and mini sledgehammers
Craftsman makes great hammers
Black & Decker makes great cordless drills (we have this one)
Black & Decker also makes great sanders (we have this one)
Frog Tape is the best painter's tape we've ever used
Sherwin Williams stores sell this awesome short handled brush that we love for painting trim
Purdy brushes and rollers (available at Home Depot & Lowe's) are great for nearly every painting project (we love a good 2″ angled brush for cutting in & painting furniture and a nice good quality roller for walls & ceilings)
We have a Skilsaw table saw and a Skilsaw reciprocating saw
We got our wet saw at The Tile Shop
Our miter saw is made by Craftsman
Sears sells a set of wrenches that we've used for years
Grip Rite (available at Home Depot & Lowe's) sells nice big boxes of screws, nails, anchors, etc
3M sandpaper comes in a nice wide range (we like low grit versions, like 60-100, for deeper sandings and high grit alternatives, like 200-300, for smoothing things out for a finished look)
Dap Caulk is our favorite brand (we get the white paintable "Premium Indoor/Outdoor Sealant" for most jobs and the "3.0 Advanced Kitchen and Bath Adhesive Caulk" also in white – which isn't paintable but is ideal for caulking a tub, toilet, or sink).
We also love Dap Fast 'N Final Lightweight Spackle (for filling holes and all that good stuff – more on that here)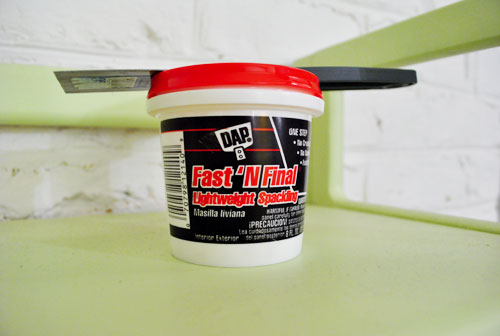 As you can see, we don't have a bunch of expensive DeWalt things – which is a nice reminder that you can gussy up your house without owning a $500 saw (and we also definitely believe in renting and borrowing anything that you can to get the job done). We don't want this crazy exhaustive list to sound defeating, so remember that we started fixing up our first house five years ago with a hammer, a screwdriver, and a paint brush. Das it. So we don't recommend trying to grab all of this stuff at once (ack, that would be crazytown). Just think about what projects you might have on your priority list and grab one or two things as you can afford them to make things easier as you go.
Anyway, I hope Santa (or someone else) brings you everything on your list this year! Assuming you were good. If not… well, maybe there are crafts you can do with coal? Oh and we'd love to hear more about your take on which tools get the most use at your house. Do you have any life-changing ones that you can't live without? Are there certain brands or products that have been especially helpful?
Psst- Once again for the people in the back: no items/companies in this post paid or perked us for the mention, we just genuinely love these tools and wanted to share 'em with anyone in need of some holiday handy-ness. Oh and we announced this week's giveaway winner. Click here to see if it's you.
Update: You can check out all of our favorite holiday decor finds here – many of which are under $15!