Let's get into what Santa brought us. This was an exciting Christmas because in all of our seven December 25ths together, we've never woke up in our own beds to open the presents under our own tree as a family (i.e. we'd always traveled elsewhere).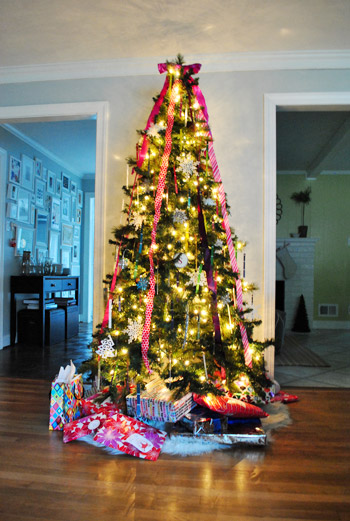 We did meet up with a bunch of relatives later in the morning to open gifts as one big crazy Petersik family, but we snuck in some present opening time as just the four of us earlier in the morning. Especially since Santa brought one little Petersik something extra special this year (as mentioned in great detail here)…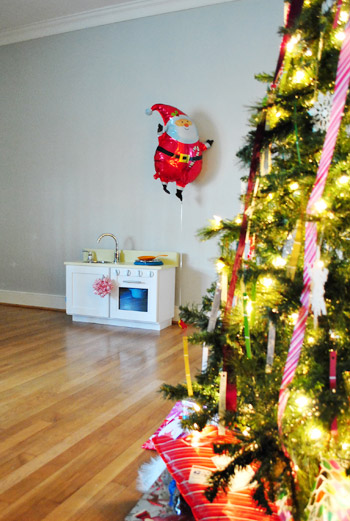 Along with her play-kitchen Clara got lots of clothes, books, toys, and that favorite leopard hat of hers. But since we always get asked what we got each other, let's get into that. First off, I stalked Sherry's Pinterest page to learn that she wanted these Kendra Scott earrings – which look quite good on her, if I may say so.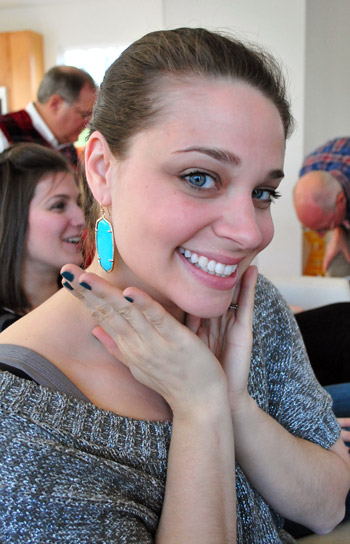 She also got me a couple of dangly things in the form of two bicycle ornaments (well, technically one's a moped) from Crate & Barrel to fuel my new obsession with bike art. It provided the perfect opportunity to pose next to my dad with the gift that we got him – a bicycle parts shirt from Etsy (unlike me, my dad's love of bikes extends to actually riding them regularly).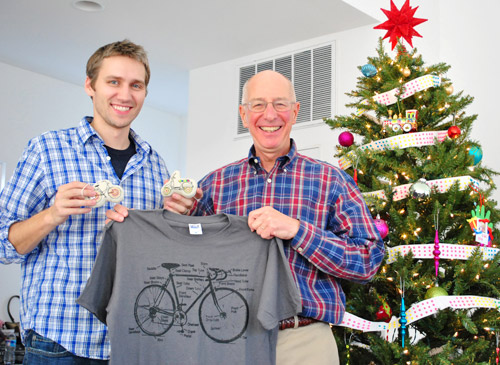 Sherry and I both ended up getting each other art too, which was kind of funny. Sherry made me a very sweet Boy Scout merit badge collage for all the "skills that I excel at" that she was inspired to create after seeing some vintage badges on eBay for woodworking that she thought I deserved (they were selling for something like $80, so she called a friend whose son has tons of boy scout/eagle scout badges and just scanned and returned them). Then she printed the ones that "applied to me," cut them out, and taped them in a grid on some navy craft paper leftover from our old living room art.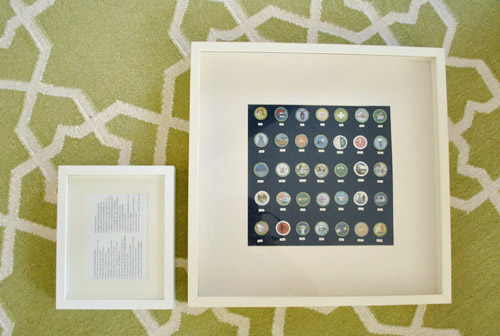 The sweet part is that she used the actual name of the merit badge to express something she loves about me, is thankful to me for, or that's meaningful to us both.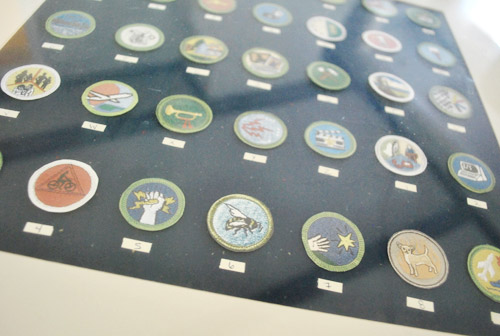 She even typed up and framed a key to explain everything. I laughed out loud at letter P, which was a badge featuring a squirrel icon.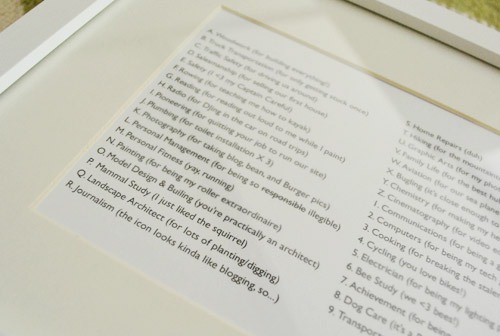 We haven't figured out where to hang it yet, but I love how simple and graphic (and funny!) it is. It looks great with the curtains in the dining room, so it might end up there. On the other hand, Sherry had my gift to her hung before the day was over. That girl is fast!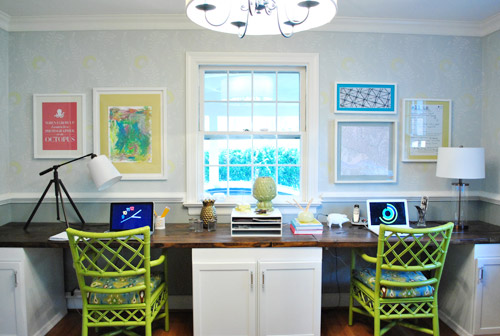 It's there on the far left, and it's a custom poster that I bought from A Vintage Poster. It's a weird story, but this is a line from an episode of Toddlers & Tiaras (um, not that we watch that show – it was just on in the background one day). They introduced one little girl to the stage with this gem that perfectly epitomizes childhood innocence: "When Emerald grows up, she wants to be a photographer… or an octopus." I altered the quote a bit and A Vintage Poster did a bang up job converting it into a fun little one-of-a-kind poster that only makes sense to us.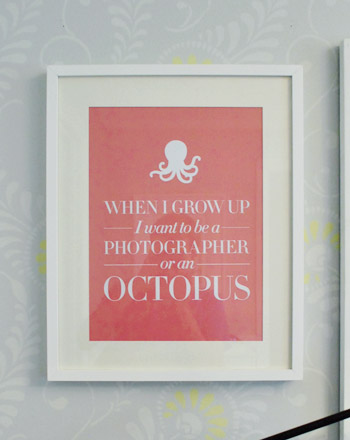 Who doesn't need a refreshing reminder to dream big every once and a while? And the coral color looks so great with Clara's painting next to it.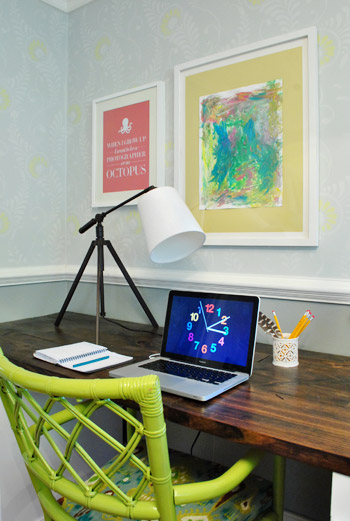 Speaking of big dreams, Clara, Burger and I also gave Sherry something to encourage her to pursue one of her former hobbies: art. She's got her BFA and originally went to school to be an artist, but life has kinda pushed that aside. I've heard her say more than once while watching Work of Art on Bravo that she misses it, so we snagged her some paints and a gift certificate to a local art supply store (intentionally not Michael's or somewhere she could spend it on house projects instead). Oh, and don't mind my goof on the card – I'm so used to signing "John & Sherry" that I forgot she wasn't giving this to herself. #ChristmasPresentFAIL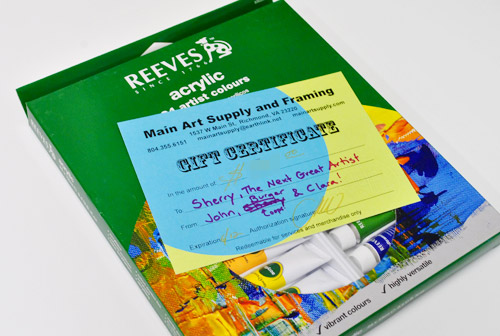 Let's see – what am I forgetting? Oh yeah, Sherry got these funny little buttons that perfectly sum up our relationship for me here on Etsy.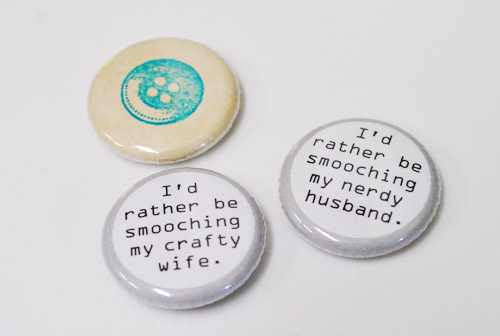 Knowing my nerdiness, she also got me a "tech" gift in the form of a remote for our camera (because I've often mentioned that it'd be helpful to have around). After all, the world needs more photos like this, right?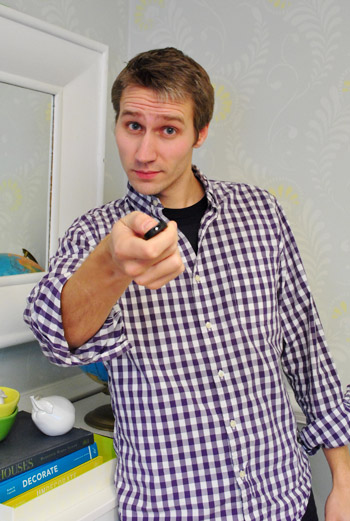 Oh, and don't worry – Burger wasn't forgotten. He's just not a morning person – er, morning pup (?) – so he had to have his presents delivered to him in bed. Here he is with the lion toy Clara picked out for him.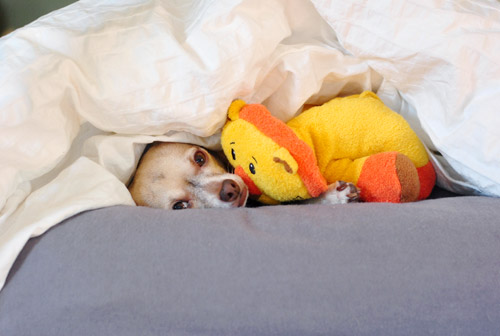 And there's a great stretching/smiling photo of him here. On that note, I think we've more than exhausted our run down of Christmas goodies between this post and this morning's play kitchen extravaganza. What'd you guys get or give his year? Anything especially awesome? Something DIY or house related?
Psst- We just shared a HUGE CHRISTMAS POST full of family pics and even more holiday details over on Young House Life, so you can check that out here.
Update: You can check out all of our favorite holiday decor finds here – many of which are under $15!