Just like last year's roundup of budget-friendly holiday gifts, we're back to share what tickled our fancy this year. So we set off to three mainstream stores that hopefully many of you have access to (if not there's always online ordering) and snapped a few pics of our favorite non-fund-depleting finds. The best part is that many of them can be had for just a few dollars and nothing in our roundup is over the 20-something range. Plus some of these items can be adapted or DIYed so you can whip them up for even less at home. Doesn't that put some seasonal spring in your step? So without further ado, here's what made us want to rent a Santa suit and utter "ho ho ho" to anyone who would listen…
First we stopped at Crate & Barrel since they're always a great place to sleuth out pretty glassware, bud vases, and more on a dime. We always walk into the store assuming that things are in the $50+ range but there are so many amazing items that still look super high-end but can be snagged for just a few bucks. Like these stemless wine glasses for example. At just $2.50 a pop you can grab a set of four for $10 and just pick up a bottle of bubbly or cider to round out the gift in under $20. Plus C&B will wrap everything up so nicely for you (in tissue and a chic Crate & Barrel box for free) that we guarantee your giftee will never guess that you only spent a few bucks on each wine glass. Bonus- they'll think of you every time they share a toast. Plus you can even etch them with a custom monogram for a DIY spin that's super personal and sure to be appreciated.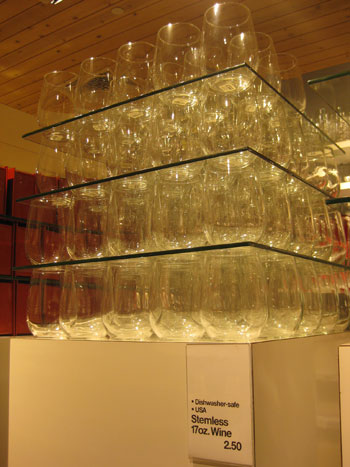 These festive under-$5 mugs would make great little gifts full of hot cocoa mix and mini marshmallows or gourmet biscotti. They could even be paired with a tin of fancy tea and an inexpensive tea infusers for a charming tossed-together gift that looks elegant and anything but haphazardly glued and over-glittered.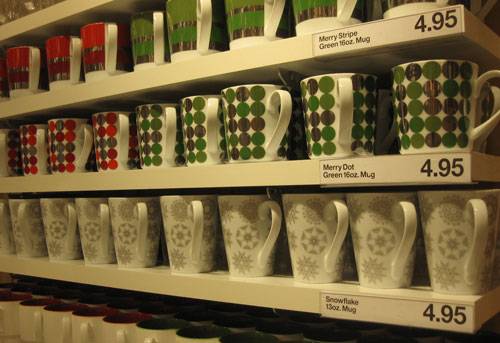 Then we have these pretty $7 and $10 jars that are made from gorgeous green recycled glass and would look adorable full of homemade cookies (you could tie the recipe on a string around the rim). You can even stuff them with something more personal (like yarn for someone who loves to knit or pretty stationery for someone who sends out frequent letters). We're always a fan of presents where the packaging isn't tossed away and actually serves as part of the gift- and these containers would be amazing if they lived on as chic sugar or flour containers on a kitchen counter.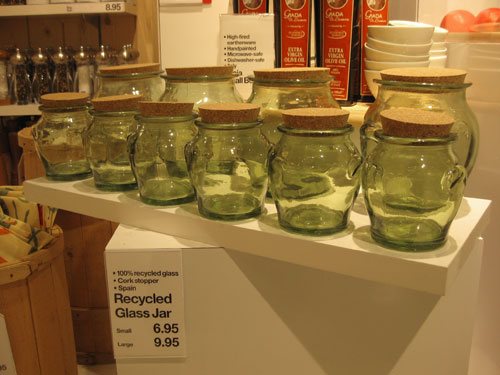 And if the jar-o-cookies thing is a bit too tried and true for you, this cute little recycled cruet (which is under $6) would be a pretty holiday hostess gift full of some sort of handmade dressing or marinade (again with the recipe tied to the rim, so the giftee can whip it up again and again). Or the lucky recipient can enjoy your gourmet dressing and then choose to use their cruet to store olive oil or vinegar in style for years to come. Again, you gotta love when the package is part of the present…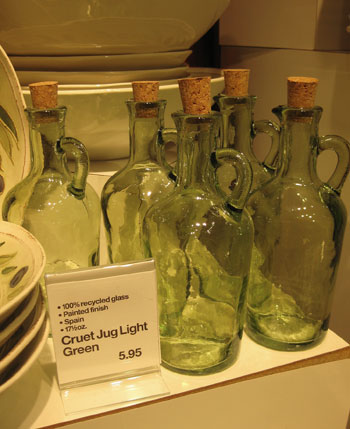 These pretty little $3.95 birch-wrapped votives were so natural and cozy that we instantly fell in love. We could picture one atop a tin of gingerbread cookies for a charming gift that looks and smells as warm and inviting as it tastes. Is there anything better than enjoying gingerbread by the light of the fire- er, candle?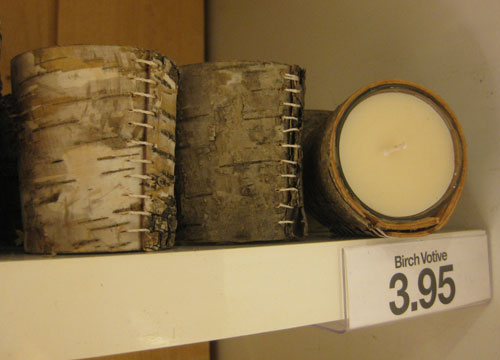 Although the goal was to find as many $5-10 items as we could, these bookends were too cute not to mention. At $29 they shouldn't totally break your budget, and how great would they be if you gifted them along with one of your favorite reads to a fellow bookworm?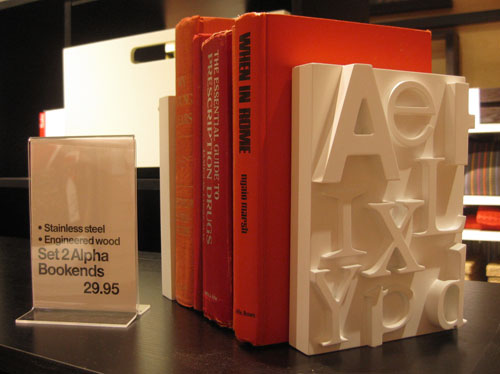 We also loved this trio of small frames for $14.95 (which means they break down to less than $5 each if you separate them). You could frame three memorable photos of yourself and three different giftees to create three personalized presents for under $5 a pop. And they'll all have heartfelt meaning and some serious style.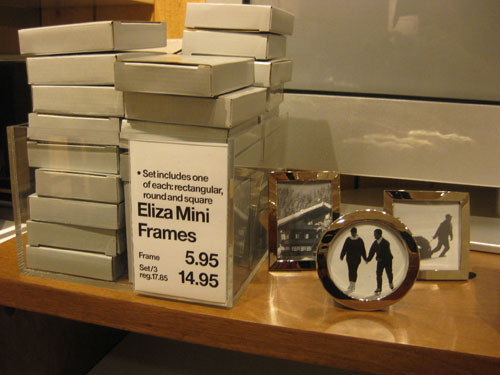 We also loved this va-va-voom red bud vase that's just $8.95. You could fill it with fresh flowers or even pair it with tickets to an arboretum (or anything else that's flower themed). But it doesn't stop there, you could also gift it along with a box of red and white striped candycanes or gourmet peppermint candy for a red themed present that's half edible and half keepsake. And everyone knows someone who proudly proclaims that red is their "signature color."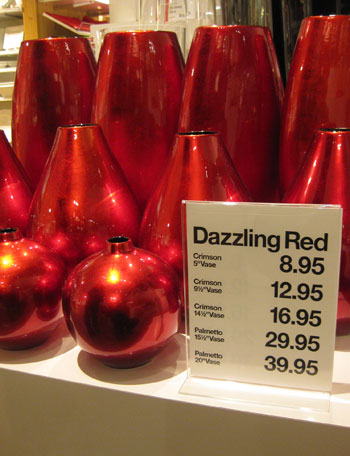 These cocktail glasses are even cheaper than the stemless wine glasses we shared above (just $1.95 each) and four of them would be super fun paired with cocktail mix and even one of those sugar-the-rim drink kits for an easily under $20 gift that feels festive and fun.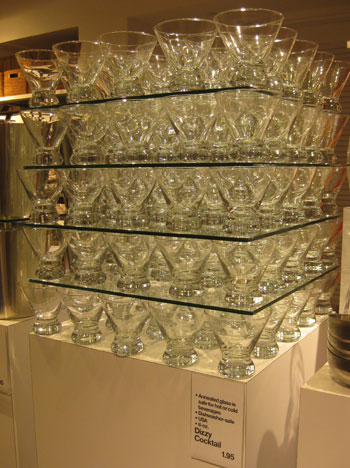 And not all glasses have to be used for drinking. In fact, we thought these pretty colored glass tumblers (on sale for under $4 each) would make charming little votive holders. Just toss a candle in two or three of them (you could go with one of each color or three of the same hue) and even include another item in that color palette (like a jewel toned table runner for example) to round out the little tabletop decor kit.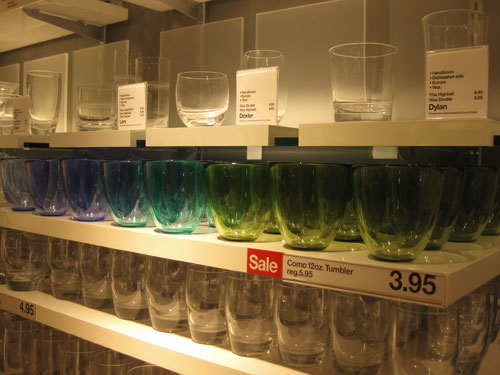 And for anyone seeking a slightly more substantial gift for someone special, if that person is a wine lover we've got you covered. Who wouldn't adore this gorgeous, sculptural wooden wine rack that just happens to be on sale for $24.95?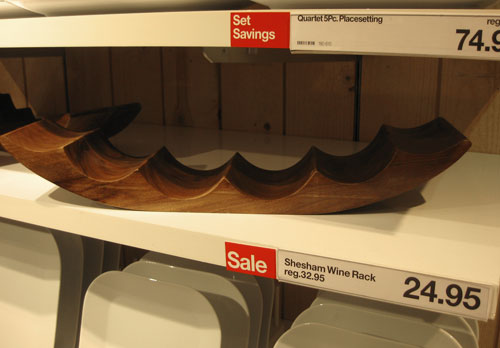 And Crate & Barrel is also great for a few little things that round out a gift that's almost there but just needs a dash of customization (or even just a little something tucked next to the bow on top of the box). These small leatherbound Sudoku and Word Scramble booklets are under $8 and the chic luggage tags and picture clips are in the $2-5 range so they all qualify as stocking stuffers or gift toppers with more flair than the average checkout-counter find.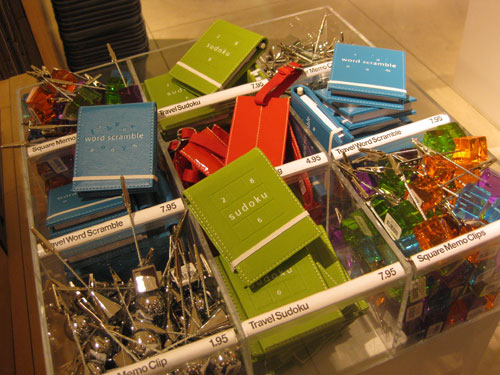 Then we dropped in on Pottery Barn which had some really pretty holiday decor (this gleaming moss and ornament filled enclave reminded us of these little moss and ornament decorations that we made last year). Gotta love when natural things like fresh green moss meet seasonal sparkle for an understated and charming effect. DIY alert: you could grab some glitter-spray at any craft store and make your own sparkling seasonal pine cones to add to the mix just like they did here.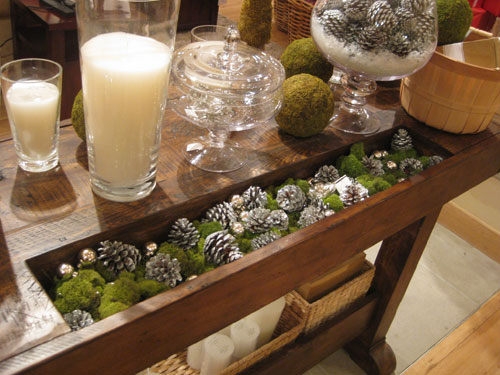 But back to the gift guide… sorry for that decorating diversion. We loved these gorgeously European-looking ceramic latte cups, coffee mugs, and cuppuccino cups that range from $8-10 and look so high-end and detailed they'd be gorgeous everywhere from a bathroom full of q-tips to a glass-fronted cabinet in a kitchen. Just like the Crate & Barrel mugs they can be filled with hot cocoa mix and marshmallows or even bags of gourmet coffee or cuppuccino for any coffee lovers out there. Heck you can even toss in some biscotti for extra credit.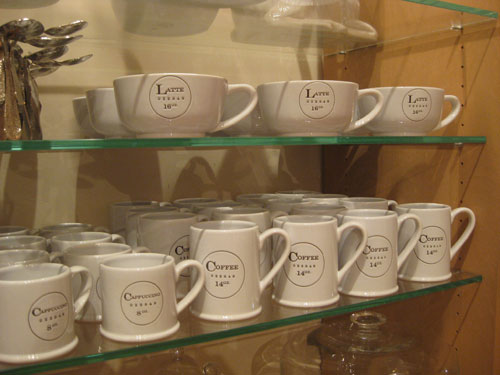 And because everyone knows someone glamorous and confident enough to appreciate a $10 faux-fur wine cozy (that's right, not only do they exist but they made our roundup!), this little sleeve of festive holiday ooh-la-la can be gifted along with a posh bottle of wine or cider. Is it weird that I want to pet it for hours?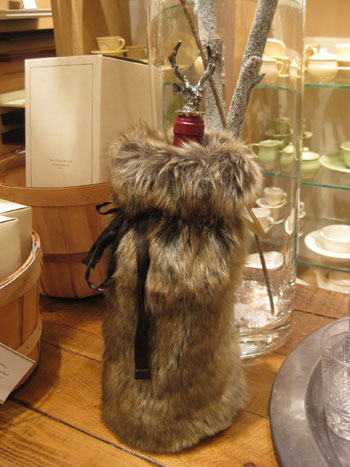 For anyone who is a bit more decor obsessed (or even math or science obsessed) one of these elegant hourglasses (the big ones are $18 and the little ones are $9) would make quite a memorable present. Can't you picture the large one on a cool looking Domino desk and the little one serving as an ultra chic paperweight atop a pile of bills and receipts. Nothing like a little accessorizing to make a stack of unpaid bills look good…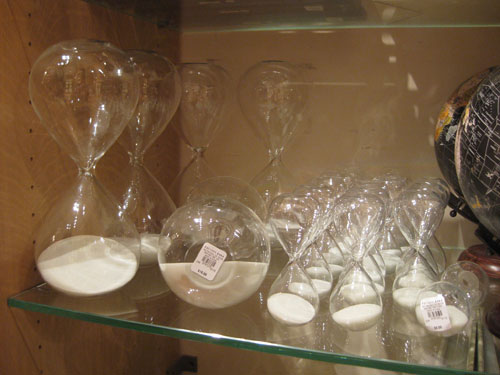 We also especially loved this simple stack of towels bound together with a gleaming ornament, so for anyone who is giving anything that can be folded and corralled with a bit of ribbon (dishtowels? placemats? fabric napkins? etc) channel the PB style gurus and add a little ornament to keep things fun and festive. Again there's no wasteful one-time-use gift wrap that'll get all balled up and tossed in the trash- and we love that you can pick an ornament and some ribbon that will work with whatever you're "wrapping" for a chic little coordinated effect. Note: for more ways to wrap gifts in unexpected ways (that are easy on your wallet) check out this post from last year on the subject.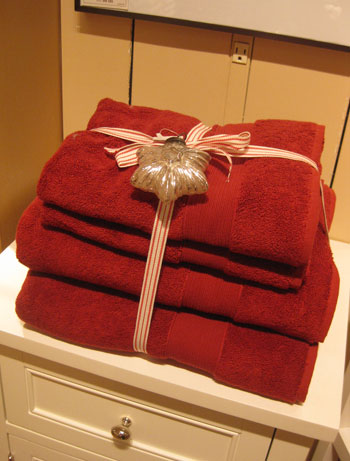 Finally we slipped through Urban Outfitters since they're full of hipster-fabulous finds that are quirky, unique and oh so entertaining. Plus they won't cost you an arm and a leg. First I found these gorgeous ceramic doggy banks (I used to think I only loved white ceramic animals but it turns out I have a thing for black and white ones too!). And at just $18 a pop they're amazing gifts for anyone who loves dogs, banks, or just having some cool conversation piece on their bookcase or mantel. And they're actually pretty big too (the photo sort of dwarfs them) so they're definitely statement-makers for less than 20 beans. And in case it's not painfully obvious, I want one really bad (are you reading this honey?).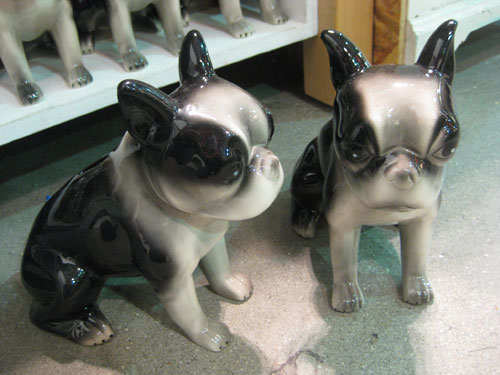 To stick with the ceramic animal theme here for a minute, these $20 cow banks are pretty darn cool too. They're definitely not for everyone, but you just might know some cute farm guy or gal who would adore one (and you could pair it with a cow creamer or some cow tails to take it even further).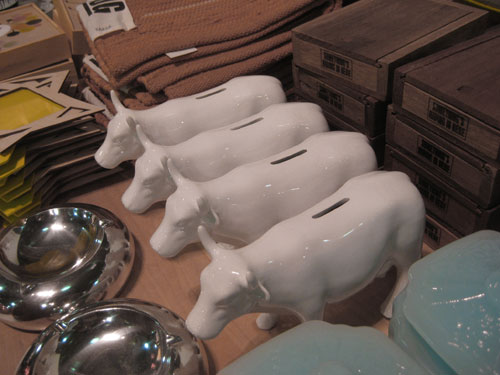 And because we're both pretty personalization-happy, and John is a lover of all things typography, we couldn't fail to mention these amazing oversized metal letters that run in the $18-20 range and would definitely be cool gifts for anyone with… oh, a first or last initial for example. You could even get two initials and an ampersand for any paired off friends or relatives that you think would love something so bold and graphic. And maybe we just have babies on the brain, but we're thinking one (or a collection of a few) would look pretty cool in a nursery too.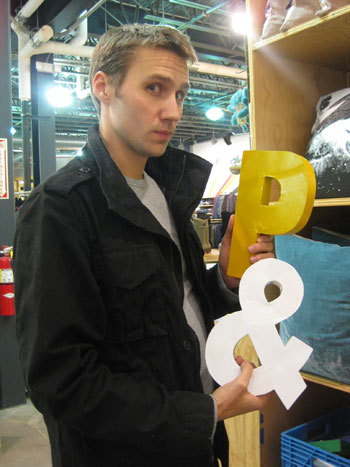 They also had these $8 wire letters that make a cool gift for anyone with a modern aesthetic or a love of industrial-chic design (they'd look especially great in a raw studio apartment or loft space). Plus at just $8 for these you could tie one of them to any gift you've already wrapped with ribbon as sort of the ultimate gift topper/accessory. They're pretty darn fun and almost impossible to put down (I had to pry more than one out of John's hands before we left).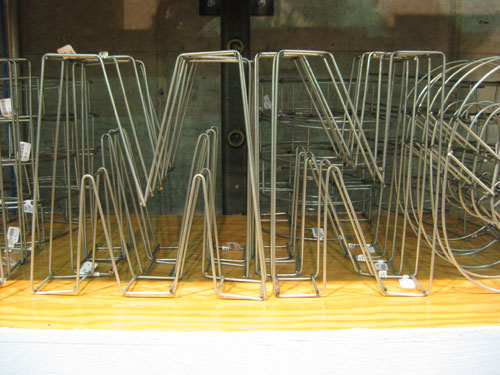 I'm also a big fan of giving a beautiful scarf or a pair of exotic earrings to a good friend or relative, especially if I see something that screams their name. And these textured scarves actually screamed a lot of my friends' names so I figured they might help you guys find that perfect gift for the fashionable gal on your list, whoever she may be. They're far more elaborate and posh looking than their $10 price tag, and we also love using beautiful scarves like these as "gift wrap" of sorts, so you could twist them around a sweater or even a clutch with some ribbon and a card and there you have a stylish little gift pack for your fashionista complete with a scarf and another fun accessory.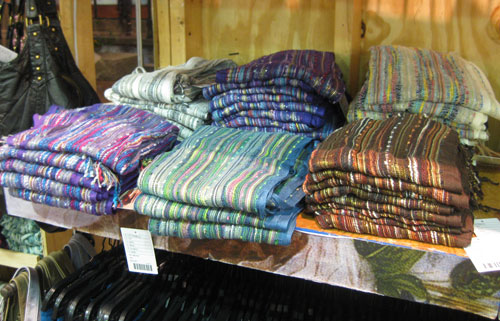 And last but certainly not least, this $20 jewelry tree was so charming and sweet that we thought it would work for everyone from a coworker to a best friend and even a mother or grandmother. It's made from white painted metal so it's substantial and elegant in your hand, and imagine how pretty it would look on a dresser or night table with earrings and necklaces draped over a few of the branches.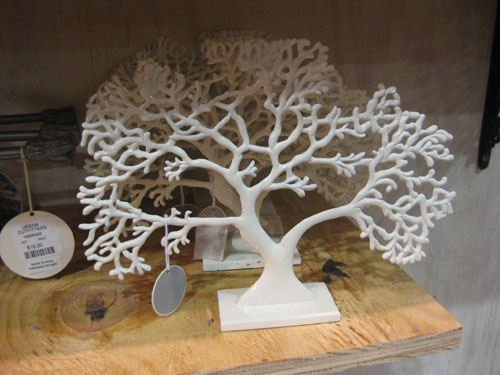 So that's a roundup of all the little tokens of love and friendship that we think could make thoughtful (and affordable gifts) for you and yours. Because there's nothing like giving a ceramic cow without having to utter "holy cow" when you open your bank statement a few weeks later. Ok, so maybe the bovine joke was a bit of stretch, but we really hope you enjoyed this year's little virtual shopping spree with us. And don't forget to drop in on last year's Holly Jolly Gift Guide for even more ideas that are as easy on the eyes as they are on the wallet. Happy holiday shopping to one and all!
Note: None of these stores paid us for this mention or otherwise rewarded us in any way. They're just real places that we actually shop for gifts (in fact we picked up a few things for our family and friends as we went) so they're perfect sources gift-giving inspiration.