This year we have a bevy of wallet-friendly DIY holiday gift ideas to share, but this $10 project is earmarked as urgent since it takes a few weeks to get going. But fear not, there's a super speedy set up and then it just sits there for a few weeks getting gorgeous on its own. So after the initial minute or so of tossing things together, your work is officially done.
What is it you ask? Why a chic little vase full of beautiful and fragrant paperwhites in full bloom. Potted in a simple glass vase along with a few river rocks and about an inch of water, they practically guarantee gorgeous holiday scenery. So whether you'd like to throw together a little paperwhite show for your mom, your neighbor, your best friend, or yourself- here's a short and sweet tutorial.
Step 1: Get it together. Purchase 3-5 paperwhite bulbs- also called Narcissus (we snagged a box of four at Walmart for $5), some river rocks (we got ours for $2 at Michael's), and a clear glass vase at least three inches deep and five inches wide (we got ours at Target for $3). Total project cost: $10. Flowers in December: priceless.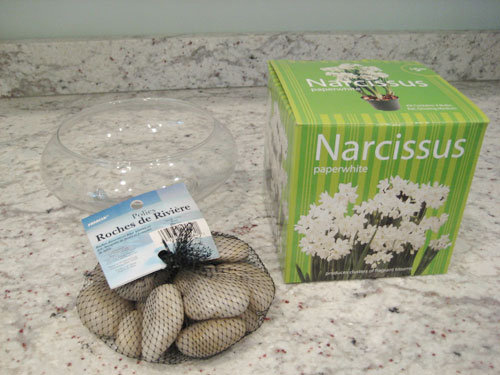 Step 2: Lay the foundation. Use about half of your river rocks to line the bottom of the vase to create a nice little bed for the bulbs to rest on. The idea is that the rocks will elevate the bulbs about an inch or two so their roots have room to grow.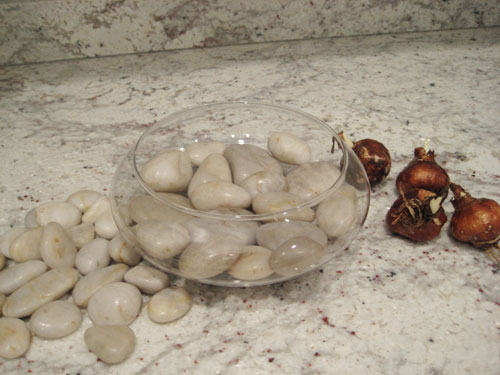 Step 3: Get your plant on. Add the bulbs to your little rock garden and wiggle them in a bit so they remain standing (if they topple over, reposition the rocks beneath them to support them). It's important that your bulbs still remain elevated, so make sure they're not pushed against the bottom of the vase, which doesn't give their roots any room. Then just add the rest of your rocks around them so they feel even more snug in their chic new home.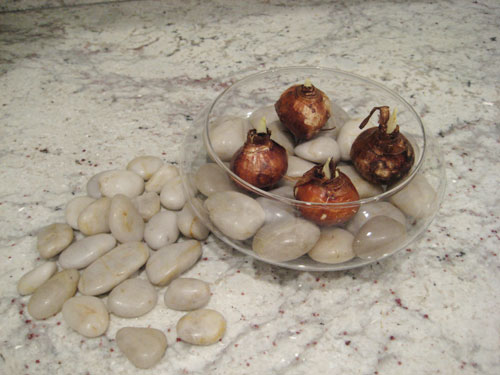 Step 4: Just add water. Once your bulbs are snugly surrounded by the rest of your rocks (note that they shouldn't be buried completely- the top part of the bulb should still be exposed) add just a smidge of water so that the very base of the bulbs (where the tiny roots live) are submerged. The idea here is that the water line just kisses the very tip of the bulb, while the rest of it sits well above the water line on the rocks.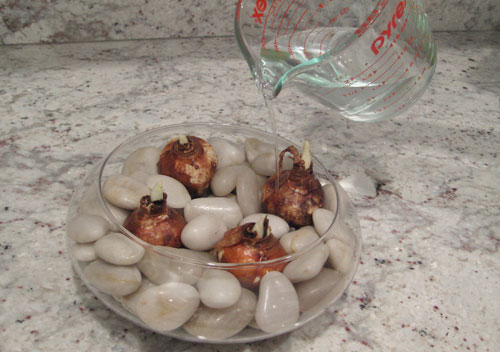 Step 5: Go about your business. Maintain the water line and place your vase in a sunny spot and wait patiently (or not so patiently) for three to four weeks. By then the stalks should be shooting up towards the sky and you'll end up with beautiful fragrant white flowers (see the box in step 1 for a visual)- perfect for those bleak and cold winter days. And have no fear if your paperwhites aren't completely in bloom come gift giving time, just explain to the recipient that they're primed and ready so they just have to sit back and enjoy the show.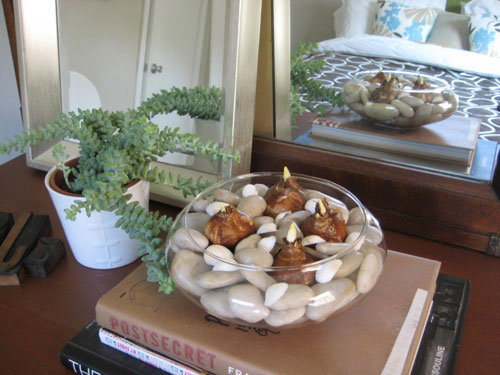 Oh- and if you want to take this ten dollar project to a whole new level you can use etching cream to monogram the glass bowl to create a truly personalized gift (and elicit all sorts of "you're so crafty" comments). So if you wanna add a little extra oomph to your paperwhite prezzie, just use a stencil to etch the first initial of the giftee's last name and rejoice in your thrifty yet terrifically chic little potted paperwhites.
And even if you don't etch your way to something personalized, you'll still end up with a smashingly cheap and thoughtful gift for minimum time and money. Just tie some red ribbon around 'em and you're set. We can't wait to see ours do their thing. Three weeks and counting…
For more info about growing paperwhites, click here. And to see how ours turned out, click here.
Update: You can check out all of our favorite holiday decor finds here – many of which are under $15!