There are a few more holiday projects going on (aka: getting crossed off the list – woot!) so let's get right into it. Last year I grabbed four of these 3-packs of white felt tree ornaments from Target. I picked them up about a week after Christmas when they were marked down to ten cents per set instead of a dollar, which meant that in total I had 12 mini felt trees for 40 cents. They seemed kinda perfect to make a casual little banner that looks like hand-cut paper but is actually felt that I didn't have to cut (which is win/win). Sidenote: this is my hand but it looks so much like John's that it's scary. Are we becoming one person? Can that happen? Should the person that we're morphing into be called Shon or Jerry?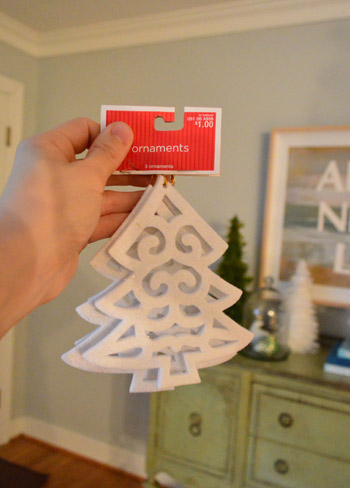 Anyway, next I grabbed a random ribbon remnant from the box of leftover ribbon in the closet that I recycle for gift wrapping and laid it out on the floor with my little trees under it to see the spacing. You can see that they had little gold strings around the top of them for hanging, so I just clipped those off.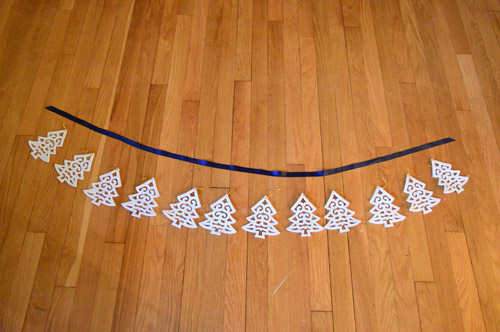 Then I grabbed 12 paperclips from the office supply drawer. Bada bing, bada boom. Sure, I could've sewed them each in place or used smaller/cuter clips (like mini clothespins or something) but I didn't want to be fussy about it and just wanted to make the window look festive using things we already had around the house. Call me crazy but there's something deliciously casual and sweet about white felt trees, navy ribbon, and little silver paperclips. But if you're feeling fancy you could get cute binder clips or teeny tiny clothespins instead.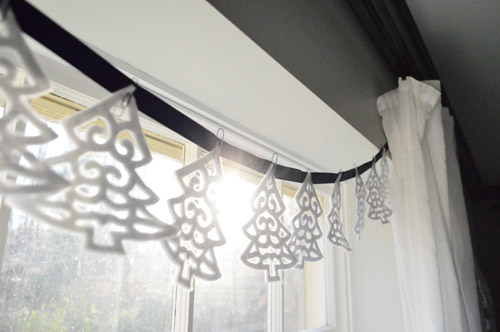 Behold… another mini tree!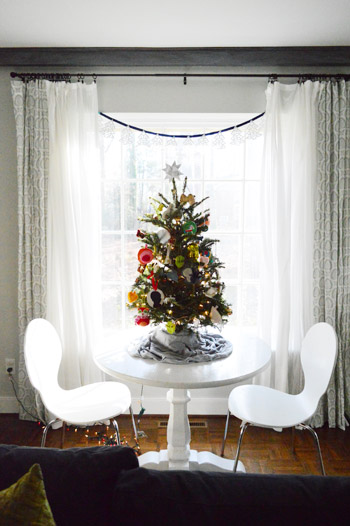 Yup, our tabletop tree is ba-aaack! You can check out last year's mini tree here (and the 38 homemade ornaments that I whipped up for last year's Pinterest Challenge). Or you can just feast your eyes on this year's beauty. Oh but don't mind that mangled little gray pashmina I tossed under it for the time being (I think using some sort of silver faux fur could be awesome).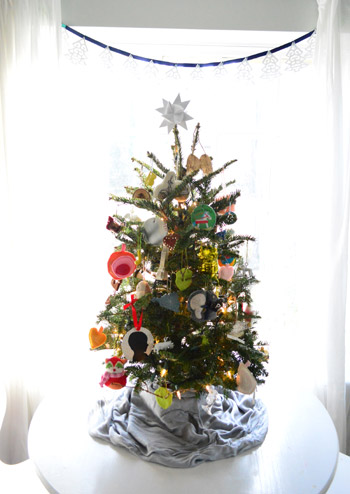 As for the ornaments the only theme is: meaningful, sweet, handmade, and treasured. Basically in the words of Clara, it's full of our "special special favorites."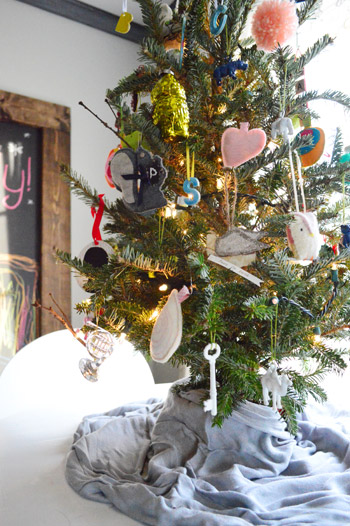 We piled on a ton of ornaments that we love love love – whether they were from a local craft fair – like the Virginia ornament below – or even from a few amazingly crafty readers at book tour stops, like this sweet one with Clara's baby silhouette…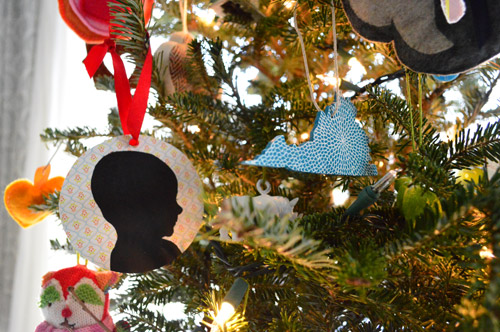 Look at this fun felt YHL one that someone else made for us at another book tour stop. So cute, right? And in the background above it you can see John's bike ornament that I got him last year and an old disco ball from Target over five years ago (along with a small brass french horn, which is what John played in high school band – mah man).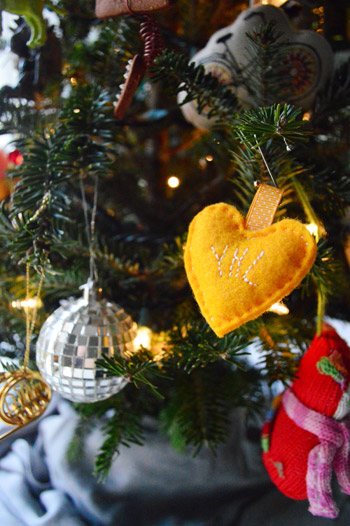 This odd little moose-related ornament might be our favorite. It's two freshly wedded moose snuggling up to each other. We picked it up on Alaska on our honeymoon. Cue the collective moose aww.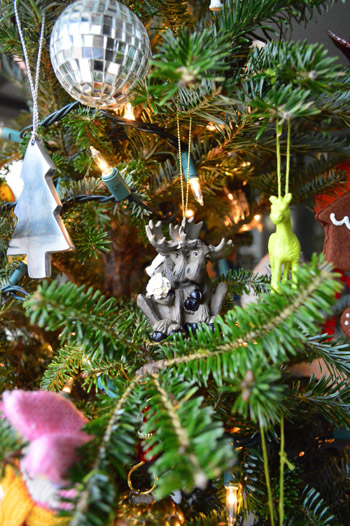 Another favorite is this burger one that we bought in honor of none other than the Burg-meister a few years back. And check out that cute felt owl above it (another reader-made ornament from one of our tour stops- have I mentioned how crafty you guys are?!).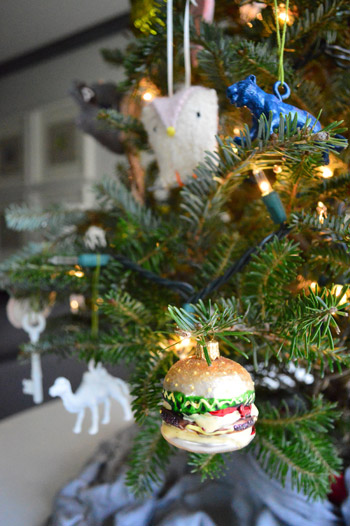 Basically it's a tree full of awesomely mismatched and meaningful treasures. You can see that our homemade antlers, spray painted animals, & glass bulbs full of brightly colored paint still have a spot up there, they just get to be surrounded by everything from preserved gingerbread cookies to an old empire state building ornament that reminds us of our time spent in NY where we met back in 2005.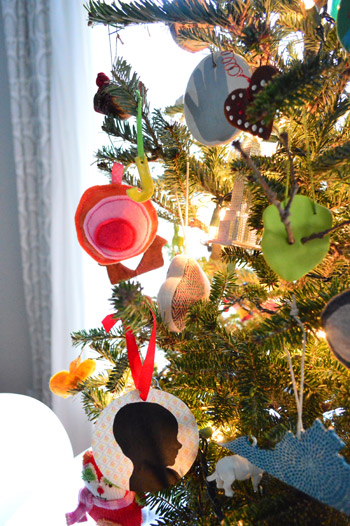 And of course we had to bring our new DIYed chalkboard into the festivities, so John faced his chalk-is-screechy fears and made a little Starbucks-ish drawing, complete with a snowman (he dipped the chalk in water before writing, which you guys suggested for vibrant colors and less chill-inducing screechiness – which seemed to work well, especially with the colored chalk). You might have seen it on instagram last week. I added some snowflakes and then Clara got to work drawing "a pretty rainbow for Santa." The family that chalks together stays together.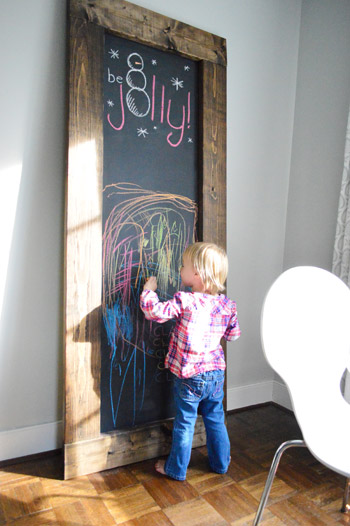 Now this formerly un-festive corner makes me straight up jolly.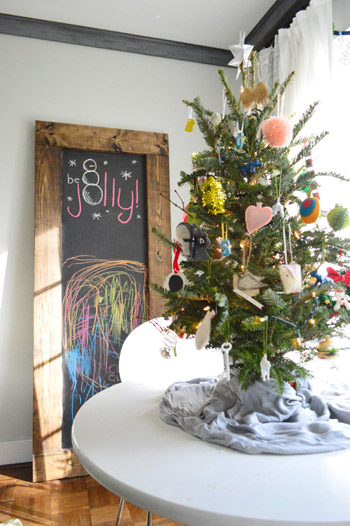 Oh and in the spirit of holiday updates, here's how the little ornaments that I glued to magnets are now faring with three holidays cards up there to keep them company. I'm happy to report that they still look just as cute as they did without cards. And since we snapped this pic yesterday afternoon three more cards came. Woot! I love finding them in the mailbox. #cardnerd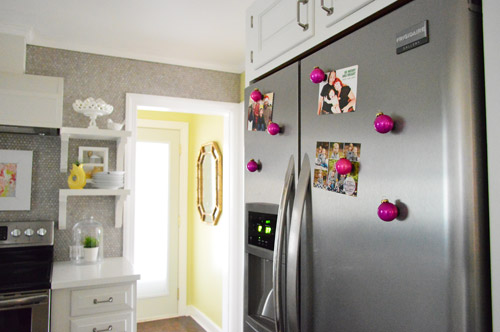 Oh and check out this amaaazing advent calendar we got from our friends the Pohls in Germany (their three year old daughter named Clara is our Clara's penpal – more on that here). They sent this traditional German advent calendar where you unwrap each envelope or box to find little treats like a tiny doll, candy, stickers, even a small package of colorful tissues. So far Clara has been having a blast opening one thing per day.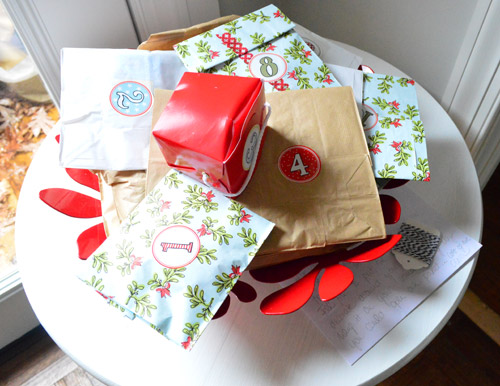 So there you have our holiday updates.
set up the big tree (gradient, baby!)
get a live tabletop tree again (like we did last year)
decorate the mantel, the built-ins, and the entryway console
hang our outside lights & decorate the front porch
shoot a Christmas picture of Clara & Burger for our annual holiday card
make an advent calendar for Clara? Ahh I'm behind already!
shop for slash make all the gifts on our Christmas list (I'm about 90% done, can't wait to cross this sucker off!)
We still haven't hung any lights out front (ack!) or finished all of our Christmas shopping/wrapping, but maybe this weekend we'll get there. What's left on your Christmas to-do list? What have you euphorically crossed off already? Is it not amazing to drag a pen across things that you've completed? Maybe I need List-Crossers Anonymous. Anyone else having fun with a tabletop tree, homemade banners, or anything else that feels sweetly handmade? Spill the holiday beans.
Update: You can check out all of our favorite holiday decor finds here – many of which are under $15!