You're cordially invited to our first ever Christmas dinner! There were 15 people here in total (and 4 of them were under the age of four) so it was lively and our house felt full in the best possible way. Not only did we not set the house on fire, we didn't even burn the ham. Cue the collective sigh of relief. Actually, although we've hosted Clara's birthday party last year & the year before (oh yeah and our wedding) they were all outside – so this was the first time we've had a big inside gathering. I kinda went into it worried that we'd be bad hosts/wouldn't have any fun, but it was truly awesome. Really. Not just saying that. We had fun pulling out a few simple and affordable stops to make everything feel festive without spending much money/time – and we even learned a few tips along the way (aw yeah, there's gonna be a bulleted list up in here). In summary: it wasn't that scary. Plus I got to break out my cloth napkins. Not gonna lie, I'm a giant nerd for that.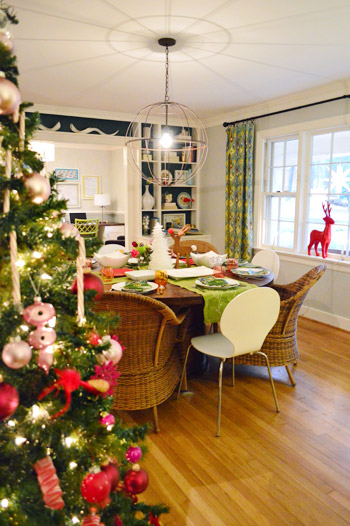 Oh yes, and that chandelier in the dining room is new so we have to spill those beans soon. In the meantime, let's focus on the party. I played around with a few different centerpiece ideas (three different feather trees = too tall & face-blocking, a group of silver candlesticks = not enough color) before finally landing on this little trio.
Nothing was too tall to block the view across, but thanks to the little white feather tree, some fresh flowers (which John surprised me with after a grocery store run), and a very special homemade reindeer, it was casual, fun, and most of all meaningful for the family. See, that reindeer was actually made by John's late grandfather, so everyone who saw it commented about how great it was to have him with us at the table.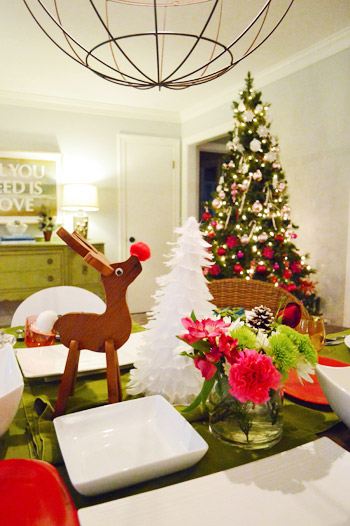 And since the stuff in the middle of the table didn't take up much of a footprint (our whopper of a round table is 72″ across) there was still plenty of room for all the serving dishes to be set down and for food to easily be passed around.
Maybe my favorite part, besides getting to use our cloth napkins (you guys remember Sue, right?), was something I literally whipped up in the last thirty minutes before everyone showed up: the DIYed "placecards."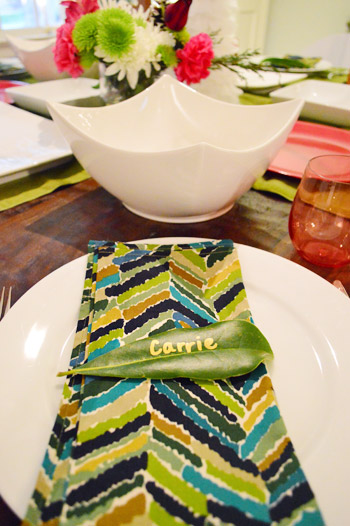 I thought some casual place cards to help people with seating might be nice (I like to be told where to sit at parties so I don't commit some accidental faux pas and sit in the wrong place), so I plucked a few nice glossy leaves off the magnolia tree in our front yard, rinsed them thoroughly, and scribbled every guest's name on one with a gold sharpie paint pen that we already had in our craft drawer. Total time spent: six minutes. Seriously, I looked at the clock.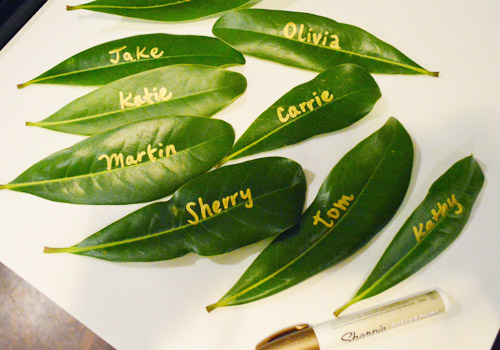 As for how the seating worked, we had seating for eight people at our dining table (we alternated between white bentwood chairs that usually live in the living room and four of our normal dining chairs so everyone had some nice elbow room) and three more spots at the nearby kitchen peninsula, while the little kids sat at the kids table that we set up behind them. They even had little crayons and color-able place mats (thanks Dollar Spot at Target) which kept 'em seated for just a few minutes longer so we could all scarf a little more food.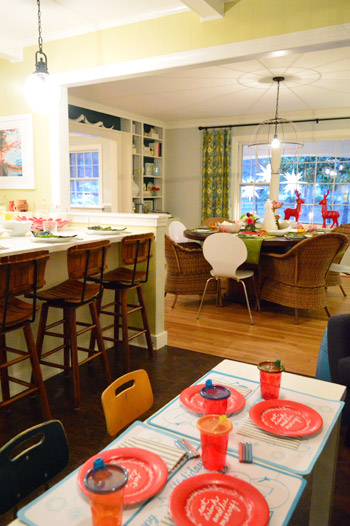 Update: And as for the people at the peninsula, it ended up just being our 14 & 12 year old niece, who were happy to be at "the cool kid's table" (John's sister ended up tending to a restless one-year old, so she offered up her spot at the table to me since I had planned to sit at the peninsula to be near the kitchen and grab things for people). I just scarfed my meal at the table and then Katie came in and got to sit down and enjoy hers. Three cheers for staying flexible!
Here's a better shot of the kid's table (minus the last two chairs that we brought in right before everyone showed up). I think they had the best spot, right under the chimney. It seemed especially appropriate for Christmas.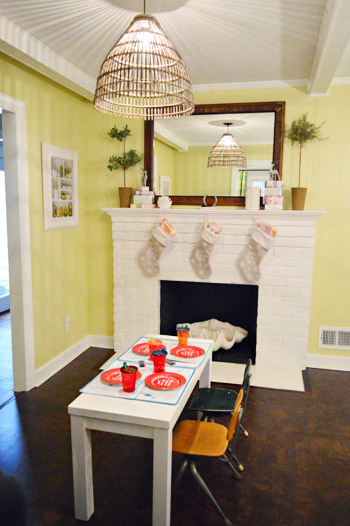 Oh and in the "practical tip" category, I quickly jotted down this note for the hall bathroom since we have a dual flush toilet button (more on installing that here) which tends to confuse people sometimes. Nothing like a little note to make you confidently exit the bathroom instead of slinking out stammering "I hope I pushed the right thing!"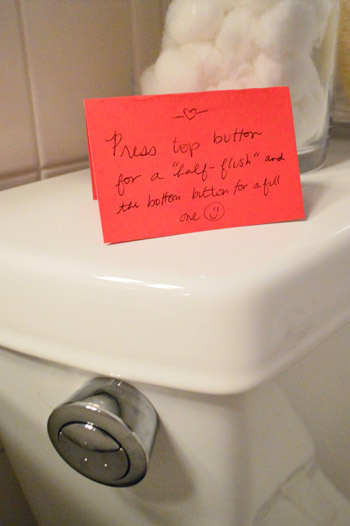 But now that you've seen the table all set up and ready for guests…. bring on the food!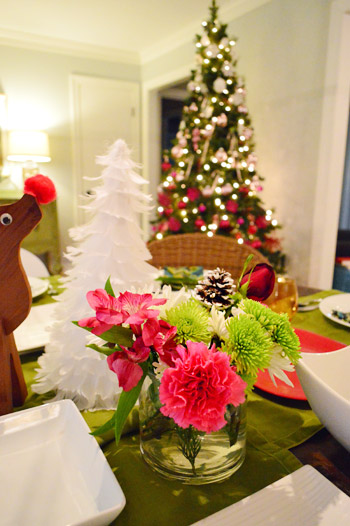 Our family always does pot-luck-ish gatherings for major holidays, so John and I covered the ham, a few appetizers, the beverages, and some dessert while family members each brought along their specialty side dish (which meant we ended up with sweet potatoes, cranberry sauce, mashed potatoes, homemade gravy, a cheese plate, and a yummy broccoli-cheese dish). Oh and see the platters and bowls? I set them all out when I set the table a few days in advance (it was easy to count what was coming and make sure we had the right container on hand for each item). Then it was just auto-pilot when it came to setting things out that night when people arrived.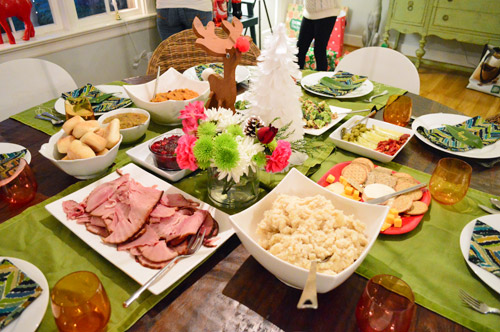 As for where we got stuff, the serving platters/bowls were all from HomeGoods, purchased over time (I got 2 large rectangular dishes last year, 2 large square bowls the year before, etc). It was actually pretty surprising that we didn't have to buy any extra serving stuff (the largest "dinner thing" we had before this has was eight people and we ordered pizza sans silverware – so it's safe to say we're no pros). But even things like the old green Pottery Barn runners have been ours for years (we used to break them out in our first house) and the little reddish cups were leftovers from Clara's party. Use whatcha got, right?
Gratuitous bar-cart shot. Mad Men, it's not – but it was fun to break out secret book project #5 (the cart) just for the practicality of serving up things like apple cider, ice water, soda, flavored seltzer, and wine (that got broken out after this photo was snapped).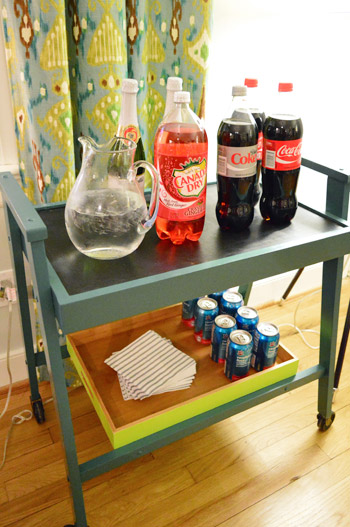 We debated putting a tub of ice on the bar cart or even placing everyone's glasses there, but in the end we just set the table with the cups at each person's plate and left the ice in the ice maker and everyone seemed to have no trouble grabbing their glass, getting ice if they wanted it, and pouring themselves a drink. We must be a family of do-it-yourselfers, haha.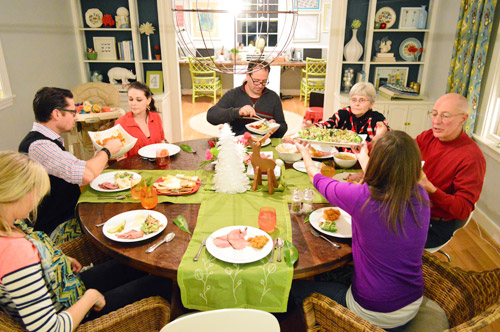 For dessert we had homemade cookies, ice cream, and an awesomely chocolatey yule log. Here's Clara and her cousin John demonstrating that sharing holiday spirit. I love her chocolate-sauced face and how John opens his mouth while feeding her.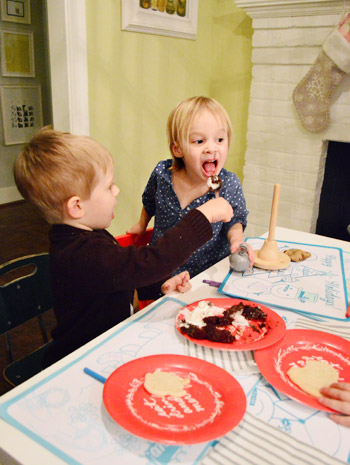 It wasn't all place settings and food-scarfing. There was definitely a lot of kiddo fun, like this reading session in the corner of our living room (are Todd's socks not fantastically festive?).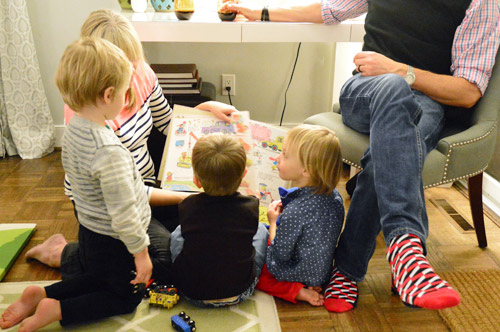 And Clara logged some quality time with her older cousin Jake.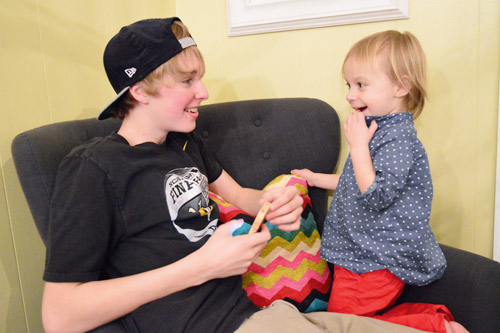 We also exchanged presents after dinner. Here I am in the background beaming at John. It was awesome to have everyone over at our house. I was dorkily giddy the entire time.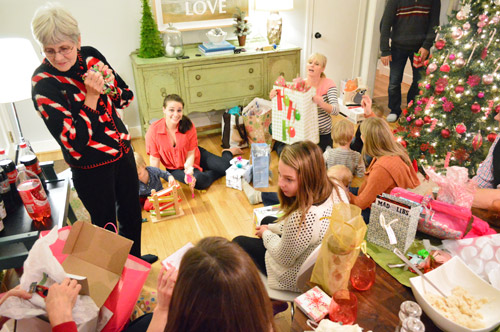 Ah, the beautiful chaos of gift-opening. The kids were so excited about every last book, shirt, and toy that they received. It was very sweet.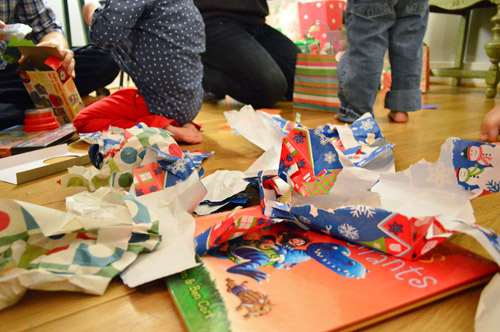 And speaking of the kids, here they are all lined up on our couch. That's Jake and Olivia on the left, Ben's in Olivia's arms, and then there's Emanuel, John, and Clara. The fact that no one's crying? Unexplainable. But priceless.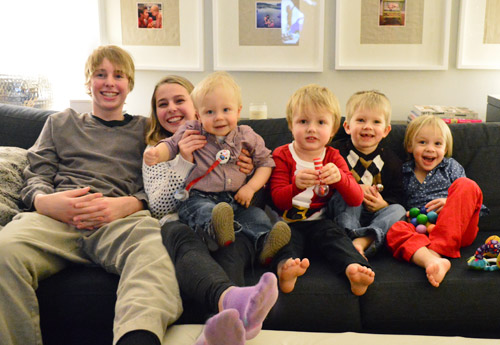 And since I promised you a bulleted list, here's what seemed to work well for us when it came to prepping/hosting this dinner gathering:
Food Plan In Advance. About two weeks in advance we planned the menu (in general, we prefer to break all bigger "projects" down into smaller bite sized tasks and tackle them over time – you know, instead of freaking out at the end and having to toss everything together in a mad dash).
Set The Table Ahead Of Time Too. About two days in advance I set the table. Since I knew what we'd be serving and what family members would be bringing I could set out the right amount of large bowls, large platters, smaller bowls, etc (once again, doing this ahead of time was a nice way to check off some other boxes before the day of – and to help me sleep better knowing more had been accomplished).
Remove Bad Bait. The morning of the party, I sifted through all of Clara's toys for anything that might not be all-kids-friendly (ex: delicate dollhouse furniture that Clara's gentle with but another kiddo might not be, anything big/heavy that could be lobbed at another child, anything that kids could fight over like one rolling cart that everyone might want at once). I tried just to leave things out that all 4 kids could play with together (like the big box of duplo leggos, Clara's kitchen full of play food, and her train board – since they all have enough "moving pieces" for everyone to share).
Lock It Down. All of those items that I systematically removed from play were shoved into the playroom, which is also full of other not-kid-friendly items like piles of furniture and accessories that are waiting to be refinished. Then, for peace of mind, John and I just locked the playroom door so no one could run back there and get hurt or grab those out-of-play toys while we were distracted in the kitchen or dining room. Worked like a charm.
Allow For Last Minute Touches. In the final hour I added those personalized leaf place cards, so I was glad I had some time to putter around instead of not being as prepared in advance (which probably would have led to "why isn't there more time?" stress when I couldn't execute those last minute ideas).
Take Precautions When You Can. We didn't want to be hosts who worried about stains & spills, so we removed the rug that usually sits on the floor in front of the fireplace (nothing like a kid's table sitting right on top of a light colored rug) and stashed it in the playroom. We also set out white & silver paper napkins at the kids table (not bright red/green ones) since a few helpful commenters explained how those can stain if people use them to scrub a spill in a rug, curtain, or carpet (the dye can bleed and make everything worse).
That's it! But there are tons of other awesome tips in the comment section of this post. Y'all are smart.
Hope you all had the happiest of holidays! Did anyone else host? What did you serve? Was there dancing and caroling or just eating and gift-exchanging? Did you break out the cloth napkins? Did your children spoon feed each other desert? Do tell.
Update: You can check out all of our favorite holiday decor finds here – many of which are under $15!