It's time for: Secret Santa: Revealed. That makes me laugh because I imagine some man with a deep serious voice introducing a show with that name after Dateline or something. Anyway, since a bunch of you have asked for the Secret Santa dirt (and I couldn't wait to spill who I had and to learn who had me!) here it is:
I had… (drumroll? anyone? can I at least some table slapping or something?)… House Of Smiths! It was so much fun to pack up two little surprise care packages for her. The first one included two decorative frames from Michael's that I personalized with some paint in the name of some Christmas cheer (they were both originally dark brown).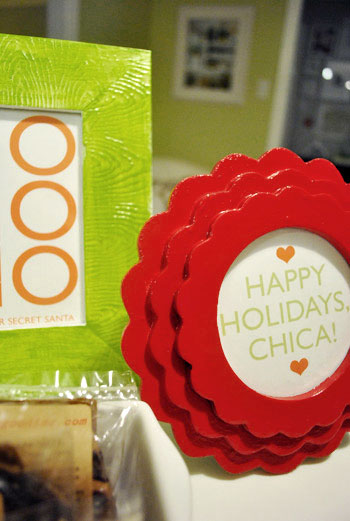 I thought the red and the green combo was cheerful and fun for a Christmas gift, so the round one got a few thin coats of the glossy red spray paint that I also used to paint my paper maché reindeer and the rectangular one had such a cool wood grain (it kind of looked zebra-ish to me) that I painted it glossy white and dragged a dry brush with some lime green paint over it to catch just the raised part of the grain, while the sides remain white (then I sealed it with some spray poly). When I was at Michael's I also grabbed a little ceramic container that I doodled on with a few permanent sharpie markers and filled with toffee. Mmmm. I heard it was devoured pretty quickly over there too! So glad.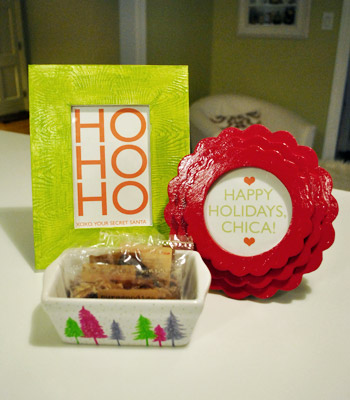 It was amazing to me how many commenters guessed that I had House Of Smiths right away (how'd you guys know!). My second little holiday care package was more of a clue, I think. I went with a paint theme. Haha. See… that's a clue. I couldn't resist these sweet tiny paint can containers in the food aisle of Michael's so I decided to fill them to the brim with red and green M&Ms and write a little holiday message on a paint stick.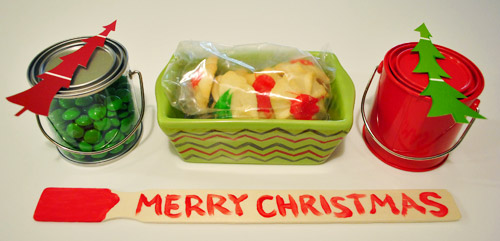 I even used paint chips from my weird leftover paint chip bin (yes I have one of those) to cut out little homemade "tree" tags for the top of each can. And in went another little dish of goodies (this time I went with the famed cookies from Ukrops – they're the best!). Any yes, my scissors do say "no John cuts!" in Sharpie. He kept using my good scissors to do things like cut sticky tape. Now he's banned.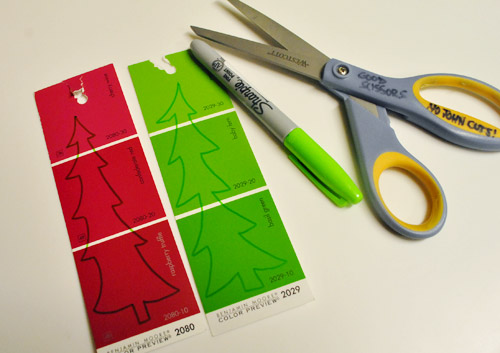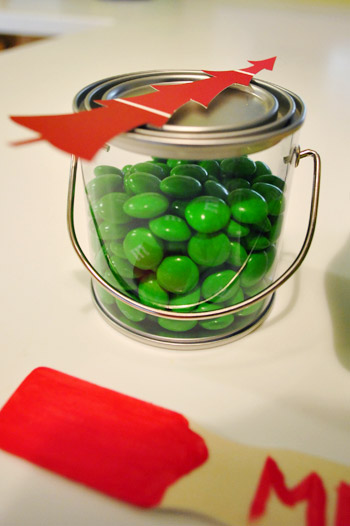 So that's what I gave my sweet bloggy buddy, Shelley. Is it weird that I had so much fun putting these little things together? Oh Christmas, I miss ya already.
As for who had me, it was Tanya at Save The Date For Cupcakes! I was completely surprised by the way (not just saying that – I honestly had no idea). I actually had a hunch it was someone else but the postmark on the package shot that down – and being that it just said NY it was vague enough to confuse me enough to keep the mystery going until the big ok-who-had-who email where we all spilled the beans.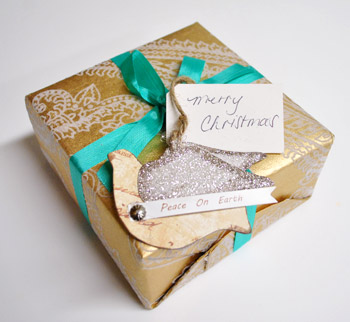 I already shared my first surprise here (a gorgeous little silver box with three glittery personalized ornaments):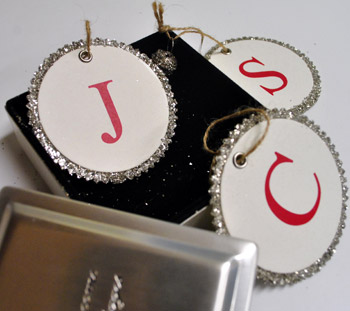 And my second surprise was just as sweet! A box of vintage Vanity Fair postcards with another pretty glittery ornament for the tree (feathery wings)! It's so much fun to flip through my new postcard collection – and I actually think I have a great project that I can do with them so I can't wait to see where that leads! You know I'll keep you posted.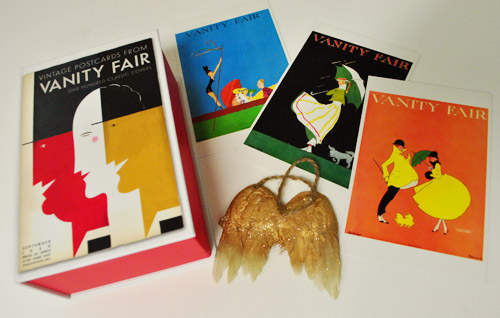 A big thanks to Mrs. Limestone for organizing this whole shebang and all the other Secret Santa cohorts like:
So much fun! Did any of you do any Secret Santa business this year? Did you know who had you the whole time or were you surprised? And how the heck did so many of you know that I had Shelley the second she revealed my frames? I thought it was so obscure and random that no one would know it was me! Haha.
Psst- Check out John's weird little lighting obsession (and imagine what he'd look like in a Snuggie) here.
Update: You can check out all of our favorite holiday decor finds here – many of which are under $15!