I warned you that I was really excited to go all out for our first "real" Christmas in our new house, so it's no surprise that I got giddy and decided to tackle an unexpected-ish space for holiday-ifaction. Was that enough hyphenated-not-real words for you? Anyway that space = the hallway. I actually switched out 22 frames (almost two dozen!) in our little hallway frame collection to make things a bit more festive. And it was free. Yeee-haw. Over the top? Maybe. But it makes us smile and was zero dollars. Holla. Let's get on with the tour…
When you look at the hallway from a distance, the change isn't overly obvious, which we like (one of our favorite things about the frame wall in general is that it draws people in, so you have to get closer to see what each item is really about). But if you get a little closer you start to pick up on some of the things that we switched out (you can see most of the original frame wall art here)…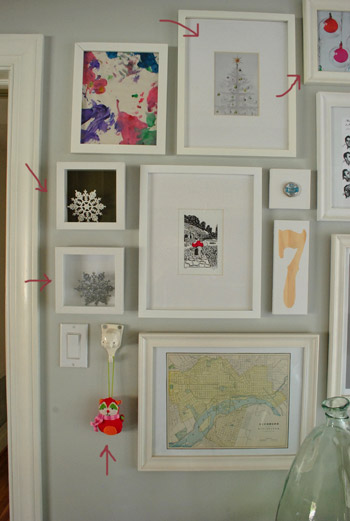 … like how the paint deck that used to hang on the pig hook was swapped with a little yarn owl ornament that I snagged on clearance after the holidays last year at Target (to the tune of 25 cents).
I also popped two old snowflake ornaments into those two shadow box frames on the left. And that clear tree in the frame on the right is a page from Martha Stewart magazine (framing pages from mags, catalogs, or calendars for your own personal enjoyment is totally fine – you just can't profit off of those images, for example: trying to sell them as your own designs on etsy).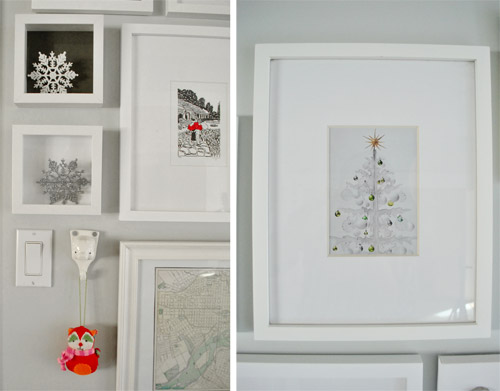 If you scoot a little further to the right of the wall, you'll see a few other frames that we tweaked with new holiday-ish stuff.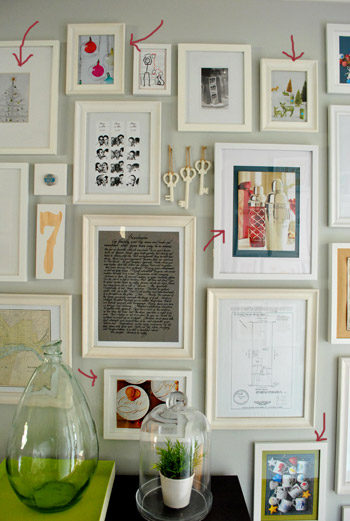 The frame with the glitter ornaments and green trees is actually a Martha Stewart ad for her glitter line (also torn out of her magazine). And the blue star made up of ornaments to the right of that is a page from a West Elm catalog.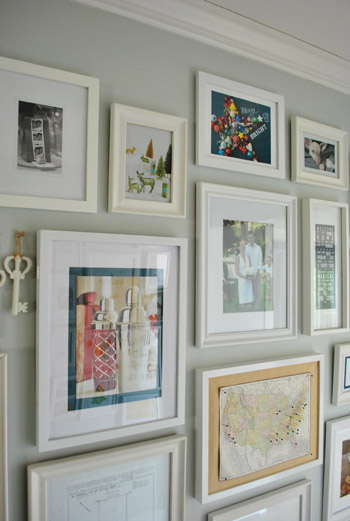 Beneath the glitter ad we have a page from Pottery Barn with some festive shakers and the frame right above our console table has some West Elm plates that say Cheers, Joy, and Peace (all good holiday reminders).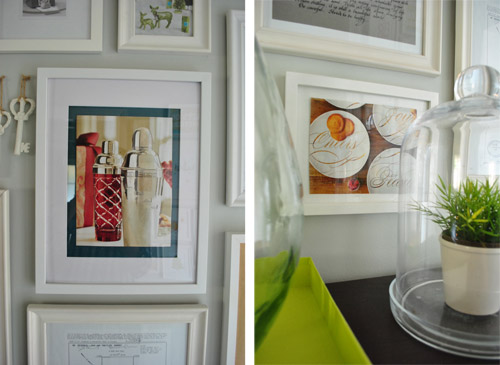 Here's a close up of the West Elm page full of ornamets in the shape of a star. It's my favorite: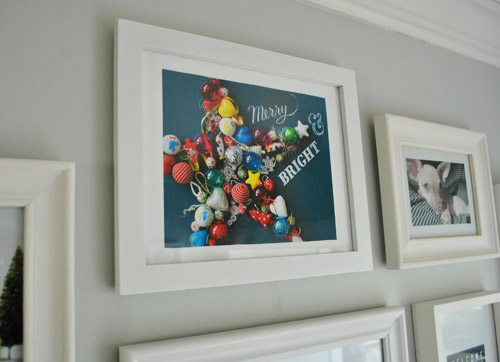 I also framed a few more West Elm pages, like this collection of holiday mugs and ornaments (backed with a piece of green paper that we already had) and this page full of numbered and lettered plates…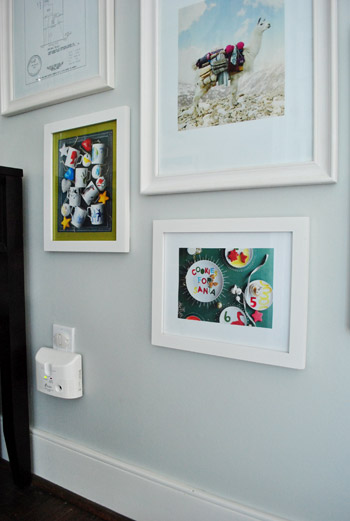 … including a plate that says "Cookies for Santa." Oh and don't mind that carbon monoxide detector above (I've been meaning to stick it somewhere a bit less noticeable).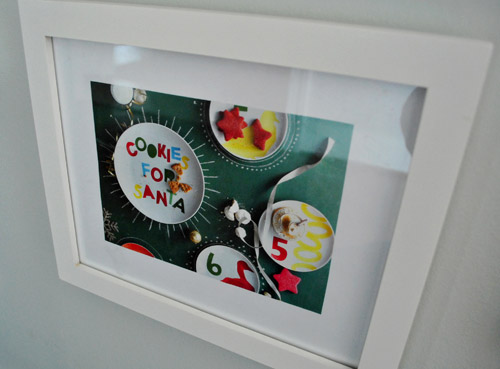 These are the frames with plexiglass and heavy duty velcro to keep them safe for Clara since they're down at her level (more on that here). And since she loves Santa (more on that here) I figured she'd like the Santa cookies plate down where she could admire it. The verdict in her words: "I love you, Santa!" And when she walks by it, sometimes we hear her mumble "buh-bye Santa." So sweet.
Here's the rest of that wall from afar. See, not too obvious… until you get closer…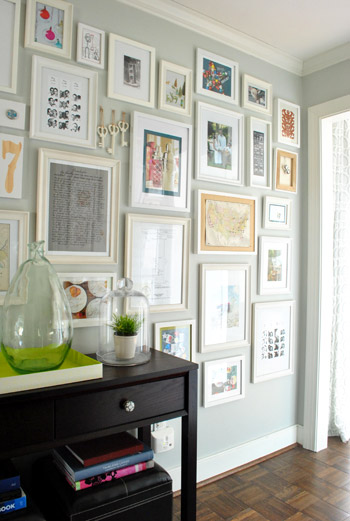 … and notice things like two big jingle bells that I hung in a backwards canvas (I love the raw wood frame that's usually hidden when it's facing the "right" way). As for how I hung the canvas backwards (which I did back when we originally hung all of these frames), I just hammered one of these little metal tooth-hook things for hanging pictures (from Michael's) into the front (now back) of the frame so I could hang it over a nail. There's also a photo of stacked firewood with some holiday pillows piled on top from a Pottery Barn catalog.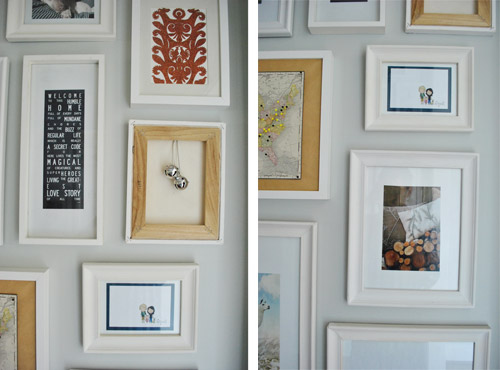 Now let's move over to the other side of the wall. Here we have a bunch of holiday swaps going on.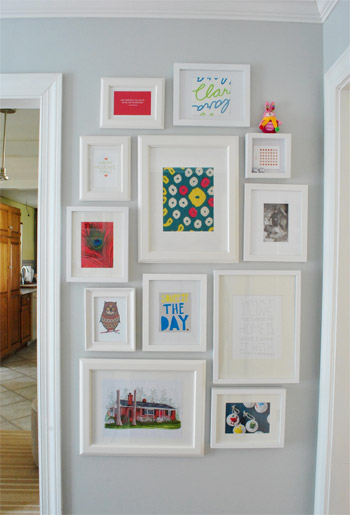 Like the piece of cardstock that I printed with the words "Happy holidays, y'all!" with some red hearts above and below it, and a swatch of red wrapping paper that I stuck behind an already-framed peacock feather. I also slipped two small silver ornaments into a shadow box (which already had a calendar with our anniversary circled inside of it) and added another little 25 cent yarn ornament (this time it's a bunny) above it.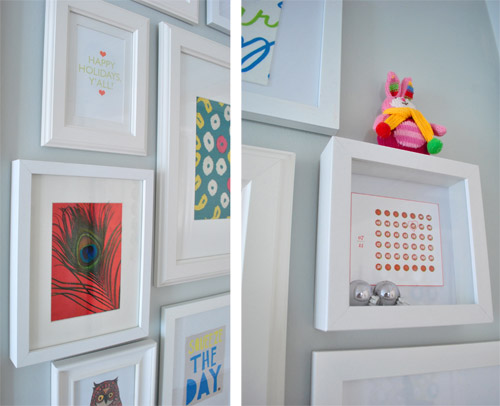 In the bottom right of that arrangement I also worked in a page from West Elm full of graphic numbered ornaments with fun shapes that Clara likes on them (like a swan and a goose). She points and says "honk honk!" (every kid should have a reason to practice their goose impression, right?).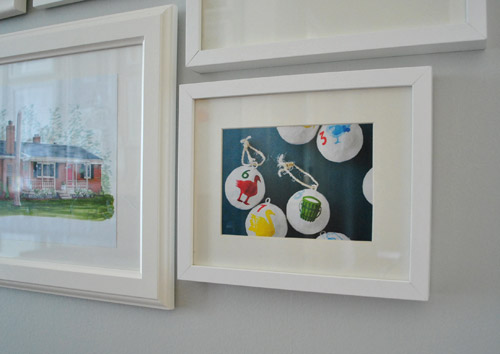 Here's the other side of that wall with six more frame switches.
Like a Banana Republic ad (with a sweet pooch wearing a bow tie sitting under some mistletoe) and a funny Christmas sweater ornament that I taped into another backwards canvas. On the right we have a felt ornament from Target last year (which almost looks like an ornate paper cut-out when it's framed).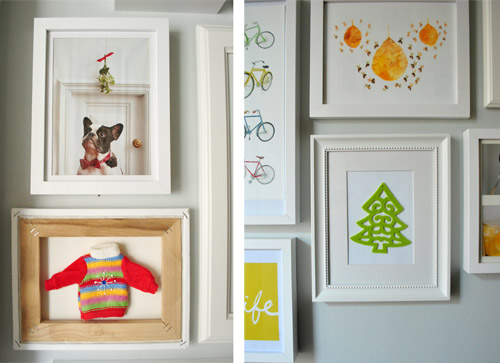 I also made another little texty design that I printed out onto card stock (this one says "Ho Ho Ho, Merry Christmas") and under that is an illustration of holiday cookies from Woman's Day magazine (donated by John's mom after I spotted it and asked if I could have the mag after she was done).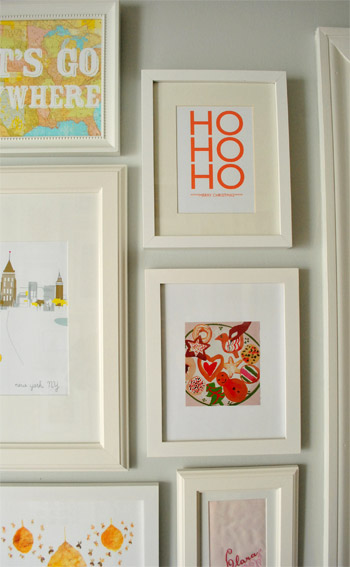 And in the top left shadow box I stuck more silver ornaments with some leftover wrapping paper as the background.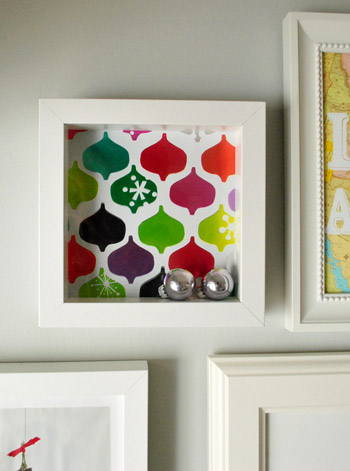 So there you have 22 quick frame switches, all of which can easily be changed back to their pre-holiday look once January rolls around. I kept all of the original art behind the new additions in each frame, so I can just put it back in front of the holiday stuff (which'll live behind it until next Christmas when it moves forward again). Oh and for anyone wondering where we got the frames, they're all from Ikea, Target (on clearance), or thrift stores. We just saved them up over time and actually had many of them when we moved here (they used to hang randomly in nearly every room at our first house, so we thought it would be fun to hang them en masse in our hallway instead of spreading them out again here).
Man, there's something so satisfying about some free holiday festive-ness, especially in an often overlooked space like a hallway. Did you guys decorate any unexpected areas like a bathroom or a laundry room or a sunroom? Heck, even little trees on bedroom windowsills can be really cute. Oh yeah and on the subject of better-late-than-never holiday stuff, I spent some time making a page full of all of our seasonal/holiday projects & ideas that can easily be perused by picture. So you'll hopefully have fun sniffing around for some last minute ideas.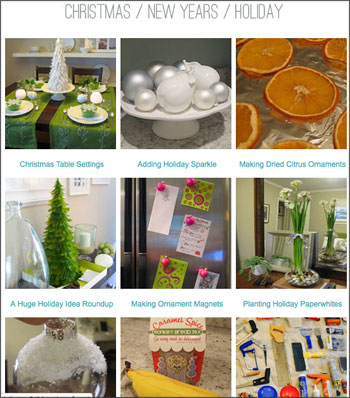 You can click here to see it all and can also access it at any time by clicking the "Holiday Ideas" button on our sidebar.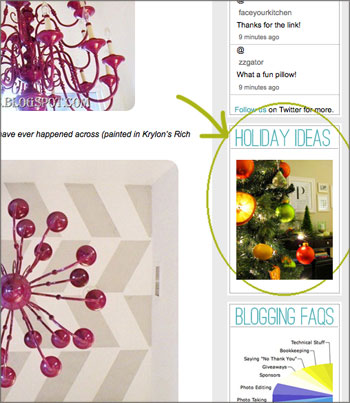 Ho ho hope it helps!
Psst- We picked a winner for this week's giveaway. Click here to see if it's you.
Update: You can check out all of our favorite holiday decor finds here – many of which are under $15!