As I mentioned earlier this week, we got a real mini tree! And I finally got some twinkle lights up and some ornaments on that guy. I say this with much enthusiasm and hardly any hyperbole: it's a life changer. I'm in love.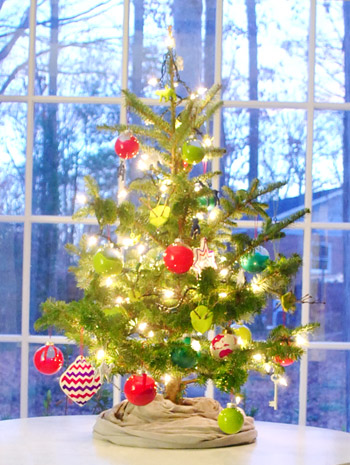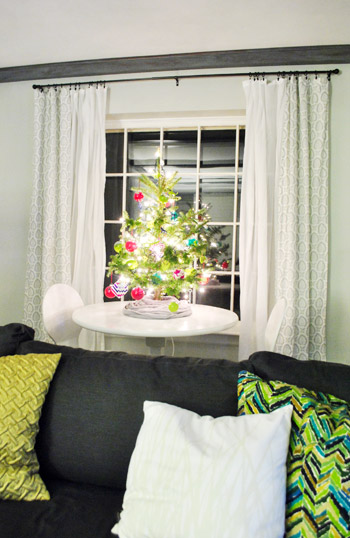 And Clara and Burger love it too (play Where's Waldo in the dark and find them):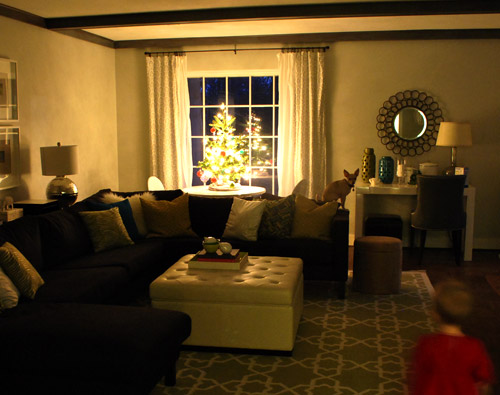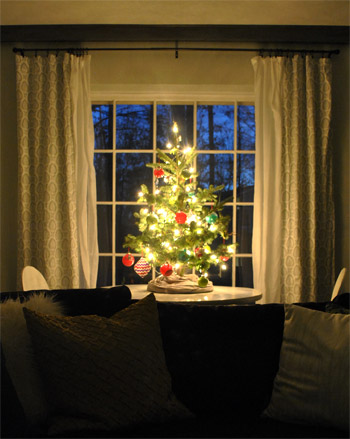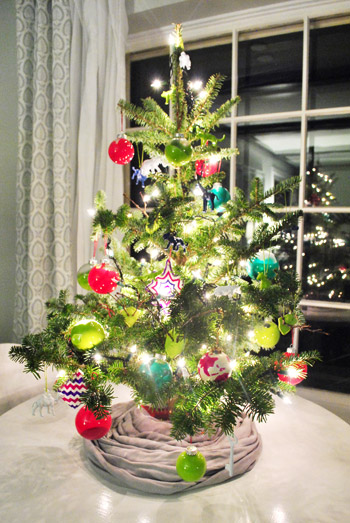 It's so charming and warm and it looks so sweet with all of the handmade Pinterest challenge ornaments that I made here.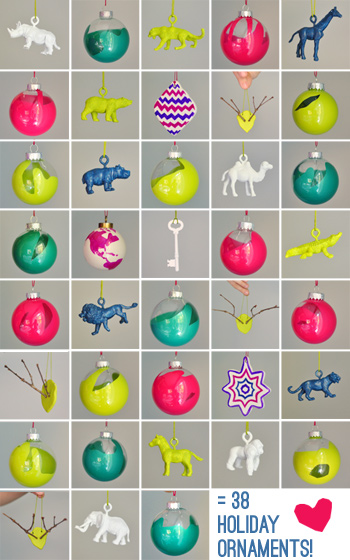 These are the only breakable ornaments that we'll be putting out this year (since the tree is up on a table, so Clara can't get to it). And it glitters like the dickens. So yes, it's my new favorite thing ever. Oh and it was $19 at a local grocery store here in Richmond called Martin's (outside near the curb) for anyone wondering. And it came with a stand, which is nice.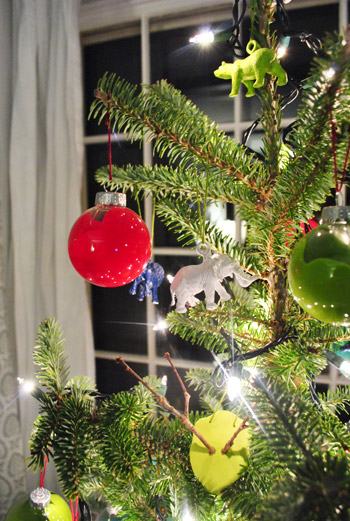 We even have some King Kong action going on thanks to this gorilla ornament at the top: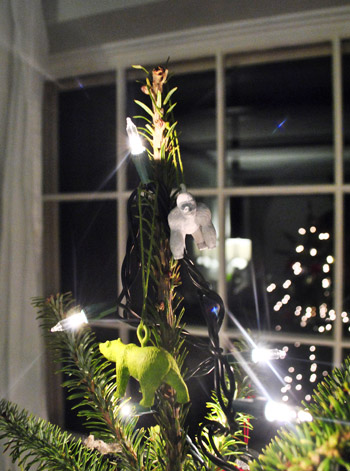 As for the tree skirt, that's actually just a gray pashmina that I had already (I just swirled it around the base a few times to create a little skirt), so other than shelling out the money for the tree, we got to use all of the ornaments that I had already made (which factored out to around 71 cents a pop – more on those here) and even tossed together a free tree skirt.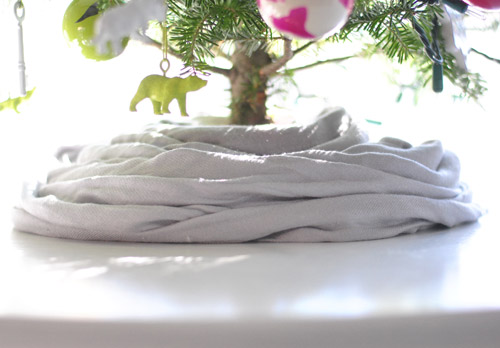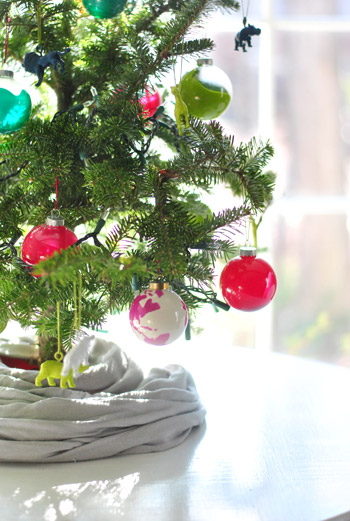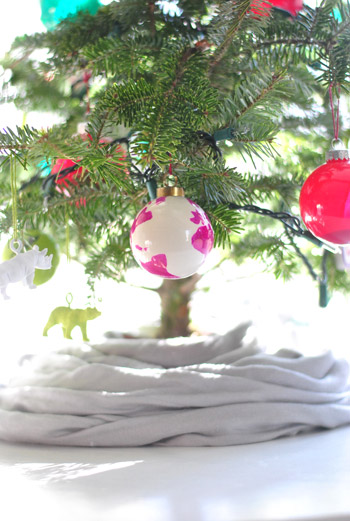 We actually would have loved to find a potted evergreen that we could have planted in the backyard after the season, but after a few weeks of looking for an un-cut one that was small enough to sit on the table, we had no luck (most of them were 5+ feet tall). So we caved and got a cut one since it was already well into December and we didn't want to miss the real-tree boat entirely. But if anyone knows of a local source for uncut table-sized evergreens we'd love to hear about it (we tried Lowe's Home Depot, a few tree lots around town, and a few nurseries/plant stores – but all of the uncut ones were too tall/large to be tabletop ones).
You know me + shiny things = a match made in heaven. And Clara might just be having the most fun with the tree out of all of us. At least five times a day she runs over to it and points to various animals and gleefully shouts out things like "Rhino!!!" and "Hippo!!!" and "Aggigator!" like it's the most exciting thing she's seen all day. Never gets old. Man I love the holidays.
Believe it or not, John and I have never had a real tree in our house as a family (although both of us enjoyed them growing up). We went faux five-ish years ago (thanks to an after-Christmas sale at Target) and appreciated that we only had to haul it home once (having a small car, the notion of dragging home a big real tree each year was a little daunting). And with a pooch we appreciated the no-dropped-needles thing. It can't be argued that a faux tree looks better than a real one, but somehow when we loaded it with lights and ornaments we still loved our faker year after year.
Here she is back in 2007 (when we had a terrible camera and our blog photos were smaller):
And in 2008 (with the same white and silver scheme):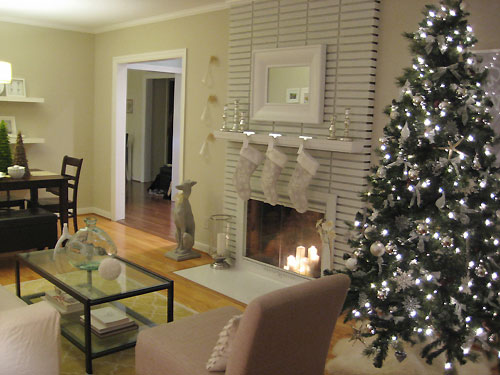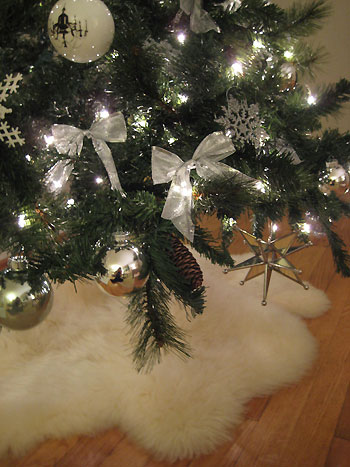 And in 2009 (when we went crazy for citrus, and even dried fruit to make ornaments):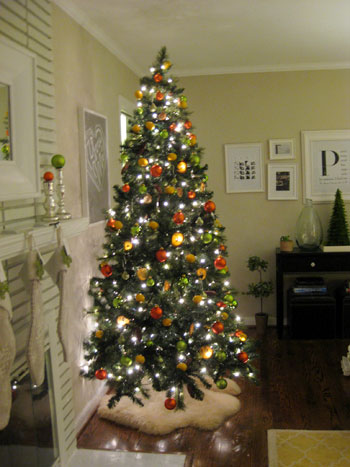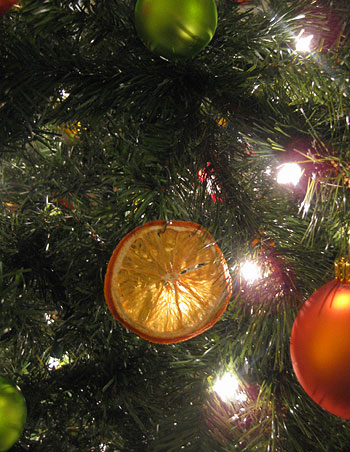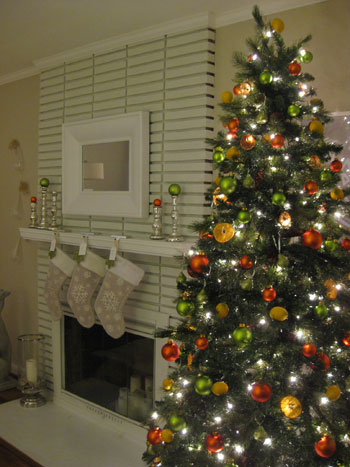 And in 2010 (with green, pink, and silver shimma goin' on):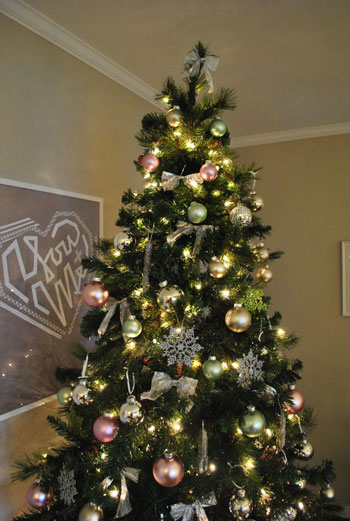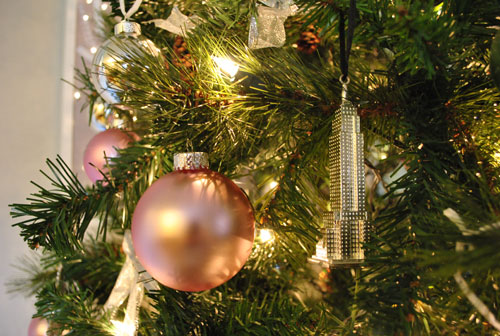 And since experts continue to debate whether a faux tree or a real tree is more eco-friendly (apparently it's a really close call when it comes to hauling emissions and cutting them down every year vs. reusing a faux one for a while) we knew the most eco thing that we could do after purchasing a faux tree was to use it as long as possible. So we'll still be setting up our full sized faker in the dining room to enjoy with some Clara-safe ornaments (bonus: everyone driving by will see it glowing in the window). Better get on that though. Eeks, is it really the eighth already? Better get crackin'.
Have you guys been decorating? Any other tabletop tree folks out there? I can't believe it has taken us this long to give one a try.
Update: You can check out all of our favorite holiday decor finds here – many of which are under $15!