Yes, we're those people.
I personally get irritated whenever stores skip holidays. For example, if I'm walking around Target and they have Christmas stuff out but it's not even Thanksgiving. Not ready yet. Let me get through Turkey Day before you push your red & white santas and snowmen on me. But this year we did the unthinkable…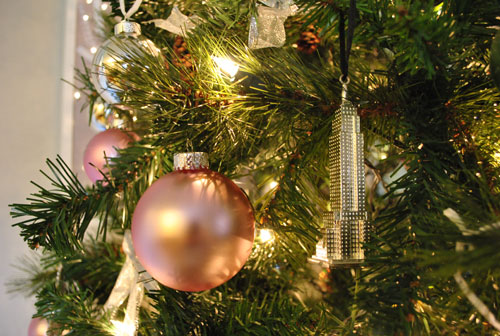 … we set up our Christmas tree before Thanksgiving. I'm so sorry. Feel free to virtually slap us or break out an "oh no you di'int."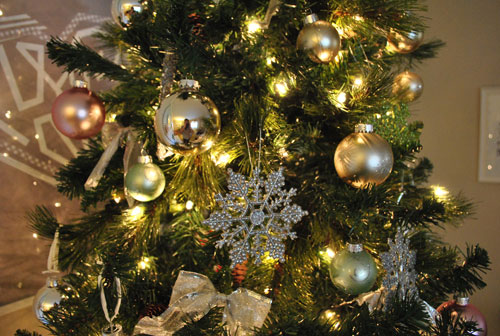 We've already warned our Thanksgiving guests, and thankfully they acted like it was some fun novelty. So we'll be able to tell you firsthand if turkey and mashed potatoes taste less Thanksgiving-ish when eaten in the same room as a big glowing Christmas tree.
Why the rush? Well, we usually like to decorate our tree the first week of December. Sometimes the second if we're not especially on the ball. But since we're moving in mid December we decided that in order to enjoy it for the three-weeks-or-so period that we normally do, especially since it's Clara's first Christmas, we had to break that baby out a bit early this year (before we have to pack everything up for the move in a few weeks).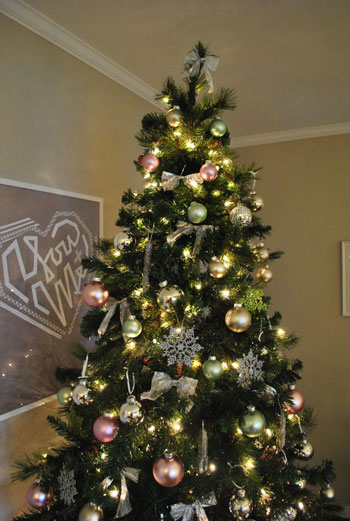 Our color scheme this time around is champagne, metallic green, silver, and pink – all in honor of Clara's aforementioned first Christmas (check out last year's citrus theme here, and the year before that's monchromatic scheme here). Thankfully we already owned a lot of silver and champagne colored ornaments so we got the pink bulbs along with some metallic green ones for $20-ish at Michael's (where they were having a half-price holiday ornament sale). I was going for something frosted and girly but not too feminine for the guys in the house (I resisted the urge to bring in some over the top pink feathered boas as garland with John and Burger in mind). Speaking of our four-legged son, this festive chihuahua ornament (from John's Godmother) is too hysterical not to put up- even though it's not technically pink, silver, green, or champagne.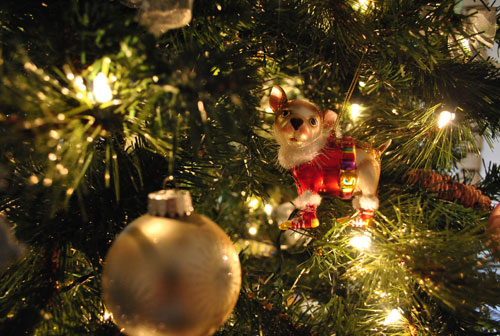 Ditto for our just married moose ornament (it's a bride moose and a groom moose, procured during our Alaskan honeymoon). So even though it's hardly glam and baby-girl-esque, it's too sentimental to leave out: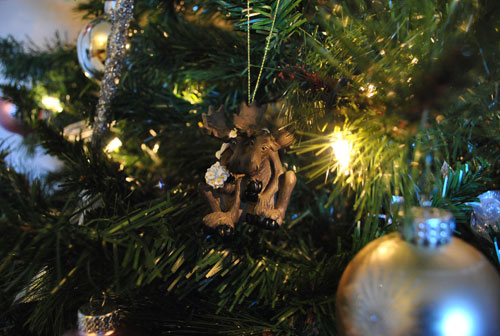 And you already may have noticed a few other personalized ornaments that worked their way in- like this silver (yes, it even fits into our color scheme) Empire State Building ornament that reminds us of our early days in NYC.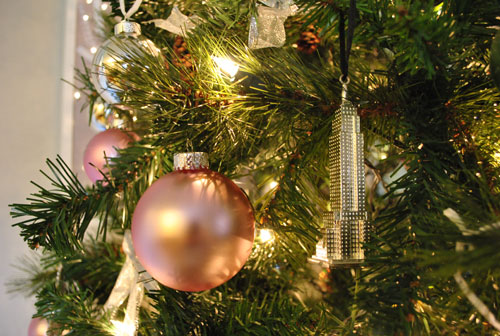 In the end we love how soft and sweet it looks (John approves, and Burger seems oblivious as always). Definitely baby-girl-ish, but not too overdone and pastel-y to work in a room with a geometric rug and a clean-lined modern sofa. And of course I tossed down our faux sheepskin rugs as a tree skirt (an odd tradition that we've kept up for the past 4+ years).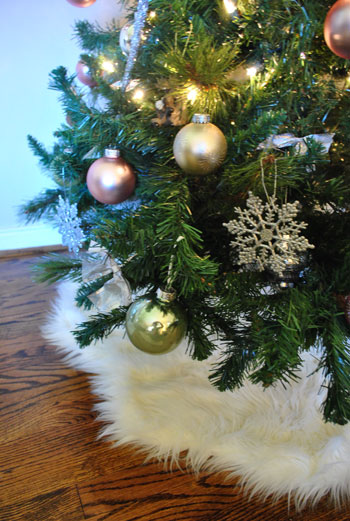 Oh yeah, and for the second year in a row we've had a bit of an issue with the pre-lit tree (the bottom strand of lights was out, but the solution was as simple as stringing a strand of lights around the bottom to correct it). I'm sure we could try to find the bulb that's burned out to fix it for real, but the added-strand-o-lights approach works just as easily for us (since we already had one around).
And just in case you're one of those Christmas enthusiasts who not only likes checking out a tree in November, but actually wants to see us put it all together at high speed (like John's old coworker who starts playing holiday music the day after Labor Day- hi Lauren!) here's a holly jolly video for you (complete with that burned out string of lights at the bottom of the tree and a baby who wants nothing more than to eat every ornament we hold within her reach).

So that's our tree this year. What about you guys? Any fun color schemes or themes swimming around in your head for your own tree decorating adventures in a few weeks (edible? jewel toned? Jersey Shore inspired?). Let's chat. If you're ready, that is. If not feel free to wait the obligatory week or so to join the conversation.
Psssst- If you're excited to get into your red footie pajamas and go holiday crazy, check out this section of our Projects page for lots of Christmas-related stuff.
Update: You can check out all of our favorite holiday decor finds here – many of which are under $15!