Here it is. Our cheap and chic 2008 holiday gift roundup. We've tried our hand at a few DIY ideas and also integrated some affordable and memorable store bought options. So without further ado, let the gifting begin!
Here's a gift we put together for our game loving cousins: Bananagrams (it's like scrabble without the board) + Monkey Bread mix (from Target)= a playful gift that'll keep 'em entertained (and full) for a while. Monkeys love bananas so we liked this cheeky pairing, but Bananagrams could also be gifted with some homemade banana bread or even a cute boxed banana nut bread mix. Yum.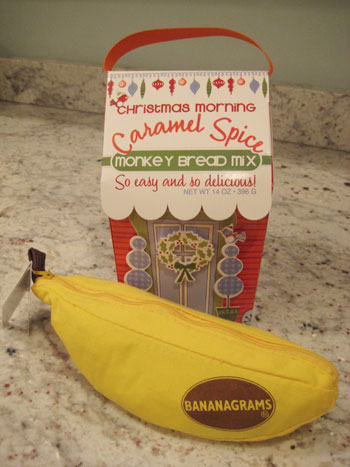 And Bananagrams isn't the only game you can cleverly pair up with something similar in theme. We love the idea of some stacked black and white cereal bowls full of Dominoes.
And because we always adore something personalized, these $6 monogram mugs from Anthropologie are perennially on our list when we need a quick little gift for a neighbor or friend. Stuffed with everything from concert tickets to hot cocoa mix or even gumballs, they're always a crowd pleaser.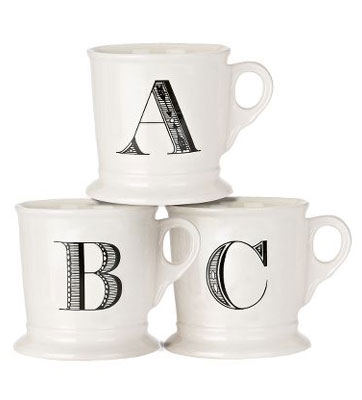 For a super stylish gift that won't break the bank, this $3 pashmina (!) from Walmart is always a great option. And if you're feeling creative you can even use it to wrap another present for a stunning present presentation (which is always appreciated). Plus it means less clean-up when the wrapping paper cleaning crew comes through. Hooray for less waste!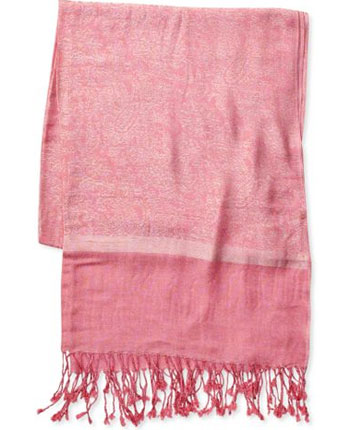 The next gift is an easy DIY idea that popped into our mind the other day. While browsing some fancy schmancy aroma diffuser kits (you know, the ones with oil, a vase and some sticks) we wondered if we could make our own on the cheap. So we did. One pack of $1 skewers from the grocery store plus a vase we happened to have laying around (picked up at Target for $3 a while ago) plus some yummy smelling liquid…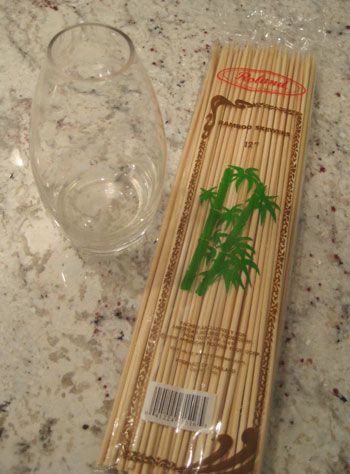 … magically became a chic little aroma diffuser. And you can find a big bottle of fragrance oil at any dollar store so this whole gift can easily come in under $5. Score! Due to our recent indoor air-pollution obsession, we decided to shy away from artificial fragrances (which can be irritating to some people) and use a smidge of our naturally scented Mrs. Meyers Clean Day All Purpose Cleaner in Lemon Verbena instead. It might sound weird to put soap in a vase and call it a room fragrance, but the naturally scented essential oils in the cleaning solution lightly scent the air for a refreshing grassy-lemon smell that's pretty close to intoxicating without having to worry about any toxins.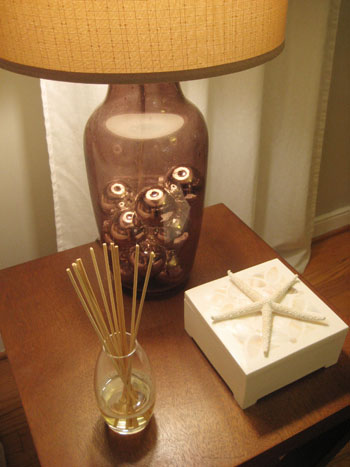 In fact we liked it so much that we made two of them, one for the windowsill in the kitchen, and one for the open shelves in our living room. And every time we walk by it smells tantalizingly clean and fresh.
Another chic and always appreciated gift for under $15 is a potted orchid. From Lowe's to Trader Joe's you can snatch up a gorgeous and exotic little house plant that only needs a sunny spot and a smidge of water once a week. Easy and oh-so-elegant.
And of course we can't forget our DIY magnet ornaments (the magnets can be easily secured with Liquid Nails for a strong bond) which will remind your giftee of your cute n' crafty self each time they pull them out and slap them on the fridge come December: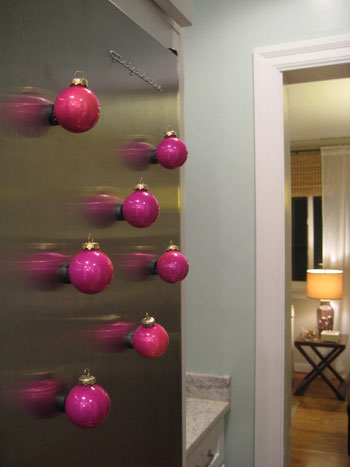 Oh and here's a super easy and fun gift we picked up at Target for $9.99. It's an adorable sundae kit housed in a paint can (which makes sense coming from two chronic room painters like us). Best of all, it already looks so festive that a big bow around the can (or even the handle) is all ya need for this gift to be ready to go.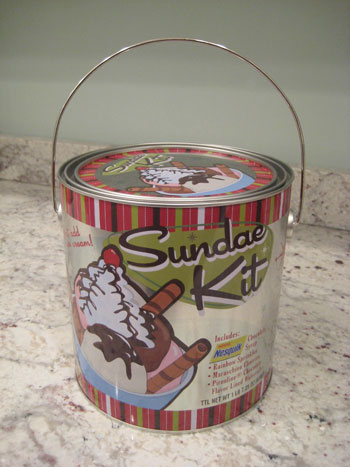 We hope you've enjoyed our lil' holiday gift roundup. We're elated to be reminded that the best gifts are thoughtful and personal- two things that can easily be accomplished without emptying your wallet. How about you guys, do you have any favorite cheap and creative gift ideas that you rely on from year to year? Spill the beans!
Update: You can check out all of our favorite holiday decor finds here – many of which are under $15!