First we'll get to the freebie download for all of you lovely people, because you know we heart you for reading our little ol' blog. Since we've made a tradition of designing a homemade calendar each year (and 2012 ain't gonna wait just cuz we're mid-kitchen reno) we stole a moment – while the wood putty dried – to throw something together for the big one-two.
Our calendars from the last few years have all been text-based (you know, as opposed to full of photos). Like our 2010 calendar, where we assembled a dozen weird family phrases & inside jokes and laid them out in simple bright colors: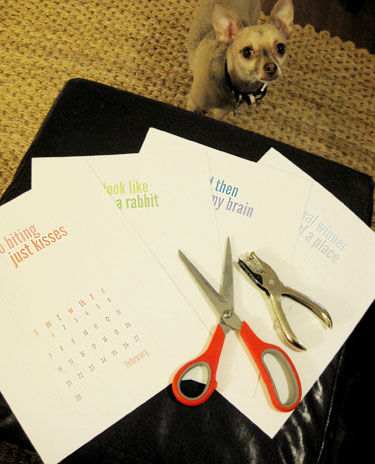 Or our 2011 calendar, where we used a numerical fact about our family to represent each month (ex: May, the fifth month, said: "Five years in Richmond" and July, the seventh month said: "Seven years spent together").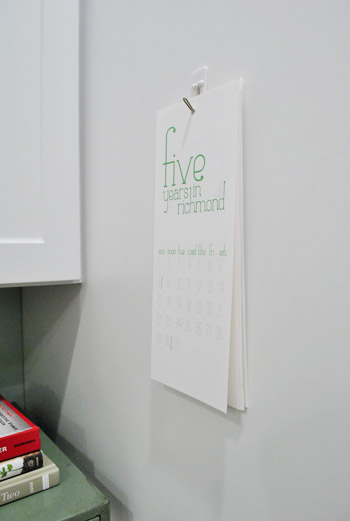 Well, this year we ditched the text-on-white theme and went full-on photographic…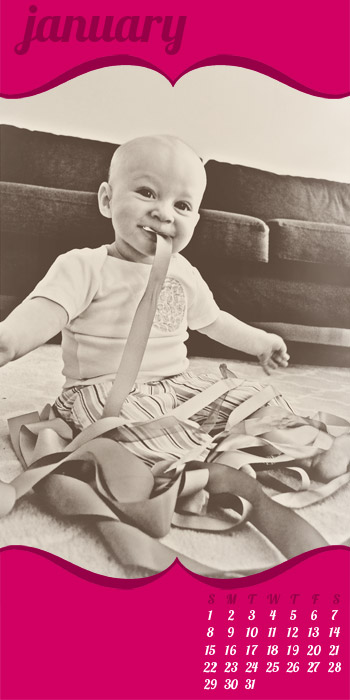 Each month of our 2012 calendar features a photo that we took that same month in 2011, so it's an easy way for us to look back and say "oh yeah, so that's what Clara looked like exactly a year ago." Admittedly a photo calendar isn't a groundbreaking idea, but it seemed really fun to toss together since 2011 is the first full calendar year that we've spent with Clara in our lives. And that girl can pose like Tyra Banks.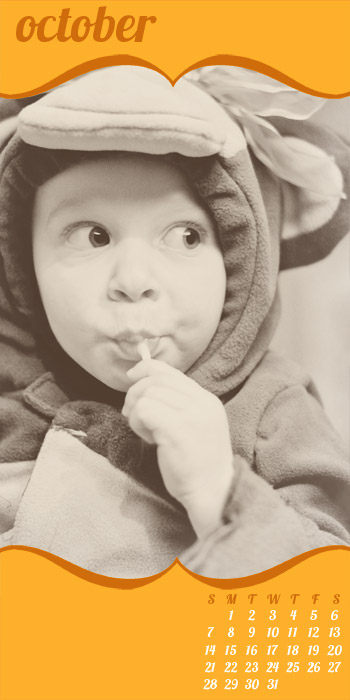 We gave each pic a "historical" feel by applying a free Photoshop action from the Pioneer Woman called "Heartland" (you can download that here) and then we brought color back into the calendar with a bright curvy border on the top and the bottom. The font that we used is a free download called Lobster (which you can get here).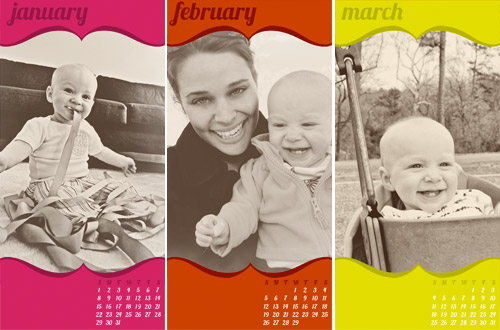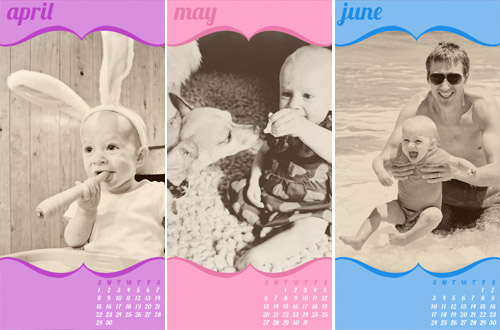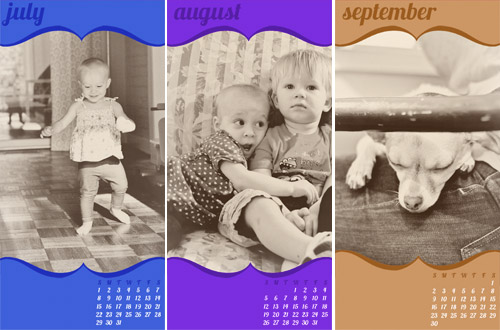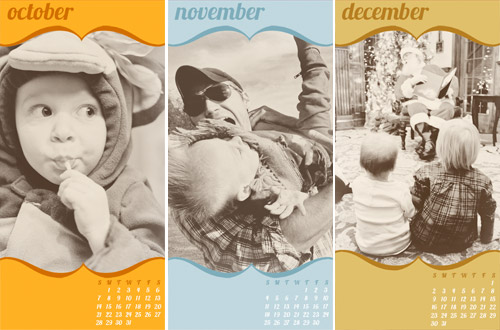 And speaking of downloads, you can download our Photoshop file featuring all twelve colorful frames here. Which means you can personalize the whole thing for yourself (and then print it out and hang it proudly in your kitchen/office/mudroom) by:
adding your own photos as a new layer behind each frame using Photoshop
being sure to download the font if you'd like to alter the text (otherwise it could switch to a default and look wonky)
applying the Heartland action to your photos if you want a similar look (or you can making 'em black & white, full color, etc)
Now all we've gotta do is buy a new color ink cartridge so we can print this sucker out on cardstock, cut it to size, and hang it in our finished kitchen (probably with a binder clip or two so we can easily rotate each page out as the months go by). Oh wait, guess we gotta finish the kitchen before we can "hang this in our finished kitchen"… so maybe it'll be up by February or March. Haha. Either way, happy almost 2012 everyone! Hope you have fun making a little calendar of your own (or even whipping some up as gifts for friends and family members)!
But on to the secret… a little package arrived from my Secret Santa! Remember I mentioned that sweet Mrs. Limestone invited me to play along among a bunch of awesome fellow bloggers (and I was worried I would totally choke when it came to figuring out two perfect gifts to send someone's way throughout the month of December)? Well, this package arrived all festively wrapped with a little "Peace On Earth" ornament on top…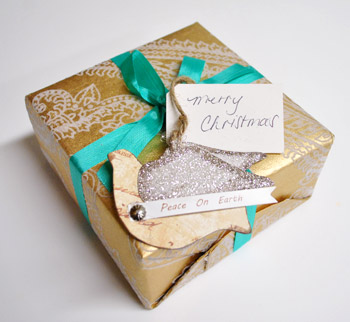 … and I opened it to find this adorable silver box from Pottery Barn that reads "Good things come in small packages." Which makes this 5'2″ gal smile.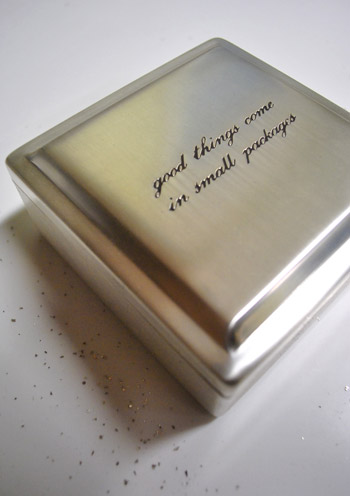 And there was a little bit o' sparkle going on – like fairy dust. Which all made sense when I cracked the lid to find three sweet ornaments with the hubster, the beanster, and my initials on them. So cute.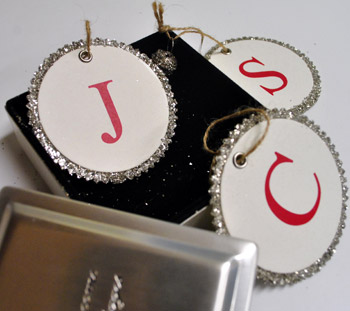 Anyone have any guesses which of these bloggers might be my secret Santa? I don't have a clue but I love the suspense of it all!
As for my new little ornaments, off to the tree they went! Not only the three initial ornaments but the little glittering birdie too: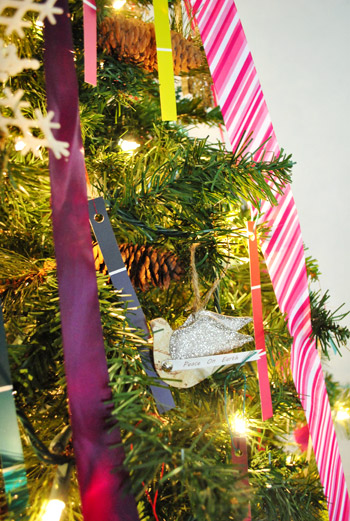 Here's our little C in action. I love that these babies aren't breakable – so they fit right in with our paint chips and ribbons.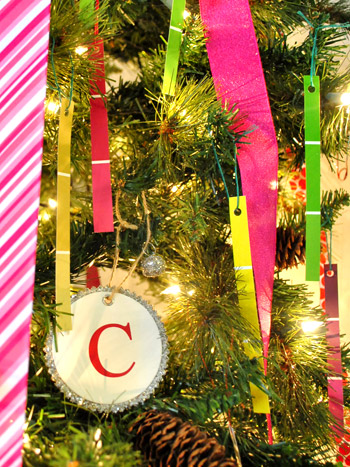 The red on the initials tie right into the red ribbons, and the glitter around the edges gleam like our sparkly snowflakes.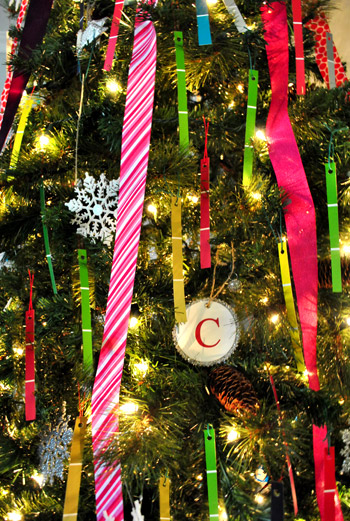 Oh and our tree has filled out quite a bit over the last few weeks. Care to guess why?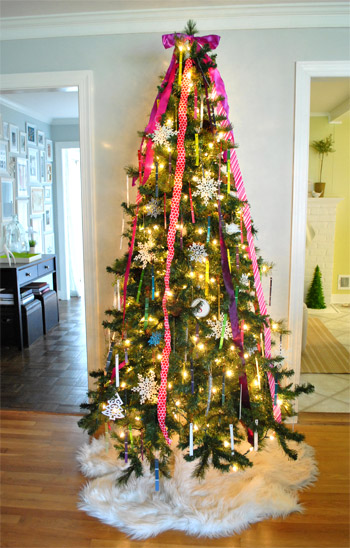 Yup, many of the ornaments on our little homemade advent calendar have been popped off the door where they were hanging…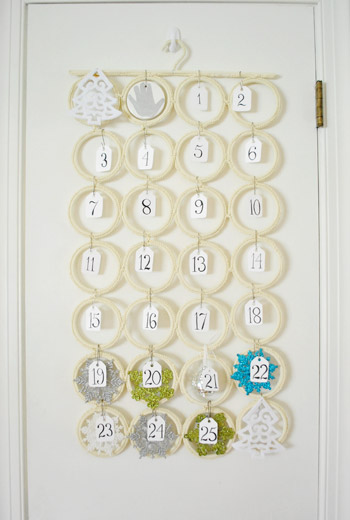 … and onto the tree. Clara and I have had fun finding the perfect place for each one as each day goes by.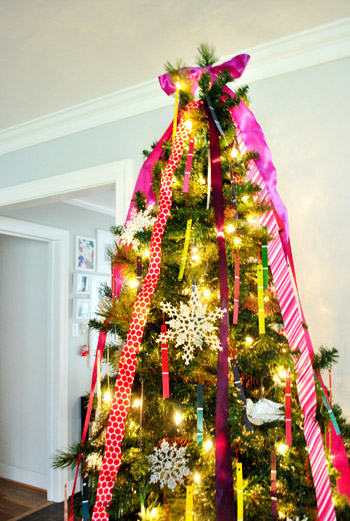 Love me some holiday traditions! Maybe I was an elf in a past life. Those little seasonal activities and crafts (like our annual calendar and our ornament advent calendar) are hardly expensive or time consuming – but they're so much fun for the family to get into the spirit. Especially little Clara. And when you're dreading/gearing up for days and days of cabinet sanding and priming and painting… ya gotta love a little holiday spirit in the half-torn-apart house to keep ya smiling. Maybe we'll play Christmas music while we putty and pretend the sawdust is snow…
Update: You can check out all of our favorite holiday decor finds here – many of which are under $15!