We did it. We busted out all of our Christmas stuff and officially decked the halls. We're pretty organized about our holiday storage so it's not too difficult to unleash the Christmas beast in our house. We keep specific ornaments designated for spots other than the tree (hurricanes, bowls, etc) in labeled ziplock bags: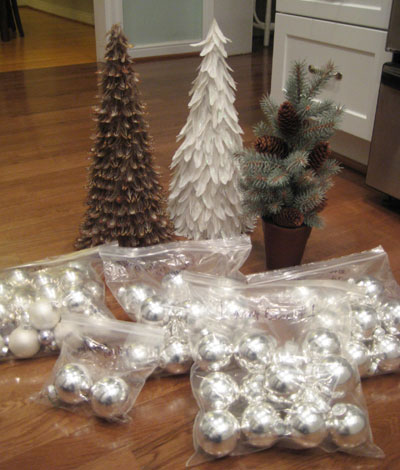 And we store all the other tree-only ornaments in an under bed storage container, which is easy to pull out and set at the foot of the tree for decorating in an instant. And because it's a hard container we don't have to wrap our breakables in newspaper since they're all gently placed in the bin for protection until next year.
We're always up for a before and after, so here's what the living room looked like before we started: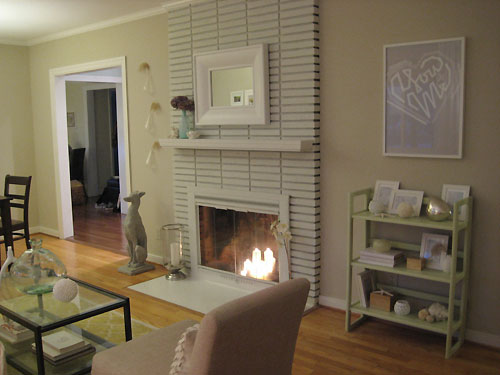 And here's the finished product. Well, finished is a relative term… we're already planning to add some lime green to liven up our silver and white scheme.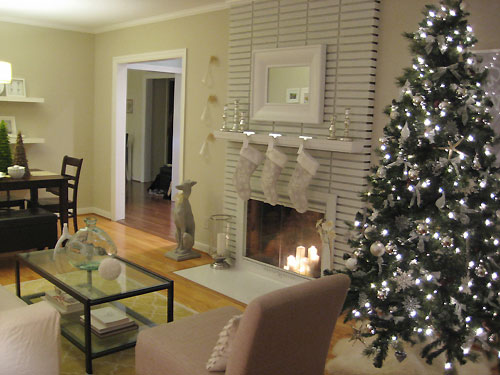 We're big fans of introducing a few unexpected elements, like a starfish stuck an a random branch and a plethora of sheer silver bows filling in all the dark spots in the place of garland. And who can say no to a little disco ball or three?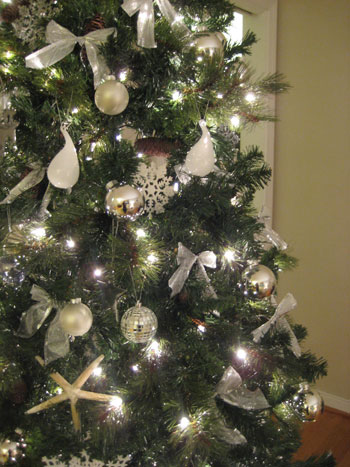 It's amazing how the rest of the room sparkles when you add a tree. As soon as we plugged in the lights we were already feeling downright festive. And when John put on some Christmas tunes and whipped up something warm and tasty, we really started to feel giddy with Christmas anticipation.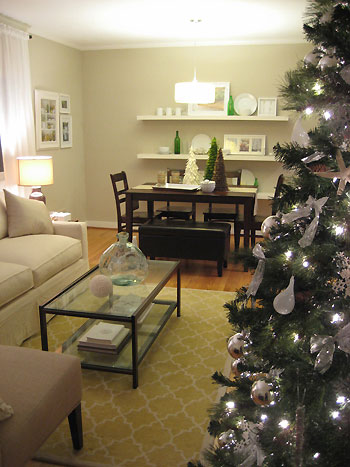 Here's that "something warm and tasty" that John disappeared into the kitchen to make. Some mint hot chocolate (Trader Joe's- yummy) with some whipped cream and even a dusting of chocolate shavings to take things to the next level. Oh and his tip for making chocolate shavings (he actually grated Hershey's kisses himself) is to store your chocolate in the fridge so it's hard enough to grate without getting all smushy and melty. Good to know, eh? He's my little Martha Stewart.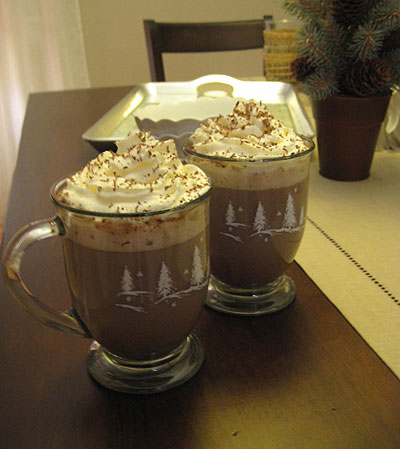 Oh and one of our favorite substitutions is our two-sheepskin-rugs-from-Ikea in place of a traditional tree skirt. So floofy and inviting. And they look adorable with a whole mess of presents on 'em.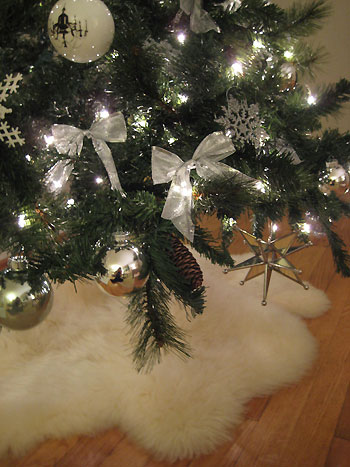 And yes, our tree is 100% artificial, faux, fake-ola. Even though they're not always the "classiest" by reputation, we like that we can reuse it for decades instead of tossing it on the curb come January 1st. But we totally understand how the smell and the look of a real tree can be sheer magic around the holidays, so to each his (or her) own. Happy decorating! And stay tuned for more festive ways to get into the holiday spirit on the cheap and in a flash.
Update: You can check out all of our favorite holiday decor finds here – many of which are under $15!