In the esteemed words of Snooki… the party's here!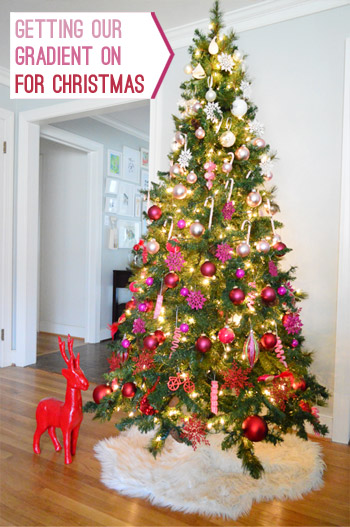 Woop woop, the tree is up. And this year now that Clara's a big girl who we think can handle real ornaments (well, we got a few shatter-proof ones for the very bottom just to be sure) we went with a gradient from white to hot pink to red. Booyah. Or as I've been saying way too often: boom goes the dynamite.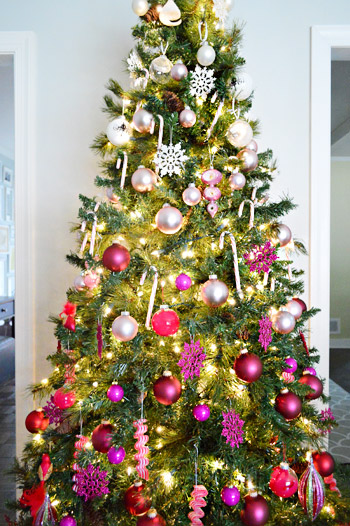 Oh and we have a bunch of meaningful/special ornaments that we love the most, but we save those for our real mini tree (we got a tabletop one last year and loved it so much that it'll be a tradition). So we'll post about that one as soon as we get it (don't want it to die before Christmas, so maybe next week!).
Anyway, back to our gradient guy. We thought it would be fun to see the color get deeper as it got closer to the floor, and since we already had a bunch of white ornaments from our silver tree in 2007 and a bunch of soft pink ornaments from 2010 and homemade ones from last year's Pinterest challenge, all we did was grab a few more hot pink and red ornaments (which only ran us about 12 bucks total, thanks to 50% off sales at Michael's and Hobby Lobby).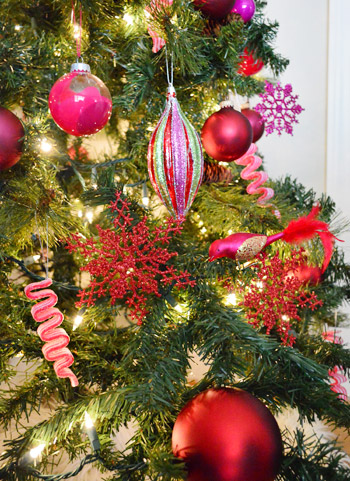 Let the record state that hubster wanted it just to go from white to red with some of those silvery pink ones in the mix since we already had them, but I'm a smooth talker… so that's how hot pink ended up in the mix.
Then we just loaded each of the four colors onto the tree in bands of color with white at the top which led into light pink, hot pink, and bright red at the bottom. Oh and we added some $2 candy canes to the mix since they fit with the color scheme.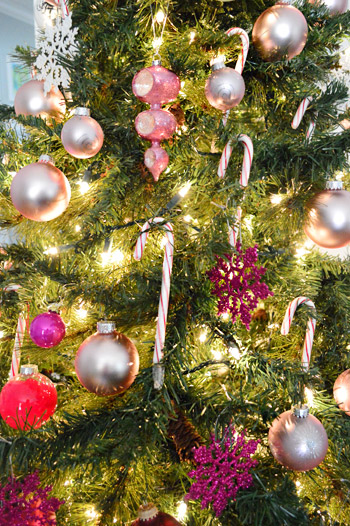 As usual we used our faux-sheepskins-from-Ikea to make a tree skirt. Oh and check out that bicycle ornament we grabbed for cheap at Target.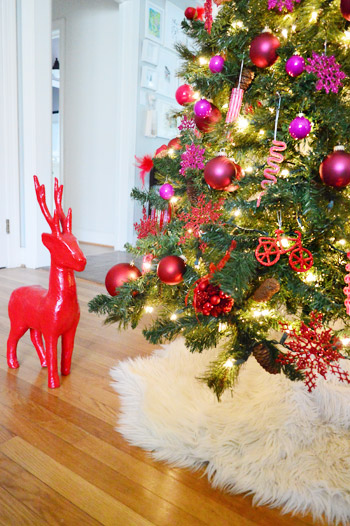 We also went sans topper. We've been waiting to buy one until we see one we totally love and that hasn't happened yet, so wait we must.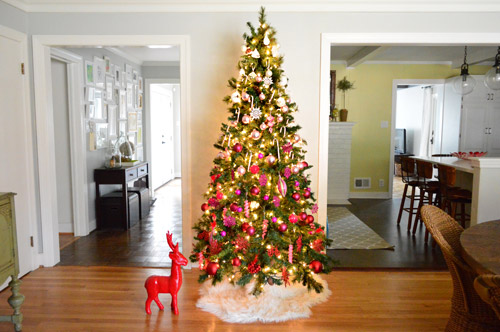 Here she is at night. I've named her Glowy Glowerson.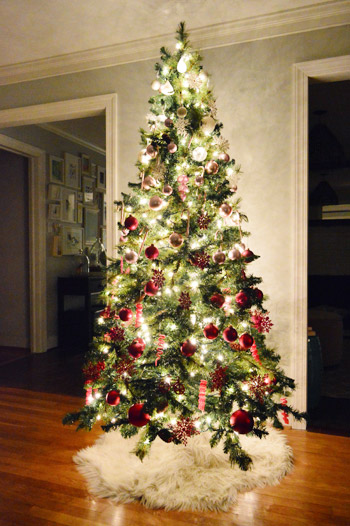 And since I'm a list freak, here's the rest of the stuff on my holiday wish list. I try not to be all stepford and pressure myself about it, but I can't explain the endorphin rush that I get from crossing things off of a list. And don't think I won't cross things off even if I don't do them if I run out of time, just for the satisfaction of crossing them off, because I totally roll like that.
set up the big tree (gradient, baby!)
get a live tabletop tree again (like we did last year – this year we have a new idea for the ornaments though!)
decorate the mantel, the built-ins, and the entryway console
hang our outside lights & decorate the front porch
shoot a Christmas picture of Clara & Burger for our annual holiday card
make an advent calendar for Clara? Ahh I'm behind already!
shop for slash make all the gifts on our Christmas list (about 50% done already, can't wait to cross this sucker off!)
And since we're talking trees. Here's how we decorated ours back in 2007 & 2008 (with the same white and silver scheme):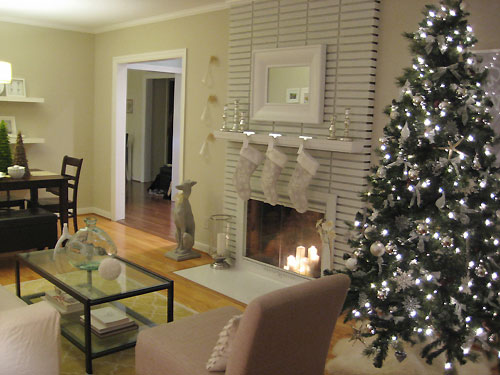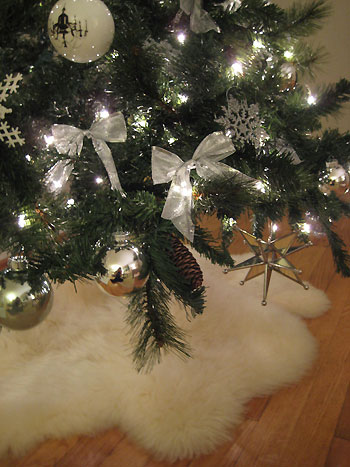 And in 2009, we went crazy for citrus, and even dried fruit to make ornaments: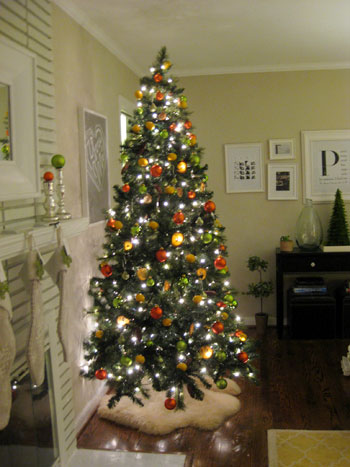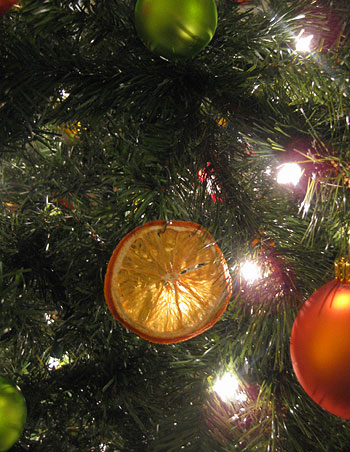 In 2010 we had green, pink, and silver shimma goin' on: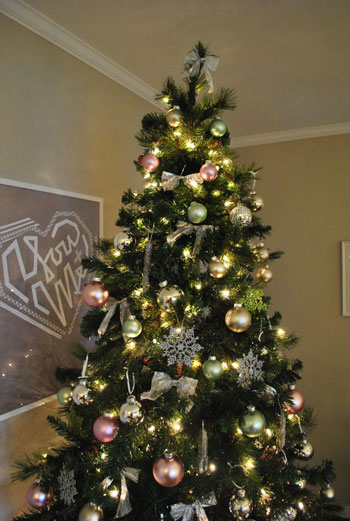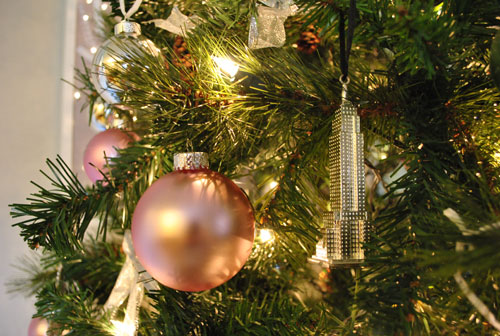 Here's our tabletop tree from last year complete with homemade ornaments that I whipped up for a Pinterest Challenge: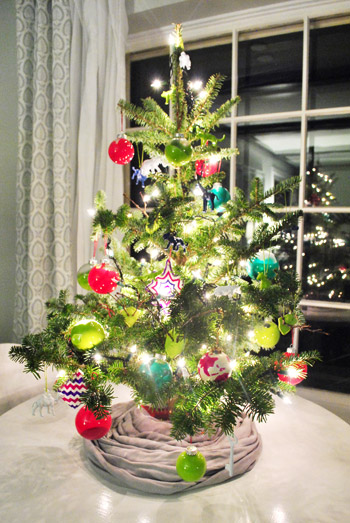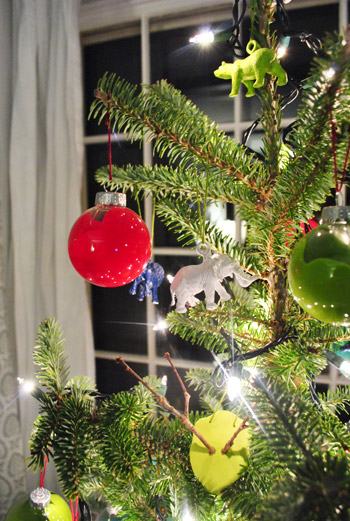 And here's last year's big tree with homemade paint chip ornaments and colorful ribbons (nothing that could shatter since Clara was 19 months old):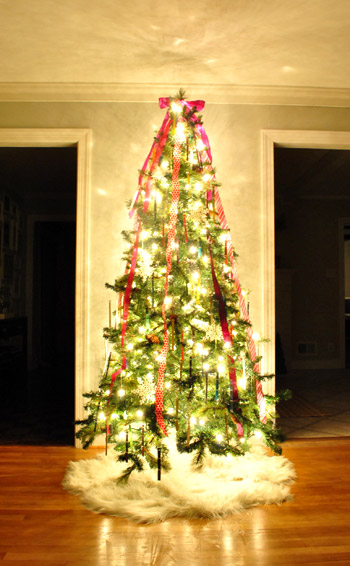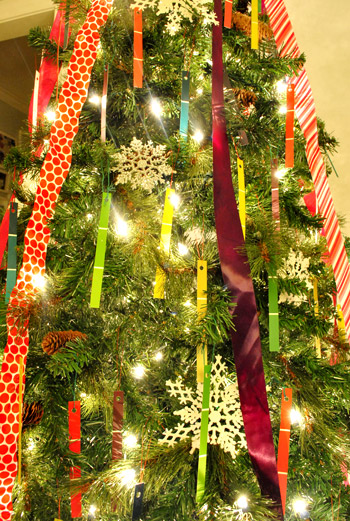 Feels kinda festive, eh? What are you guys doing to get into the holiday spirit? Or are you screaming "not ready!" and boycotting Christmas Carols until a certain magical "now it can be Christmastime" date? Are you making a list just for the satisfaction of crossing things off? Are you making anything homemade (gifts, food, advent calendars, etc)? Do tell.
Psst- Still in the mood for more holiday projects and pics? Click here for a gallery with over 25 holiday projects and ideas.
Update: You can check out all of our favorite holiday decor finds here – many of which are under $15!