With over 2,300 posts under our belts, it's becoming a Herculean task to read all the way back through our archives (although several of you deserve an "I survived the YHL archives and all I got was this lousy bumper sticker" bumper sticker). So we're using our fifth blogiversary as an excuse to pull out some highlights from those 260 weeks of content. Sit back and enjoy this somewhat weird trip down memory lane full of firsts, favorites, and fun times.
First Makeover Reveal: Even before the kitchen reno that started this whole site, our first before and after was actually our laundry nook in November 2007 (since the kitchen was still very much a work in progress). And clearly we hadn't gotten the before thing down yet, since it's actually a mid-demo pic instead. That was a valuable lesson in remembering to photograph things before breaking out the sledgehammer…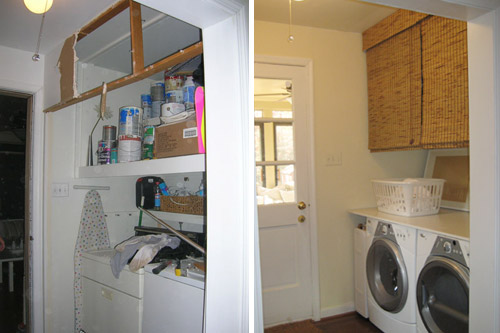 Weirdest Wardrobe (both human and canine): In this December 2007 post about how long our first kitchen's cabinet installation was taking, we included this photo to demonstrate how surprisingly cabinet-sized Sherry is… especially when wearing coordinating Christmas pajamas with a then 1-year-old Burger.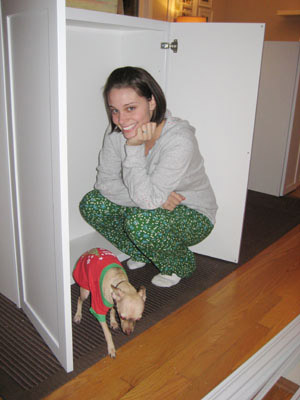 Most Ridiculous Styling: It was 2007. We were still finding our decorating groove. Sherry was only a year or so removed from her time in New York / New Jersey. So when we "revealed" these pictures of our guest bedroom (a room that later became Clara's nursery) we managed to sneak fuzzy leopard slippers into it. Not sure what kind of guests we were expecting…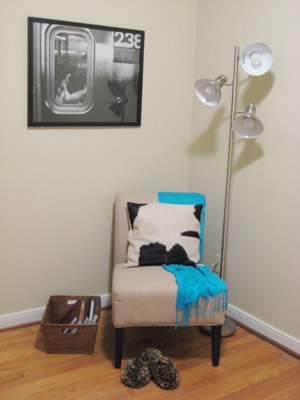 The Most Never Before Seen Video: Part of the prize from winning a blogging contest in 2007 was a video interview on Ask The Decorator. It was our first video interview so we were over-prepared (Sherry even wore non-black!) and were probably a bucket of nerves and stutters on camera. We'll never know because the site went on hiatus shortly after the interview (for a few years actually!) and the footage never saw the light of day… which might have been for the best.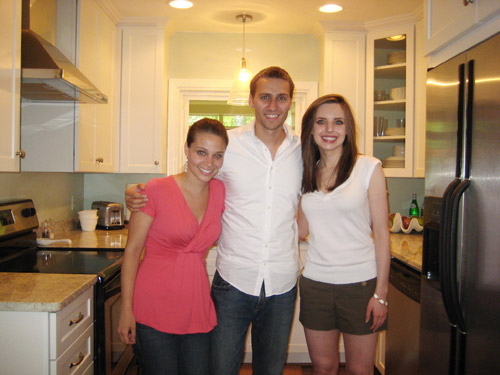 First Ikea Hack: Just as the calendar rolled around to 2008, we took on our first adaptation of Ikea furniture by creating the built-in closets around our bed with doorless wardrobes, some curtains, and a wood header to make it all look built-in.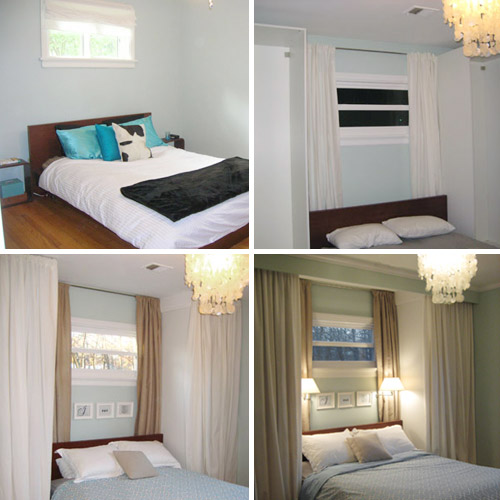 First Burning Question: Anyone remember when we used to do these posts? Every Friday we'd pose a decor or home improvement related question like: "What's your favorite countertop surface?" "What's your ideal view from your house?" "To paint or not to paint your switch plates and wall registers?" – you know, heavy hitting stuff. But our first question in May 2008 was whether or not you should have your table perpetually set. It garnered a whopping 18 responses.
First Mood Board: Also around the time we started Burning Questions, we began offering design help by providing online mood boards. Our first one was for Manisha to help with her living room.
First Press Mention: Our local paper, the Richmond Times-Dispatch featured us in their new "I Did It Myself" section on May 15, 2008. What had we done? Made a pedestal table out of a thrift store base and a stock round top from the home improvement store. Our parents were so proud.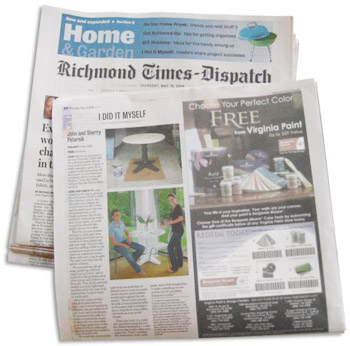 Favorite Little Craft: We've taken on a lot of little projects and crafts around here (hello "Dude Get On That Already" challenge) but one of our all-time faves is still the vacation memory jars that we did way back in the summer of 2008.
First House Crashing: Before we worked up the nerve to ask strangers if we could come over, we kept House Crashings in the family by photographing my sister's recently constructed home here in Richmond. That was 2008 and she's done lots of painting, decorating and landscaping, so a Re-House Crashing is actually on the agenda!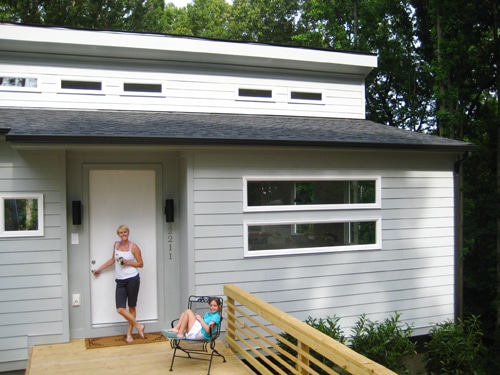 First Reader Redesign: In addition to busting out the House Crashings in 2008, we also featured our first Reader Redesign – which for some reason compelled me to make a Grey Poupon reference in the post title.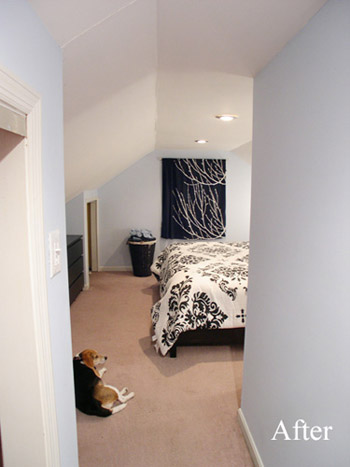 First Design Dilemma That Was Solved: Admittedly we made a lot more mood boards over the years than we ever received after photos for. So when we did, it was always a special treat. Our first person to provide them was Stacie, a local friend who sent us pics of her lovely bedroom that was based on a little YHL mood board that we whipped up for her. It actually ended up spawning a House Crashing… or two… or three.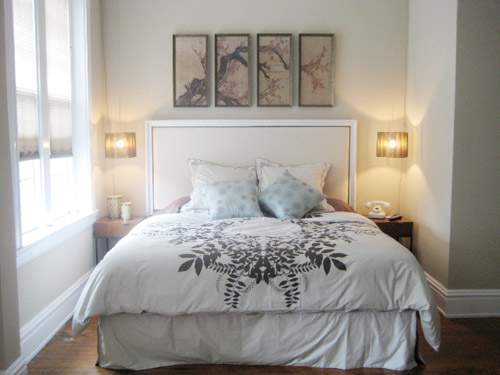 First Wedding Week: It shouldn't be any surprise that our first "Wedding Week" (a week dedicated to our wedding as well as lovey-dovey stuff in general) started on our first anniversary: July 7, 2008. And the content from that first week is pretty much what lives currently on the Wedding tab at the top of our page.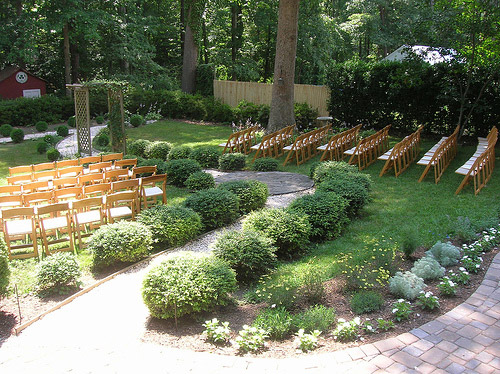 The Biggest Turning Point: You've heard us say before that the main reason we decided to turn this hobby into something more was randomly and completely unexpectedly winning a contest that gave us a little let's-keep-at-this confidence boost. We were barely two months into blogging, which may be why we celebrated the win by Photoshopping this pageant-esque image. I like my Queen Elizabeth wave.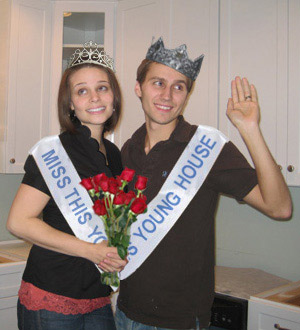 Hardest Post For Sherry To Write: This is probably a tie between two more recent events – Clara's birth in 2010 and the death of her Aunt Kay Kay this summer. Both were deeply personal, but almost equally therapeutic for her to write (even though it took nearly a full year for Sherry to muster the words to describe Clara's entry into to the world).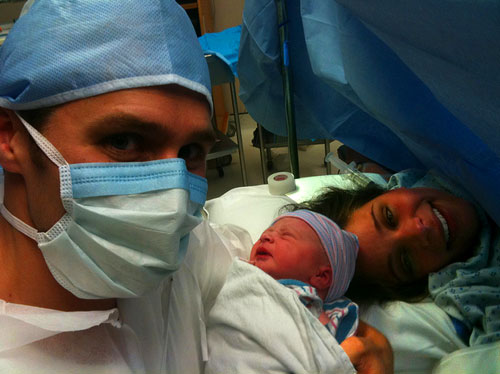 Hardest Post For John To Write: While not nearly as emotional as Sherry's picks, owning up to my failed deck inspection this summer was a tough one for me. The failure was a big blow to my confidence about the project as a whole, so it took just about all that I had to keep moving forward on it – let alone having to write about it for all to see.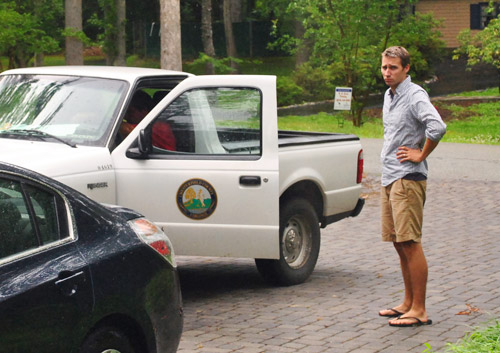 Most Random: We definitely stray off topic every now and then around here… parenting, running, breastfeeding, haircuts. You know, the usual. But perhaps our most random, yet much commented tangent was this January 2011 post about what other names our parents considered for each of us when we were born.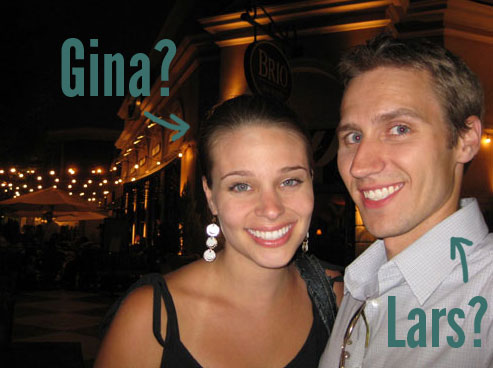 Most Embarrassing: It should come as no surprise that the most blush-inducing post was Sherry's admission earlier this year that back in high school she met Eminem… on MTV… and there's a YouTube video to prove it. Not only does she freestyle rap and say the word "phat" during the episode, now that I've mentioned it again, she's hiding under her desk.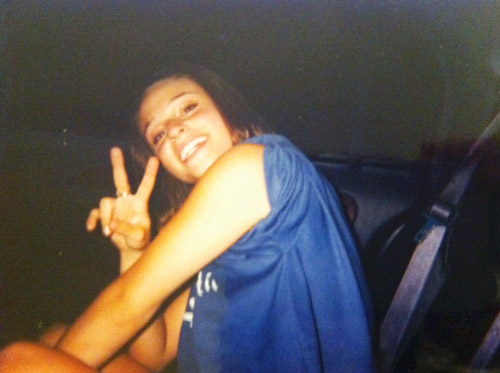 Least Wordy: We don't have an easy way of double-checking this, but we're pretty sure this post about readying ourselves for some door widening (our 8th post ever) clocks in at our shortest. At just under 125 words, the entire thing can be viewed without ever touching your scroll bar. Three cheers for someday getting back to short & sweet posts like this among our chatty longer ones.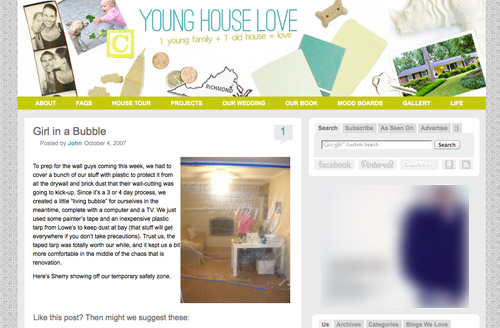 Most Wordy: Again, don't quote us on this – but we know last year's blogiversary post about how we make money and how we spend our time clocked in at nearly 4,000 words, which we believe is our longest. It could also take the cake for "most pie charts" (or should I say take the pie?).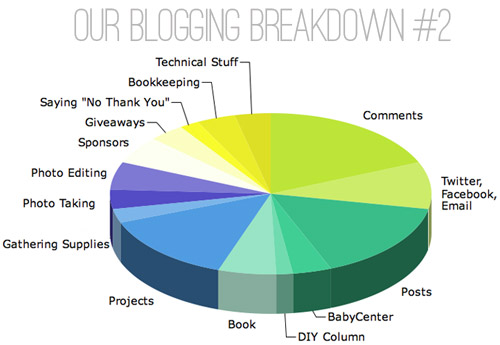 Weirdest: The title of this "Purloined" post should be a clue that Sherry's was in a weird mood – which she owns up to several times during the post itself. It just a quick little ditty about pillows, but it spawned a hilarious string of comments where people rallied around the phrase "No Ham, No Fowl." You'll just have to read it to understand… if it can be understood. (PS: Runner up for this award goes to this post about Sherry's dream that involved elephant faucets).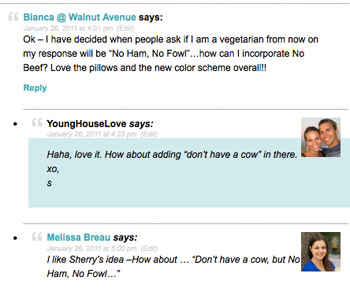 Most Unusual Format: If you browse our early posts, you can tell we're open to being experimental when it comes to their format, like this post that was written entirely as a dialogue between the two of us. We actually loved looking back at it, so here's hoping more random convos like this pop up from time to time…
Biggest Dud: We like taking bets on who's gonna win whatever reality TV show we're watching. So we figured everyone would love joining in our guesses as to who would win 2008's Top Design on Bravo (the one with Eddie Ross). Well, it wasn't so hot of an idea. A whopping five people played along, and one of them didn't event get the channel. Womp womp.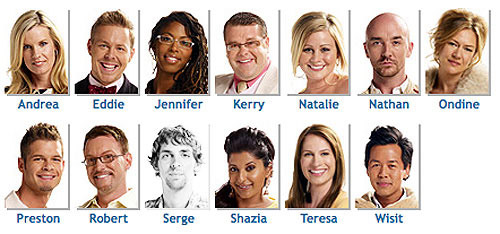 Biggest Reveal: Perhaps our biggest house-related revelation on the blog was the news that we were moving in 2010, but we decided to give this title to some other big news: Clara's birth. Even though it was something everyone knew was coming, Clara's early arrival (by about a week) and the fact that we didn't miss a beat posting (she conveniently timed her arrival on a Friday night, and we had some pre-written posts ready for right after she came) made the casual Tuesday morning announcement a pretty big surprise.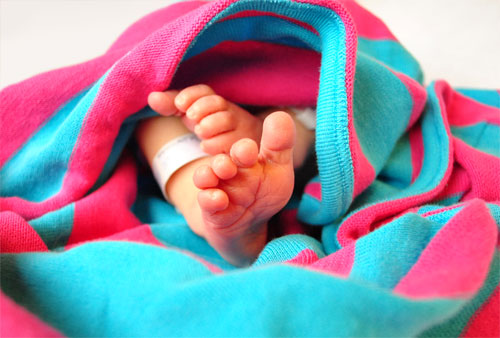 Most Commented: Continuing the Clara's birth theme, the non-giveaway post with the most comments goes to Sherry's story of her labor and subsequent emergency C-section with Clara. It garnered over 2,200 words of comfort, congrats, and encouragement. You guys are the best.
Least Commented: This is actually a 14-way tie between several posts that got the big goose egg in the comments category. From this post about a wind storm that threw a tree on my sister's rental house to this unfortunately titled post about a local white elephant sale, there are still more than a dozen opportunities for one of you to be the first commenter on one of our posts.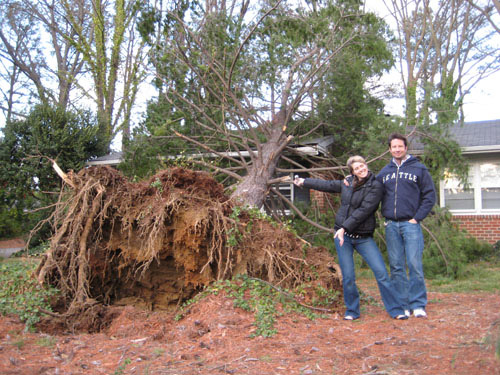 Most Active Comments Over Time: New comments on any given post usually dry up within a few weeks of it being posted. But the comments section on three posts in particular are still very much alive and kicking: this one about curtain-hanging 101, this one about picking the perfect paint color, and this one about painting furniture. They all went up around three years ago but tend to receive at least a few fresh comments each week or two.
Whiniest: We generally try to keep things upbeat around here (this is our happy place) but we do get our sourpuss on every now and then. Perhaps our finest moment of that would be in 2008's dramatically titled "You Know What Sucks?" post that's all about painting the grody ceiling in our first house's den.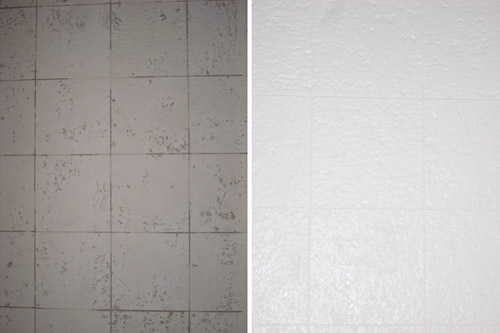 Biggest Budget Breakdown: Coming in at $17,500 – our most expensive project (by far!) to date was the one that kicked off this blog: our first kitchen remodel. Since that job was largely hired out, it was over ten grand more than our second kitchen reno.
Worst Photos: Looking through our archives reveals plenty of less-than-steller demonstrations of our photography skills, especially in our early days of uploading tiny photos taken with our little point-and-shoot. But Sherry and I both agreed that this post (about how our open shelves looked when they suddenly had to house items from our then-demolished kitchen) took the cake for ugliest. Please accept our heartfelt apology.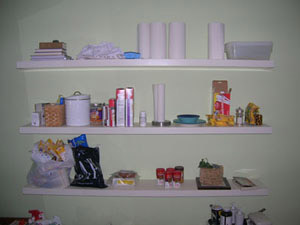 Favorite Punny Post Title: We'll be the first to admit that our pun-tastic post titles are cheesy, but we're oddly entertained by just how weird they can be. A few all time favorites are "Oh My Gourd" (about a gourd lamp purchase), "What's The Commode-tion?" (about matters of the toilet kind), "Hosta La Vista" (about digging up some hostas in the yard), "There's A New Chair-riff In Town" (about getting a new chair), and "What Up, Succa" (about repotting succulents).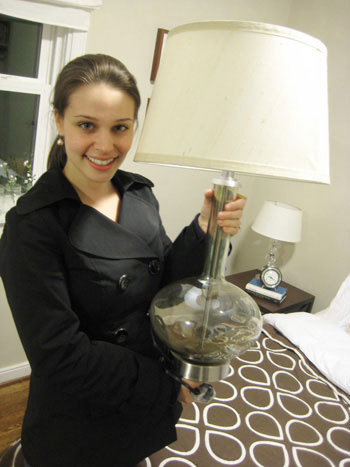 Favorite Hip-Hop Title: We also have a tendency to let song lyrics – often of the hip hop variety – sneak into our post titles as well. So we have to give the gold to last November's "Wanna Be A Baller, Shot Caller, Drywaller…" (about putting drywall around our new kitchen opening) and the silver to "I Like Big Globes And I Cannot Lie" (about hanging some globe pendants in the kitchen). Lil' Troy and Sir Mix A Lot would be so proud.
Most Over-Used Post Title: This goes to "Light My Fire" which actually only appears on two posts – this one about a light fixture and this one about actually lighting a fire. Two may not seem like over-use, but note that these posts came within just weeks of each other back in October 2007. And to this day Sherry still has to fight the urge to break it out again (probably because I give her so much grief about running out of fire-related puns less than two months into blogging).
Sexiest Video: You know that moment when you finish a project and you're so proud of it you just wanna make a sultry video of it? What? Just me? Well, that's what we did in the midst of another weird mood following the completion of our living room console last year. Forgive us if this gets you all hot and bothered…
Favorite Video: It's not decor related (though there is a stylish wedding about halfway in!), but Sherry and I still love watching this road trip video of our 41-hour drive to Texas back in 2009. It may be 17 minutes long, but it just makes us smile every time we play it. Oh to be able to take a road trip again and not have to worry about a certain restless toddler in the backseat…
John's All-Time Favorite Project: It's gotta be our hallway frame wall that we completed in 2011. It was right at the sweet spot of not-too-difficult, but not-too-simple and to this day we still love the impact and personality that it has. I dunno, it just feels like us. The only thing missing is a ceramic dog. Oops, my bad.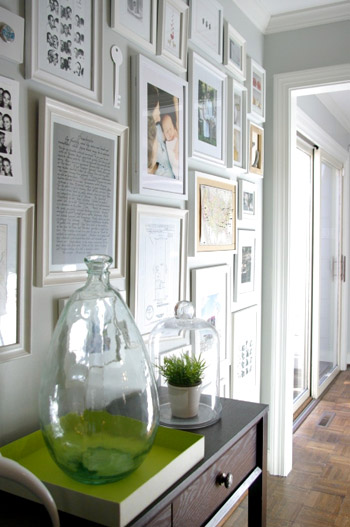 Sherry's All-Time Favorite Project: That's easy, it's the time we painted the back of our built-ins a dark teal color (one of the first things we tackled after we moved in). It only took an evening and a quart of paint, and it was such a room-changer.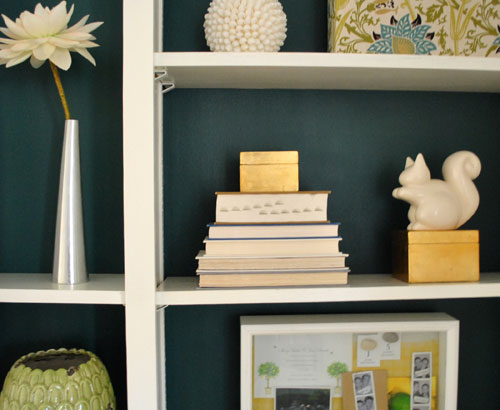 John's All-Time Favorite Post: This is a weird answer, but this post about our first day in our current house has a special place in my heart. It was such an exciting moment for us – full of promise, ideas, and a little stress for good measure. It was even more thrilling to start from scratch knowing that we'd get to take you guys with us every step of the way. Not to mention how crazy it is to look back and realize how much has changed since then.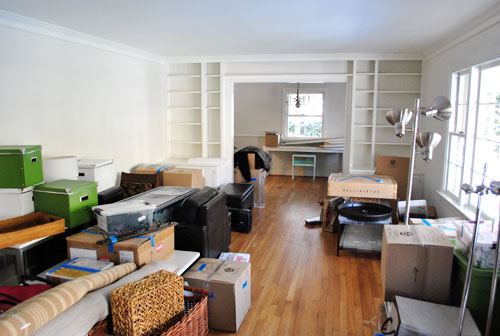 Sherry's All-Time Favorite Post: Sherry's answer is full of sentiment – and decor: it's the reveal of Clara's nursery in our old house. Of course we love the transformation that took place in the room, but we think it's the much greater change in our lives that the post symbolizes which earns it the prize. Look how naive we look – especially in that before picture – so happily clueless about what was ahead.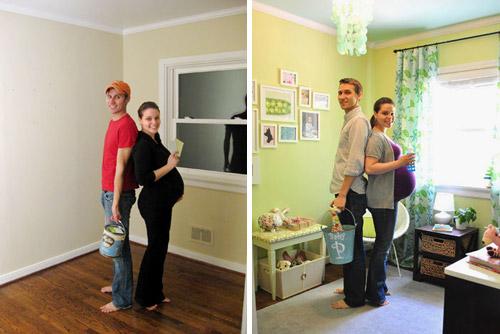 Now that we've outlined our favorites, firsts, and a fair amount of general post-writing weirdness, what about you? Do you have a favorite entry on your own blog (or in your diary)? Was there a moment where you were particularly wacky and random? Or something that you look back on and cringe?
Psst- Speaking of posts about everything and anything, we're over here chatting about color theory (who knew certain colors can supposedly raise IQ points and even help with digestion?).