Over the years of jabbering on about house stuff I occasionally get questions about my family. How many siblings I have, how I grew up, etc. I always say it was a somewhat un-traditional childhood… in the best possible way. I was raised by my mom and dad, who split up when I was very young (a few years after my younger brother Daniel was born) so we just had two houses and bounced happily between them.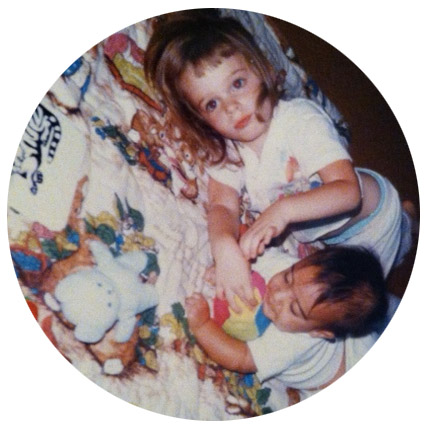 I remember when a kid at school once teased me for having divorced parents and I put the "I have two houses and you only have one and I get double the holiday presents" spin on it. Looking back, it was a moment of pure genius. Haha. No more teasing.
I also grew up with my half brother Adam, who was born after my dad married my step mom Nina a while later (he was 11 years younger than me). You might remember him from his cameo in the most embarrassing moment ever caught on film when I was 17.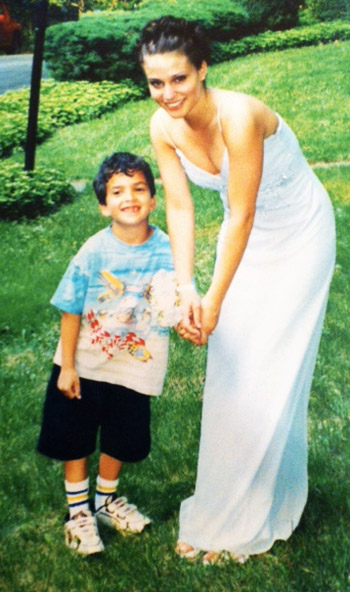 But I always say I'm the oldest of five – and the only girl. So where do the other two fit in? Well, my Aunt Kay Kay (as we lovingly call my mom's sister) and her two sons named David and Darius actually moved in with us when my brother and I were very young (my brother was 3 and I was 6). My mom is one of seven children, and while many of my aunts and uncles lived closer, Aunt Kay Kay and her kids used to live in Maryland, so we didn't get to see our cousins very often, who were 2 and 4 at the time when they moved in… which was just one of about a million reasons we were SO excited for them to move in with us.
My aunt had been diagnosed with a craptastic disease called Multiple Sclerosis, so raising all four of us under one roof with my mom was a way that my mom could lend a hand to my aunt and also a way that my aunt could help us. My mom's an attorney, and back in those days she was working her buns off to make partner at her firm, so she often got home late. So it was great to come home to my aunt after school, and on most nights she cooked us dinner and helped us with our homework. It was kind of a crazy house with four kids so close in age (four kids born within five years), but growing up with them honestly made me who I am today. Here's my Aunt Kay Kay with me and my cousin David in the pool when we were little. Isn't she beautiful?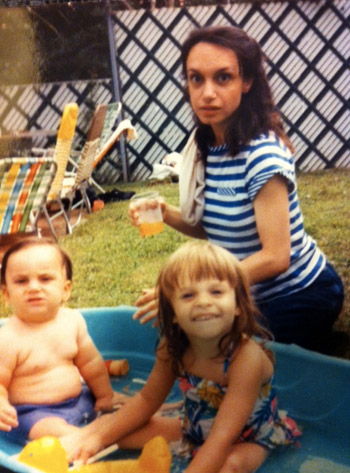 My aunt was always laughing. She was "the nice one" while I, being the oldest of all the boys, proudly wore my title as "the bossy one." My brother was "the smart one," my cousin Darius was "the funny one," my cousin David was "the crazy one," and my mom was "the strict one." So you can guess that when it came down to asking an adult if we could do something… well, we'd usually ask my aunt before my mom.
It was an odd little madhouse, but it was our madhouse and we loved it. So when people ask me how many siblings I have, I usually just say that I'm the oldest of five, and the only girl. But for those who have time for more details, I explain that my total includes one brother, one half brother, and two cousins who grew up under one roof with us like they were our brothers. We had all sorts of adventures over the years – from building forts in the woods to epic sock fights (don't ask) and karate tournaments in New York City (that's Darius on the left, me next to him, Daniel second from the right, and David on the right). We kicked some booty that day.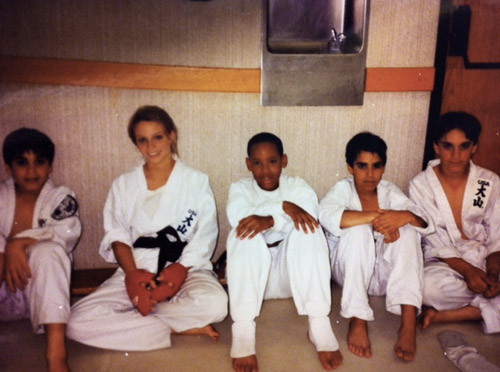 My aunt battled with her multiple sclerosis like a champ. Always smiling and making jokes. Always working hard to stay mobile. First she walked with a cane, then a walker, then a wheelchair, and for the last ten years or so she has been bedridden. Didn't stop her from smiling (most notably when we stuck Burger or Clara in her bed – that always made her giggle). Strongest, bravest and sweetest woman I know.
Yesterday she passed away. It was a very very sad day. So although this might sound like a bummer of a post, I wrote it because I always wanted to remember how amazing and life-changing it was to grow up with such an awesome lady in my life. And I want Clara to be able to read about her Great Aunt Kay Kay someday. She could light up a room then, and thinking about her now brings a smile to my face. Just picturing us all gathered around the breakfast table fills me with nostalgia.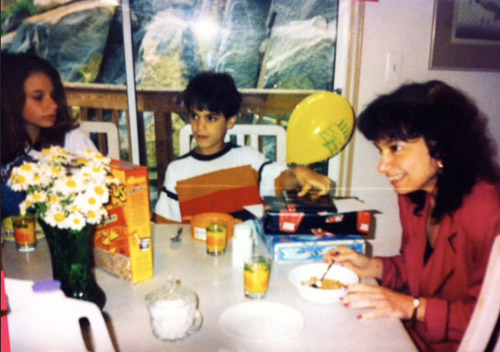 We'll be back this afternoon with some regular DIY-related fare. In the meantime, feel free to tell/call/text/email/skype the ones you love. Family is such a blessing. And I'm so thankful for the one I got.