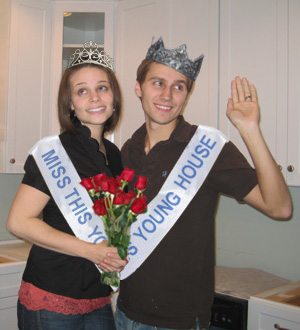 What better way to ring in our five month wedding anniversary than finding out we won five grand? As many of you know we entered the Remodel, Blog & Win contest by RemodelingMySpace a few months ago. But never in our wildest dreams did we think we'd actually win the $5000 grand prize- especially when the competition was so fierce (there were 46 other blogs in the running). In fact, it seemed like such a long shot that when I requested that we put dinner on hold until the winner was announced, John gently suggested that I shouldn't "get my hopes up."
So I wrestled to keep them down until the phone rang. And the rest is a blur. We learned that we'd won the grand prize and that we'd soon be receiving the big check (big in amount, we don't think it will actually be one of those huge novelty checks). The phone call set off a combination of screaming, jumping, pinching ourselves, more screaming, more jumping, hugging, more hugging, more screaming and some mild hyperventilation. Burger was very confused.
And a big thanks to Paul Marek and the rest of the RemodelingMySpace crew for masterminding such a fun contest. We plan to put some of the winnings towards a housing charity in Richmond and use the rest to continue doing new projects around the house so we can keep sharing them with you.