Q: First of all I love your site. It inspires me to fix up my own home (you make it look so easy!). But if there was a class called Paint Picking 101 I would be getting a big fat F. So far every room I've painted in my new house is either too bright, too dark, too dirty looking and just plain ugly. I'm having the worst time finding a perfect tan tone and I'm even messing up colors like light blue and cream, which I never thought was even possible! Do you have any foolproof colors you can recommend? A favorite blue? Cream? Tan? White? Yellow? Gray? I know natural light and other factors can change the way paint looks substantially so it's probably not 100% foolproof, but I'd love to know your favorite paint colors so at least I have a shot of living in a house that doesn't make me feel like a total paint failure! Thanks so much for your help! – Meagan
A: Picking the right paint color can often be a doozie, so don't get down on yourself! Take comfort in the fact that repainting, while annoying, is super inexpensive and it can instantly transform your room from wrong to oh-so-right in an afternoon. And thanks to the transformative power of paint, we're the proud owners of an entire storage ottoman full of paint decks and swatches. Name any color or any brand- it's all in our little paint chip library of sorts. But although we have quite a slew of selections we still find ourselves reaching for some tried and true favorites again and again when it comes to doling out room recommendations.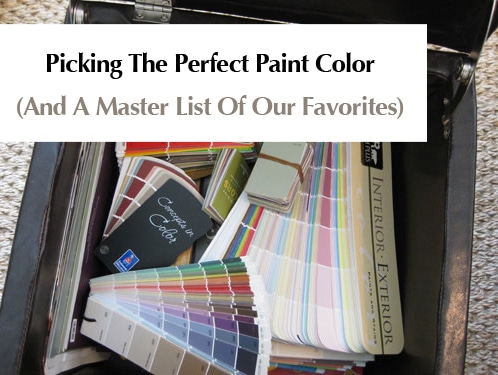 As you mentioned, paint colors can look very different under different lighting circumstances, but for the most part there are a bunch of practically error-proof tones that we find ourselves recommending again and again. Some of them are bright and fun (better suited for only one wall or even a punchy piece of furniture) while others are classic and serene- perfect for an entire room or even an entire home. Here's the swatch suggestion scoop:
White- Benjamin Moore Decorators White, Glidden Dove White, Behr Cascade White, Sherwin-Williams Alabaster.
Cream- Glidden Antique White, Sherwin-Williams Creamy, Benjamin Moore Muskoka Trail, Benjamin Moore French White, Benjamin Moore Natural White.
Red- Benjamin Moore Million Dollar Red, Glidden Red Delicious, Behr Firelight, Valspar Fabulous Red (great for a front door- might be too bright for inside).
Pink/Coral: Sherwin-Williams Comical Coral (shown below), Benjamin Moore Wild Aster, Sherwin-Williams Animated Coral, Behr Be Mine, Behr Silk Sheets, Behr Coquette.
Brown- Benjamin Moore Branchport Brown, Benjamin Moore Woodacres, Benjamin Moore Stampede, Sherwin-Williams Cobble Brown, Sherwin-Williams Van Dyke Brown (shown below), Behr Traditional.
Yellow- Benjamin Moore Hawthorne Yellow (it is the be-all end-all of yellow paint, which is notoriously hard to get right).
Green- Glidden Fennel (no longer available for swatches, but still in the computer so they can whip it up for you), Glidden Celery Sticks, Benjamin Moore Mosaic Glass, Benjamin Moore Hibiscus (great for a cheerful kid's room with white trim and brown furnishings), Benjamin Moore Soft Fern, Benjamin Moore Silken Pine, Benjamin Moore Sweet Pear, Benjamin Moore Dune Grass, Sherwin-Williams Lime Granita.
Purple- Glidden Silver Plum (no longer available for swatches, but still in the computer so they can whip it up for you), Glidden Delicious Plum (amazing eggplant color for a front door), Glidden Black Tulip (the deepest moodiest purple-black that's dripping with drama) Benjamin Moore Nosegay, Benjamin Moore Violet Pearl, Benjamin Moore Iced Lavender.
Blue- Glidden Gentle Tide (no longer available for swatches, but still in the computer so they can whip it up for you), Benjamin Moore Quiet Moments, Benjamin Moore Saratoga Springs, Restoration Hardware Silver Sage (it has green undertones but looks blue-gray in most rooms), Behr Pensive Sky, Behr Flint Smoke, Behr Grand Rapids.
Navy- Benjamin Moore Spellbound, Benjamin Moore French Barret, Benjamin Moore Hudson Bay, Sherwin Williams Grays Harbor, Sherwin-Williams Naval.
Black- Glidden Onyx Black, Benjamin Moore Graphite.
Tan- Glidden Sand White (no longer available for swatches, but still in the computer so they can whip it up for you), Glidden Water Chestnut, Glidden Cafe Latte, Benjamin Moore Baja Dunes, Benjamin Moore Davenport Tan, Behr Harvest Brown.
Orange- Benjamin Moore Beverly Hills, Benjamin Moore Lion Heart, Benjamin Moore Corn Husk, Sherwin-Williams Marquis Orange, Sherwin-Williams Mandarin (shown below).
Gray- Benjamin Moore North Hampton Putty, Benjamin Moore Light Pewter, Benjamin Moore Stonington Gray, Benjamin Moore Nantucket Fog, Glidden Silver Dust.
Beige- Benjamin Moore Clay Beige, Benjamin Moore Green Brier, Sherwin-Williams Ancient Marble.
Greige- Benjamin Moore Tapestry Beige, Behr Ocean Pearl.
Oh and a word of warning: you don't want one of each of these colors in your house! Here's how we learned that a tighter color scheme can make your home feel bigger, more open, and a lot more cohesive and welcoming. Of course it doesn't have to feel expected or monochromatic since you can bring in different accent colors with art and accessories in each space to make them feel unique and interesting!
And a second word of warning: Paint colors look different in every room (due to lighting and other ever-changing factors) so we just suggest grabbing a bunch of the swatches above and bringing them home to see which ones look best on your wall. We can't recommend a specific color for your specific situation with any great accuracy since we have no idea how it'll "read" in your home (your eyes will be much better than ours since we're not right there in your space). Just tape up a variety of swatches and pick the one that looks best to you (and get a few test pots of paint if you're still not sure)! That really is the best way to get it right every time.
What about you guys? Any words of warning or paint color advice? Do you have some favorite hues that have worked out wonderfully for your casa? Any that were terrible that you'd love to warn others about? Let's all help Meagan out by dishing the paint picking dirt.