Ok, so I naively thought this day would never come, but I have been busted. I mistakenly believed that I could get through my adult life without this being brought up 13 years later, but people are smart and the internet is wide. So after more than a few "Who me? I don't know what you're talking about, haha" comment denials, I'm coming clean. My name is Sherry $herdog, and I was on MTV when I was 17. And it was easily the most embarrassing compilation of moments that could ever be edited together.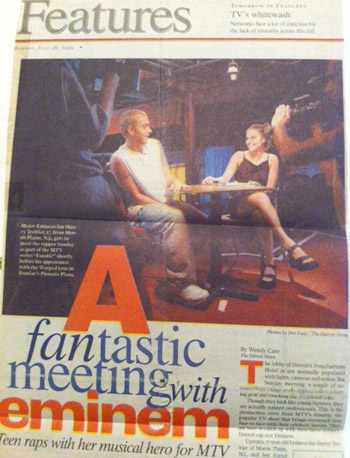 I'm an over-sharer, so some folks might wonder why I'd try to hide from this video. And to you I'd say: it's one thing to invite people into your home and share a video that accidentally features your bra laying out on a bedroom chair or an interview where you flail around nervously or admit that you walk around covered in dog fur and cream cheese smears, but it's a whole different ballgame to say "Let's take a time machine back to my most awkward moments as a seventeen year old girl being surprised while life-guarding and told she'll get to interview Eminem for a show called FANatic on MTV – oh look, I have the whole thing on video for you, let's all sit down and watch it together." Now excuse me while I giggle uncontrollably for ten minutes. I do that when I'm nervous.
Allow me to spill a few secrets: shows like this are a smidge set up. It's not to say that I wasn't completely Marshall Mathers obsessed (I was) but there are certain things you're highly encouraged to mention so that you come across as the most deserving fan. Things like "I aspire to be a rapper someday." I'll pause while you snort whatever you're drinking out of your nose. It's true that my best friend Mariam at high school talent shows (we once donned orange puffy vests and belly shirts and parodied the Eminem/Dre duet Forgot About Dre) but it's a Jersey thing. You had to be there to understand that it was not meant to be taken seriously. So no, I didn't actually hope I'd be touring the country as a famous female rapper when I grew up.
Of course the show sets up situations too, like us going to the old burger joint where Eminem used to work before the interview…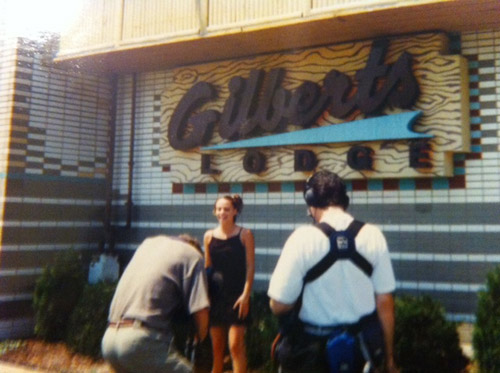 … but it was pretty cool as a teenager to see some random restaurant and think "he really worked here just a few years ago flipping burgers?" Fun fact: the people I'm serving at that table in the restaurant are the limo driver and one of the production people who carted us around.
Another fun fact is that I hardly knew the girl who surprised me at the pool and came with me on the entire adventure. See, MTV required that the "friend" of the person being featured was 18 or a parent would have to accompany the fan and the friend (which I'm guessing cramped the crew's style). So when I was going through the whole "you might be a finalist" phase of the process, they asked me about my friends and I gave a list of all my best 17 year old buddies and they sort of heavily suggested that I list someone over the age of 18. So the girl who worked at the front desk at the Marriott (where I was a lifeguard for years, represent) got listed – and she was the friend they picked to surprise me. And yes, it's still really cool to be in a limo when you're 17. Especially if you flash the peace sign with your sleeves rolled up.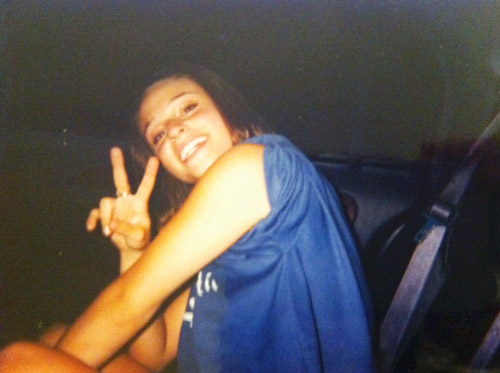 Here's where it gets extra embarrassing. At some point in the interview the word "phat" inexplicably slips out of my mouth. I never said that word before and have never said it since. I can only blame the loss of my whole damn mind at the thought of sitting next to a hip-hop star and somehow thinking $herdog could pull off a term like that. And I couldn't. It rung in my ears for the rest of the interview while I continued to grin like a crazy person and giggle nervously. Although a lot of this experience is what I like to call "retroactively embarrassing" (since at the time it was really cool and I felt really lucky to be chosen), the moment I realized I said "phat" on national television was the moment that I wanted to punch myself in the face.
Then they asked me to rap. Repeatedly. It's bad. Very very bad. Oh and about the pigtails, I wanted to wear a ponytail and an arm band (yes, an arm band) but the crew gently suggested the pigtails and no arm band. I'm thankful they nixed the arm band but still a little weirded out by the pigtails. So without further ado…
As for how I even got on the show, my friends dared me to send in a tape since I really was a hardcore fan and they thought I had a shot at being chosen. Meanwhile I believed I had zero chance, hence me doing all sorts of ridiculous things that I thought would never be on TV/YouTube (like sitting in a tub full of M&M's) because I truly believed with every fiber of my being that I would never make the cut.
MTV does a really cruel thing to make you think you weren't chosen (at least it felt cruel at the time) in order to get that completely surprised 'surprise shot' when they sneak up on you. They're in pretty constant contact with you for a while to collect things like "what you would ask if you were chosen" and "who you would bring as a friend if you were chosen" and then they say you're a semi-finalist but it's not a done deal, and then they cut off communication for a few weeks. Total radio silence. So you go from being hopeful that you might get picked to completely and utterly bummed out that you didn't make the cut after thinking "dude, I might actually get flown to Detroit to meet Eminem." Which is a pretty cool concept as a 17 year old.
This is of course when you forget about the footage of yourself in a tub of M&Ms and it sounds like it could be The Coolest Thing You've Ever Done and not The Most Embarrassing Thing Ever a decade or so later. But I have to admit that as a teenager it was an amazingly fun time. I got to fly somewhere with a camera crew and without my parents, they put us up in a cool hotel, and Marshall was actually a really nice genuine guy (now I'm going to get weird and tell you that he had the best looking hands I've ever seen in my life). And he did kiss my neck, which at the time made me believe we would soon be married and we'd go on to have three bouncing babies named Slim, Shady, and Stan (kidding). Dude, I took a picture of my neck after it happened. I'm that girl (can you believe I managed to bag a guy like John? I still can't).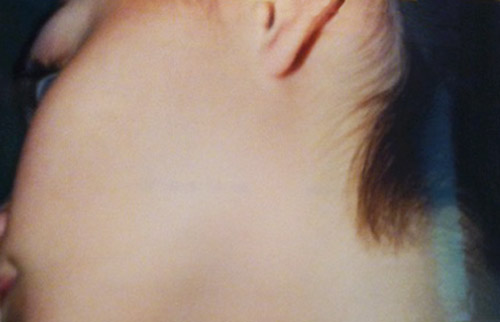 So I'm extremely grateful for the experience. It just felt like… let's not all watch it together on video and relive my teenage awkwardness together. But I guess now my "secret past" is out. In summary: it was pretty amazing (it made "the morning announcements" at my high school – haha), but the fact that the footage from a defunct show from over 13 years ago is now somehow on YouTube is something I never imagined. Oh well. The cat phat is out of the bag.
Now you tell me your most embarrassing secrets so we're even. Go.