As in, they take their sweet time. Yesterday was installation day 1, and it didn't quite go exactly as planned. But then again, nothing in home improvement ever does.
It can best be compared to Christmas morning as a child when you can hardly sleep the night before, anxiously awaiting the crack of dawn so you can rip into all of those carefully wrapped gifts from "Santa." John and I stayed up late and woke up early excitedly chattering about the long awaited installation. Remember, we've been completely kitchenless for close to two months (no cabinets, no counters, no sink, no nothing) so imagine our excitement at the prospect of seeing all of our cabinets out of their boxes and into their final resting places.
And the day started out well. It wasn't until about an hour into the installation when I got the terrible, horrible, no good, very bad news. One of our two corner base cabinets was reversed. In other words, they sent us two righties instead of a rightie and a leftie. Although KraftMaid has rushed to correct their mistake, it's still gonna be about 2 weeks (!) before the new cabinet arrives. Boo! The kitchen was on schedule to be done by the 19th, but now we'll be lucky to have a finished kitchen by early January.
And that's how the Grinch stole our Christmas kitchen.
In the meantime, our installer has decided to forge ahead with all the other cabinets. Here's what the kitchen looked like on Sunday night: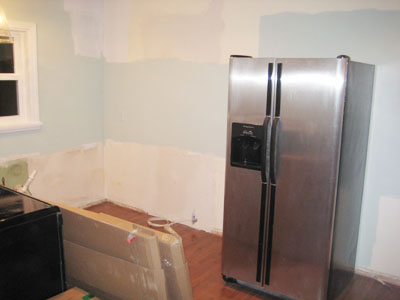 And what it looked like on Monday night: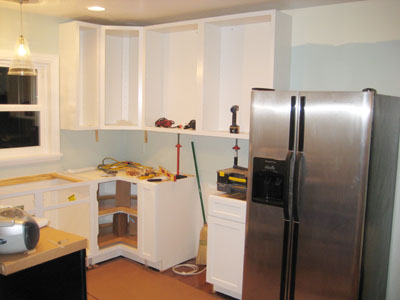 We can't believe the amazing amount of storage in our extra tall 42 inch upper cabinets. Burger (in his Christmas sweater) and I can practically live inside: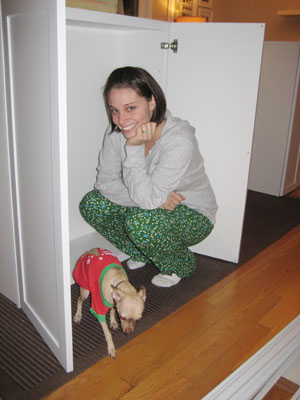 I guess the cabinet debacle is just another lesson that nothing ever comes easy… but when it's all said and done it's nothing short of miraculous. Even if our kitchen is fashionably late, at least we'll have the rest of our lives to enjoy it.