After our big kitchen reveal yesterday, it seems like the million dollar question still lingers: how much did it cost? (Hint: It wasn't millions… and it was WAY below the national average spent on a major kitchen remodel, which is $44,000 according to realtor.org)
After crunching some numbers last night we figured out exactly how much our wallets really bled during this project and (thankfully) how much we managed to save in the process. And we're talking start to finish- wider doors, new floors, electrical, lighting, appliances, etc, etc. This wasn't just your average cabinet and countertop update.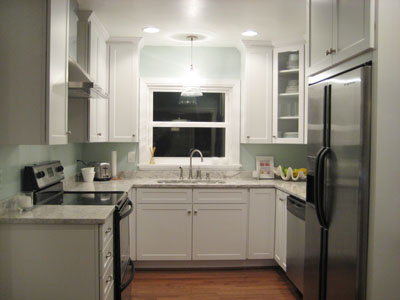 Here's the breakdown:
Demo & Construction: $1,400 (negotiated down from $2,400) A local contractor and mason removed old counters and cabinets, widened 2 doorways, and closed off 1 existing doorway.
Electrical: $900 (negotiated down from $2,100) A local electrician wired the microwave, dishwasher, disposal, and added 5 recessed lights and 1 pendant fixture over the sink.
Wood Flooring: $1,200 (on sale from $3,000) Oak floors from Lumber Liquidators were installed by a local contractor.
Appliances & Fixtures: $800 (originally priced at $1,500) We purchased a pendant light, cabinet hardware, a stainless steel hood and microwave, a garbage disposal, a wholesale sink and a faucet (and we got a free dishwasher along with a laundry appliance purchase). We reused our existing fridge and stove.
Kitchen Design: $0 We used Home Depot's free, in-house Certified Kitchen Designer (thanks Nancy!)
Cabinets: $9,500 (after $500 cash back promotion) We ordered KraftMaid Bel Air cabinets through Home Depot with reinforced drawer slides, Thermafoil protection, one glass-front cabinet door and a wooden two-tiered lazy susan base cabinet. This price includes installation.
Countertops: $3,700 (after $300 off promotion) We ordered Stonemark granite counters through Home Depot. This price includes installation.
***GRAND TOTAL: $17,500***
So thanks to purchasing a wholesale sink and faucet on eBay, buying drawer pulls in bulk, picking up deeply discounted wood flooring, taking advantage of a free kitchen designer, timing our purchases to score promotions, and negotiating with local contractors (and getting second- and third- estimates) we saved $5,500!
Savings aside, this was still a pretty hefty expense for us. But when we look at it as an investment in our home – both in its livability for us and its resale value – it's definitely money we can already tell was well spent.