Okay, y'all ready for another what-we've-been-doing-outside post? This particular rundown, as you may have guessed from my title (why yes I can pun in Spanish), is about some hosta business that we pulled off, thanks to a bunch of extra hostas growing randomly in our backyard (this backyard garden bed is a hot mess but we'll get to it someday!).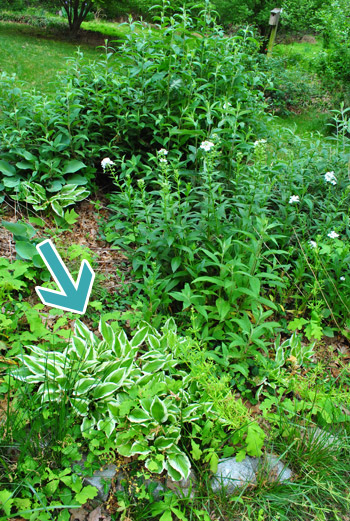 Since they weren't doing much for us back there, we dug 'em up – about five in total – and decided to put them to better use. For starters, they certainly could help our bedraggled mailbox (which became quite weedy this spring).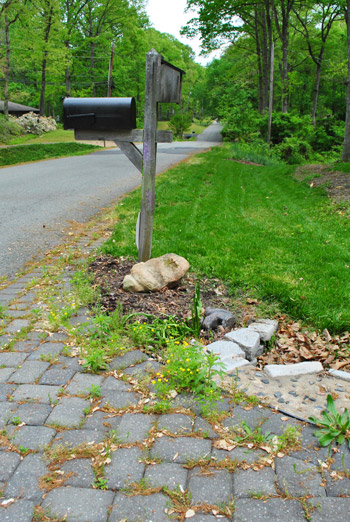 The mums that were there turned into dead sticks in the winter and, well, don't mind that big rock. We found it elsewhere in the front yard and somehow it ended up there temporarily. Perhaps to distract from the weediness? Sure. That's why. And look at poor Squirrel-y (see him tipped over behind that lone cowlick of a daffodil that's completely done flowering?). This is the "first impression" we're putting out to the neighbors. Ugh.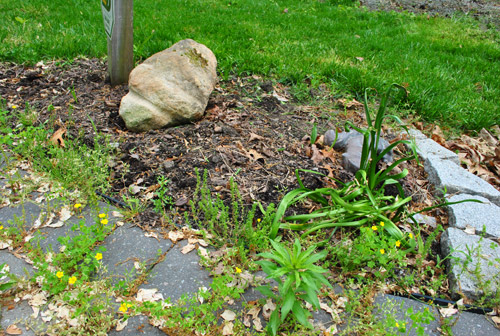 So we pulled all of the weeds out of the driveway (which was a surprisingly major improvement) and the iron squirrel temporarily took residence in the liriope.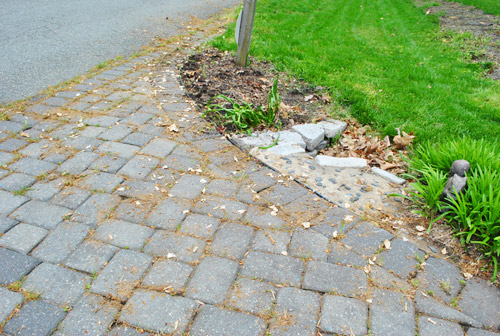 Now, the advice from Katherine The Landscape Gal had been to either make the planting bed around the mailbox larger or just let it fill in with grass/ground cover. Good advice. We didn't really have the energy to dig up a bigger plant bed at this point though, and we liked how the petunias looked there last year. But next year we'd definitely love to expand this bed so it's larger and more gracefully curved for a little more curb appeal magic.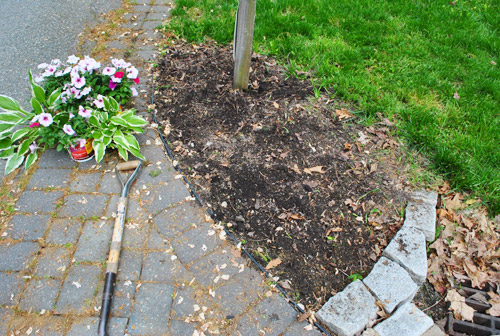 For the meantime, we got three pots of petunias at Home Depot and, paired with some of the hostas dug up from the backyard, we got to planting.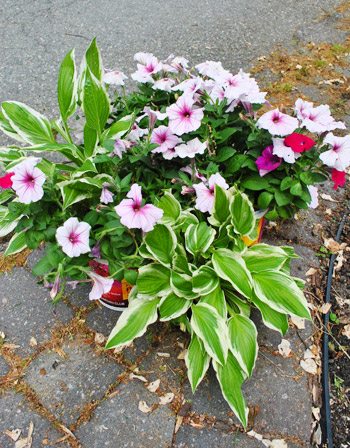 Here's our little arrangement. It looks a bit spaced out right now, but having learned how well flowers grow in that area we're pretty hopeful that it'll fill in nicely within a month or two.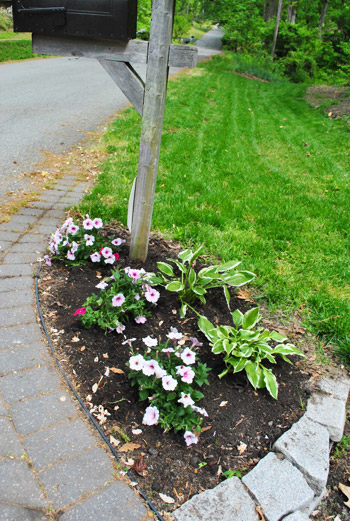 Oh yeah, and a little mulch never hurt. Here's where it's achingly obvious that Katherine was totally right- this little garden would look so much better if it was bigger. Someday…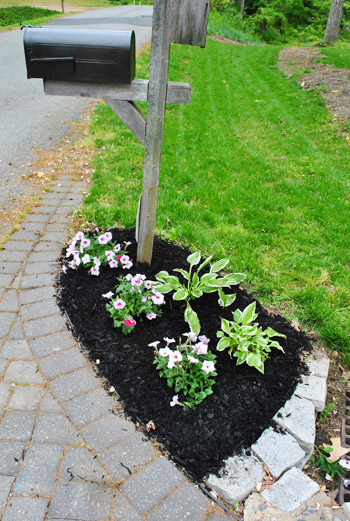 At least it looks better than this ridiculousness….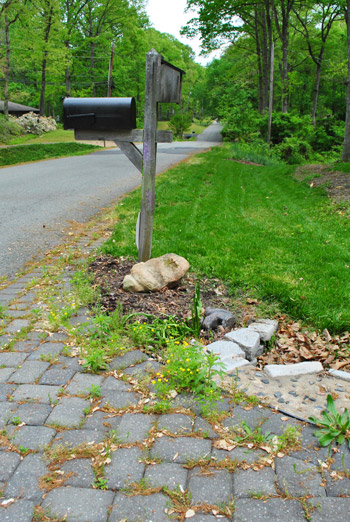 Since we still had a handful of hostas with no place to call home, we decided to use them in this still-blank spot of our front planting bed that we last detailed here.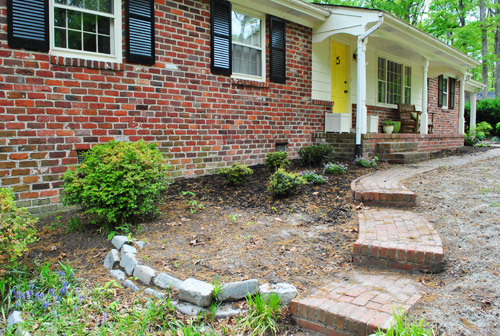 Ta-dah!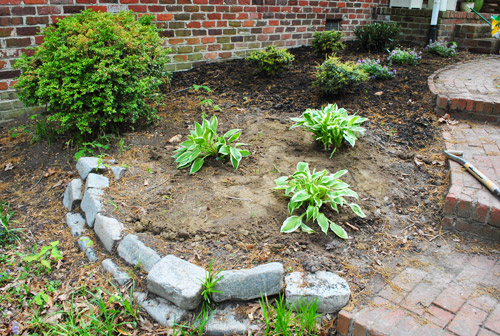 No, wait. Here's the real ta-dah (again, thanks to the power of mulch). Although, this gives you a good idea of how mulch fades after a few weeks in the sun (and pollen). Haha. So hopefully that dorky mulch-tan-line won't be there for long.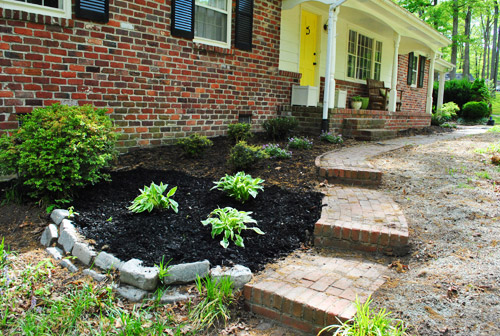 People always ask what kind of mulch we use, and we just grab the darkest brown wood mulch Home Depot sells (it's usually on a special like three bags for $7 or something). But once we establish these beds (hopefully by next spring) we'd love to get a mulch delivery since we hear they can be a lot less than buying by the bag as you go.
Oh and those hostas will get nice and giant so they won't look as dinky (they seem to keep growing well into the summer, and can get 20+ inches wide). The area is looking better now that we've extended our new plantings a bit more, but what will really help is something that's still in the works. Perhaps this rendering below will give you a hint…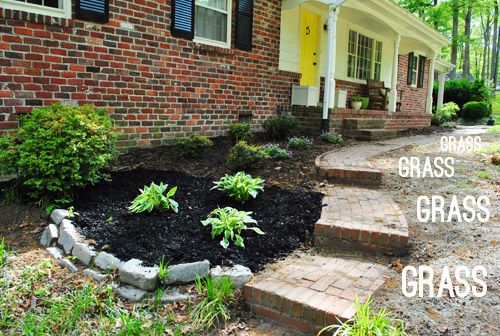 Maybe that was more than just a hint. It's actually already starting to come in, but I haven't had a chance to mow and take proper pictures yet. That'll be a topic for another day! Has anyone else used transplanted bushes or flowers to spruce up their landscape lately? Are you a fan of the hosta? They're one of our favorite shade plants (haven't killed one yet!). And they always seem to be popping up randomly around our yard (the same was true for our first house) so it gives us a little thrill that we don't have to pay $5- 7 for them at the store since they seem to just sprout up at whim.
And those dudes are pretty darn hard to kill. True story: we once found one in a pot within a large sealed tupperware bin in our basement growing without any light or water about two months after we put it there while we moved! We thought the pot had nothing in it but dirt when we popped it into the bin along with some other pots, and then in the spring it started to sprout right inside the tupperware. We laughed for about five minutes when we found it. It was a hosta miracle, I tell ya.
Psst- We really should update this master list of outside tasks (it feels like we're inching along out there, but we actually have a bunch we can cross off now).