If there's one thing that we can count on like clockwork, it's a flurry of curtain & blind related questions in our inbox each and every day: where should I put curtains? where can I find good curtains? how do I hang curtains? So we're here to answer a slew of them in one fell swoop. Hold onto your hats people, this could get crazy.
Q: What's your general philosophy on window treatments?
A: We believe that curtains and blinds can make for the biggest change in a room next to paint. They're hugely important for a major makeover, and can add height, drama, breezy ambiance, softness, and even a punch of color to any space- and we definitely encourage everyone to give them a spin! We're generally not big fans of valances, but we love the floor length curtain and blind combination and we always hang them "high and wide" as we say so often.
This means that we like hanging outside mounted bamboo blinds or roman shades a few inches below the ceiling to "cheat" a window up, and create the effect that it's much taller and grander than it really is. Then hanging a curtain rod at the same level as the blinds, but extending the rod about 18″ wider than the window on both sides creates the look of a much wider window and allows the curtain panels to hang in front of the wall instead of encroaching on the window and blocking lots of much-needed light. When in doubt, go high and wide- it'll make your ceilings feel taller, your room feel brighter, and your windows look HUGE!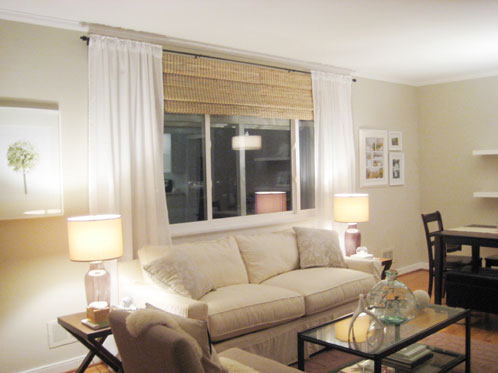 Q: What stores in general do you like for inexpensive curtains?
A: Ikea, Target, Walmart, West Elm, JC Penney, and Bed Bath & Beyond are all great places to turn to when you're hunting for curtains. Here are our ultimate favorites hanging on our living room window above (Ikea Vivan panels that are oh so cheap and classic- plus they come in two different lengths and have no-sew iron-on hem tape for easy installation that looks crisp and custom).
Q: I've noticed that you guys love pairing curtains with bamboo blinds so you can create the effect of a bigger window by mounting the blinds extra high and the curtains extra wide. My only problem is finding wide enough bamboo blinds for my windows. Where do you suggest I look?
A: Here's the secret: you can actually use two bamboo blinds hung next to each other to create the look of one for about a tenth of the price of a long custom blind! In fact, in our very own living room (pictured above) those are actually just two super cheap bamboo blinds snagged at Walmart and hung right next to each other (thanks to the textured bamboo material, no one's the wiser). Beyond checking your local Walmart for a bunch of cheap bamboo blinds in many sizes, you can also try Target, Bed Bath & Beyond and even JC Penney for similar options.
Q: I have a great room with 11′ ceilings, do you think I should hang curtains and blinds all the way up to the ceiling in there? I know you like to cheat your curtains up. Do you know of anyone who provides affordable curtains that are longer than 108″?
A: For your curtain sitch in the room with the 11′ ceilings (what an awesome problem to have!) we'd suggest just hanging the longer Vivan curtains from Ikea (118′ long) since they'll add a great amount of height and softness without needing to go all the way to the top of your 11′ walls (and they're deliciously cheap to boot).
Q: I have three windows along one wall of my living room with about a foot of wall in between each one. Should I do three small curtain rods to hang curtains in between and on the ends of them, or should I find one long 10′ curtain rod? Any ideas where I can find a 10′ rod?
A: Definitely go with one long rod. It will look seamless and less visually broken up… and it might even create the look of one big window instead of three smaller ones next to each other. We know that JC Penney sells curtain rods and extender pieces that can stretch those rods far beyond 12′ which should solve your problem on the double. For a visual, check out Blayne's living room makeover that we helped her with a few month's back. You can see how adding curtain panels where there are slivers of wall creates a breezy effect and makes smaller side-by-side windows look like one big wall of glass (and you can see how she cheated them about a foot and a half higher than the window and it looks great):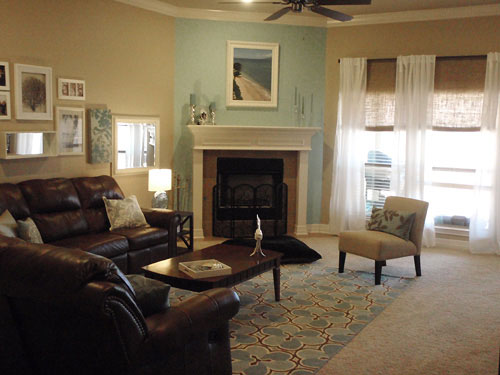 Q: What about a bay window? We have one in the kitchen and I can't figure out how to tackle it!

A: Just do what we suggested for one our lovely readers (great job Nichole!). She removed her old swagged valance…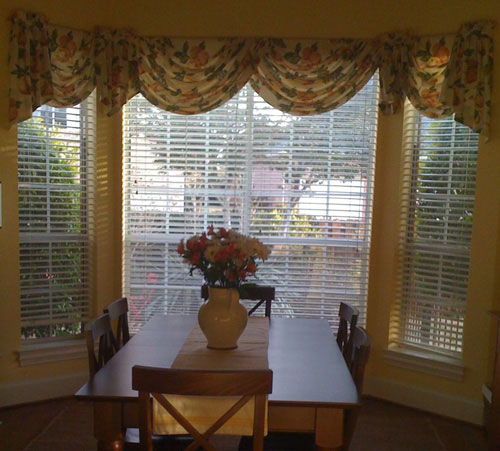 …and used a bay window curtain rod (available at Smith & Noble and JC Penney- or you can use three regular rods and remove the finials on the ends that meet to create the look of one seamless rod) to follow the contour of the bay window and hung some breezy curtains for softness along with inside mounted 2″ blinds for privacy.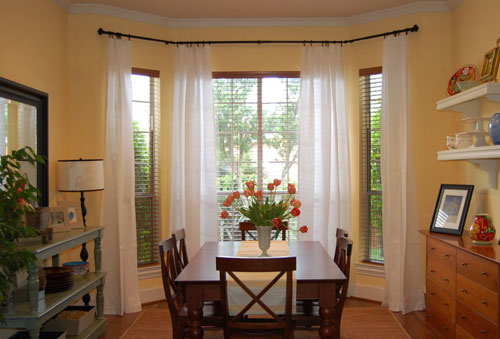 Isn't this window transformation astounding?! That's the power of curtains, people!
Q: Can you use your curtain and blind method to fix a window that's off center? I have one window that's not balanced in my office and I'd love to make it appear more symmetrical.
A: We'd totally vote for cheating the curtains over a bit for the appearance of a more balanced window. Once the panels are in place no one will know where the wall ends and the window begins! We actually cheated the heck out of our living room window and even the bedroom window with long floor length curtains (since they're both not centered) and it adds a lot more balance and symmetry to each room.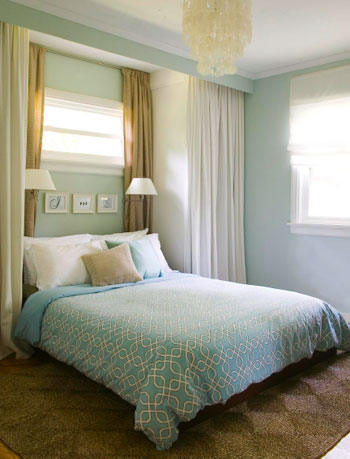 Q: I have some really nice inside mount white wood blinds already in our bedroom, do you think I can keep those and still hang curtains high and wide and not hang bamboo blinds or will it look crazy to have a rod riding so high above the window without blinds to hide the wall above the window?
A: We definitely think the curtain panels would still look lovely hung high and wide with white wood blinds, but instead of hanging them right at the ceiling height, you'll want to mount the rod about 6″ above the window so they're cheated a bit higher but they still have a visual relationship with the blinds below. Almost everyone cheats their curtains at least 6″ above their windows these days, just because hanging the rod right at the top of the window can look oddly invasive and heavy… it needs a little air to breathe! And the bonus height and drama that it brings is the icing on the cake. Since a picture's worth a thousand words, here's another room makeover that we whipped up a while back to show just how lovely inside mount white wood blinds can look with curtains hung about 6″ above the top of the window: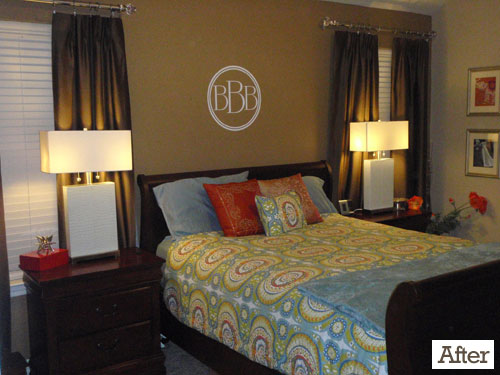 Q: Are your white Ikea curtains hard to keep clean? Any tips about what you do to launder yours? Do you think I'd be better off with tan or brown ones to hide stains?
A: With a dog and countless home improvement projects going on at all times, it's safe to say that white curtains can be just as easy to maintain as any other color (our living room ones even survived a nearby kitchen remodel). We like to wash our Ikea curtains before we hang them so they're pre-shrunk (in case we need to launder them to refresh them once a season, we don't have to worry that they'll shrink up and look like highwaters). Then it's just about tossing them in the wash a few times a year to keep them looking bright. A lot of moms even tell us that white is their favorite upholstery color since it can be bleached or oxycleaned and always looks crisp and fresh.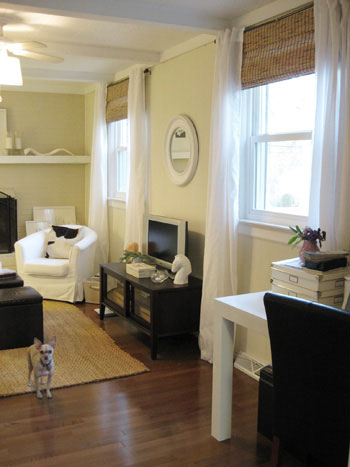 Q: What do you do for window coverings in bathrooms?
A: Both of our bathroom windows are blissfully bare. We're lucky that they each overlook the backyard (so privacy isn't an issue), but we like the look of shades, blinds, or even frosted window film or spray. There are lots of options for the bathroom, so as long as you don't go with floor length curtains you'll be a-ok. Sometimes the best idea is to peruse a shelter magazine or the internet for a bathroom you love and see how they addressed the windows and follow their lead. Inspiration is everywhere!
Q: What do you do about privacy with you blind/curtain combo?
A: We actually never lower the bamboo blinds or close the curtains for privacy (we have a good amount of space between the houses in our neighborhood and we hang out in the den at night, which isn't visible from the street (it's behind that front fireplace that you see in our header- so there's no front window to watch The John & Sherry Show from the street).
That being said, we do have those cheap-o white inside-mount roller shades in the bedrooms to block the light at night. The great thing is that they tuck right under our higher-mounted roman shades so no one's the wiser that they even exist when they're up. Anything from an interior mounted hidden roller shade to some pull-up 2″ blinds are perfect to use for privacy (since you can pull them up and "hide them" behind your bamboo blinds or roman shades when they're not in use).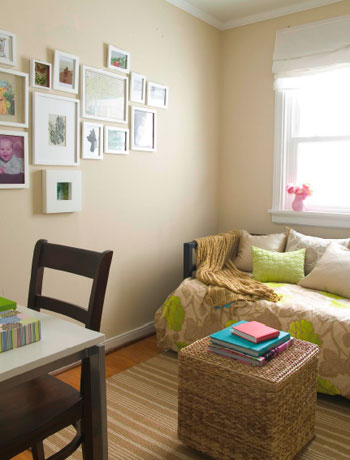 Q: I have lovely french doors in the den, each with a transom above. From the frame of the transom to the floor is exactly 96 inches. So what length curtains do I buy? Using the IKEA panels as an example, would you use the 98 inch length and just hang slightly above the transom with an inch or so to spare? Or would you get the 118 inch length and hang higher and just let the material pool at the bottom? (I'm not really into sewing).

A: Good news! The Ikea curtains are great because they come with iron-on hem tape (no sewing, just fold the curtains where you wish they'd stop and iron the hem tape onto the bottom for an instant no-sew hem). But even though they're easy to hem, it's even easier to just hang those 98″ panels above your transom (wash them before you hang 'em to pre-shrink them to make sure they don't look too short for your perfectly mounted rod!). It'll look great. And if you just wanted to mess around with the hem tape for fun, you could always get the 118″ curtains and hang them about 6″ above your transom for a bit more breathing room and height (and then just break out that iron, baby!).
Q: Generally what color rod do you guys suggest for panels… like a white rod with white panels and black with black or mix it up or brushed metal…or??
A: We usually like oil-rubbed bronze or black rods best for our home (they feel classic without drawing a lot of attention to themselves), but chrome rods can look amazing and become more of a modern touch in contemporary rooms (especially with grommeted curtains). White rods can definitely work in certain situations but we find that thin white metal rods can feel a bit too dainty (you want your rods to be understated but not to look too flimsy for the long floor-length curtains they're supporting). There are tons of gorgeous options out there though (our den ones, pictured below, are from Target), so it's really just a matter of personal preference!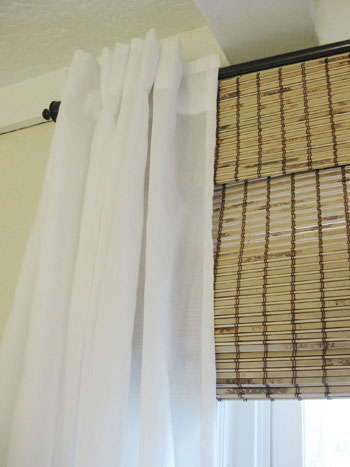 Q: We have a large window in our living room that I'd love to try your curtains/bamboo blinds combo, however, we have a sliding glass patio door on the same wall. Would it look weird to have curtains at different heights on the same wall? Would it be weird to use the roman blinds on the patio door? What do you think?
A: I'd use the blinds and the curtains on both the windows and the sliding glass door for instant cohesion and balance. I'd also go out of my way to hang curtains at the same level (cheat one set higher so they look more symmetrical and balanced). Voila: height, softness and elegance to spare.
Q: What would you guys suggest for windows that have vertical blinds that can't be removed (we rent)? Also, in a room that has contemporary black furniture, would you suggest white panels or black panels on those windows? Do you match your curtains to the main color of the room decor? Thanks so much!
A: When it comes to your curtain debacle, I'd generally steer clear of solid black curtain panels (since they can seem pretty heavy and dark) but something with a pattern that includes some black to tie them into your furnishings would be great (we love these from Ikea with white, black and green stripes). You can also choose to tie your curtains in with the wall color for an expansive and layered look or even with the upholstery on your sofa (say it's tan, a cream curtain would complement that beautifully without feeling matchy-matchy). And when it comes to you vertical blinds, drawing them to one side and hiding them behind your curtain panels will make them virtually invisible (but they can still be used by pulling them back out when you need them). Similarly, horizontal blinds can be pulled all the way up and obscured behind bamboo blinds or roman shades when they're not in use. Oh happy day.
Q: I know you guys are crazy about using white curtains for that light and airy look, but can bright saturated curtains work too?
A: They sure can. Check out this kitchen makeover that we helped Carla out with a few weeks back. This is her space before our accessory intervention…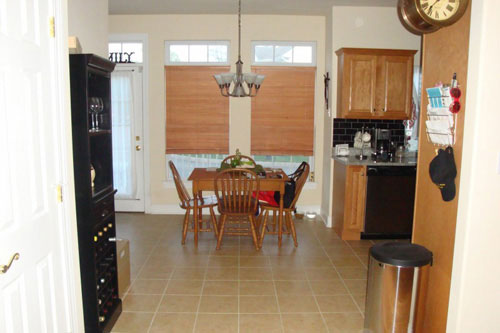 And this is the same space after some paint and a few new accessories (including the vibrant green curtains that really make the space).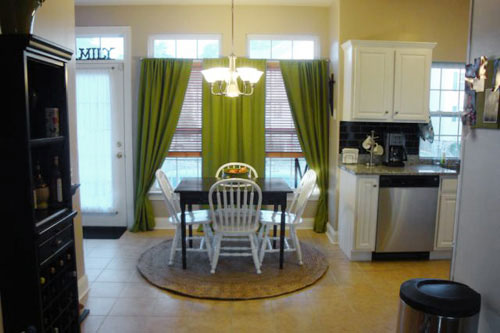 Q: What about big glass sliding doors. I'm at a loss for how to use curtains or blinds to spruce them up.
A: Beth actually took our white-curtains-with-bamboo-blinds suggestion to heart when it came to her sliders, and here's the amazing transformation. This is her valanced sliding door before…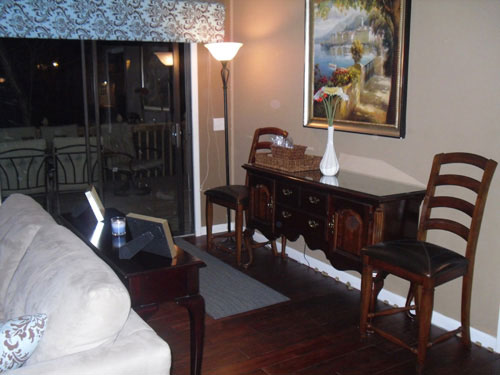 … and her light and airy after: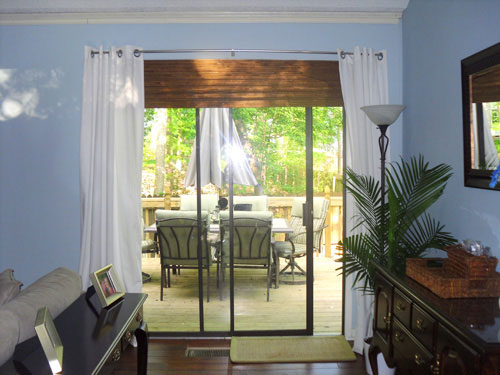 The best part is that if you still want privacy (or are a renter) you can keep your vertical blinds pulled to the side and tucked behind one of the curtain panels to hide them when they're not in use.
So there you have it. About a million curtain related queries and some lovely eye candy to demonstrate the power of curtains and blinds. Happy hanging everyone. And for more curtain related tips, tutorials and photos, check out our living room's curtain & blind combination, and our den's not-naked-anymore windows.
Update – Wanna know where we got something in our house or what paint colors we used? Just click on this button: