We're back with pics of our hallway that we "wallpapered with frames" for lack of a better description. We think it created some pretty quick dimension and interest that's sure to be fun for the whole family. Literally. We love that we can work in drawings by Clara, class pictures, and photos of favorite vacations for the whole family to enjoy.
As for how we did it, you saw how I cut out little newspaper templates for all of the frames that we already owned (we actually had a lot of them from various arrangements in our first house, seen here, and even had a few unused ones snagged on sale a while back that were begging for some action). So we just taped up all of our pre-cut templates with a few of the larger ones staggered in the middle (to ground things) and built things out from there, placing most of the smaller frames around the perimeter for some subtle balance. We shifted things around a little, stepped back, went back in and moved stuff around, and stepped back to look at everything again. This happened about ten times with smaller and smaller tweaks until we decided we liked it. But we still wanted to sleep on it and study it one more time the next morning before breaking out the hammer (hence this post about that first phase of the project).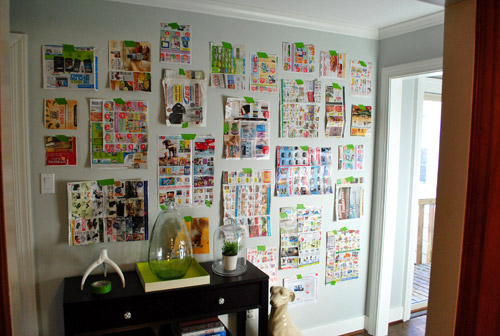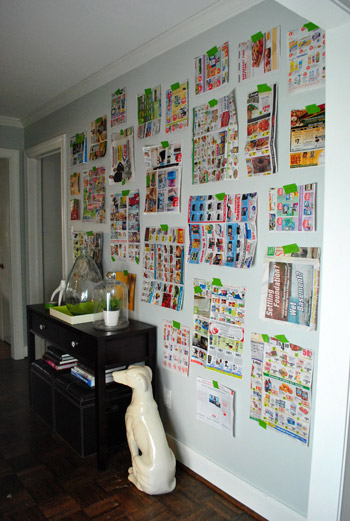 Yesterday we mentioned that The Washington Post scooped us by sharing this shot of our frame-riddled hallway here: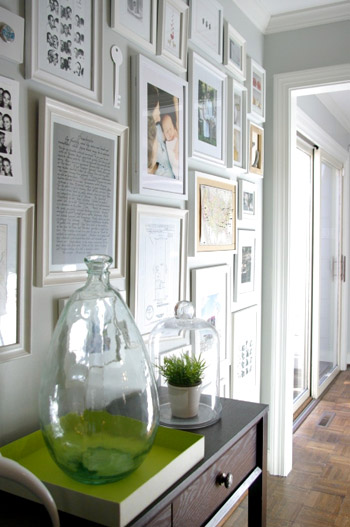 We try to stay as real-time as possible, but we also like to take a ton of after pics and write a big wordy post for ya, so it can take a few days from project completion to post publishing. If only we had a live camera feed going 24/7. Just kidding, my nightmare is to get caught picking a wedgie on camera. It's why I never auditioned for the Real World (side tangent: John actually sent in an audition tape once when he was 19).
Anyway, so when we woke up the next day and agreed that we still liked the proposed frame placement, it was time to lay out all of our frames on the floor of the dining room in the same arrangement, just to check if some of the actual frames conflicted (since all we were looking at on the wall were their outlines and not their actual styles). Of course we ignored the art since most of it would be switched out anyway.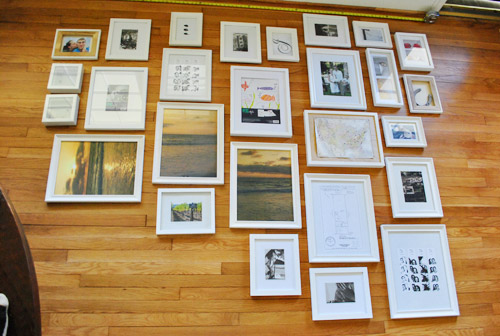 The frames all looked just fine together, so we decided to bite the bullet and grab the hammer. It was hangin' time (here's where a lot of MC Hammer was sung). Since our newspaper templates were still up on the wall, it was actually really easy to hang stuff. We just measured how far down from the edge of the frame that our wire, hook, or other hanging device was and just marked a centered "x" right on each template (the horizontal line is the measured center of the template, and the x below it is the spot where the nail should actually go to catch the wire or hook so the frame hangs in the right place).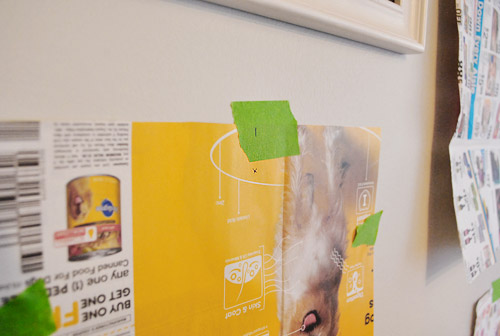 Then we just hammered directly into the "x" in the template…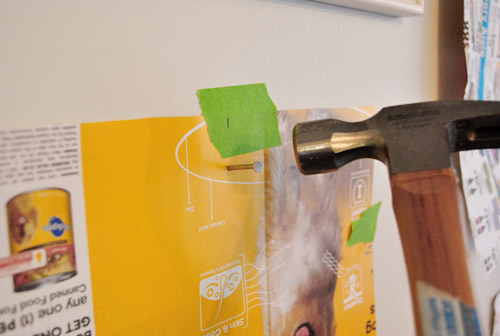 … and pulled the template off the wall to reveal a lone nail waiting for a frame (even though it looks like a jacked up hole, that's just a tiny bit of paper caught above the nail that we easily removed with a finger flick).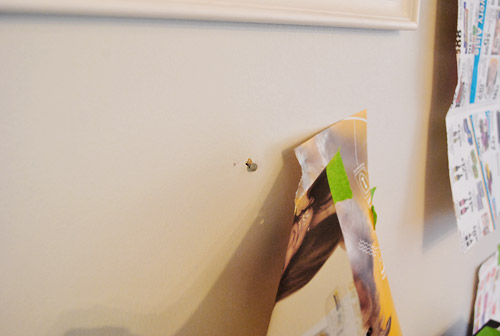 We slowly worked our way around the wall using this method. It probably took an hour or so.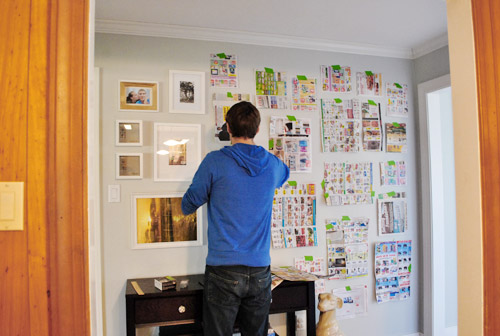 Sadly our old plaster walls don't work with 3M Command hooks or velcro alone (since that's always an easy way to create a frame collage without making any holes) but we do plan to add heavy duty Command velcro to the lower frames that may be within Clara's reach when she starts toddling around. She's a pretty docile girl who definitely seems to listen when we ask her to be gentle (when petting Burger for example) so our plan is to sweetly request that she be nice to the frames and "look with her eyes" and we might even try the "you can only touch them with one finger" technique that an awesome varsity mom shared with us a few days ago (she said it actually works!). But of course if we think those few low frames ever start to pose a safety hazard, or even just become too high maintenance for the way we live, we'll definitely just get rid of them until the bean is a little older. Clara first!
But back to our process. After following our templates and hanging every frame we stepped back for a little look-see and frowned. Somehow they seemed a little tighter in the top right corner (which we actually really liked) and a bit too loosey goosey everywhere else…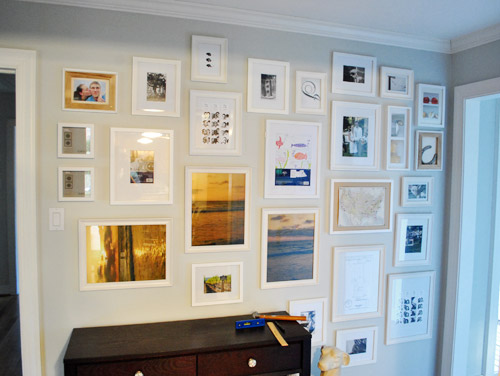 … so we adjusted some of the frames on the left and added in a few little "filler" items to get the same full look that we had on the top right corner going on everywhere else.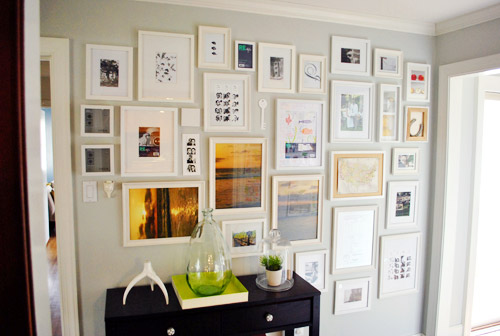 So yes, there are probably ten extra holes in the walls hiding behind those frames from fine tuning them an inch one way or the other. Our bad. But they're all out of sight so we're at peace with it. They can just be our little secret. Oops, I just told The Interweb.
Once everything was hung we scavenger hunted the house to find things to display (since many of the existing items in the frames were horizontal images that were now hanging vertically or the frames were completely empty to begin with since we hadn't used a few of them yet). Which puts the cost of the entire frame wall plus all of the "art" that you see (since that was also already owned) at 100% f-r-e-e. Except for this cool $16 frame from Target that we splurged on because we adored it's "special capabilities" to store and easily showcase lots of kid art. We love that we don't have to take it off the walls to change things out. Come on Clara, don't you feel like drawing mommy a picture or two?
So this is our current arrangement with all of the just-for-now stuff that we found around the house. First here's the view from the kitchen (which is why we placed the console table there, so it looks centered through the doorway: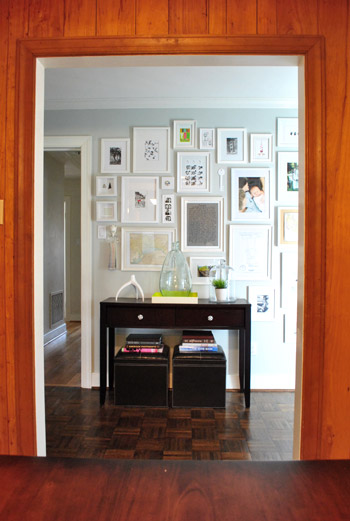 And here are a bunch of other angles: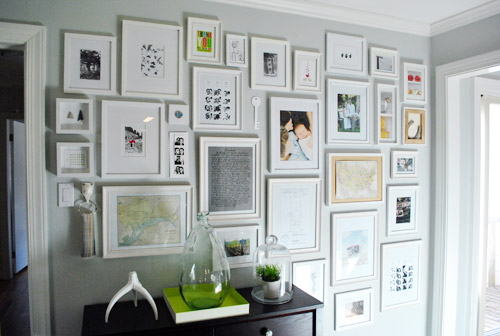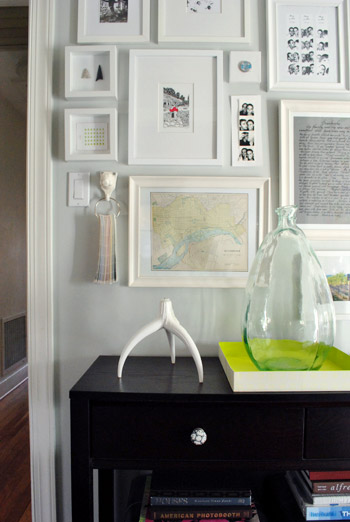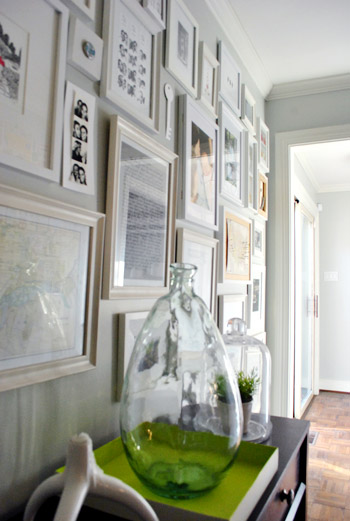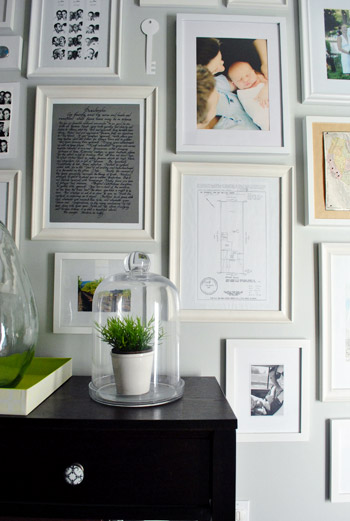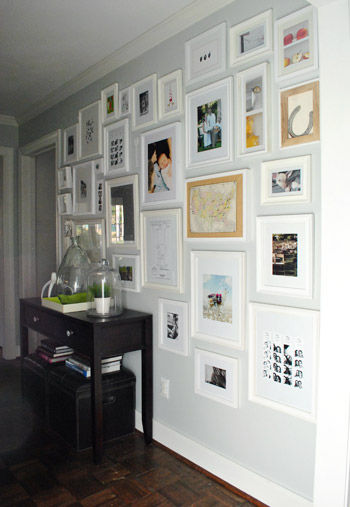 From an old Banana Republic ad with a llama (or is it an alpaca?) carrying sweaters…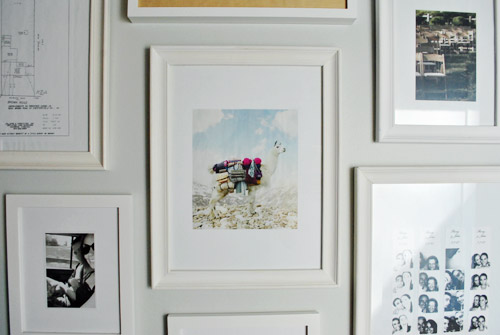 … to a vintage milk cap that we found at our first house glued to a small square canvas…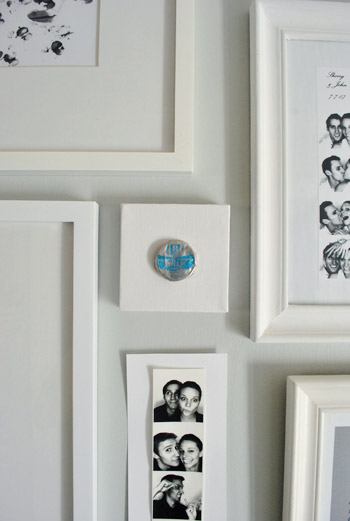 ….and a white paper key that I cut out of card stock (which I hope to replace with a DIYed ceramic-looking one)…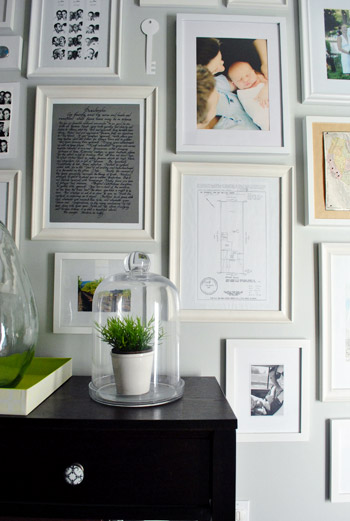 … it's definitely a smorgasbord. And there are probably way too many photostrips, but they'll do for now.
We're actually planning a post later with more detailed shots of various items and directions for making your own stuff, like an arrowhead shadowbox for example. Or a long skinny wooden pinboard (still have to make that, for now we have a placeholder piece of card stock with a photostrip taped to it). We also thought it would be fun to take a picture of the wall every few months just to see what comes and goes (new Clara art? updated family pics?) and what always stays (the sketch of our first house's lot? a favorite photobooth strip of the whole fam?).
We anticipate that at least 25% of the wall will be changing pretty regularly as new things steal our hearts – like a particularly good (or bad) fortune cookie fortune and Will Bower's first birthday invitation. You know, the important stuff. We definitely feel like this gallery will be the most personal, eclectic, and fun display spot in the house. So while I've already asked for some awesome art prints for my birthday (which is this Saturday- woot!) we also want to frame everyday objects that hold meaning to us. From Clara scribbles to little love notes and even particularly funny greeting cards with chihuahuas on the front.
In short: We are so in love with the whole hallway frame gallery. It took a spot that was just a way to get from A to B and made it feel like a bonafide destination. We both keep finding ourselves being drawn to that wall like magnets, just standing there gazing at all the frames. Even Clara loves to stare at it. Ah gallery wall. How can you make us so happy? We're nerds.
And surprise. We're so enamored that we're planning to "wallpaper" the other two walls on the other side of the hallway with frames too.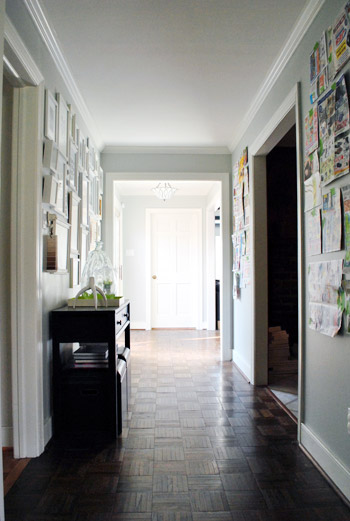 Here's the pile that we grabbed from Ikea (feast your eyes on that pretty shattered fireplace tile).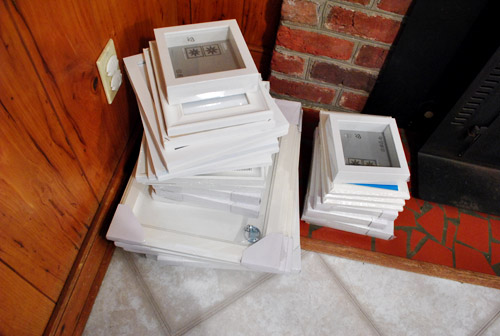 Should be good times.
Psst- We announced this week's giveaway winners. Click here to see if you're one of them.