Meet Stacie. She lives downtown in a gorgeous home that we actually got to help her decorate. And goody goody gumdrops, the time has finally come to officially House Crash her. Fasten your seatbelts, people. This is going to be fun.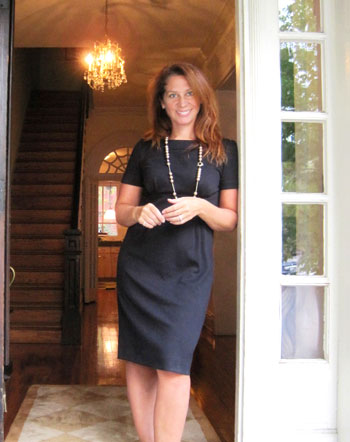 But perhaps we should mention that you've already met her bedroom. Remember, it used to look like this?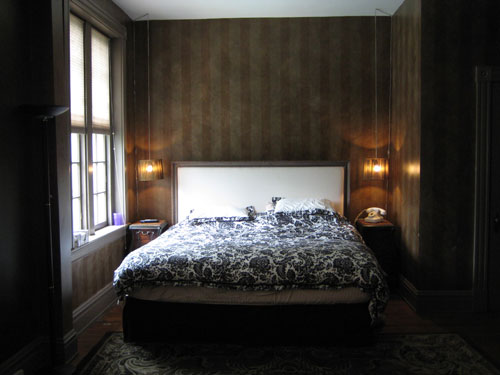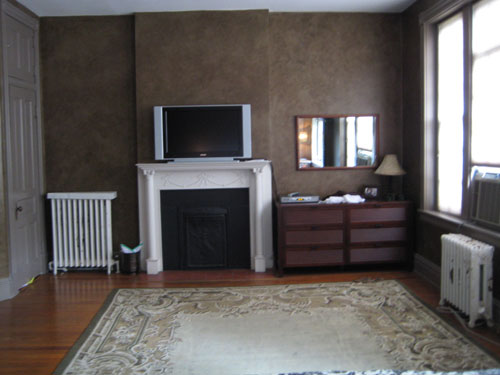 And then we whipped up one of our first mood boards ever for her… which helped her transform it into this: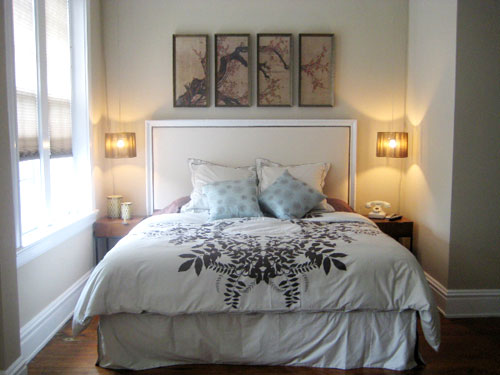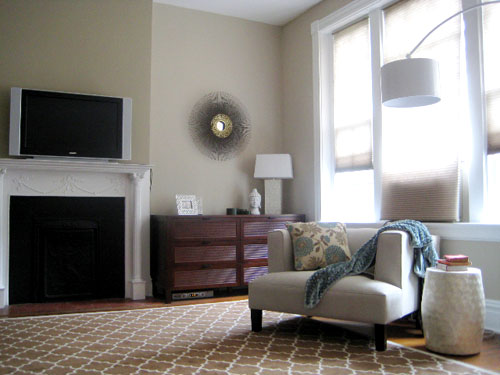 But what about the rest of her home? Clearly this chick has some serious style right? Well here's the hallway that leads from the foyer to her sleek and modern kitchen (just look at that amazing transom window):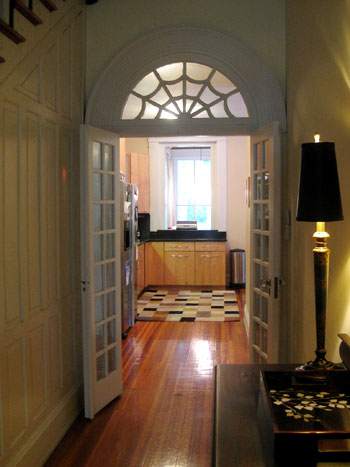 She actually opted for Ikea cabinets and has never regretted her decision for a moment. She loved the customization they afforded her, and speaking of afforded, you can't beat the price.
And here's her front room all dramatic and brooding with sophisticated deep chocolate walls (try Benjamin Moore's North Creek Brown 1001 for a similar look) along with some plush velvet seating and a wooly textured rug. And even though the room looks like even the accessories were a pretty penny, the starburst mirror above the fireplace is actually one of our favorite finds from ZGallerie and the lamps on either side of the sofa hail from Target!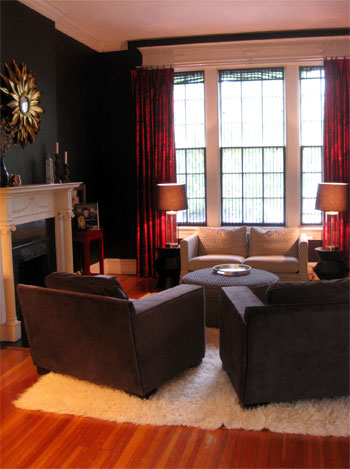 Stacie also has an amazing little sitting room/office with a big West Elm daybed (the same one we have in our sunroom actually) where her kids like to relax and hang out while she works at this cute little desk (also West Elm). And how great is that CB2 pear print above the fireplace and that modern light fixture overhead? Sigh.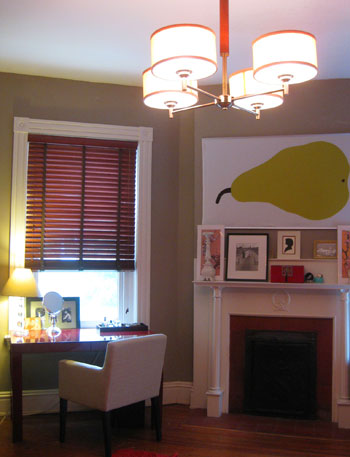 But the piece de resistance is the newly renovated dining room that we actually got to help Stacie revamp for a big party that she was throwing last week (which was fabulous by the way). Here's how the room started out (as in, here's the big before):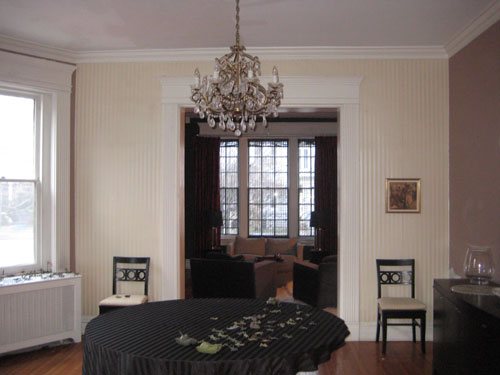 And here are the lovely afters. The inspiration for the entire room was the amazing metallic wallpaper that Stacie fell in love with here, so she hung it on two parallel walls to bookend the room. Magnificent isn't even a strong enough word for how amazing the space now looks all papered to perfection.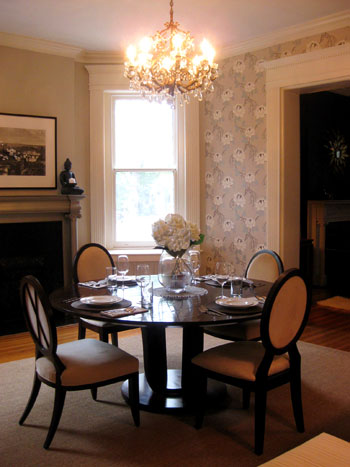 We dropped by after the paper was hung, and even without anything else in the room we could tell this would be one stunner of a space by the time Stacie was through with it. And we even brought our paint swatches along and suggested an amorphous greige paint color for the rest of the room, which you can see looks different in every photo (Benjamin Moore's Smokey Taupe 983). It has enough tan in it to feel warm and enveloping, but the soft gray undertones really play up the metallics in the wallpaper. And of course everything looks amazing with that regal oversized crown molding and those super high ceilings and mega wide doorways.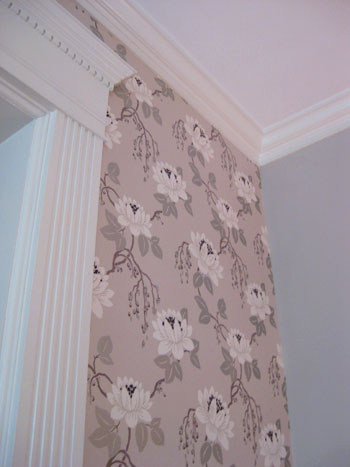 And those lamps on the buffet? Marshall's! The mirrors above the console? Crate & Barrel! Isn't it amazing how Stacie can mix an original crystal chandelier with such gorgeous budget finds without cheapening the room?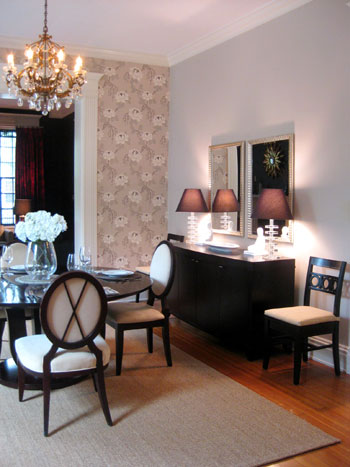 But the fireplace was a spot that had Stacie stuck…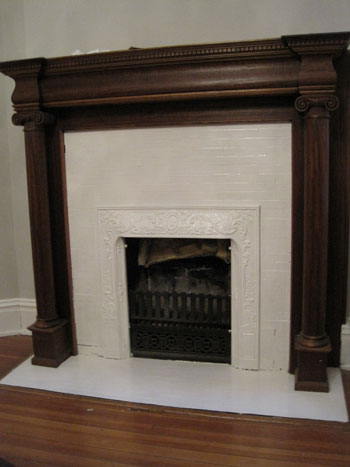 She was hesitant about painting the wood surround, but it just didn't jive with her "cloud-like" vision for the space. We discussed staining it a weathered gray-blue tone or even painting it white or gray for more of that ethereal and light effect that she so desired, but it wasn't until Ralph Lauren's Metallic paint collection was mentioned that Stacie really got that gleam in her eye. The verdict? Pewter paint that might have been a bit too much in some spaces, but in Stacie's airy and luxe room it's juuuuust right (it's Ralph Lauren's Regent Metallic Series in Ambassador Sterling). And to maintain some of that high contrast drama that Stacie loves, she opted to paint the surround a moody black which really sets off the pewter mantel perfectly: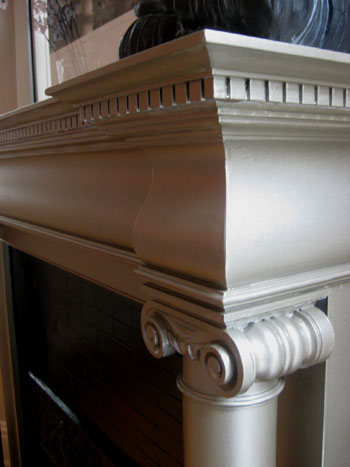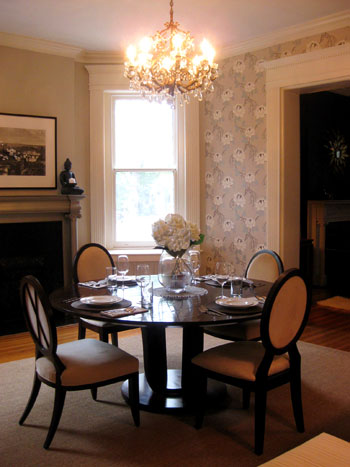 So that's the tour of Stacie's lovely abode full of discounted finds that look like a million bucks. Gotta love someone who can achieve so much drama and glam without going for broke! So what do you guys think? Did you like slipping through Stacie's house for our latest House Crashing adventure. What's your favorite part? We're torn between that amazing wallpaper and her lighter and brighter bedroom (which still looks fabulous over a year after the big makeover). Sigh.
UPDATE: We dropped by Stacie's house again to take more photos of her latest makeover. Check those out right here.