We're running about a day behind since we didn't have internet at home until late yesterday, but here's how things looked on Tuesday (our first full day in the house) with all of our boxes littering every room. Goodbye clean blank slate. Hello chaos. Oh and it bears mentioning that nothing is necessarily staying where we put it (we just dropped furniture and boxes around the house, and will definitely be living with things a bit before committing to final placement for anything).
But let's rewind a bit for a moment. The last time we moved, we were going from NYC to Richmond in a minivan (well, I guess technically we moved one more time three months later from our apartment to our first house, but we borrowed a small trailer from a friend and were able to transfer everything that way). The point? We had no idea what it was like to move with more than five boxes a piece. And I'm not gonna be all rainbows and unicorns about it. It totally bites. But we're slowly but surely making a dent in things and starting to gain some order. As in, we now know where our socks and underwear are again. And we've showered!
We estimate that by tomorrow we should hopefully be mostly unpacked (since we've been taking post-writing, picture-taking, Clara-tending, address-changing, and comment-answering breaks between box unloading spurts). Then we'll be diving into projects like painting, hanging, removing, replacing, floor planning, window treating, etc. We don't know what we'll tackle first (it'll honestly just depend on our mood and what supplies we have on hand). When it comes to big projects we like to save our pennies and plan things to death, but for small things (which we always recommend doing first so you can live with the house a moment before making any dramatic changes that you might regret) we always just dive in and learn as we go. It's the only way we've been able to accomplish things instead of being paralyzed by indecision. So we'll hang frames somewhere and if we don't like them we'll move them. Same deal for picking paint colors and arranging furniture. And we'll post pics and details as they occur, not to worry! Anyway, on with the messy just-moved-in pics…
Future dining room: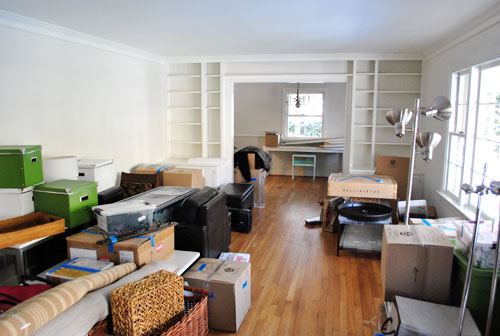 Future office: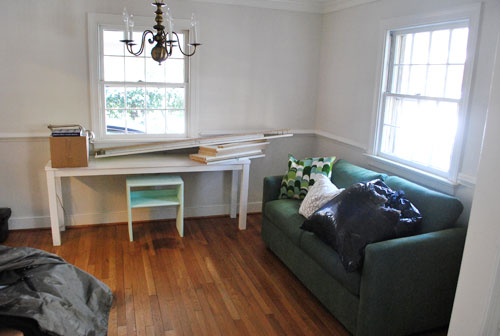 Kitchen: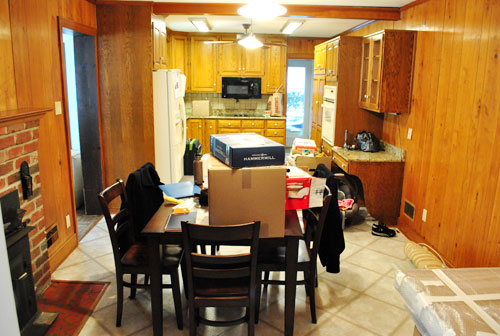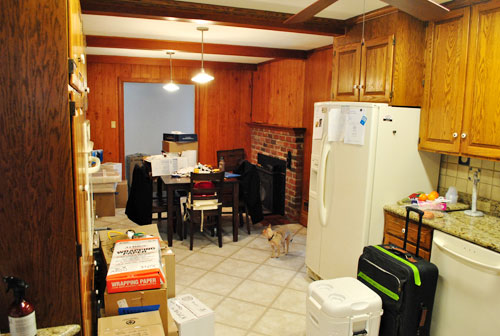 Future living room (furniture won't necessarily stay in this configuration, it's just where we dropped it for the moment):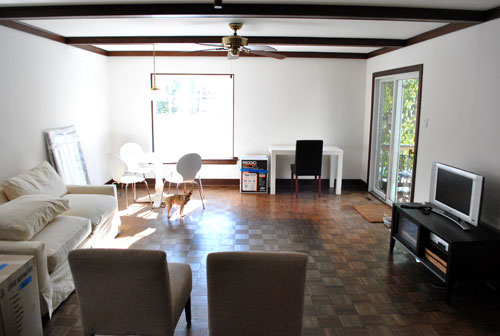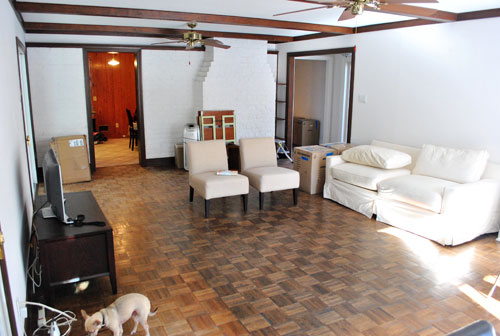 Hall bath (amidst a diaper sprayer installation – more on that here):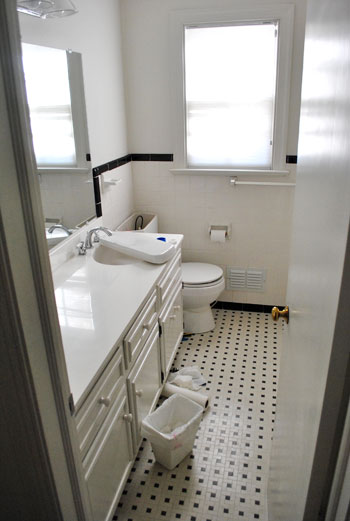 Clara's room (of course rebuilding the crib and getting the basics in there got priority because we wanted her to adjust as well as possible- which seemed to work so far):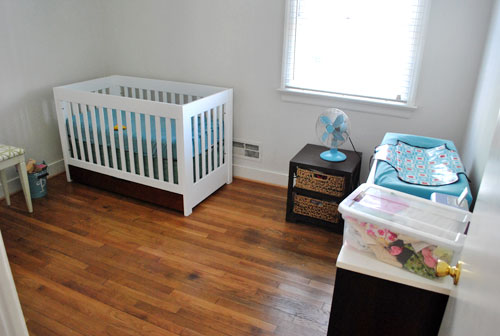 Future playroom/kids room (we had to disassemble the daybed to get it down the hall):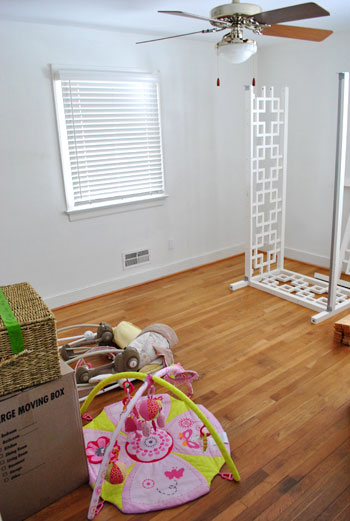 The master bedroom (since our old bed frame conveyed with the old house, we're sleeping on the floor until we build/buy a new one- who knows where we'll end up on that):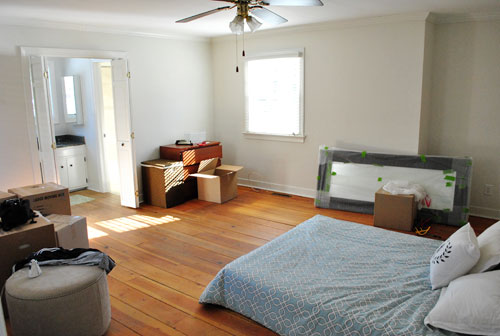 The master sink/bath (we need to raise that tension rod to accommodate our extra long curtain… soon):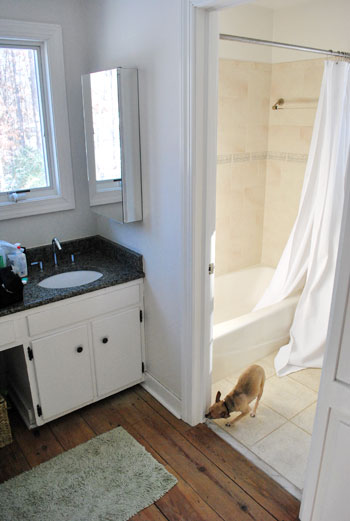 No idea what Burger was doing in that picture. Maybe he's developing an interest in home related details like hardwood floors and molding. Anyway, here's the sunroom: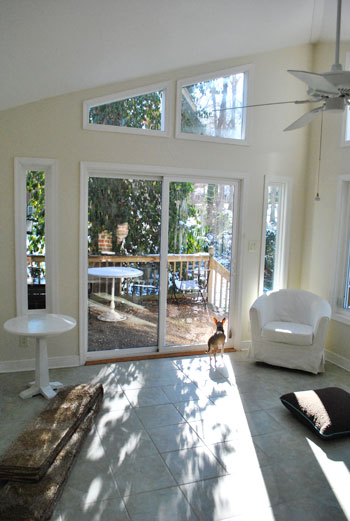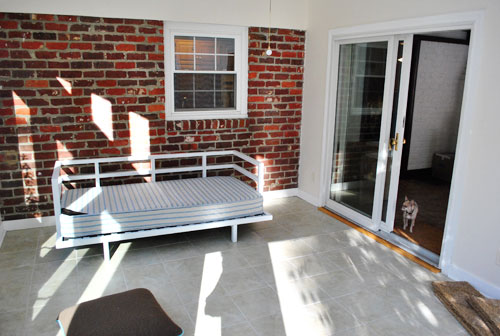 And the laundry/mudroom: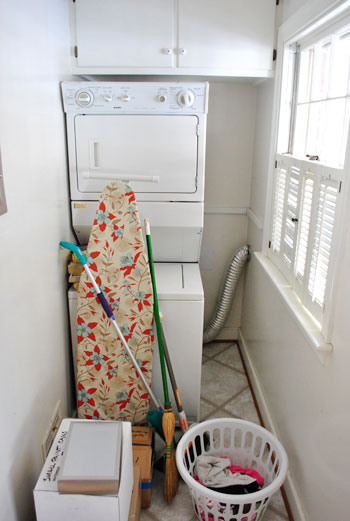 Oh yeah and we have another separate entry basement (this time it's under our bedroom instead of our sunroom) which will be awesome for storing tools, bikes, the lawnmower, seasonal decor, baby stuff, maternity clothes, etc.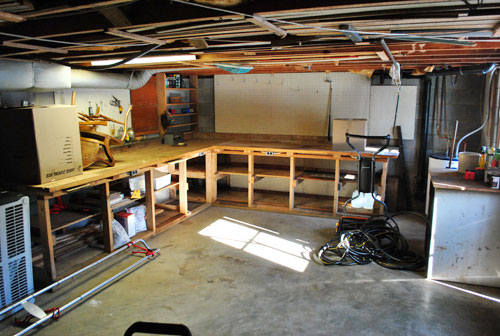 So that's our house. Can't wait to get things unpacked and share pics as each room starts to take shape and projects start to unfold. Off to unpack more boxes…
Psst- Here's a floor plan to help you make sense of what room's what (although we switched Clara's bedroom and the playroom since the smallest room makes a great nursery).
Psssst #2- We announced the winners of this week's giveaway. Click here to see if it's you.