Chairs are definitely one of those high/low things for us. In the low category we have our $30 thrift store egg chair…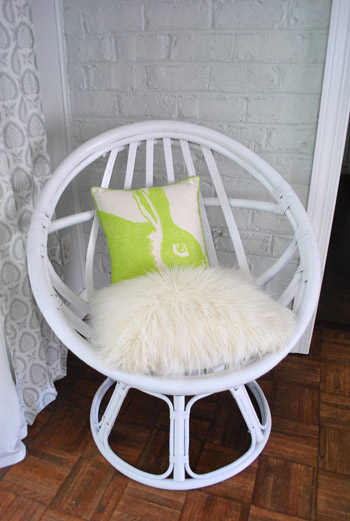 … our $32 stools from a school supply website…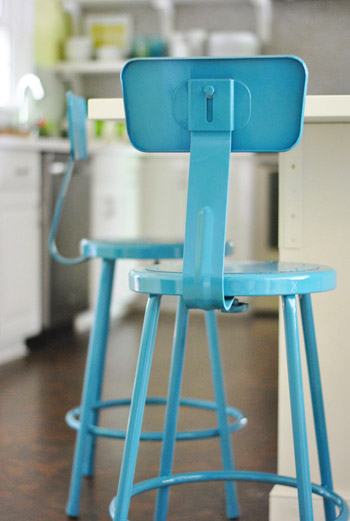 … and our $35 secondhand office chairs just to name a few.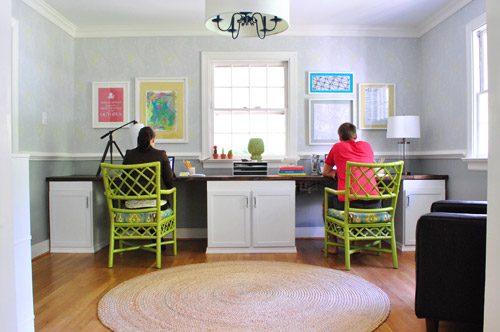 And then in the "high" category (although I guess that's all relative since some folks might spend more) we've also invested in a few of the chairs. Like the $230 leather chair from Target that we have in our office (which used to live in the master bedroom of our first house)…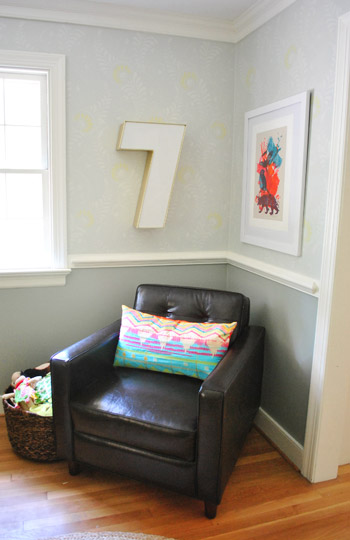 … the $199 armchair in the corner of our bedroom from Joss & Main…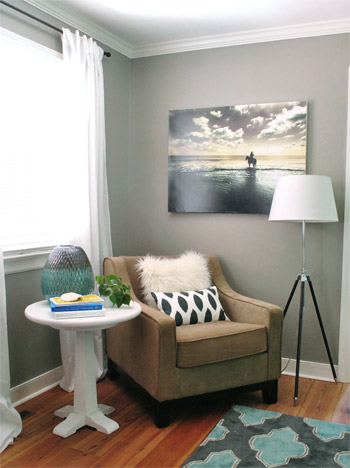 … the two $118 Dolce lounge slipper chairs from Target that used to live in our first house's living room and den (and now hang in our guest room)…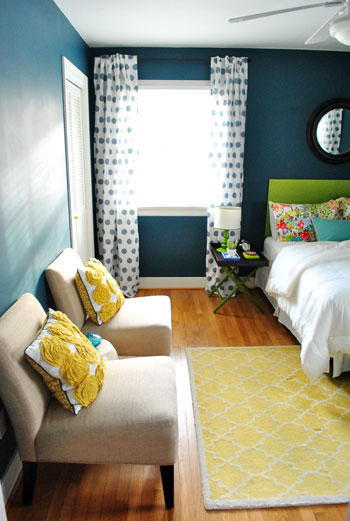 … and our new kitchen chair!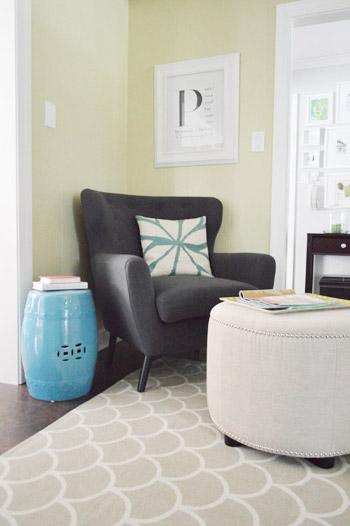 Surprise! We couldn't resist free shipping and a price of $298 (originally $498) through Joss & Main, and we thought it would work well in that corner of the kitchen, which used to sport a too short, white Ikea chair (which we actually found at a thrift store). Why did that corner sport that little white chair? Why, for a great well-thought-out reason of course. Just kidding, it was because we shoved it there "just for now" after we moved and there it has sat for the past year and a half. It's a great little chair, just not for that spot. But more on that in a sec.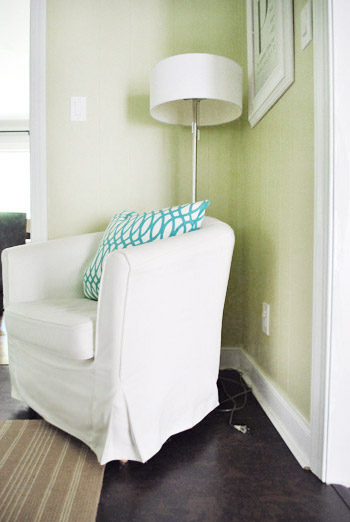 It's hard to make out all of the details in those far shots, but the new guy has great clean lines, a bit more of a tailored look, and some nice modern tufting on the back of the cushion.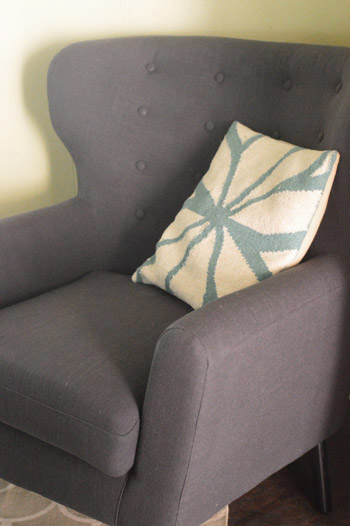 Along with some pretty sexy little legs going on.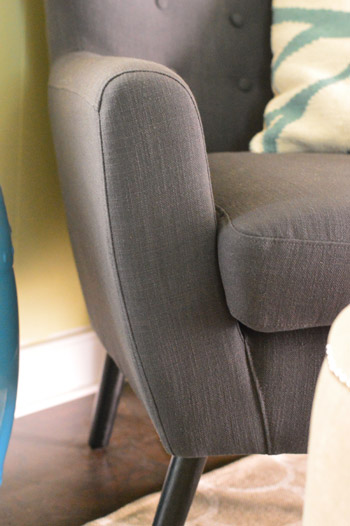 Here are the reasons we thought the new chair would work well (we tend to think purchases like this to death before clicking "buy" – just to be sure):
#1. It's a nice dark color, which makes it easier in a room full of food and sticky kid fingers
#2. It has a nice tall back, so unlike the too-short white Ikea chair that used to live in the corner, you'd actually see the top of it from the other side of the room. See how the old too-short Ikea chair went missing the kitchen reveal a few months back?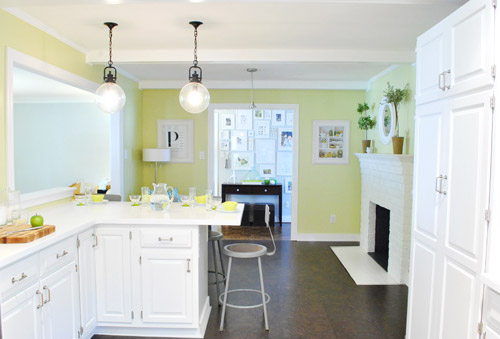 #3. The curvy rounded shape looks pretty not only from the front, but from the sides, which is nice because with two doorways surrounding it, you definitely see the sides (so they should be just as good-looking as the front).
#4. It's such a neutral color and clean-lined shape that if it arrived and didn't work in the kitchen for some unforeseen reason, we knew we could easily use it in another room (the undone playroom or even the office or bedroom if we pulled a little musical chairs action an switched some things around).
Thankfully when it arrived it was perfect. We love the dark color in that corner to ground things, tie into the darker floors, and keep a room full of white counters and cabinets from feeling too white-washed. The color and fabric is actually extremely similar to the dark gray fabric on Karl the Sectional in the nearby living room, so that's an unexpected but awesome "tie" between those two rooms (and that color/fabric has been awesome with a kid and a dog in the living room so we hope to have the same luck in the kitchen). Now we can actually let Clara eat Jammy Sammies in the chair (they're sort of like fig newtons with peanut butter and jelly in them, so we always cringed when she carried one into the old white chair and pretty much held our breath the whole time).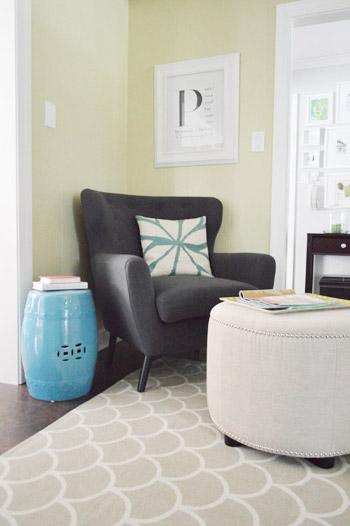 The best part? We can actually see it over the peninsula thanks to the taller back, so it no longer looks like we have a weird empty corner from across the room.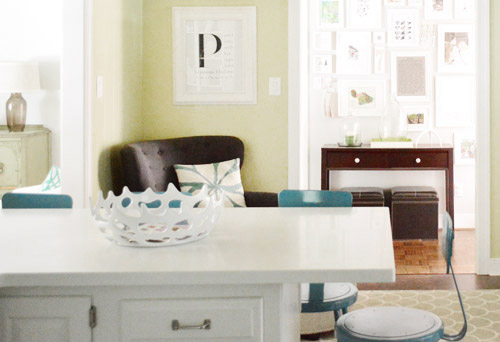 So it's a nice little upgrade in form and function that has us loving our cozy little fireplace zone a lot more. Oh and the ottoman in front of the chair is from Marshall's a while back (it used to live in our first house's master bedroom, so we've had him a while).
At first we tried the white pouf that seems to travel around the house…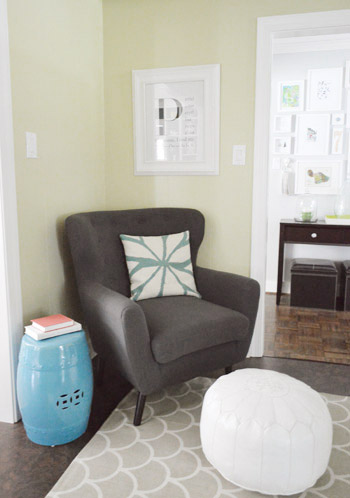 … but it was a bit low and the taller ottoman is pretty much the most comfortable thing ever because it's like you're in a recliner because your feet are way up instead of just semi-up. And see how much higher the back is? It comes up over my shoulders! So you can definitely see it over the peninsula now. Hootie hoo.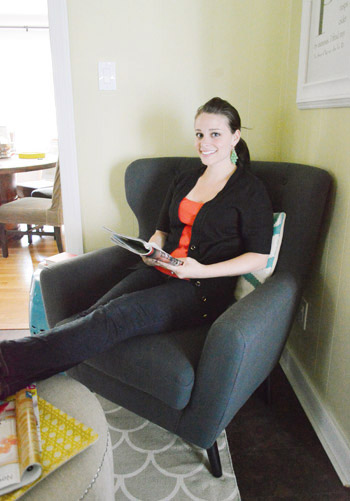 Don't mind that weird hair that appears to be growing out of the top of my ear. I'm 95% sure it's not really doing that.
Anyway, the new chair is my new favorite spot to read magazines and then get interrupted by Clara about a minute into it and end up reading her board books. Haha. At least Snuggle Puppy is more fun for the hundredth time when you're kicking back in a comfy chair with a nice big ottoman. Seriously, I'm working on a theory that a good chair can make almost anything more enjoyable (and there are far worse things than reading board books for the ten millionth time). Maybe dentists should get nice big plush arm chairs with overstuffed ottomans? Could be nice…
So that's the first little upgrade in our cozy fireplace corner. We actually have a few more plans up our sleeves for this perennially ignored corner of the room that we'll be sharing over the next few days as we chug along. Until then, what is the chair M.O. in your house? Do you have the high/low thing going on too? Any recent chair makeovers or upgrades going on? Oh and as for where the old white chair will go, we think he'll be perfect in the sunroom with our white daybed when we finally tackle that untouched-since-we-moved-in space. Someday…
Psst- Check out our river adventures over on Young House Life (where Burger's stick-chewing abilities are unmatched).