The console returns. Yes, the console is like Rocky and Batman movies. The sequels keep coming. Maybe instead of The Console Returns we should say "Console: The Final Chapter" or "The Console Strikes Again" or "I Still Know What You Did Last Console." No? Fine. We'll stick with The Console Returns.
Yes, after many (many) posts about our big console build, this is the official finale. And this one is the most exciting for me because it's all about the fun stuff I put on it. Haha. I'm deep, what can I say? I'm sure it'll constantly change, but here's what it looks like today: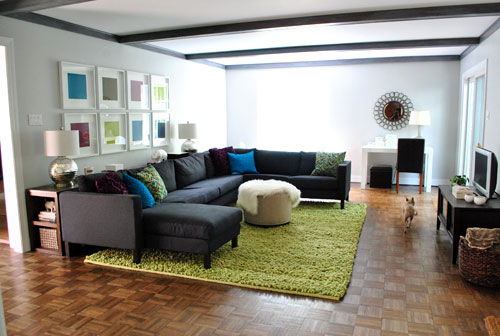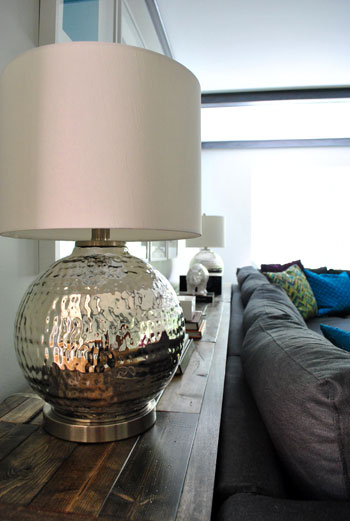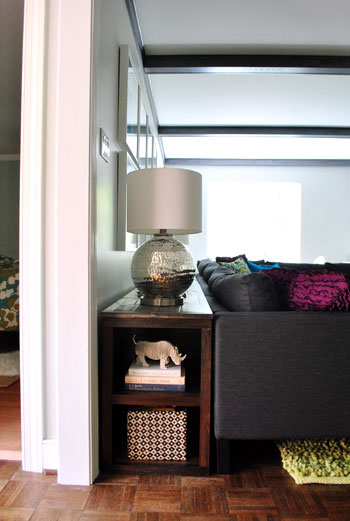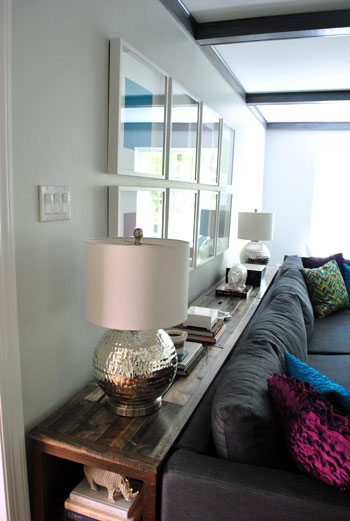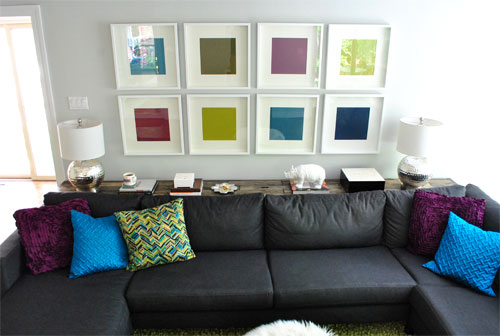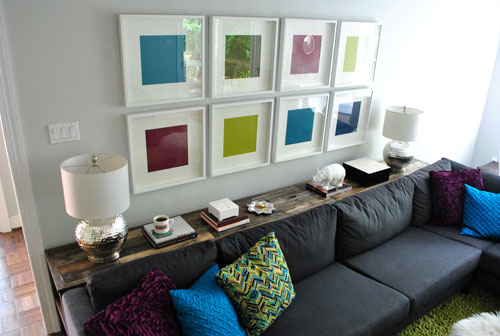 The lamps were more than we've ever spent on lamps (I have some sort of imaginary $50-a-pop maximum and these were $59 each) but from the moment I saw them at Marshall's I couldn't. walk. away. I even texted a picture of them to my friend Cat and she said "You're a magpie, gotta have 'em if they're shiny." So I said to myself: "Self, what's $18 extra bucks when it's true lamp love?" It did help that they were marked down from $125 each.
We also picked up that big capiz-topped black lacquered box from HomeGoods (on clearance for $15, down from $36) because I knew it would be awesome for stashing nearly all of the clutter that seems to collect on the sofa (a few magazines, books, notebooks, pens, remotes, and even my brush and lotion). And the sleek glammy vibe worked with the blingy lamps to bring some modern chicness to our rustic ol' console beast.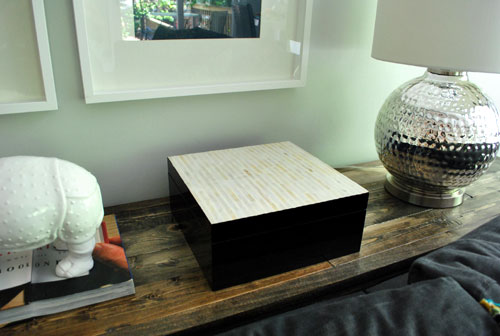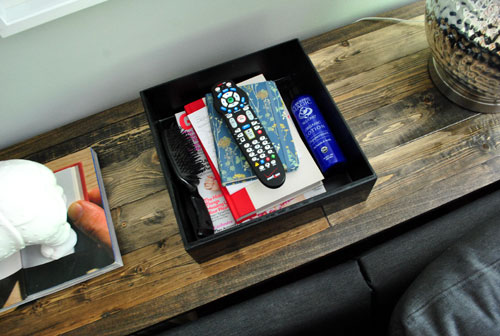 Other than that I just brought in some stuff that we already owned, from a few stacks of pretty hardcover books that I love to flip through (which are also functional thanks to a handy coaster that I stacked on top for my nightly cup of tea and the smaller white capiz box that's secretly full of my smaller sofa essentials (lip gloss, vitamins, nail clippers, etc).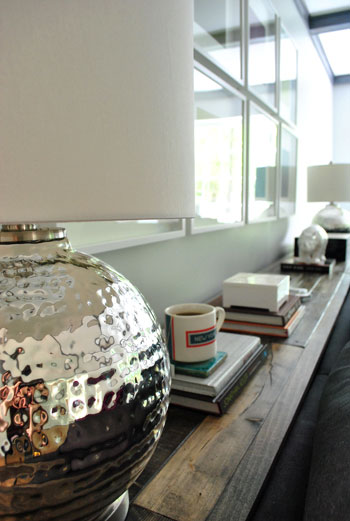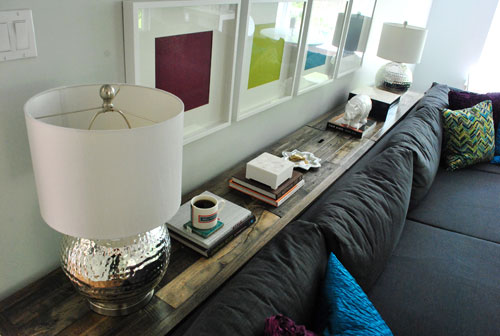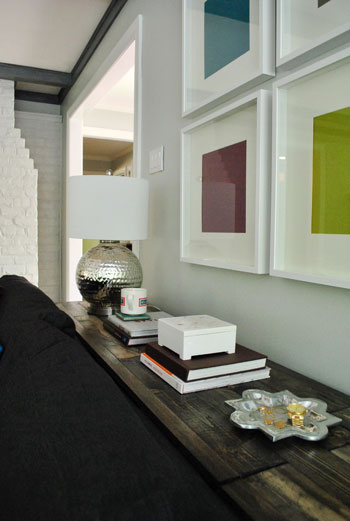 And this cute $3 thrifted quatrefoil tray is perfect for all of the jewelry that I like to remove as soon as I sink into my special spot on the sectional (the chaise in case you're wondering).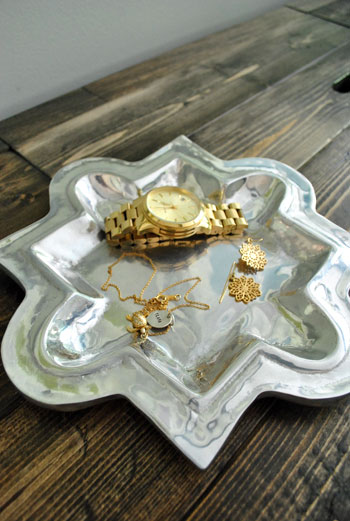 And here's what we have going on in those hidden baskets in the middle compartment. The left side is full of board games since this the room where we usually get our game on. And the basket on the right has a lesser used remote (for the DVD player) as well as some books that we got for Clara from the library (we try to keep them all together so we're not looking everywhere for one last book on the day that they're due).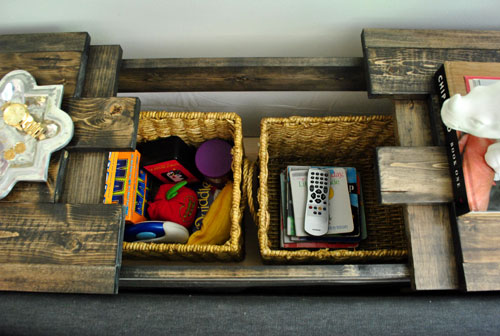 And of course we have a little ceramic animal action going on thanks to my old ZGallerie rhino friend. Probably just for a bit until Clara gets bigger and he becomes endangered. Then he'll go live on the built-ins in the dining room again: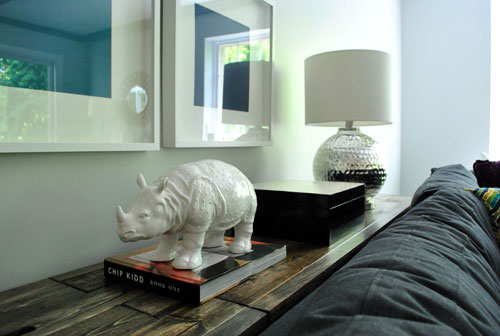 For some reason this shot kills me. The little ceramic rhino butt in the background gets me every time.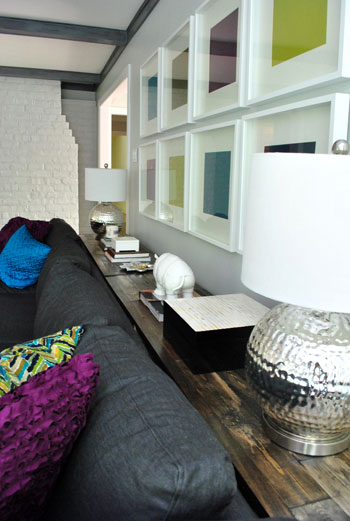 As for the bookshelf sides of the console, we found three of these $5 baskets at HomeGoods, so the one on the close side of the console on the bottom shelf is full of a bunch of Clara's board books while the top shelf has some of our books and a fun little Cardboard Safari rhino going on.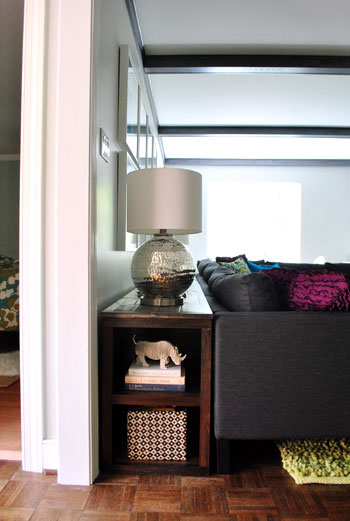 … and two more baskets on the far side of the console have blocks and other small toys stashed inside.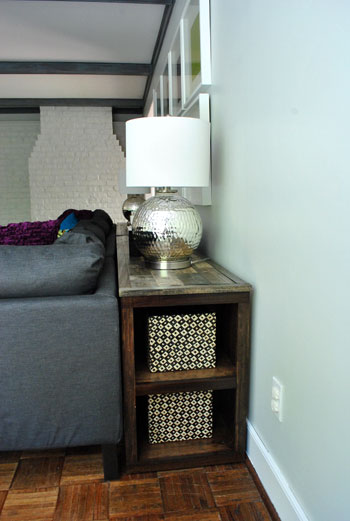 We're sure everything that we have on/in the console table will be constantly changing. For example, once Clara's a bit more mobile I don't think my beloved ceramic rhino will get to live up there anymore. Unless I want him to meet an untimely end like my ceramic pooch.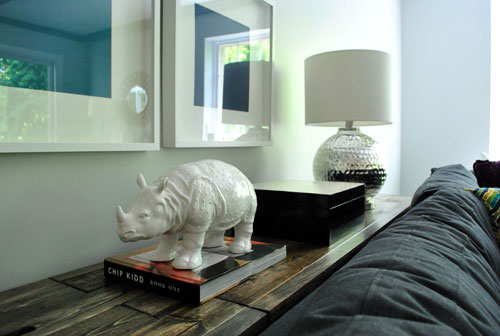 Heck, she might even try to murder the cardboard rhino on that side shelf (so far, so good though) so we're just going to play it by ear. We might decide that we'd like more empty space for putting stuff down on the top of the console (we have that big expanse in the center for a large bowl of chips or something, along with plenty of room for more coasters for drinks, but you never know if we'll want even more). So it'll be fun to tweak it and watch it evolve as the rest of the room comes together over the next year or two (still on the list: breezy curtains to add softness, a larger and more balanced looking media cabinet, etc).
And now for the weirdest video we've ever made. We were in sort of a quirky mood so we thought it would be hilarious to make a sexy stroking-the-console-video of the whole thing in action (we even throw open that middle compartment for ya to see how it opens and closes in "real time"). The music kills me. And the slow motion. Yup, we're still laughing about it:
Strangest video you've ever seen. Am I right? Oh and we have one more pic for ya. At night it's all sorts of magical in the living room now that we removed all the weird ceiling fans and that off-center corner pendant light and use the console table lamps along with the desk lamp to illuminate the room.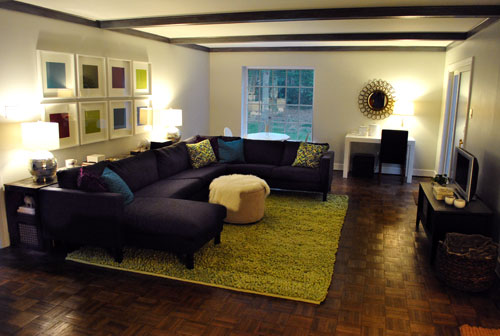 This photo doesn't even do it justice, but in person it's so cozy and glowey and charming. And we can only imagine how the right curtains and a bigger and more proportionate media cabinet will take this work-in-progress room a whole lot further. Someday…
Psst- Wanna flip back through the whole console building journey? Here's the first post, the second post, the third post, the fourth post, and the fifth post.