After mentioning our near cross-country road trip last week, did you find yourself wondering how we entertained ourselves for over forty hours of driving? Well, we filmed a lot of it with our trusty Flip video camera. And we spent this past weekend not in the car (hootie hoo!), but trimming down all that footage into a little musical montage video of our road-trip-on-steroids.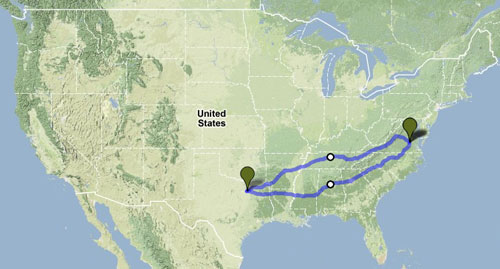 For those curious enough to take the journey with us, we can promise you'll see:
Some less than healthy drive-thru decisions
A bit of behind the wheel dancing
Grade A nerd behavior in the form of a geographic-tastic driving game
Sherry in bed with another woman
Obligatory Burger footage
Absolutely zero footage of Sherry driving (because it never happened)
Fast-food inspired decorating ideas (we didn't say they're good)
Sherry with her hair down (yes, for all you why-don't-you-lose-the-ponytail peeps)
Visiting cultural attractions – scratch that, visiting a Pottery Barn Outlet
A preview of our adventures with the Bowers and my cousin's wedding, which we'll share more of soon.
So, without further ado, please enjoy the virtual road trip below…
And while we're on the subject, tell us where we can get a sneak peek at some of your summer travels. Got any good road trip stories to share? Photos posted somewhere to view? If anyone else has iMovied a little road trip video, we'd love to see it. Long live long drives!