Drumroll please. Strike up the band. Drop the confetti. Release the doves…
Can you tell we're beyond excited to share Stacie's amazing Young House Love inspired master bedroom transformation? A few weeks ago we whipped up a mood board, and Stacie spared no time putting our plan into action. But even we couldn't predict the insanely dramatic makeover that ensued.
Here are a few of the "before" shots: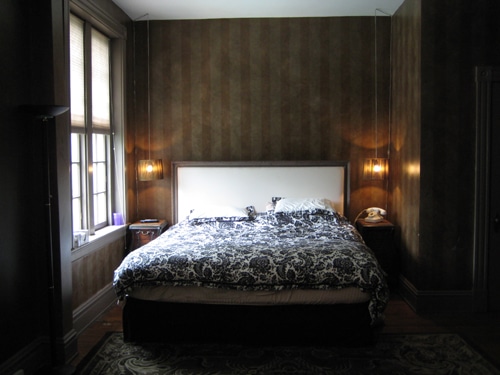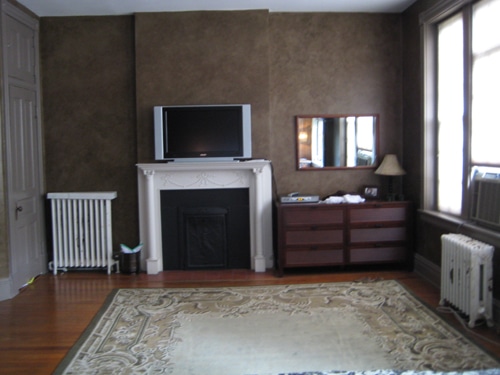 She wanted a lighter and brighter room with a clean and contemporary look (and a dash of hollywood regency) while keeping the current headboard, dresser, tv, pendant lights, and window shades. Here's a look back at the mood board we created that sparked such a major makeover:
And here's Stacie's totally transformed "after" of a bedroom thanks to a bunch of items from our mood board as well as a few additions that were inspired by our suggestions: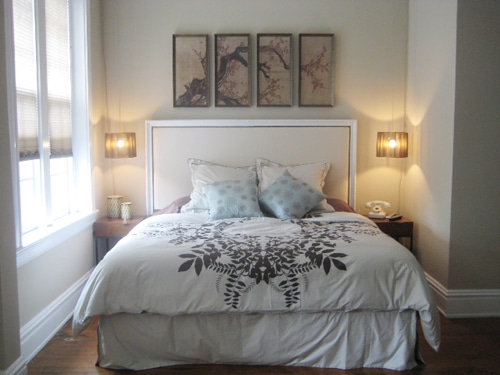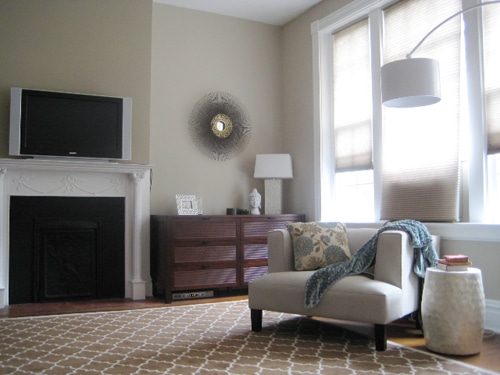 Everything from our new wall color suggestion and accompanying color scheme to our idea to paint the frame around the existing headboard and create a seating area with a fun white arc lamp completed this major bedroom makeover on a dime. And Stacie didn't even need to purchase every single piece from our mood board, she happily took our new light & bright bedroom concept and ran with it, which actually saved her even more money along the way. What does she think of the transformation? Well…
Can't thank you enough for all the design advice and help. You have inspired me to overhaul my my dark, cave-like bedroom, and the outcome is amazing. The mood board was so awesome! Some of the ideas I took exactly from you, and some I interpreted in my own way. The main thing is the paint color. I'm not the best at paint colors, often painting 3 times until I get a color I like. But I threw caution to the wind and just put up exactly what you recommended and I LOVE IT!!!!!! So bright, airy and calming at the same time. Painting the radiator to the left of the fireplace a dark color to balance my dresser was genius. Love the arc lamp you found too, and painting the headboard was the best idea. I decided on a bolder rug, and different bedding but I added in the cool blue green color you suggested with pillows (on the cheap from Marshall's) and a $13.00 (!) velvet throw for the reading chair. These pics don't even do it justice but I wanted to get some afters to you asap. I am now a loyal fan and daily reader of your blog… keep up the good work!! – Stacie
We love Stacie's new master bedroom (and the fact that she worked her butt off over the past few weeks to get us these afters) but we're dying to hear what you guys think. Feel free to shower her with the praise that she deserves and steal a few ideas of your own.