Ok, we're calling it. The kitchen is officially done!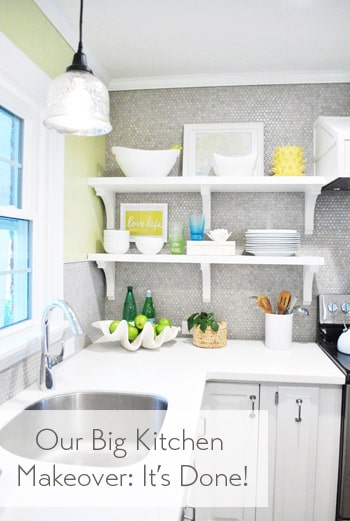 Of course that's a lie and we still have a bunch of little things to complete, like:
adding decorative molding to the back of the peninsula
adding a message center/chalk board to the side of the pantry
adding the last of the transitions/reducers to finish the floors (and that rectangle of fireplace tile)
replacing the broken light in the fireplace area – most likely with a spotlight that washes down the fireplace wall
adding some sort of window treatment (colorful roman shade?) over the sink
And of course we dream of refinishing the surrounding oak floors to match the dark mocha cork in the kitchen so our whole house is more seamless (more on that here) but that's a down-the-line thing. Thankfully all of the big stuff and most of the small stuff in the kitchen is checked off the list and we're so excited to see how this room has transformed in the last five months. Can you believe we've been slowly chipping away at this renovation since October?! Things have definitely come a long way…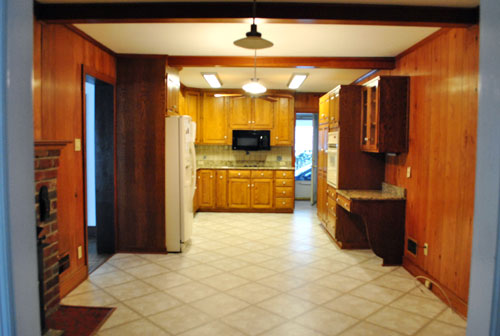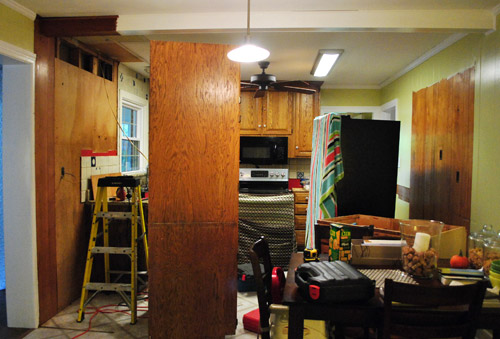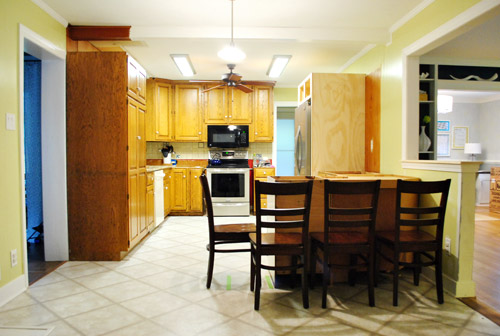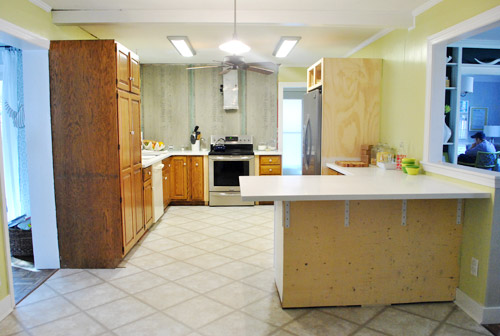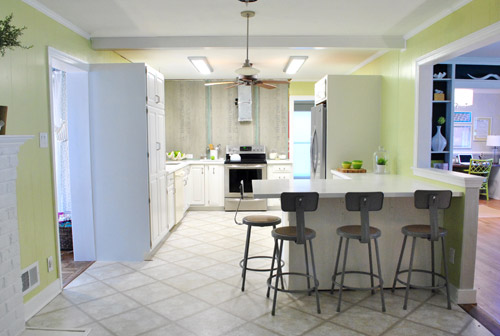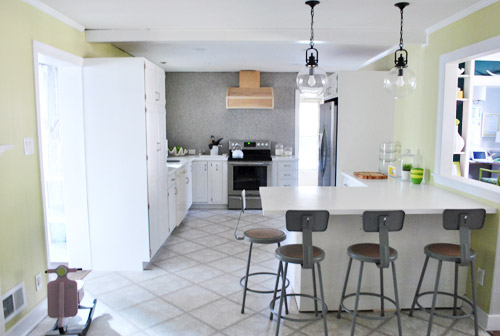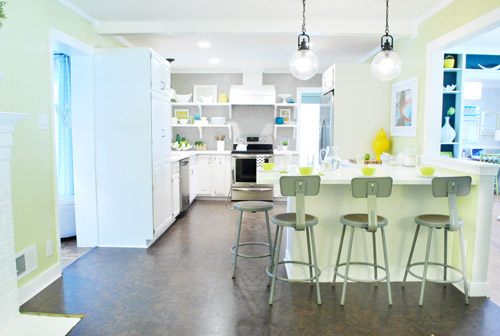 Just to save you from scrolling back, here's the before again for comparison's sake.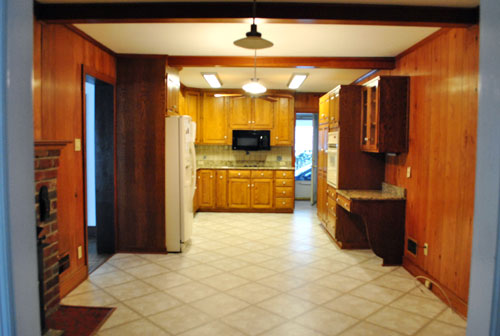 It really doesn't even feel like the same room anymore. We can hardly remember the dark paneled kitchen that we lived with for almost a year while we planned our remodel and saved our pennies.
Here's the makeover from the other side of the room: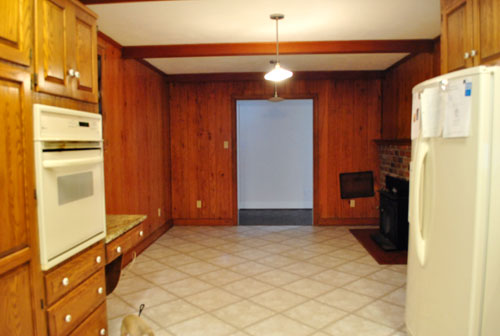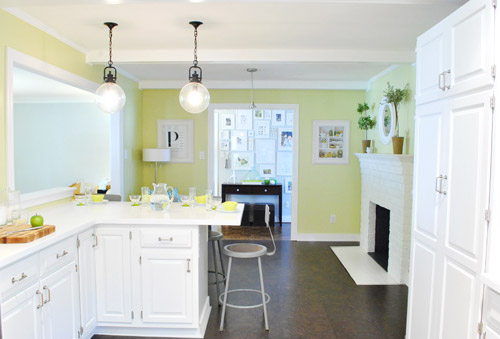 And here's a before and after shot from a similar angle where we opened up the wall to create a nice big doorway between the kitchen and the dining room: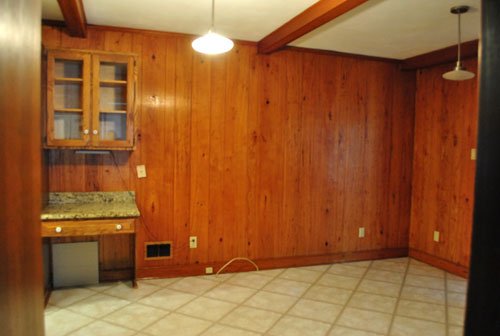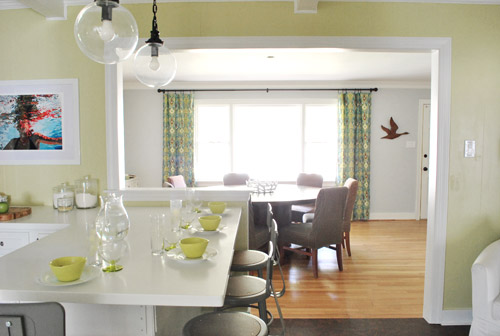 Oh and here's another fun before and after comparison (from the doorway of the office that leads into the kitchen):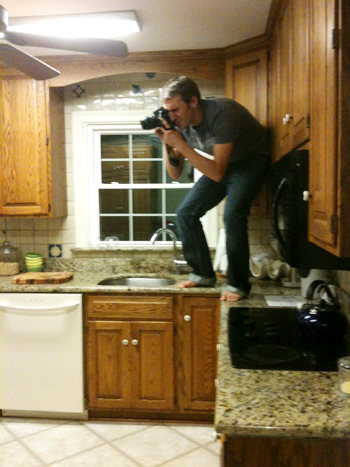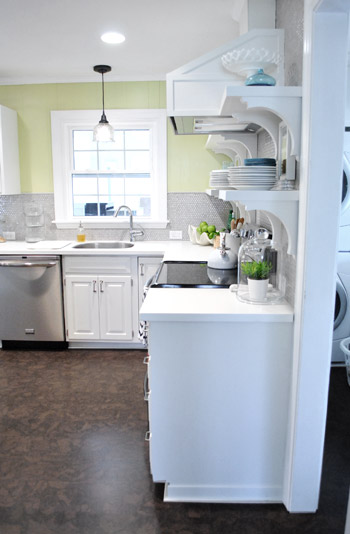 Here are a few more POVs of the room as it looks now: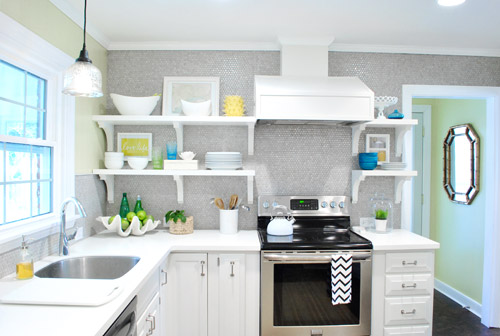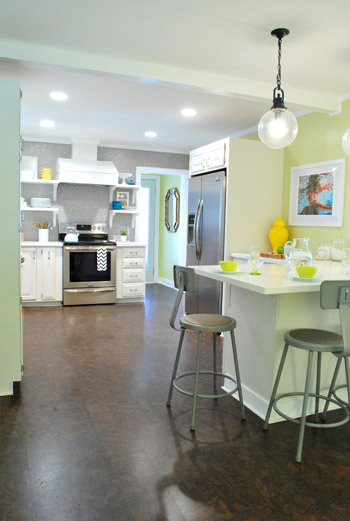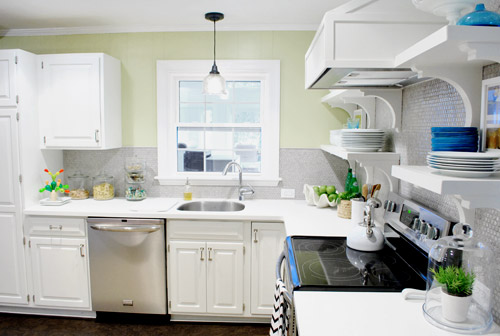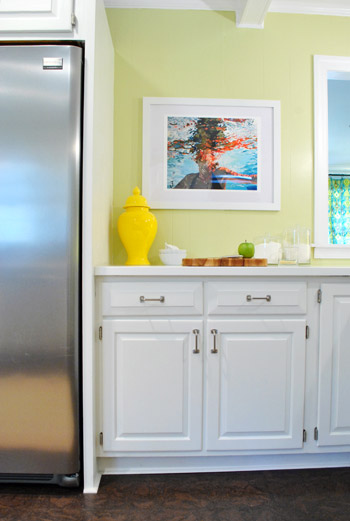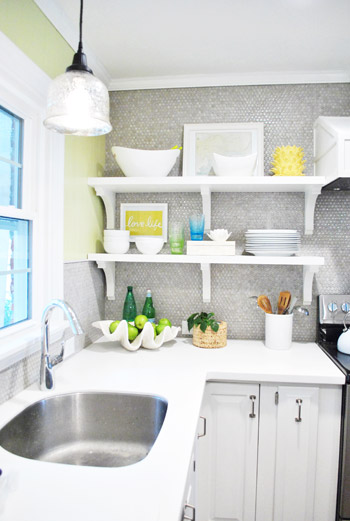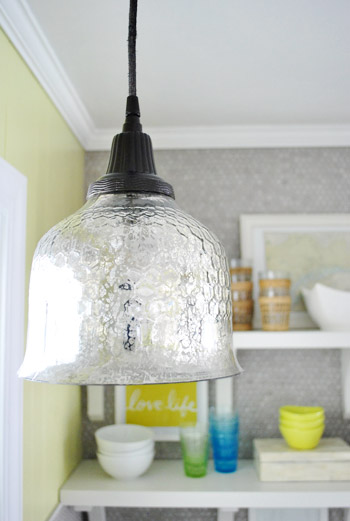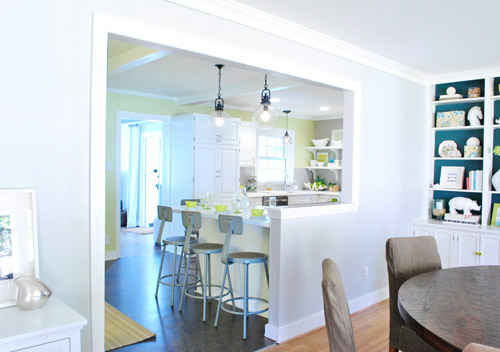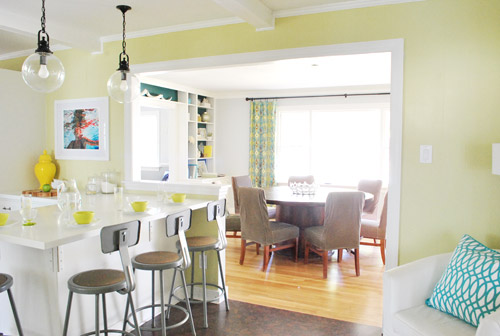 Lots of things are still in flux (items on the counters and shelves will definitely rotate in and out, which is fun for a kook like me). And these two 4 x 6′ rugs from our first house's kitchen and third bedroom aren't permanent…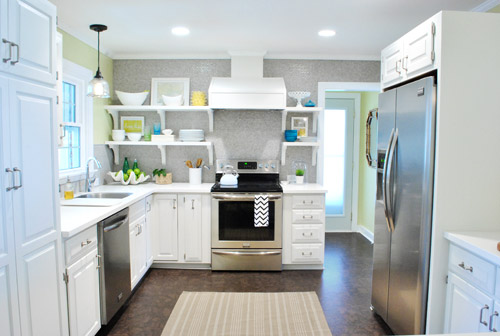 … we just tossed them down for a few shots, but we envision getting something new to help define those areas (they're old and stained and not as soft underfoot as a few other options, so we'll keep you posted).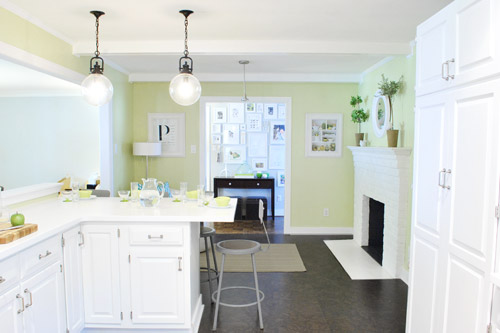 Oh and when it comes to the bar stools that we debated spray painting anything from a bright color to oil-rubbed bronze, now that the floor is so dark the silver color ties into the stainless appliances and looks nice and balanced in person. So we might live with them a while before we decide to defile them with spray paint or anything. Of course we'll keep you posted.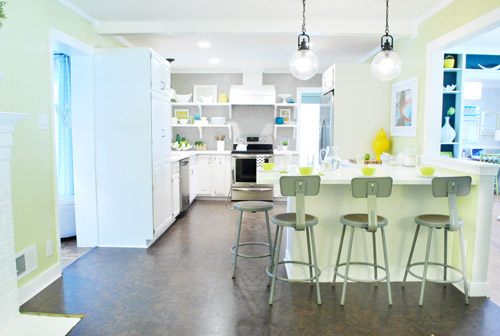 And we actually have one more tweak that we're seriously thinking about ever since a reader sent us a photoshopped picture of our hood with the top as wide as the bottom part (thanks Brooke!). She actually sent the pic on the 15th of February, but we decided to wait to finish up the kitchen (add the flooring, etc) before making any rash decisions…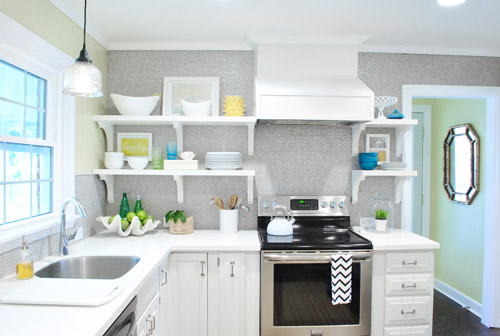 The good news is that we're still smitten with the idea, so all signs point to beefing up the neck of the range hood someday! Of course we'll keep you posted on that too.
But back to the overview of our big kitchen makeover. We definitely got really hands-on with this transformation (especially when compared to our first kitchen reno, which we managed but mostly outsourced, my how things change). It just goes to show you that over time you can learn as you go and five years later you might be way more comfortable doing a lot more than you did the first time around. Here are some of the things we did in our current kitchen to save money: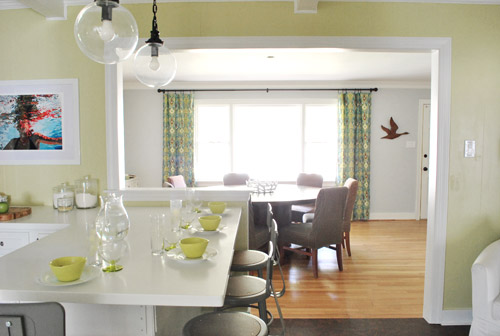 And here's an actual budget breakdown:
New cork floor + underlayment from Lumber Liquidators (including the cork in the laundry room too): $848
All new stainless appliances (originally priced at $3,776): $2,129 (we originally spent $2,384, but later switched the microwave)
Opening the doorway into the dining room, which was done by a local contractor and then finished by us: $790 (which includes $90 of materials that we bought to drywall and trim it out)
Additional base cabinets from the Habitat For Humanity ReStore to create peninsula: $88 (they would have been $500+ new)
New pendants over island and sink: $149 ($60 for each globe pendant and $29 for the one over the sink)
The cabinet we built around the fridge so it looks built-in: $90
All electrical work (done by local pros over three visits): $711
Wood filler, primer, and paint for refinishing the cabinets: $69
JennAir range hood scored on craigslist (worth $350): $60
Wood and brackets to hang/frame out hood: $115
Wood & brackets & all hanging materials to make shelves: $141
Corian counters in Glacier White from Home Depot ($33 a square foot): $1,700
All new cabinet hardware and hinges: $173
Backsplash (penny tile from The Tile Shop): $280
Four industrial lab stools (from a school supply store): $168 (they were just $33 each plus shipping)
Miscellaneous (screws, nails, glue, little cords/connectors for appliances, flooring & tiling supplies like grout and sealer, shoe molding, etc): $194
Items we sold on craigslist to get money back to put into our reno: old black microwave: +$90, old fireplace insert: +$60, old dining table and chairs: +$120, old bisque dishwasher: +$90, old granite: +$350, old bisque wall oven: +$40 (total back: +$750)
TOTAL SPENT: $6,955

Not bad since a large kitchen renovation of this scale (our room is 24′ x 12′), if outsourced would probably be around 30K (for a giant new doorway that leads to the dining room, an accent wall of penny tile to the ceiling, all new cork floors, all new appliances, refacing oak cabinets and adding a peninsula to match the original cabinets, all new Corian counters including a giant 3 x 5′ slab for the peninsula, an entirely new lighting plan, a built-in hood with custom built shelves, a relocated pantry, stove, and built-in fridge, etc). We originally budgeted 10K for the job, so we're really happy to come in under!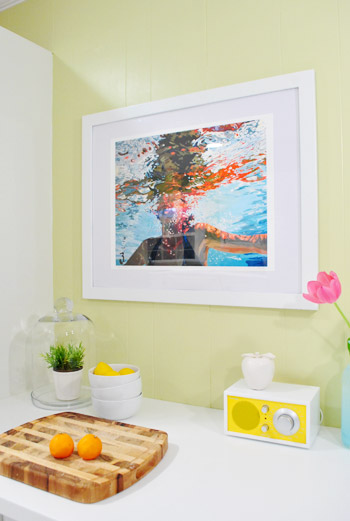 By contrast, our first kitchen renovation (from back when we both made bank working in advertising, haha) involved pricey granite, a lot more professional help, and all new cabinets.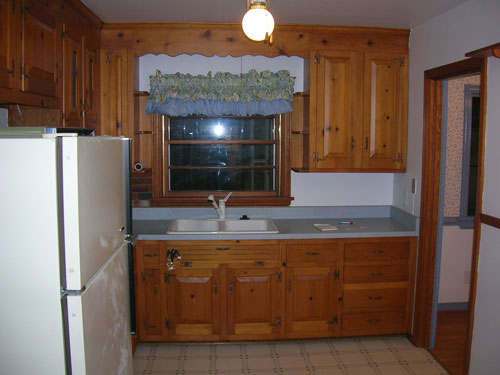 It actually came to $20,500 (including the purchase of a fridge and stove that weren't included in this breakdown since we bought them a year prior). And that room was only 13′ x 10′!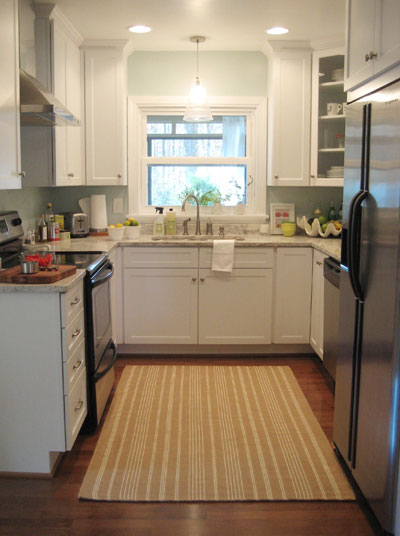 So although this second kitchen reno took us tons of time (we started this project back in October, and have probably put 5-10 hours a week into it since then – for a total of around 155 hours) it was definitely something that we loved doing – mostly on nights and during weekend Clara-naps. We almost never worked on it during the day on weekdays (when the blog is active and the bean's awake one of us is a stay at home parent and one of us is on blog duty) so that might help those of you with a day job who wonder if you can pull off a major kitchen remodel like this on nights and weekends.
You can! It might just span across five months or so, but as long as you take things one small project at a time (it's waaaay less intimidating than thinking of it as one big project when you break things down into bite-sized chunks) you'll most likely live to tell the tale. And all the love and sweat that you put into your "new" kitchen will be totally worth it in the end.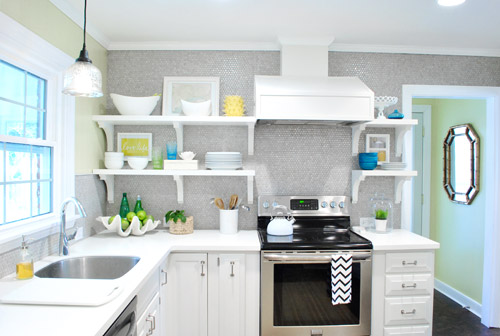 Who's excited to call this turkey done? Is anyone else out there about to start a big kitchen reno? What have you guys done when it comes to being hands on and saving some money by doing things yourself? We'd love for everyone to share tips about how they renovated their kitchen on a budget so this post can become an awesome resource for anyone out there who is thinking about getting started and would love to peruse a bunch of what-worked-for-me tips! And now we just owe Clara and Burger a big thank you: for sleeping through all the hammering and drilling and just generally being such great little DIY enthusiasts (Clara still loves to measure the cabinets with her tape measure since she remembers us doing it months ago).
A five month long kitchen reno can definitely "interrupt" daily life, but our little ones are such troopers, so we're sending them both a big virtual kiss for their patience and excitement throughout the loooong and not-always-easy process! Our tip is to try to maintain as many working appliances as possible (which is easier when you're working with your existing cabinets, but nearly impossible when it's a full gut job). We only had a few days without most of them, if that, which was no sweat! In fact it totally paled in comparison to the 113 days that we were without our first house's kitchen during that reno. Thank goodness for extension cords to keep the fridge running and the fact that moving our stove across the room didn't mean losing the function of it!
Psst- To check out virtually every post about our kitchen renovation, click here, here, here, here, and here (hooray for monthly breakdown posts that have 20+ links in one place!).