Today marks the one year anniversary of our swanky DIY backyard wedding… so we thought a wedding week was in order.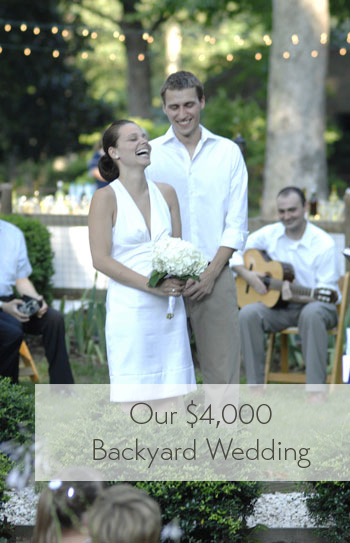 That's right, we're dedicating this week to sharing all of our crafty and creative ideas for not only a swoonworthy backyard wedding, but a fun and festive gathering of any kind. So don't tune out if you've already tied the knot, we're gonna bring you tons of affordable, personal, and unique decorating and entertaining ideas fit for any par-tay on your own turf (even if it's just a romantic evening for you and the hubby). So sit back, relax, and don't worry about having to catch the bouquet.
First the basics. We got married on 7/7/07, our exact two year anniversary of dating (which just happened to fall on a Saturday). Unfortunately 36,000 other couples picked the same exact date to get hitched, so we decided to make everything else about that day feel fresh, original and so very John & Sherry. And what could be more personal than hosting the 75 person affair in our own backyard?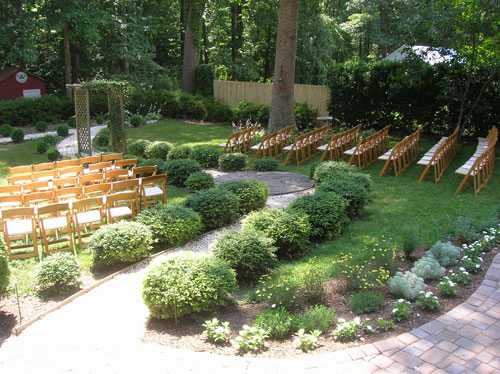 Just like everything else we do, our wedding was one giant DIY project. From the invitations and decor to the food and entertainment, we pulled out all the stops (without breaking the bank) by doing everything with our own four hands. And because the event was at our home sweet home, we were able to put money that otherwise would have been spent decorating a venue into our own home improvements (gifts that keep on giving even a year later). For example, we knew our old jagged patio was a tripping trauma waiting to happen…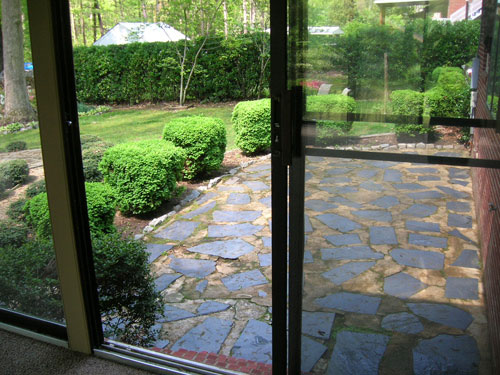 … so we invested some of our wedding money towards replacing the old slate patio with a new cobblestone paver version, which created the perfect place for a big wooden buffet table full of delicious gourmet eats and a grilling station for the chefs (John's uncle and nephew)- who donned customized aprons that read: "You may now kiss the cook."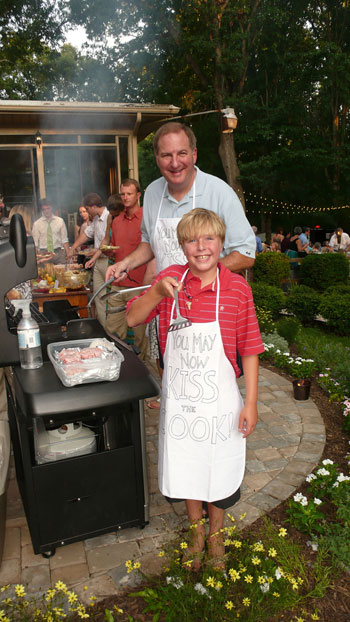 And not only did we need a flat surface for serving, we also wanted one for eating and entertaining, which is why we went on to pave our treacherous gravel driveway (where heels + gravel = yikes!).
The newly paved surface created the perfect place for grubbing as well as mugging for the photobooth that we rented for the occasion. We've never been so thankful to have such a huge driveway (with a spacious turnaround area in the back of the house which kept all of our partying private). And the added bonus that we haven't had to weed our monstrous driveway since getting it paved (which used to take days) is one of the best wedding presents we could have given ourselves.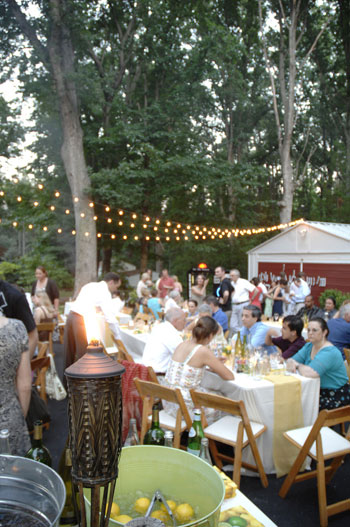 While these two home improvement projects were so major that we brought in the professionals, nearly everything else was completely DIY from there on out (thanks to some help from our fabulous friends and family). Between John's cousin officiating the ceremony, a friend playing "here comes the bride" on the guitar, and relatives cooking up some gourmet fare on the grill, we definitely kept things personal and meaningful. And when it came to setting the tables, crafting the menu, making the bouquet, assembling the centerpieces, designing the lighting, creating the perfect favor and coming up with our version of a wedding slideshow, you know we embraced the creative and the unexpected. So stay tuned for every last DIY detail.
*Drop in on our Wedding Album tab (right below the header) to check out all the details of our big day from start to finish!