As exciting as it is to have both that section of wall and the contractor gone, there's still a lot of work ahead of us before our opening is finished. Unless this is your idea of beautiful dining room: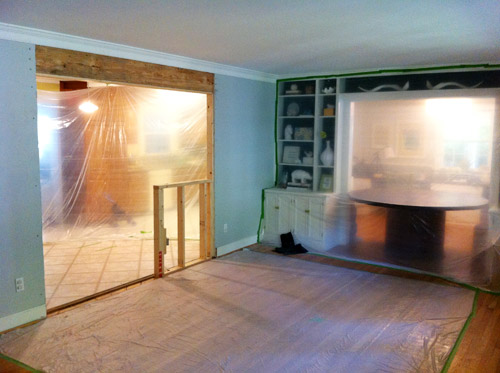 Oh and speaking of the contractor, locals have been asking for Steve's info – and now that we've worked with him and were extremely happy with his result, we'll share (we only like passing along people's info after we work with them, to be sure they're someone we'd recommend). He's a licensed Class A contractor as opposed to a handyman (so he doesn't hang doors or build furniture or do odd little jobs), but if you have any big structural work (like knocking down walls, building additions, etc) he's your guy. His email address is [email protected].
But back to our next steps with the opening. We left the protective plastic up because drywall installation was next up, which can be kinda dusty itself (especially the sanding part). We don't consider ourselves to be drywall installation experts by any means (it was my least favorite part of our bathroom renovation two years ago) but this particular job seemed straightforward and small enough that it'd be silly to hire out. We just needed a span of it across the top of the doorway on the dining room side (to cover the exposed header on that side) and a few sections around the half-wall.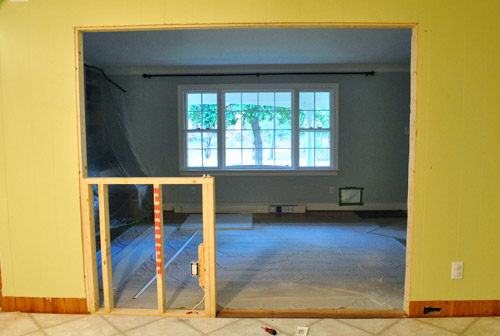 And actually, the kitchen side of the half-wall will be paneling instead – which is why we had the contractor leave all of the scraps from his demolition. So I simply measured, marked, and cut using my little jigsaw. It was super quick and easy.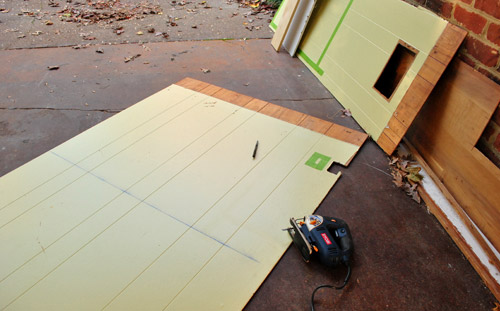 So easy that I went ahead and set the cabinet against it before proceeding further (Steve actually suggested doing this before drywalling the back so I could see my studs which would allow me to drill into them more easily/accurately). Note: there will be a 12″ counter overhang behind the peninsula with stools tucked under it, so you won't see very much of the half-wall from this direction at all when we're done. And we'll be topping the half-wall with a chunky wooden ledge to add even more function and balance.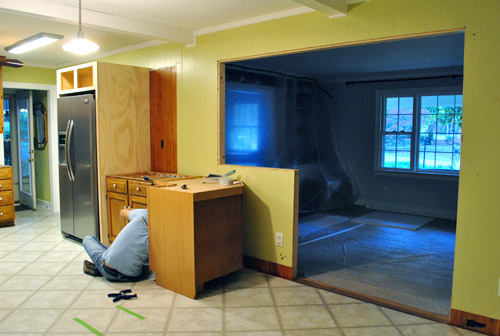 Already looking more finished, right?…. right?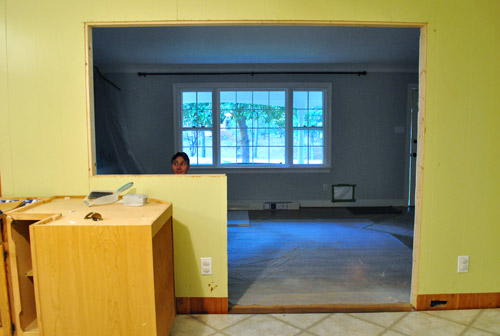 Okay, not really.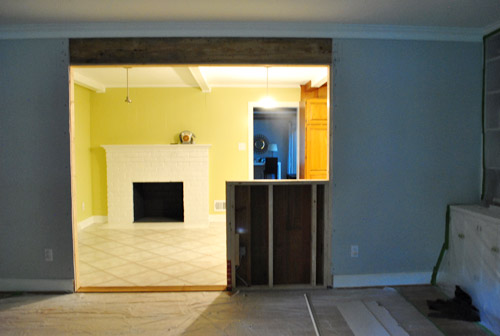 But I was kind of avoiding my next task: getting the drywall pieces home. Obviously I can't fit a 4ft by 8ft slab of drywall into our Altima. And renting the truck at Lowe's or Home Depot is always an option, but spending $19 to transport $14 worth of drywall seemed silly. So I took another suggestion from Steve The Contractor: cutting the drywall to size before bringing it home. Which is how I found myself setting up shop in the Lowe's parking lot. Have I no shame? Nope. Especially to save a buck (or 19).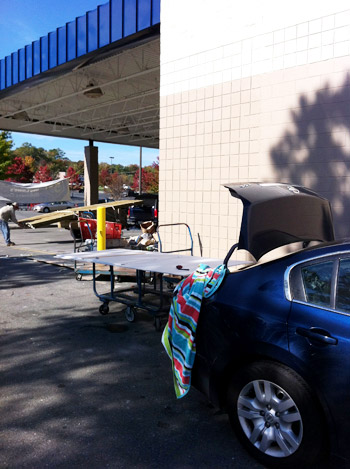 Basically I brought my tools with me (measuring tape, pen & blue chalk line to mark, razor blade to cut, yard stick as straight edge, towel to try to keep the car clean-ish), bought my drywall, and spent about 45 minutes carefully measuring, slicing, and snapping my pieces to size outside. The drywall in the dining room is actually two panels thick for some reason, so I had to cut two of each size to keep it flush for a hopefully seamless result.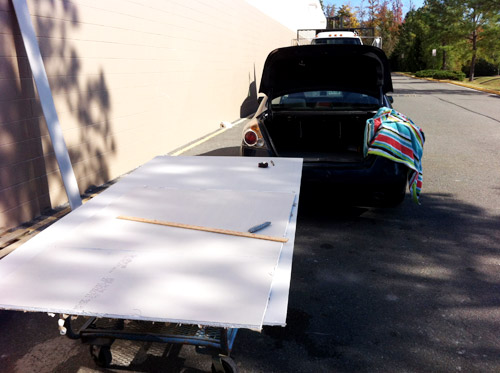 I managed to get my half wall pieces (plus a few scraps) in the trunk…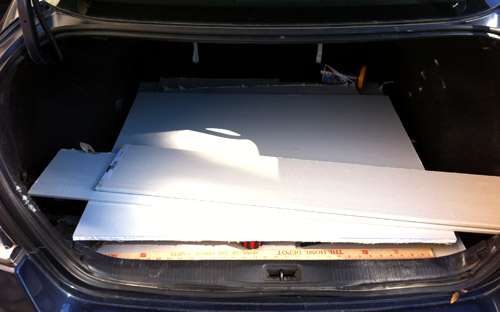 …and the long pieces for covering the new doorway header barely slid through the middle of the car (along with the door jamb kit, but that's for my next phase of the project). Booyah!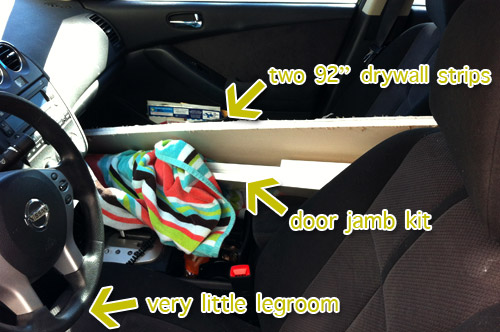 Even though it was a bit awkward working in a public parking lot, it was nice to come home and jump right to screwing the drywall into place since it was already cut to size. Sherry helped me by holding one edge up and then I'd screw a few "holding" screws so she could hop down and take flattering photos like this: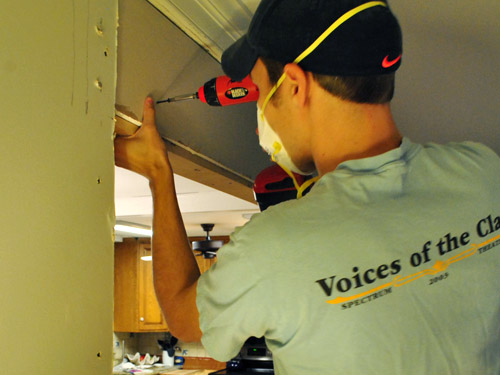 But this is where my wow-this-is-going-better-than-I-expected luck ran out. Despite my best measuring efforts (we even took photos of a tape measure next to the existing drywall and the drywall in the store to pick the right depth), my new doubled-up drywall was a smidge thicker than the existing doubled-up drywall. And a smidge is not acceptable when it comes to drywall. This would have looked all sorts of awkward even with mud and tape and some sanding (it would still read as a slope when the light hit it).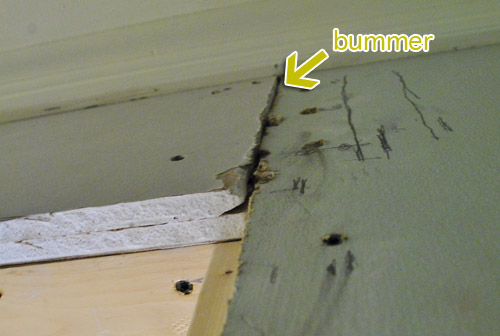 So I ditched one panel and relied on a technique that I used while hanging hardibacker and drywall in the bathroom that we gutted: shims. I added some wood shims to get my new drywall flush with the rest of the wall. Only I didn't have that many shims and furring strips, so I also had get resourceful and dip into our stockpile of paint stir sticks to help us out. We learned that a few of them screwed together were actually just as dense as a furring strip or two. And since the wood + steel header is beyond solid, everything held nice and firmly. You can see them poking out there a bit on the bottom (don't worry, that'll all get covered by trim).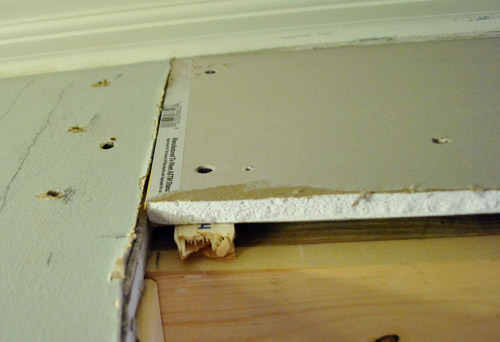 I basically repeated that process for the big panel on the half wall (being sure to get things as flush as humanly possible before drilling). I know what you're thinking. Yes we've accrued quite a stash of stir sticks over the years (probably because they give us one when they hand over our paint and we usually paint right away when we get home so the paint is still stirred from the store's mixing job).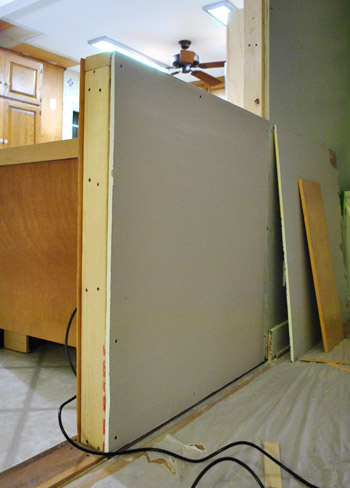 Fortunately for that little end cap I didn't need to match any existing drywall thickness (since it's a new plane) – so a single piece of drywall just went on straight into the wood frame. Then we used some metal drywalling corner strips to make the edges a bit sharper. Although they're typically not meant for where paneling and drywall meet, we're no strangers to "improvising" along the way, and you'll see how it all turned out a bit later (spoiler alert: looks good).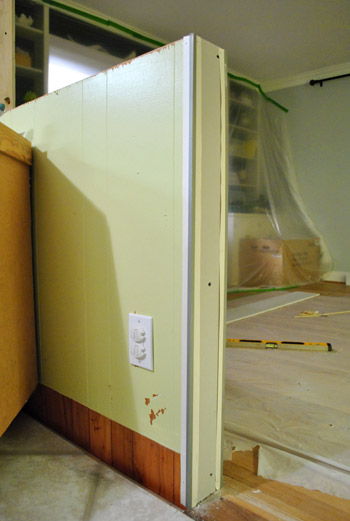 So that completed the hang drywall part (with only one minor hiccup, thankfully). Next up was the drywall mudding part. I left that to Sherry because she has more finesse than I do when it comes to that stuff (at least I tell her that to get out of doing it – the same way she's better at cutting in).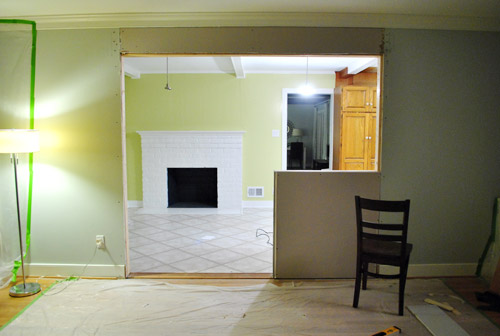 So Sherry broke out her spackle knives (the girl has a nice assortment) and started the fun process of taping, slapping up some drywall mud, smoothing it, letting it dry, sanding it, and then repeating that process. Although she didn't tape this crack since it was especially tight (not even much of a crack thanks to a super tight fit).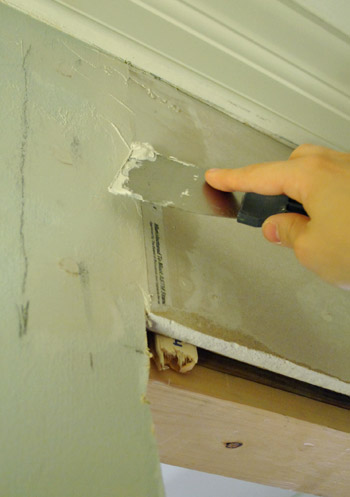 She ended up doing three rounds in most spots, since she wanted things to be as smooth and seamless as possible (she decided to caulk that crack up near the crown molding instead of trying to get mud in there with a putty knife, so that's why it's untouched in this photo):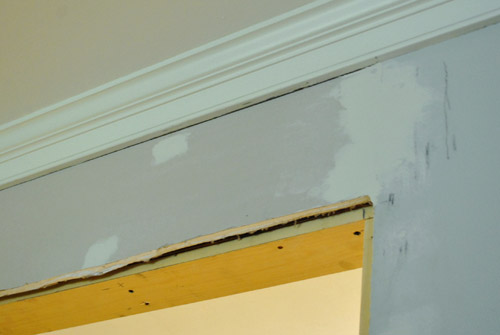 As for the corner things we used around the half-wall, they actually came out really well (admittedly better than I hoped, since I always worry that something catastrophic might happen to leave the walls looking weird and lumpy). Of course I realize as I write this that I didn't take a photo from the other side so I'll have to work one of those into a future post. But the corner piece and drywall mud seem to work just fine with the wood paneling – and once it's all primed and painted it'll effectively be "sealed" in there for a nice durable and straight-looking end result.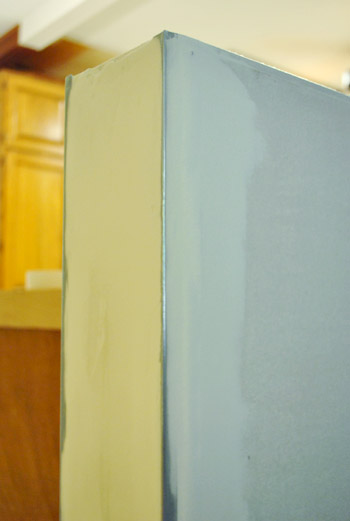 So… it's definitely looking more finished than it did this morning… but nowhere near totally finished.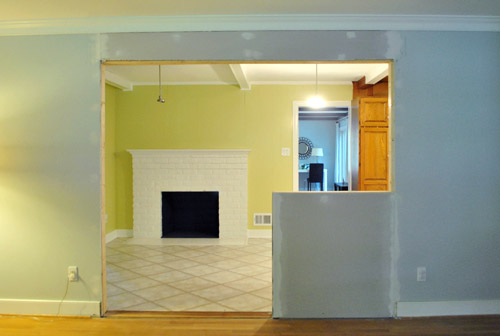 I'm the first to admit that the entire opening still looks kind of crazytown because:
there's not any trim to unify it with the other doorways nearby
the baseboards aren't complete on either side (they just end at the half-wall)
there's no wooden ledge above the half-wall to add some extra function and balance (we'll tackle that along with the trim/baseboards next)
there's not a big peninsula with stools and a giant slab of counter behind the half-wall to make sense of it
there are lots of things we have to prime/paint, so it's looking extra rough
So the whole thing is sort of out-of-context right now. But it'll get there – slowly but surely. Oh and we mentioned this in a past post (this one), but for anyone tuning in now, here's why we opted for a half-wall instead of a full opening with a peninsula floating between each room:
we didn't want the peninsula to look like an afterthought (like it was placed in the middle of a doorway without much planning)
we thought the half-wall would ground the peninsula, so it would feel solid and supported (instead of more like it's floating between two rooms)
we already have four base cabinets in the dining room thanks to the existing built-ins (so we don't need additional cabinetry/storage)
because of those existing built-ins, we thought an open bookcase, cabinet, or other form of built-in located less than three feet from the giant wall of existing built-ins would be a bit much
our threshold would be a lot more seamless (if the half-wall weren't there, there'd be an awkward strip of cork flooring between the peninsula cabinet and the dining room floor)
Next up? The door jamb, that ledge on top of the half-wall, and trim. Then comes primer and paint. And THEN it'll start looking finished – especially once we begin to assemble the peninsula behind it. Of course there's still the whole half-countertop-less kitchen going on (more on that here) but at this point we like to think of that as a minor detail.
Psst- Sherry got in on an interesting discussion about what's in and what's out over on Centsational Girl today. It's definitely one of those fascinating everyone-has-a-different-take reads.