John's sister Emily has been a busy girl since our last post about helping her move into her fabulous new home (that she and her husband Todd designed themselves). Yes, only a month later, she's managed to furnish, fluff and feather nearly every room and has graciously allowed us to invade her space once more to bring you some fresh & fabulous after photos. Let the house crashing begin…
Here's a shot of the swanky modern exterior with Emily and Olivia hanging out on their front deck. The house's theme was clean lines, modern touches and windows galore. When you buy a corner lot with nothing but green in three directions it's easy to see why it's all about the view. And although the house appears to be one level, it's actually three generous floors since it was built into a steep incline. You enter into the third floor living area from the front, but walk out the bottom floor's sliding glass doors into the backyard at the base of the hill. Tres cool.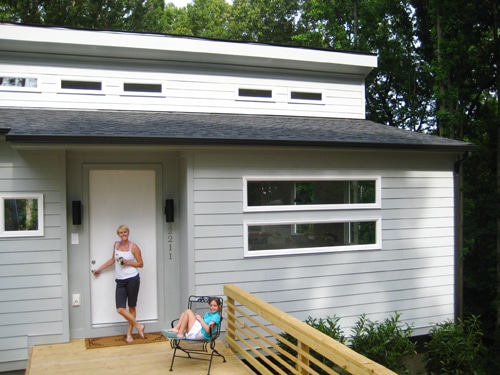 The minute you walk in the front door, you'll find yourself in an airy open space for living, dining, and cooking. The crisp white walls accented by tones of wood and a little bling in the form of stainless steel light fixtures really make the space feel sleek, simple and sophisticated.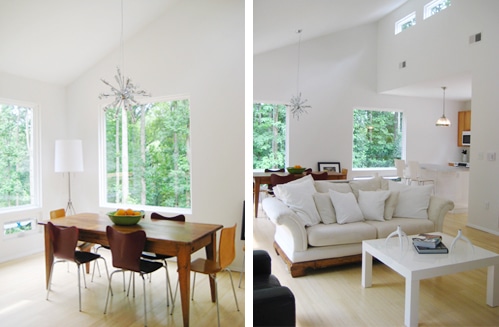 Emily's kitchen is insanely enviable. From the new glass front Jen-Air appliances to the Restoration Hardware pendant illuminating the Ikea island, the kitchen is a mixture of high and low that comes together in a totally seamless way.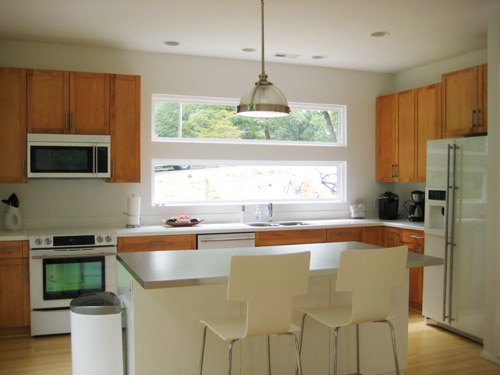 Emily even convinced her builder to work in a pull out pantry from Ikea, which can be accessed by her two snacky kids from either side. Delicious.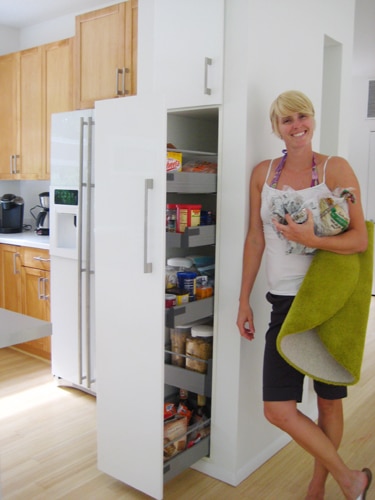 Their bedroom also resides on the top floor with an attached bathroom boasting both a jacuzzi tub and a separate shower. The coolest feature has to be the barn door that they incorporated into the design, which slides along a stainless track to obscure the view of the bathroom for privacy and style to spare.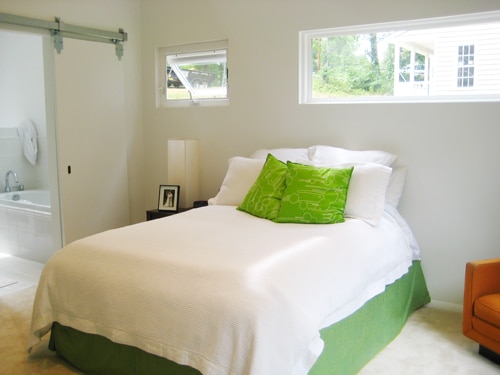 Another noteworthy detail in their bedroom is the amazing wall of contemporary closetry (which also hails from Ikea). Emily and Todd decided that they'd rather leave room to tuck these spacious wardrobes right into the floorplan instead of having their builder craft a traditional closet. They liked the outcome so much that they used Ikea armoires in both of the kids' rooms in lieu of closets as well.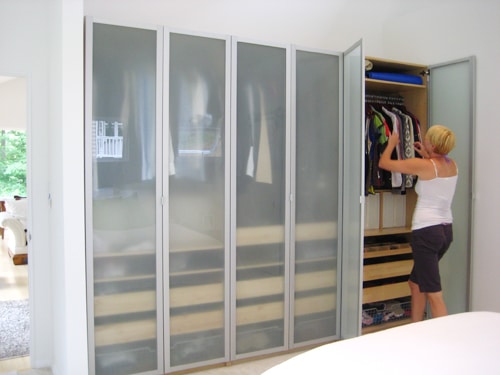 Speaking of the kid's rooms, they're still a work in progress, but stay tuned for some fun DIY projects (like how to make an upholstered headboard) in the coming weeks. Until then, we'll leave you with this swanky pic of their delightful guest bedroom, sporting some Target bedding, a few West Elm pillows, an Ikea lamp and a chair from a thrift store. Now that's our kind of room. Too bad the fact that we live eight minutes away makes a sleepover semi-improbable.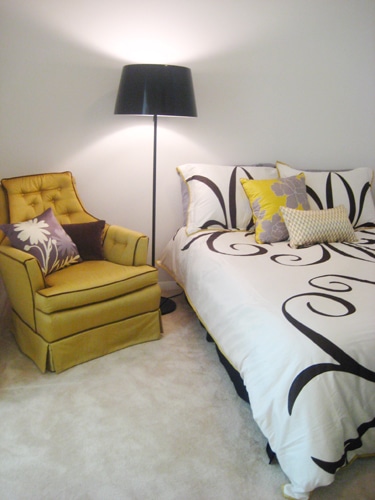 So whaddya think? Did the pull out pantry and that sliding bathroom door make you drool? Do tell. And if you have any fun rooms of your own (modern or otherwise) that you're itching to share, feel free to send 'em on over. Ta ta for now.