You could have knocked us over with a feather back in December when we won the Remodel, Blog & Win contest. And not only did we score a few clams (5000 of them to be exact), we also won a coveted interview with none other than AskTheDecorator.com's Meghan Carter. And since Meghan is such a jet setter, we weren't at all surprised that her schedule was packed until this June (which happily meant that we had six months to whip our house into prime shape just in time for its close up).
And then this past Saturday, the fateful interview day finally arrived.
We realize now that we could have taken more exciting photos if we had thought to snap some pics while all the tripods, cameras, and lights were set up in each of our tiny rooms, but at least we remembered to snag this photo with Meghan Carter after the interview.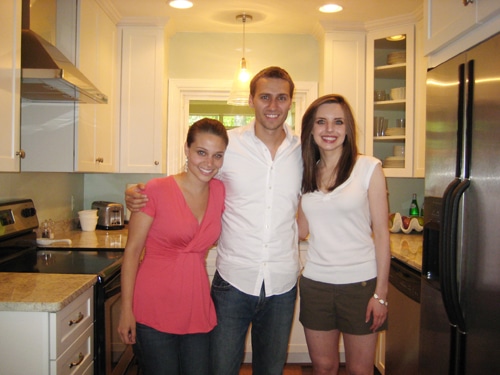 And those smiles are the real deal- we were overjoyed that we were able to form intelligible words under all the hot lights. Meghan and her team could not have been nicer, and we adored the entire experience. We can't wait to share the video interview with you guys when it comes out in a few weeks! Stay tuned…