We get this question a ton, and although it's completely one of those varies-by-every-scenario things (we might splurge on one mirror because we love it and can't find anything like it for less, but then save on another mirror because we fall in love with it for $5 at a yard sale), we thought we could attempt to answer it as simply as we could. With a junkload of words and bullets and lists. You know how we do.
Of course the words "splurge" and "save" can have wildly different definitions according to the individual. For example, one person might consider a splurge to be hiring out some custom built-ins to the tune of $5,000 or embarking on a 50K kitchen renovation while we might consider a splurge to be buying hardwoods for our entire upstairs while laying them ourselves to save money, or creating $360 built-ins with retrofitted wooden drawer bases instead of getting a $50 thrift store dresser and calling it a day.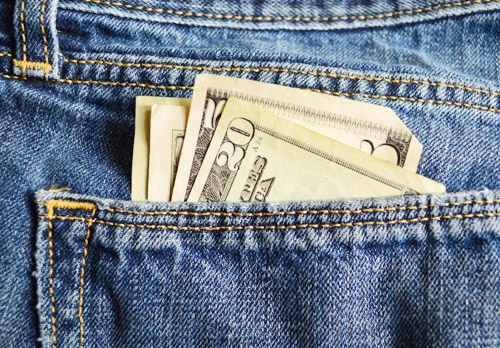 On the flip side, someone might think that saving means using only what you have or buying only secondhand items while we might consider a wider range of big-box offerings to be in the save category, so it really is one of those open-to-interpretation subjects. But without further ado, please allow me to get listy…
So far in our new house, we've splurged on: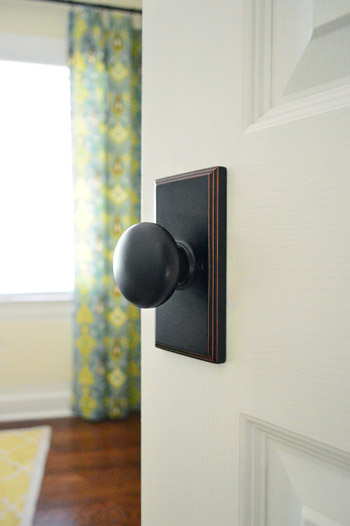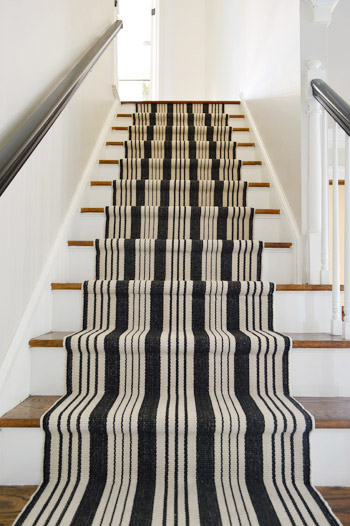 Of course a few of these things fall on some sort of blurry line between saving and splurging. For example, we got our Restoration Hardware table for 70% off, so some people might put that in the "save column" along with the West Elm dresser that we bought using money we got from craigslisting other items instead of digging into our savings at all. Some projects also seem sort of hybrid, like the stair runner update (we splurged for a Dash & Albert runner, but installed it ourselves to save cash – and we hired someone to level our yard, but then we seeded all the grass ourselves, again to save in that arena). So it's not all so cut and dry. And the same is true for the save list.
So far we've saved on:

Painting countless walls, ceilings, and trim/baseboard/molding ourselves (in general everything on this list involves remedying simple cosmetic issues with sweat equity)
Refreshing the grout in our foyer (best $12 I ever spent)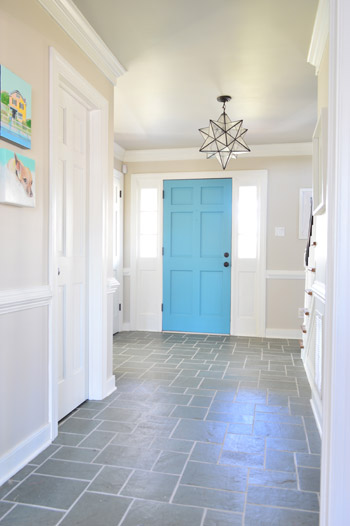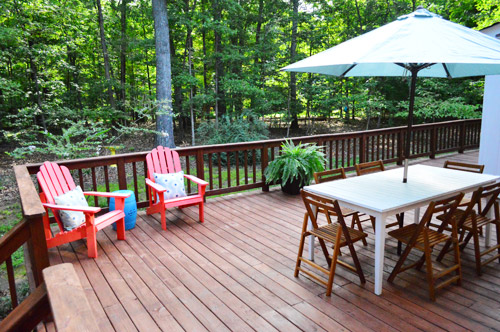 Some things helped us splurge in other areas, like a home warranty that made our new furnace free – or our upgraded roof, which we got with money that we got back at closing. In general our saving or splurging method can roughly be summarized as our way of playing the long game in certain areas, while opting just to make some affordable in-the-meantime updates to rooms that were formerly extremely frown-inducing that we knew we could improve for a small amount of loot and elbow grease instead of living with them for years as-is. Like our bathroom, which we eventually plan to expand into a separate sink-nook area, to create one big space in a few years after we have enough cash saved up for a full renovation.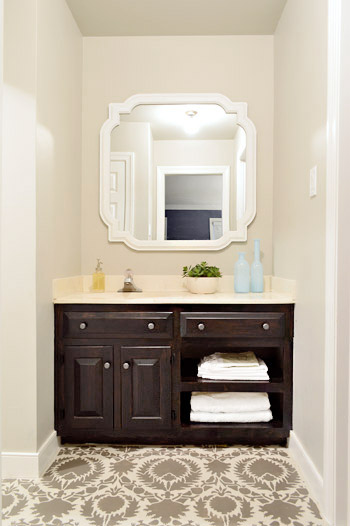 It would probably make for more blog fodder if we went room to room doing Phase One and then redid each space with a Phase Two makeover, but we're trying to invest time and money into more permanent solutions from the get-go in as many spaces as we can afford to do so, since we plan to be here long-term. So while we love easy & inexpensive Phase 1 updates for areas that are extra pricey to renovate (like kitchens and bathrooms, especially when we're not sure what we want to do with their layouts just yet), if we know what we want and have the money on hand for a space like a nursery that we hope will grow into accommodating a much older child (or like our recently renovated sunroom) it's exciting to work towards that end-vision from the start. Psst – Here's a post with a bunch of info about how we approach Phase 1 changes so they're not a waste of money and time.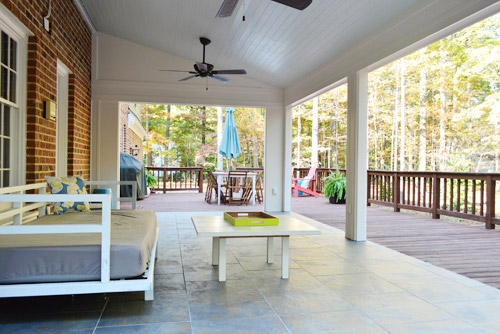 And just because I like lists a little too much, I thought I'd pepper in a few possible future splurges and saves that are on our minds.
Possible future splurges:
New kitchen appliances (we'd also like to upgrade to a gas stove down the line)
Adding a gas insert to the living room fireplace
More exterior updates like privacy plantings
More upgraded furnishings, light fixtures, and window treatments as we go
Eventual bathroom and kitchen renovations, full of thoughtful choices that we hope to love long-term
Adding cabinetry/built-ins to spaces like our office, the closet niche in our upstairs hallway, etc
Converting our kitchen windows into french doors that lead out to our deck
Eventually finishing off the unfinished storage room to make a bunk-room/media room for older kiddos
Possible future saves:
Doing as much wall removal ourselves as we can (both the bathroom wall and the kitchen wall we want to take down aren't load bearing)
Doing other major projects like installing heated tile ourselves
Creating custom cabinetry in spaces like our office and upstairs hallway niche
Tackling a bunch of transplanting, mulching, and landscaping projects that we can DIY
Other cosmetic updates like painting the rest of the house's trim/walls/ceilings
Making more energy efficient updates to save us money as we go (more LEDs, adding insulation, etc)
Reusing our old kitchen cabinets in the garage to create free storage and a workshop space
This is by no means an exhaustive list of all the things we'd like to do (you can check out one of those here), but we hope it sort of shows the balance going on in our minds. In other words, although we plan to be in this house for decades, we're not splurging on everything. There are still a bunch of ways to make affordable choices that we'll hopefully be really happy with for the long run. But when it comes to things that we might regret (or might have to buy twice if we're not happy with the first purchase), we're trying to relegate those to extremely small, low-risk things (like a $30 faucet or range hood that we can later craigslist for the same amount that we bought it for).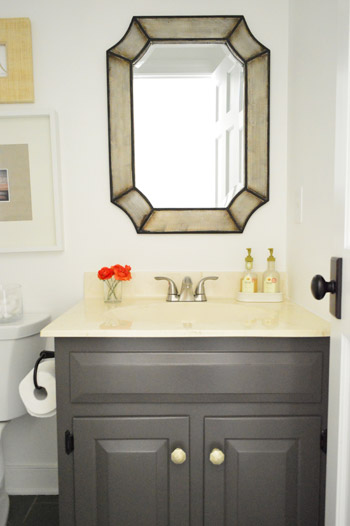 If you're stuck wondering if you should splurge or save on something, asking yourself these four questions might help:
#1. How long will you live with it? We try to make what we spend relate to how long we'll live with something. So for example, if we're choosing something like hardwoods or tile, we're a lot more likely to spend over a thousand dollars for that material. Meanwhile if we're planning to renovate a bathroom or kitchen in a few years after we have more money saved up, we'd never sink 1K into that interim update, and we're much more likely to save with simple inexpensive updates like paint, wallpaper removal, and a few new accessories. On the flip side, our sunroom update wasn't interim – we were spending money in there and making big changes that we hope to enjoy for decades (tiling, lofting the ceiling, adding tongue and groove planks overhead, getting two fans installed to cool it more efficiently), so for the sake of that room we wanted to do it once and do it right. Same for the roof, and with our hardwoods, for example.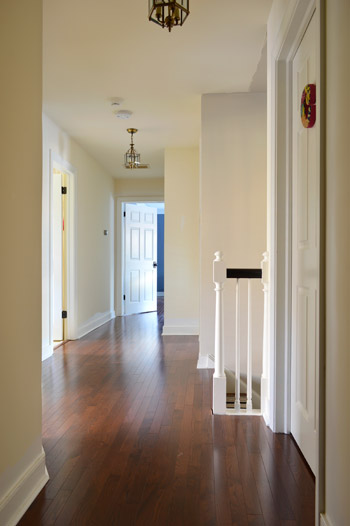 #2. How much will it affect my day and how I live? This is an example of how you might want to upgrade to a deep soaker tub if you're a bath person but skip that splurge if you're not. For us getting a Nest was a big indulgence, because we love the energy-saving aspect of it (which truly does save us money) but most of all we love that we can turn it up or down from bed on our phones if we're hot or cold. It feels luxurious to us, and we use those extra features like auto-away and phone-adjustment very regularly. So it feels like a worthy splurge.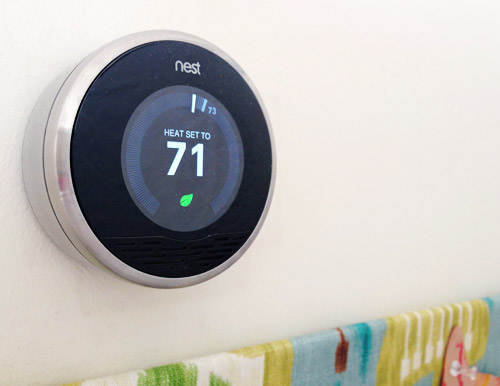 #3. How much wear will this take? If it will take a lot, a splurge, or at least a very well researched buy is important. You wouldn't want a cheap rickety table in your kitchen if you have a busy family who eats three meals a day there, so you'd probably want to save for something more solid, reliable, and well constructed. Other examples of a splurge for something that gets a lot of daily wear might be a good toilet (we hear people rave about how their Toto changed their life) or an awesome oven if you bake every day. There can definitely be exceptions to this rule though. For example, we have loved our Karlstad sofa, and was a great deal (a lot cheaper than many of the splurge sofas that we compared it to). Doing research, like reading about others who had it, sitting on it multiple times, and picking their most durable cover, definitely helped to make it a purchase that had the best chance of sticking around.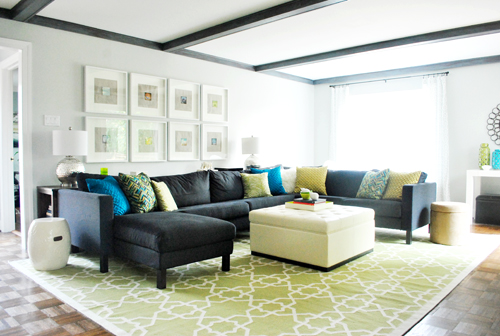 #4. Does a certain visual effect rest heavily on this choice? Say you have an inspiration image of the dream bedroom you've always wanted and two things that define that room are full gorgeous curtain panels and thick chunky curtain rods. In this case you could save on wall paint and inexpensive accessories like pillows and decorative objects but if you cheap out and get thin curtain rods and wimpy looking curtains you'll probably never be happy with your "take" on the space. So in the case of coveting a room with very specific features, like an amazing rough-hewn coffee table, I would save on other less specific items in the room, and splurge on whatever makes (or could break) that space.
So there you have it. One big splurge vs. save brain-dump on a Wednesday morning. Have you guys noticed any pattern when it comes to what you save up for and where you try to cut corners in the name of DIY? Have you splurged and saved on the same item (bought one pricey dresser after finding a steal of a deal on craigslist for another room?). That can make for a nice balance, so we like to keep an open mind whenever we can.