But before we get to that: an armadillo in the bathroom. Let's talk about it. Everyone needs one, right?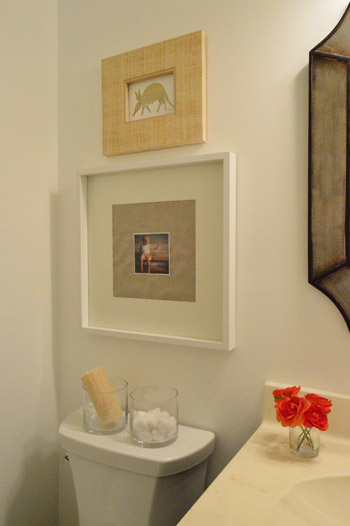 I mean, we can argue that a lot of decorating "rules" are personal preference and yada yada, but seriously, can we all agree that a bathroom is not complete without a golden armadillo?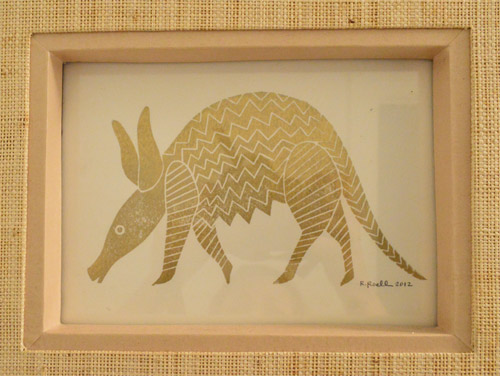 That's a print we bought from this craft fair from an awesome local artist named Rachel that I finally got around to framing and hanging up. I especially love it in the burlap-y/grasscloth-ish frame (an old Pottery Barn Outlet find) hanging above the framed instagram photo of Clara holding a naked doll (felt kinda bathroom-esque).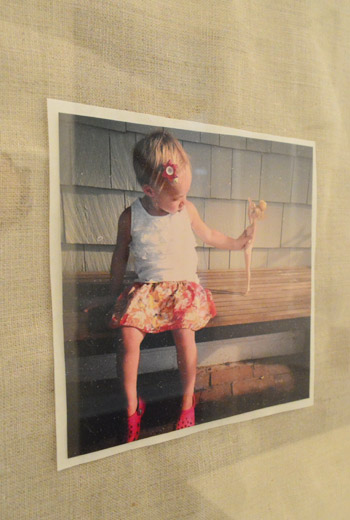 The linen-like fabric behind the instagram photo looks great with the textured frame above it, and I actually have a secret agenda when it comes to bringing these cream/straw tones into the room. After looking at the gold-tones in our soap containers and even that loofah on the toilet tank, I realized they help the oddball cream sink feel less out of place.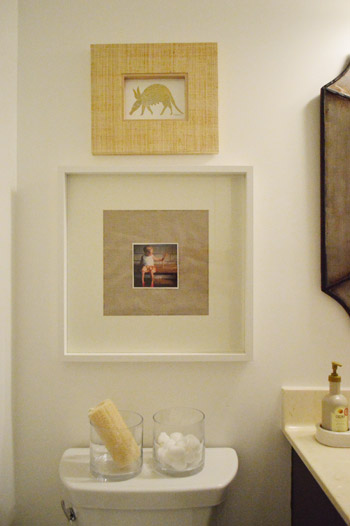 I mean don't get me wrong, it's still shaped like a shell and won't be here forever, but it's a lot cuter and a less clashy when it's paired with other things that we already own in that color palette (like the soap pumps, the art, the loofah, and the frames). So there's gotta be a design lesson in there, right? Say it with me: everyone needs an armadillo in the bathroom! sometimes adding a little bit more of a color that feels like the oddball can make it feel more layered and intentional. At least for that Phase 1 (in the meantime) type of decorating.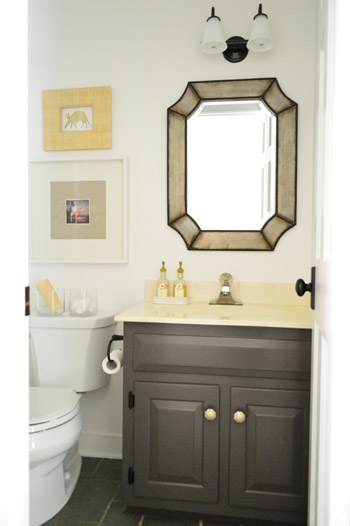 And I know it's hard to tear your eyes away from that gorgeous armadillo, but we also got a new light fixture. We dug it up for $9.99 at the Habitat For Humanity ReStore (see the chrome guy hiding in the middle of this shot?).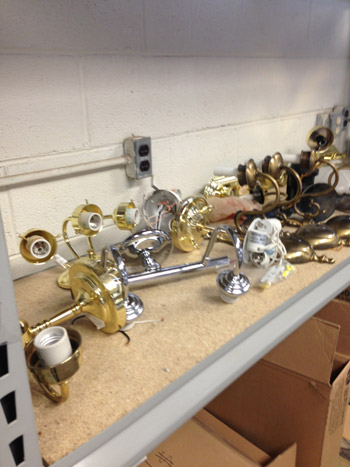 We just gave it a few thin coats of Rustoleum Universal oil-rubbed bronze spray paint with the light bulb parts taped off to protect them. It's self priming, so it was an easy one-step update.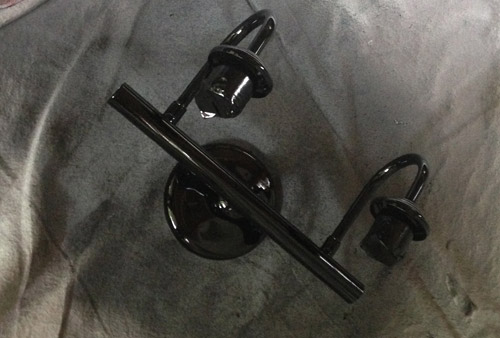 Then we grabbed two cheap frosted bulb covers at Home Depot and called it good.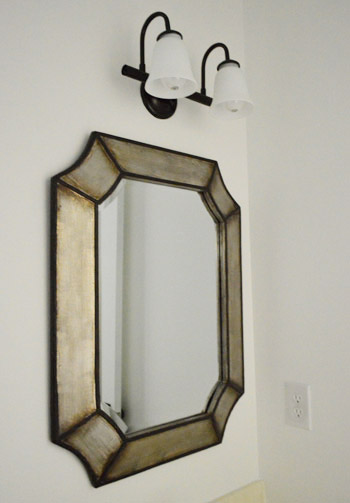 It definitely helps the whole room feel more crispy and updated. And since we're planning a deeper room makeover down the line once we save our pennies (perhaps with a tiled accent wall or some grasscloth wallpaper?) we love that we could find some cheap secondhand charm in the meantime. Psst- Notice how the red flowers on the sink from the first shot are gone? I added those for a pop of color after I took these shots, and love 'em. So pretend they're here too.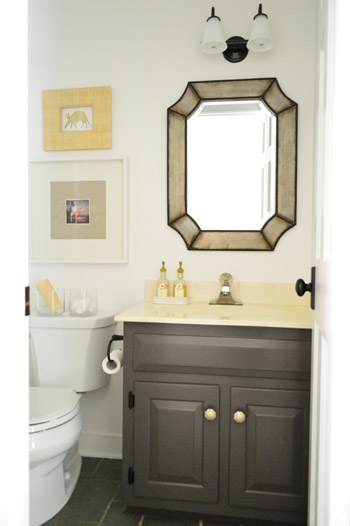 UPDATE: We've finally transitioned our entire house to LED lights (they save tons of energy & money, and they're a lazy person's best friend because you never have to change them). For anyone wondering, these are our favorite interior LEDs. Their glow is warm & natural (not weird/blue like some of the others we've tried) and they use around 90% less energy.
* This post contains an affiliate link