Strike up the band! Fire the cannons! Attempt to twerk! Okay maybe not that last one, but whatever the appropriate celebratory action is, bust it out because our once very wallpapered house is officially wallpaper-less!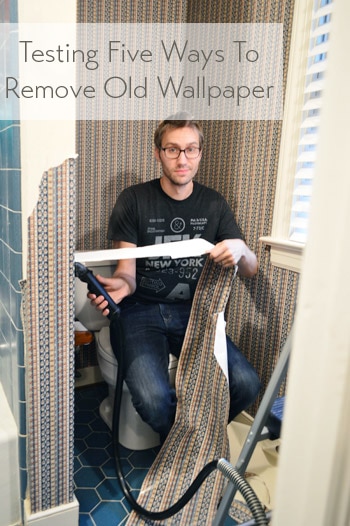 And since we thought one last wallpaper removal post might be boring on its own, we saved that info and bulked it up with some other bathroom progress for you guys – namely…
how we puttied, prepped, and primed the damaged walls
how we primed & painted all of the cream trim and old wood quarter-round
what paint plans we've landed on for this freshly de-wallpapered space (hint: we're going to try to balance out the bold floor tiles with some up-high interest)
But let's soak up the whole "wallpaper free" thing for a second. Considering that we've spent over 45 hours of our lives removing it in five different rooms over the course of the last six months we're relieved. Very, very relieved. In fact, it was actually one of Sherry's "before the baby comes" goals – so to hit it with a few months to spare means that we can dive into some more fun bathroom stuff before baby. But more on that in a second.
First we'll just remind you what this room looked like every time we walked into it for the last half of a year. The walls are just primed in the picture above, but it's already a vaaaast improvement.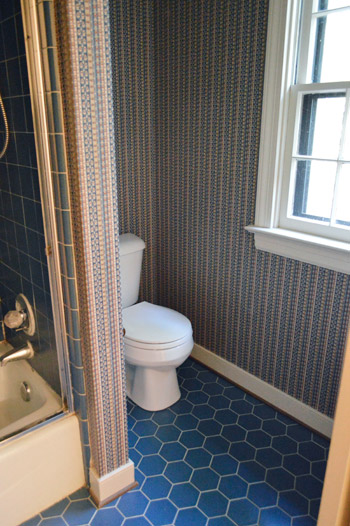 Although it was just completed last week, the peeling process actually started a little while ago. One morning Sherry was showering and I heard her yell "hey, come take a picture!" Intrigued, I hurried into the bathroom… only to find that she had stripped off several panels of wallpaper whilst showering.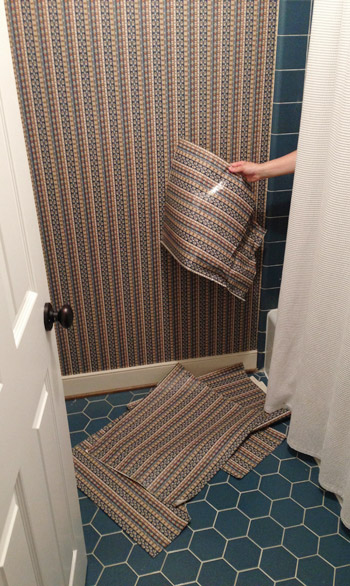 A bunch of corners in there were curled up from the effect of the shower steam over the years, so it took virtually zero effort (and apparently zero clothes) to get most of the shower free of wallpaper.
Since the shower steam had worked so well for that area, we figured a little extra help from my sister's clothes steamer would do the trick everywhere else (it had been slightly faster than the other methods we tried when we used it in the foyer). Especially if I added a new step beforehand that we heard could really help loosen things up: spraying it down with fabric softener before steaming it (I used a spray bottle with 50% warm water and 50% Seventh Generation fabric softener in it). Because it's such a small room, I decided to tackle it early one morning on a whim, assuming it'd be so speedy that I didn't even bother to put my contacts in or hide my bedhead under a hat.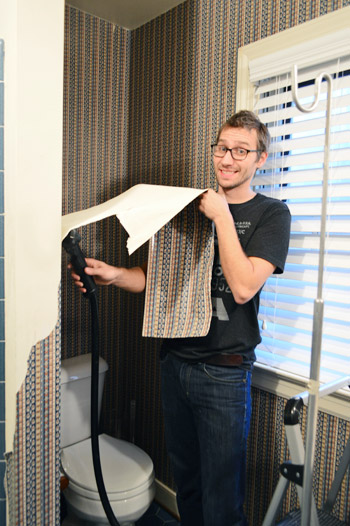 Fast forward several hours later and I had made little progress and my demeanor was quite different. John was not amused.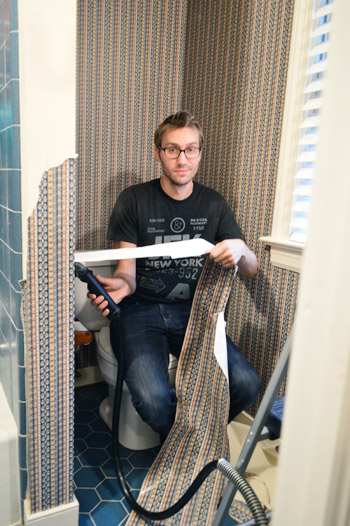 Okay, so there wasn't really several hours between those two photos, but the project did end up taking me an entire day (meanwhile Sherry was doing this). Despite using the steamer, most walls came off in small strips and flakes rather than the big sheets that we were able to get in the foyer. But by sunset, the paper was all gone.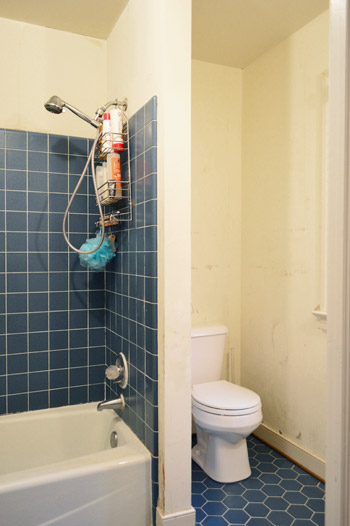 The bad news is that the walls were in rougher shape than any other room that we had de-papered. We started to wonder if they used a special treatment or glue in here, knowing that years of showering might be too powerful for a normal adhesive. Either way, it left us with a look that I lovingly call "gas station bathroom."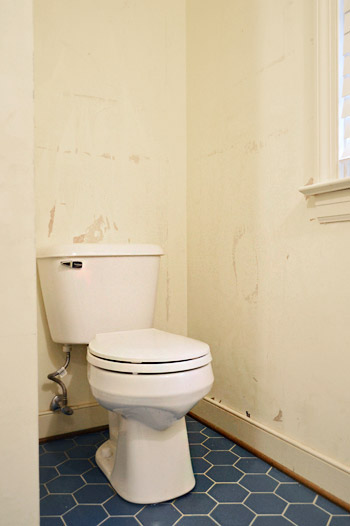 So unlike those other rooms, we had to do some pretty in-depth prepping. First we removed the last vestiges of wallpaper glue with a light scrubbing of warm water & vinegar (that's usually our last "prep step" before painting). But this time we moved on to sanding all of the walls with a sanding block to help file down any rough spots.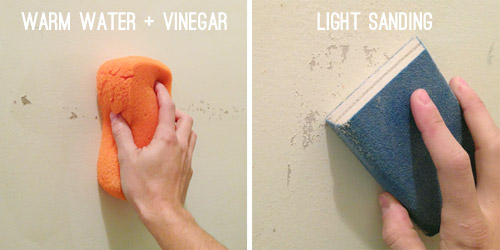 There were still lots of dimples and low points, so we also decided to fill things in with a coating of spackle. You can see that my coverage was super thin (I was scraping it nice and firmly against the wall) but it did the trick for filling in those slightly recessed peeled-looking spots.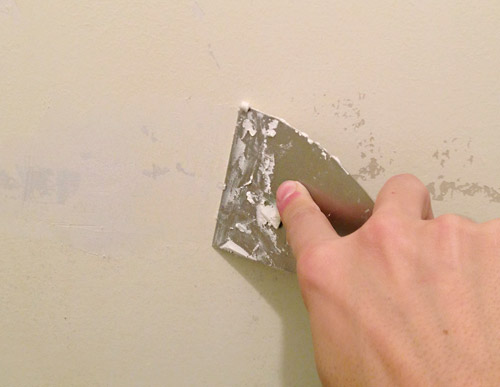 This was not a fast process, as you can see from this shot of all the spackle spots. The same smooth outcome probably could've been accomplished with a full-wall skim coat, but that would have taken longer and resulted in a ton of sanding dust, so we opted just to go with some small pats of spackle wherever we needed them.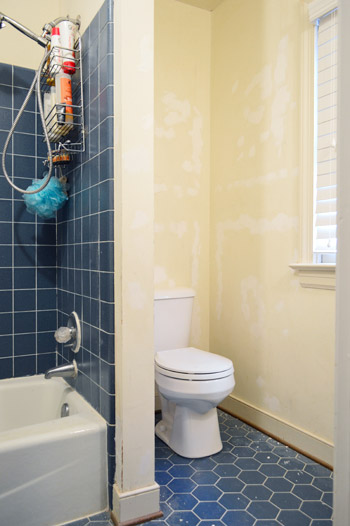 The spacke job still did require sanding, which is always a fun messy task. I can't imagine how much dustier the bathroom would have been with a full skim coat going on.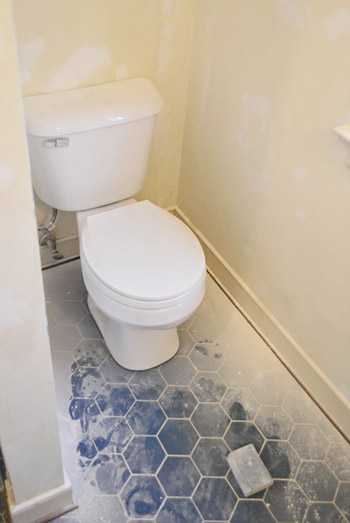 Once all the sanding dust was brushed off the walls and swept/wiped up, you can see how the spackle helped level out any areas where the wallpaper had torn off a bit too much of the drywall.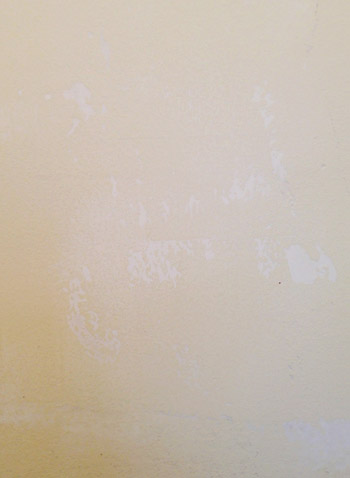 Next up was primer. See how yellow the walls were on the left, compared to the fresher look of primer on that wall on the right? It was possibly my favorite priming project ever, since it evened out the spotty wall and made the whole room so much brighter.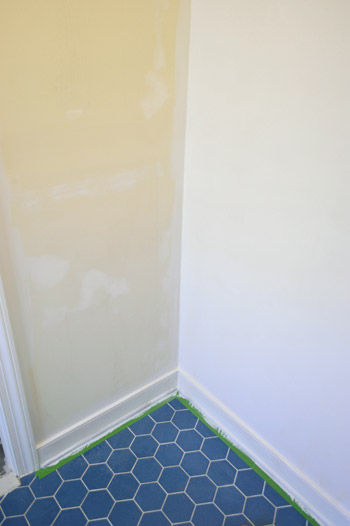 You'll notice that the floor is taped off too. That's because Sherry decided to seize the day and paint all of the cream trim white while we were at it. Not only had the trim been cream, the quarter-round was actually wood, so it was definitely one of those time-sucking tasks (the window panes are always a pain) but it was well worth it in the end just to have it done. Sherry used two coats of primer (Kilz no-VOC stuff) and two coats of Simply White (the same semi-gloss trim paint that we've used everywhere else). It was sort of a triple "ahh" because the trim is now a crisp white color, there's no more wooden quarter-round, and ding dong the wallpaper is dead.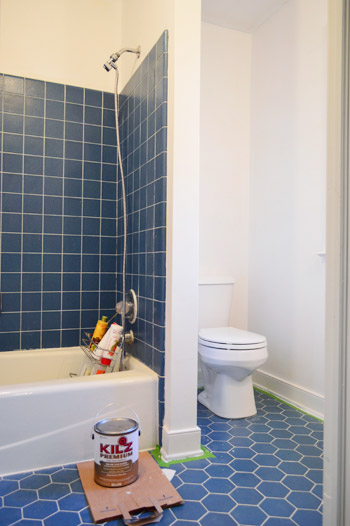 But before I get into the fun what-we're-going-to-do-next stuff, here's a quick wallpaper removal recap since a bunch of you have asked for a summary of what worked best, and what we'd never try again:
In the powder room Sherry tried boiling hot water applied with a spray bottle, and just peeling things by hand (respraying and peeling the underlayer as needed) which was definitely not a fast process, but it worked.
In the foyer we took my sister's steamer for a spin, and mentioned that it seemed to be very slightly faster than our first method, although lifting up the steamer for those high spots was more physically demanding.
In the kitchen Sherry tried warm water + soap (Dr Bronner's) sprayed on the wall, followed by a wet cloth that she used to soak the underlayer and then peeled that off, which was probably tied with bullet #1 for ease/speed/effectiveness.
And in the dining room Sherry dry-peeled, meaning that she didn't spray the top layer at all, and only applied water (with a large damp sponge) to remove the underlayer, which was, like every other bullet, not a fast process, but it worked.
Finally, in the en-suite bathroom we circled back to the steamer because we thought it had been slightly faster than our other methods (although it was no silver bullet, maybe about 5% faster). We also added a spritz of warm water + Seventh Generation fabric softener beforehand (a 50/50 combo applied with a spray bottle). Ironically this time it was slower than any other method and left the walls a mess, although we also tried the three other methods outlined here at various points out of curiosity, and none of them worked well in there. So we can only conclude that this bathroom's paper was adhered by some evil ninja-esque glue that was too legit to quit.
In summary, the way that wallpaper is adhered along with how well your walls are prepped beforehand seems to have a lot to do with how easy (or how impossible) it is to remove the wallpaper. Nothing we tried was super fast and amazing, but most methods actually worked over the course of 8-ish hours if you kept at them. So hopefully taking those five techniques for a spin and outlining them as we went was somewhat helpful for others who are staring at a bunch of wallpapered walls and wondering what to try next.
____________________________
Now that the boring-but-it-had-to-be-done prep work is out of the way, we're really excited about a paint treatment that we're planning to try in here. After wracking our brains about the best way to work with the existing blue tile for now, while drawing the eye up and making the room feel taller and less squat (which tends to be the issue when all the focus is on the floors) we decided to bring some more blue back into the room. Just in a smaller (and lighter) dose than the wallpaper… and in a nice high place.
Heather's amazing bathroom (more on that here) will give you a nice idea where we're headed. Yup, we want to make a simple wood border around the top part of the wall and carry a soft-but-complementary blue color up that part of the wall and onto the ceiling. This room also has a similar effect while having a blue floor like ours, so it might help you picture how some softer blue up top can balance out a somewhat demanding floor like ours.
So next up, we're going to paint those primed walls and add some wood trim around the top of the room along with an accent color up there. Hopefully when the tall white shower curtain is rehung and we add some art we'll completely forget the old room that we started with.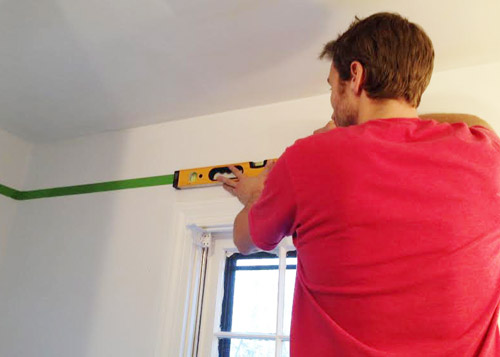 Are any of you guys diving into a bathroom update or planning any wood-border-plus-paint projects? Have you been de-wallpapering, spackling, priming, trim-painting, or sanding? Feel free to toss out tips for anyone else who's battling those beasts.
Psst- Sherry's over on Young House Life chatting about her maternity clothing M.O.